Trusted by Industry leaders such as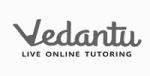 Real Stories from Real Customers
Get inspired by these stories.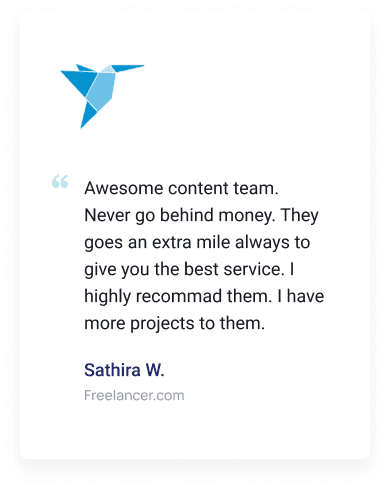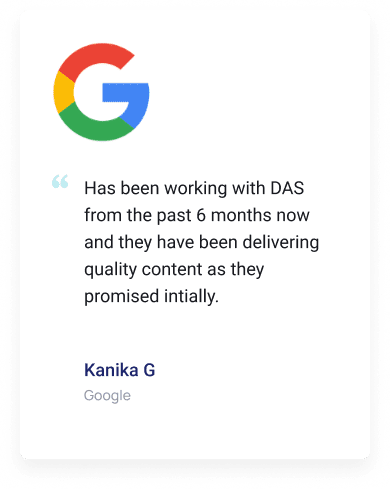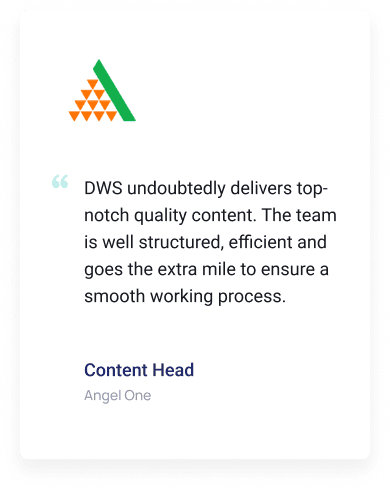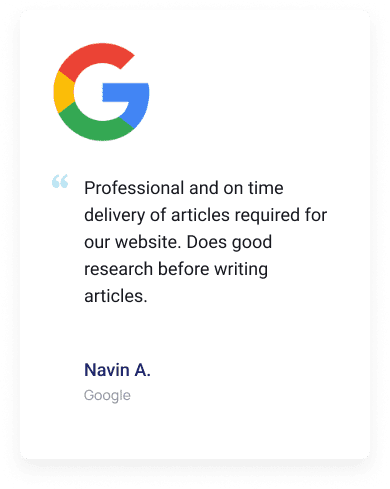 Content Writing Services in Australia
"For we create to inspire…"
The success of a quality content lies on how authentic the information provided is. It should be the reflection of solid information with combination of effective words that would enlighten your audience.
Das Writing Services, one of the best content writing companies, have provided quality content to Australian clients for years. To keep things rolling in a more comprehensive manner, we are broadening our services via our content writing services in Australia.
Our motto –
Zeal of DWS!
We fully live by the words, "Client Satisfaction."
To achieve this, we merge fresh content with succinct information that makes high quality functional write-up for our target audiences.
Our Professional content writers Australia write easy to read as well as engaging content that hooks the reader's attention.
What makes us exceptional! Know Why to Choose Us
With a team of professional article writers Australia, we strive to provide SEO-friendly content writing services that are based on the guidelines provided by our clients. Also, we ensure that our writings are concise and informational ultimately benefitting the reader with quality knowledge in a short span of time.
At Das Writing Services, we provide efficient blog writers for blog writing services all over Australia and beyond. We create winning contents that your readers will love to read again and again.
Expert of content writing agency Australia always make sure of using the keywords based on popular search results and using them for a high quality SEO writing. This helps your site to score higher on the search engine result page that drives higher traffic.
Our writing services cater to the exclusive need of every client and write according to their requirements. We understand that your company is unique and we strive to make it stand out with our SEO friendly contents.
We also provide cheap but quality content writing services in Australia that are economical for the client's budget.
We deal in a variety of services including Article Writing, Blog writing, website content, social media post, technical writing service, product description, etc. This wide range of services provided by us has made us a distinct content writing service provider in Australia.
To make content distinctive we use tools like Copyscape to deliver 100% plagiarism free content. We never fail to compromise on creativity that is backed by authentic content which makes us the best company in the industry.
A brief insight on the services that might benefit you!
Article Writing Service
As a leading article writing agency in Australia we believe in delivering excellent article writing services that are fully SEO optimized giving you a chance to stand out in the market. Our experts article writers Australia especially curate content keeping client's requirements in mind that are quite affordable.
Blog Writing Service
Our blogs are hooking and a sure shot winning content making sure your visitors stop by your blog to absorb every word hewed in a conversational tone. With professional bloggers and content writers in our team, we curate affordable blog writing services in Australia that are optimized for search engine as well.
Website Content Writing
Expert writers offer content writing services in Australia with matters based on your organizational needs that will help you in garnering website traffic. By applying extensive research skills and logic we bring in forth the right quality content to establish the missing link between your company and success.
Press Release Writing
Our content writing company provides you with effective and professional press releases for news, events and products that enhance your media attention. We deal in variety of client specific topics including press release for offers and discounts that can help you build your company's brand image.
Social Media Post
Contents in social media are highly influential as customers tend to make decision on the basis of a post's quality. Our professional content writers craft content with extreme dexterity that can go viral, hence enhancing traffic.
Technical Writing Service
DWS's proficient technical writers write in effect content with a wide knowledge about technicalities in a simplified manner. We believe that technical writings can be blended with creativity and a vast knowledge on technical know-how, which would make it great to read. Also, our content writers follow nouveau writing tips ensuring you get the best out of the lot!
Other services
Apart from providing the above services, we cover product description, product review, etc. to feed a wide range of clients that has made our name qualify amongst the best content writing services in Australia.
A free sample before you choose us
Before availing our writing services get a sample absolutely free to get an insight on how we work. We believe that you would appreciate our work and would surely visit us for more write ups in future.
For we are here to reach your story beyond the known horizon!
Frequently Asked Questions
What Is a Content Marketing Company?
A content marketing company in Australia uses web contents such as blogs, articles, social media posts etc. to promote a business. The promotion takes place entirely online and targets high volume keywords that drive traffic to the website and generate leads.
What Kind Of Services Do You Offer?
We are your one stop solution to all content writing services in Australia. With Das Writing Services, you can get access to blog writing services, article writing services, website content writing, technical content writing and etc. to skyrocket your website traffic.
Can You Help Me Get Ahead Of My Competitors?
Yes, availing a robust marketing strategy from content writing services in Australia helps you compete with your professional rivals in the search engine rankings. With the right set of keywords and proper SEO optimization, you can easily outrank your competitors.
How Long Till I Can See The Results?
Using blogs and articles to initiate a Search engine marketing campaign in Australia is a time-intensive but effective way of promoting your business. Using the right methods, you can begin to observe upward growth within 2-3 months.
Do You Offer Consultancy in Content Marketing?
Yes, apart from our content writing services in Australia, we are also content marketing consultants with a decade long experience in the field. We advise our clients on the best contemporary practices they can implement to grow with their digital marketing.

Get in touch with us