 We are proud to
work with
Some of the biggest names in the market both national and international. We are glad to help them with our expertise and assist them in their digital endeavour.
Check-out some Reviews from Clients..
See Who We Work With
Get a glimpse of our extensive list of clients who have trusted us with their content for years now.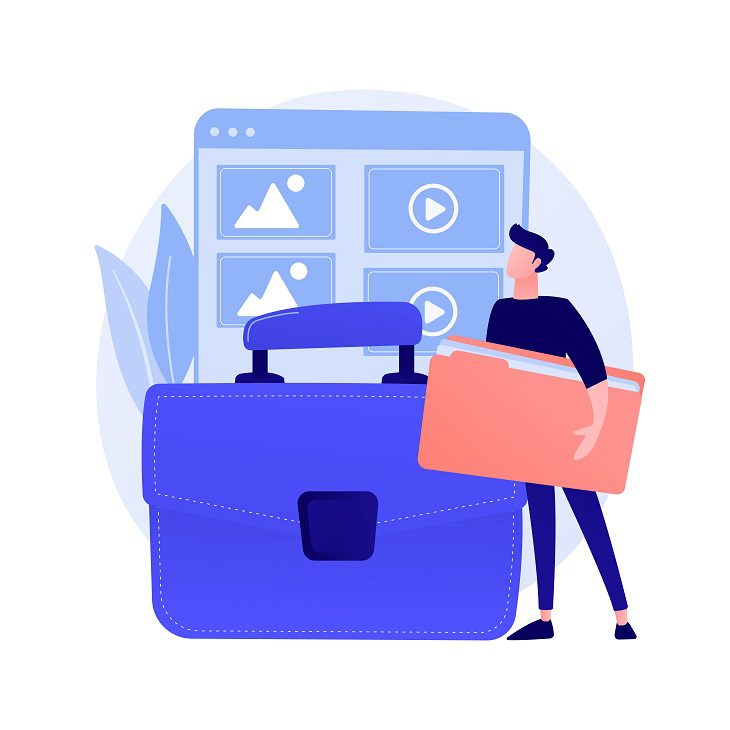 Bajaj Finserv is an NBFC that serves over 100 million customers leading to a total income of Rs. 77,000 crores in 2022. They collaborated with us in 2018 and since then, we have written thousands of Blogs, Articles, Web 2.0s and Quora content for them.
Used by over 300 million customers worldwide, Razorpay is a digital platform supercharging all business banking needs, backed up by Sequoia, GIC, etc. DWS has assisted them with On-Page blogs that improved traffic influx and brand presence.
ClearTax offers financial solutions and taxation services to individuals and businesses apart from Chartered Accountants. With our blogs, we have helped them define critical financial terms in simple language reaching a bigger demography of audiences.
The company has made investment Easy, Fast & Transparent for over 40 million people across India. We have further helped them educate their audience by writing Informative On-Page Blogs, Website Content and Backlinking Blogs.
Auto Garage is a UK-based digital marketing company helping over 425 garages globally to build an online presence. We have written website content along with numerous location-based pages that helped websites rank higher on SERP against targeted key phrases.
As India's First Dedicated Education Loan Company, HDFC Credila has financed 10,000+ Indian students from over 2100 educational institutes in 35 countries. We gave them online content development support to improve their online visibility.
As a unit of Madison World, HiveMinds is a digital marketing agency offering assistance to brands like Dominos, Nivea, P&G, Sonata, etc. We wrote content for some of their eminent clients that required high-quality, engaging write-ups for SEO purposes.
IK is an Interview Prep school that has offered guidance to over 13,000 aspirants looking for jobs in FAANG companies. We framed informative blogs for them that explained aspects of interviews, helping readers grasp a general idea of the same.
Payback is a multi-brand loyalty program that has collaborated with Bookmyshow, Healthians, etc. and now operates under the name Zillion. We wrote Web-Pages and Blogs for them across different genres of products listed on its website.
iQuanti is one of the biggest digital marketing companies catering to numerous Fortune 500 institutions along with other big names like LG, Citi, etc. We provided content development solutions based on the marketing needs of their client companies.
It is one of the largest full-service retail broking houses that so far has over 1 crore registered users that trust in its credibility. DWS provided them with highly informative content for IPO launches, educating readers to take an informed investment decision.
Cropin offers a farm monitoring and management solution enabling over 250 farm owners to digitize about 16 million acres of land, increasing their ROI by 3 times. We wrote On-Page research-based articles and marketing deck content for them.
GF is a virtual assistance agency for both individual and business needs across 80+ countries for over 15 years. We are one of their prime content development partners assisting the clients' content generation needs, be it Blogs or Reviews to letters and emails.
As one of the leading Invoice Discounting Platforms in India, KredX has helped over 40,000 businesses by discounting about 1.5 million invoices. We have written On-Page Blogs for the company ensuring they rank higher against the targeted keywords.
It is an ed-tech company that offers comprehensive learning programs and is loved by millions of parents and students from over 1701 cities globally. We wrote short information-packed blogs that was published on its website regularly.
Navi, a new-age financial services space, is founded by former Flipkart co-founder Sachin Bansal. Navi has already created a client base of 36 lakh+ within a very short span. We have been associated with them since the initial days and have written knowledge hub content for them.
Rupeek pioneers in the field of gold finance in India. Founded by IIT Alums and backed by Bertelsmann, Sequoia Capital, etc., Rupeek has 5 Lakh+ Customers in 60+ Cities. DWS created blogs and location-based pages to boost the SERP rankings and digital presence.
Bewakoof has redefined apparel manufacturing and designing in the Indian market. As of 2023, it has sold over 1 crore pieces. We have helped them with Product Descriptions which spoke of how being called Bewakoof can also be a compliment.
AliExpress is one of the most successful ventures of Ali Baba Group that has provided small vendors with a platform to sell their products internationally. We wrote elaborate product descriptions for items ranging from pocket drones to nail salon kits.
American Express is one of the most sought-after multinational financial services corporations that specialize in payment cards. DWS catered to their content marketing needs with financial and lifestyle blogs for AMEX India.
With 35 million monthly users, Vedantu is a leader in the K-12 Live tutoring space. In 2022 itself, the company helped over 2 lakh paying students. We have written subject-based content and How-to blogs matching the readability level of school students.
Branded as "The Salt of the Nation", Tata Salt is a household name tracing its origin back to 1983 when it was launched to eradicate Goitre. To uphold and widespread its greatness, we produced content for online brand reputation management.
With almost 4 decades of market presence, Tecnova is one of India's most trusted management consulting firms, having over 1700 clients across 35 countries. We specifically write market insight blogs to help them establish their market authority.
Backed up by industry leaders like Nithin Kamath, Kunal Shah, etc., Wint Wealth is an application that caters to retail investors wanting to invest in bonds. We have written authoritative blogs, location-based product pages, FAQ sections and Financial Blogs to educate their target demographic about investments.
Incorporated in 2016, GoDigit simplified insurance policies for over 3 Crore Indians with their diverse insurance product portfolio. We have written both On and Off-Page blogs for the company, helping them reach the top of the SERPs within 5 months.
Backed up by Mr Ratan Tata, Upstox is one of India's fastest-growing investment platforms with over 1 crore investors resulting in a turnover of more than 60,000 crore rupees. DWS used its financial proficiency to write insightful content for their website.
Saal is an Abu Dhabi-based software company that offers cognitive AI solutions to businesses in the UAE. We wrote a myriad of insightful Technical Content for the company to help them inform and spread awareness across their focused audience base.
Bajaj Markets, a digital marketplace, is a subsidiary of Bajaj Finserv that offers over 1300 financial products in partnership with 37 financial companies across India. We wrote Blogs on topics from the BSFI sector to help it establish its superiority over its competitors.
LearnPick is an online platform that helps students find their ideal tutor or coaching classes with ease across India and over 14 other countries. We wrote blogs on varied topics under this niche so that learners could find this platform online whenever they need a tutor.
Turtle has been inventing attractive menswear designs for almost 3 decades and has been simultaneously working towards making the world a more habitable place for turtles. We assist them with crisp Product Descriptions that best define their elegant designs.
Club Mahindra has redefined hospitality offering over 125 resorts and more than 2000 experiences across the world. DWS wrote website content reflecting the lavish feeling exuded by their palatial hotels both nationally and internationally.
Porter offers logistic services for both personal and commercial needs across 17+ Indian cities and has over 8 million, satisfied customers. DWS writes on-page and SEO blogs for them to target specific keywords and educate consumers on present-day logistics solutions.
Club ITC umbrellas 6 opulent hotel lines namely, Mementos, Fortune, Welcome Heritage, Storii and ITC Hotels. We have written end-to-end website pages for hotels and resorts under the mother label describing the unforgettable living experience they offer.
The company offers Perpetual futures on about 26 crypto coins like Ethereum, Bitcoin, etc. and has already traded over 250 million lifetime volume. We assisted them with compelling landing pages, which has helped them get over 3000 users.
Upholding the Indian tradition for more than 150 years, Koskii has woven the conventional roots of India into modern designs. The company aims to encourage contemporary women to wear Indian heritage with pride, and our website content embodies the same.
Noise develops jaw-dropping gadgets at affordable rates and is one of the top 5 brands manufacturing wireless earphones in India. We have written launch blogs for them keeping the youth (their target demographic) in mind.
Formerly known as CredAvenue, Yubi is a Fintech company that pioneered the co-lending marketplace and is backed by Sequoia, B Capital Group, etc. We are writing blogs to establish their new identity while expressing their existing market authority.
Wealthy is a wealth management platform founded by two IIT-IIM alums, Prashant Gupta and Aditya Agarwal. It has over 5000 wealth partners in more than 175 locations in India. Our Blogs are written to further improve its brand presence.
A 100% subsidiary of Bajaj Finance Limited, Bajaj Financial Securities Limited is one of India's largest retail asset financing NBFCs. We write an array of IPO launch Blogs and market insights for the company to elevate the outreach and provide relevant information.
axiusSoftware is a software development company that operates both from China and India with clients spread across 15 countries globally. We have written the content for their website maintaining the stature they have established in the past 9 years.
Powered by Upgrad, KnolwedgeHut is a renowned institution that offers professional training courses to aspirants who wish to upskill. At present, the company offers over 250 in-demand through 1250 industry experts across more than 100 countries.
Backed by Titan Capital, Lightspeed, etc. Stable Money is India's largest FD booking app that was founded in 2022 by Sourav Jain and Harish Reddy. Within less than a year, the company has already raised seed funding of 5 million dollars.
With over 6 lakh students across 750+ institutions in more than 23 states, Narayana Schools is one of the largest educational conglomerates in Asia. Founded by Dr Narayana, this organisation is known for its diversified teaching capabilities.
Dubai Local is an online business listing platform that lets stores, restaurants, medical facilities, etc., expand their client base through online exposure. No matter what a person is looking for, the website offers holistic assistance for it.
Founded by Jimeet Modi, Samco Securities is a platform that offers its participants with the right tools, resources and knowledge. The company aims to unveil the "Unseen Insights" of the trading market ensuring the participants navigate through it easily.
Zappian is a US-based lead generation company with over years of market experience. So far, the company has already catered to more than 3 million commissions, generating approximately 1 billion leads altogether.
Cred Mudra is the brainchild of Parul Shrivastava, Lavit Dighe and Varun. The company acts as a mediator that connects borrowers with the appropriate lenders for their needs and ensures they are well aware of all the insights to ensure complete financial freedom.
Established in 1981, SP Jain Institute of Management is one of the top 10 B-schools in India. The institution offers an impressive portfolio of management programmes to organisations and individual aspirants.
We're a unique, creative, content writing team that goes above and beyond.
Expert Writers

We are a team of 65+ content writers believe in quality over quantity.

Delivery always on time

We have always delivered the client projects on time, still striving for perfection.
your full-circle content creation solution
We'll pick your best-match writer, manage and assign your content, and meet timelines.
Our Approach to Reach Your
Business Goals
Ideation

We are creating something
new with every project

Analysis

Scrutinizing every aspect
before beginning to write

Writing

Compellingly structure words to best portray a brand

Optimization

Align our content
with the latest SEO trends
Check How We Work
Real Stories from Real Customers
Get inspired by these stories.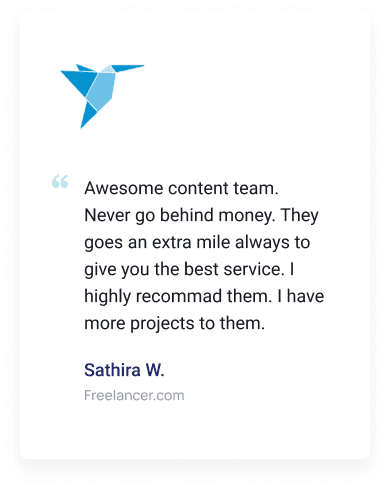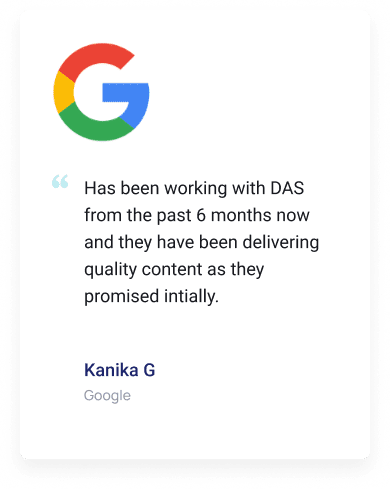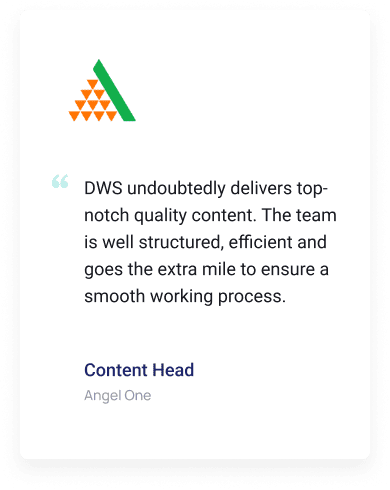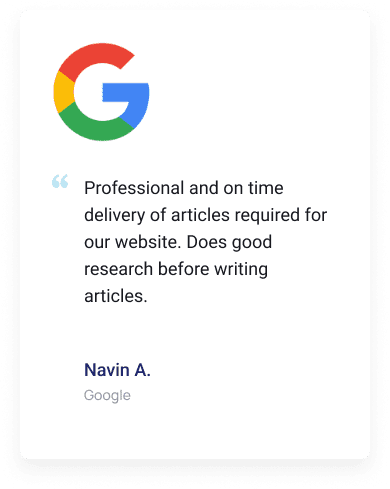 Help Us Reach You!