Trusted by Industry leaders such as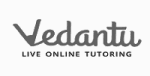 Content Writing Services In UAE
The UAE is one of world's wealthiest states thanks to a massive boom in the nation's economy. Oil and natural gas, tourism, telecommunication, and transportation plays a key role in the development and sustaining of the nation's economy.

The vast economic progress and a varied marketplace creates the perfect environment for starting and growing personal businesses. Consequently, an increasing number of organizations are starting their ventures in the UAE.

If you are a business owner in UAE you need a strong online presence. To sustain in today's everchanging marketplace, it is the online content that speaks for your business.
Therefore, we at Das Writing Services Private Limited offers you the assistance of a team of best professional content writers to help you with quality content. Our best-in-class content writing services in UAE will help you climb the ranks in Google.
Why Hire a Pro Content Marketing Agency?
There are several benefits of hiring one of the leading content and copywriting agency for your organization. Go through the below-mentioned reasons to gain better insight.
Cost-effectiveness
A content writing company in UAE can offer you a cost-effective marketing strategy over traditional approaches. You will be able to reach a significantly greater customer base with minimum expenses following this approach.
Quality service
Well-researched content will ensure your target customers receive authentic information. Thus, it will help retain the existing customers and gather new clientele as well.
Build trust
Your website will inform the latest offering and services to existing customers. They are likely to visit more often. It will port your organization as a trustworthy brand in the market.
Original content
SEO friendly contents will ensure better visibility over the internet. You will also notice a significantly low bounce rate. Both of these will help you convert a larger number of visitors into potential customers. Also, it will take your business outside the boundaries of your city.
The culmination of the above-mentioned web content writing solutions will help you improve your company's revenue significantly. That is one of the most important reasons to hire a content marketing agency in Emirates.
Real Stories from Real Customers
Get inspired by these stories.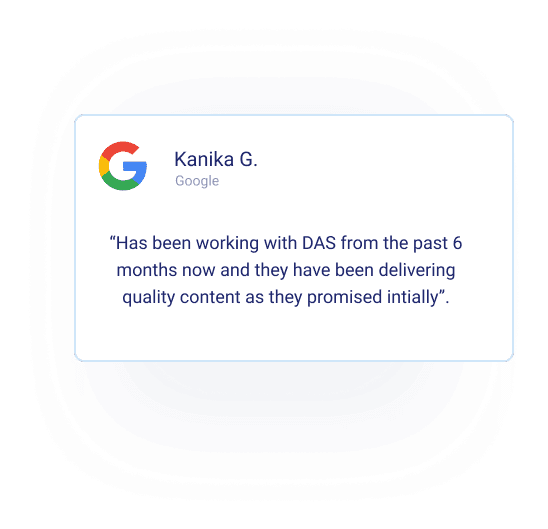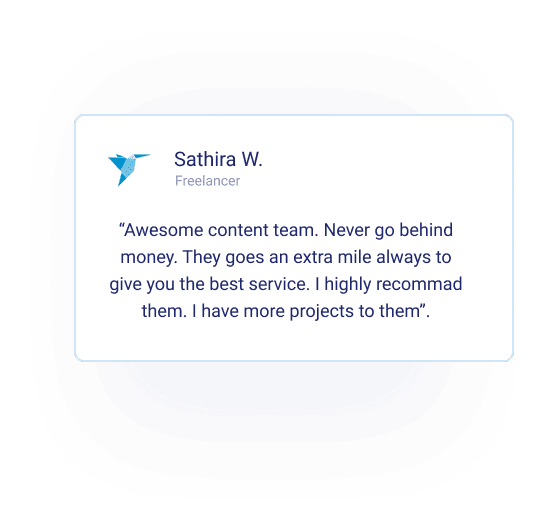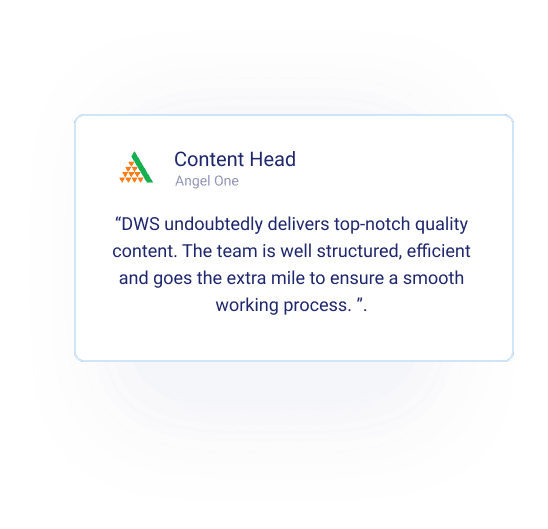 Why should you select Us?
At Das Writing Services Private Limited you will find a team of best professional content writers ready to tackle any type of project. We offer the best professional website content writing services in Dubai and in other parts of the world.
Our experts have credited us with the NASSCOM certificate of acknowledgment. We offer a variety of services, including –
Frequently Asked Questions
How expensive is it to hire the leading content agency?
Reputable content writing services in UAE usually charge a reasonable sum for all types of web content writing solutions. However, the overall cost may vary depending on the project and specific requirements.
Is there any specific way to form SEO friendly content?
Once the client's requirements are communicated to the copywriting agency, the professional content writers take over.
Usually, such projects go through several levels of checking before being delivered. Contents usually go from writers, proof-readers, editors and quality control specialists before being delivered to a particular client.
To know more about our content writing services in UAE, reach out to us at the earliest.

Get in touch with us