Successful content marketing examples comprise creating different forms of content that can attract a vast range of target audiences with proper techniques.
Content marketing is one of the most effective marketing strategies for business owners as it can help to propagate business ideas creatively.
The written form of content like blogs and articles is informative and shares valuable insight with the audience while videos and photos are highly interactive and increase audience engagement.
In this blog, you will learn about some of the best content marketing examples wherefrom you can derive effective ideas for your brand.
15 Compelling Content Marketing Examples for Your Reference
Successful content marketing examples inspire other business owners and they can amplify these ideas in their way to create something new. Below are some of the most popular content marketing examples that you should know:
Spotify Wrapped 2022
Spotify Wrapped is one of the unique content marketing examples to impress the audience. It is one of the most impactful campaigns of Spotify as it increased the number of users to 188 million in 2022, which was 100 million in 2019.
In Spotify Wrapped, the music streaming app gave users wrapped cards on what they had listened to throughout the year. These brightly designed wrapped cards are broken into different artists, genres, songs and more.
The picture below shows an instance: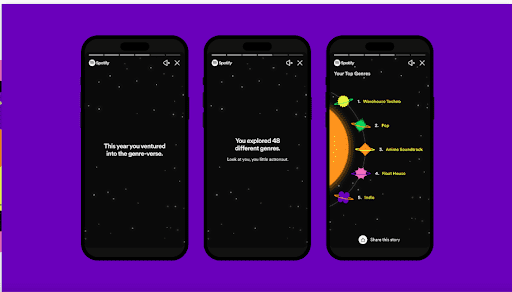 These wrapped cards were shareable, and it became a trend on social media to share them.
The campaign also included personalized playlist creation for the listeners as per their listening throughout the year. Thus, it became extremely popular among Spotify users across the globe.
"Share a Coke Campaign" by Coke
If you want one of the best content marketing examples, you should not miss Coke's "Share a Coke Campaign"! This marketing campaign gave everyone opportunities to personalize their drinks with their names.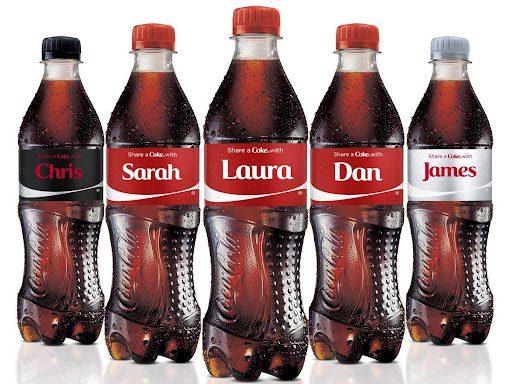 Throughout Australia, 150 names were taken and printed on numerous bottles. The campaign became popular, and later Israel, China, US, UK took this campaign positively and customized it in their ways.
Content Marketing by Zomato
India's one of the most popular food delivery apps Zomato is highly popular for its content marketing strategies.
You can get diverse content marketing examples, such as memes, interactive content marketing, videos etc on Zomato's social media handles.
Meme marketing is one of the most popular strategies of Zomato, which has created a buzz among the common people. The picture below shows an instance.


The brand is also popular for creating interactive posts that compel users to engage with the brand's social media activities. Here is an instance.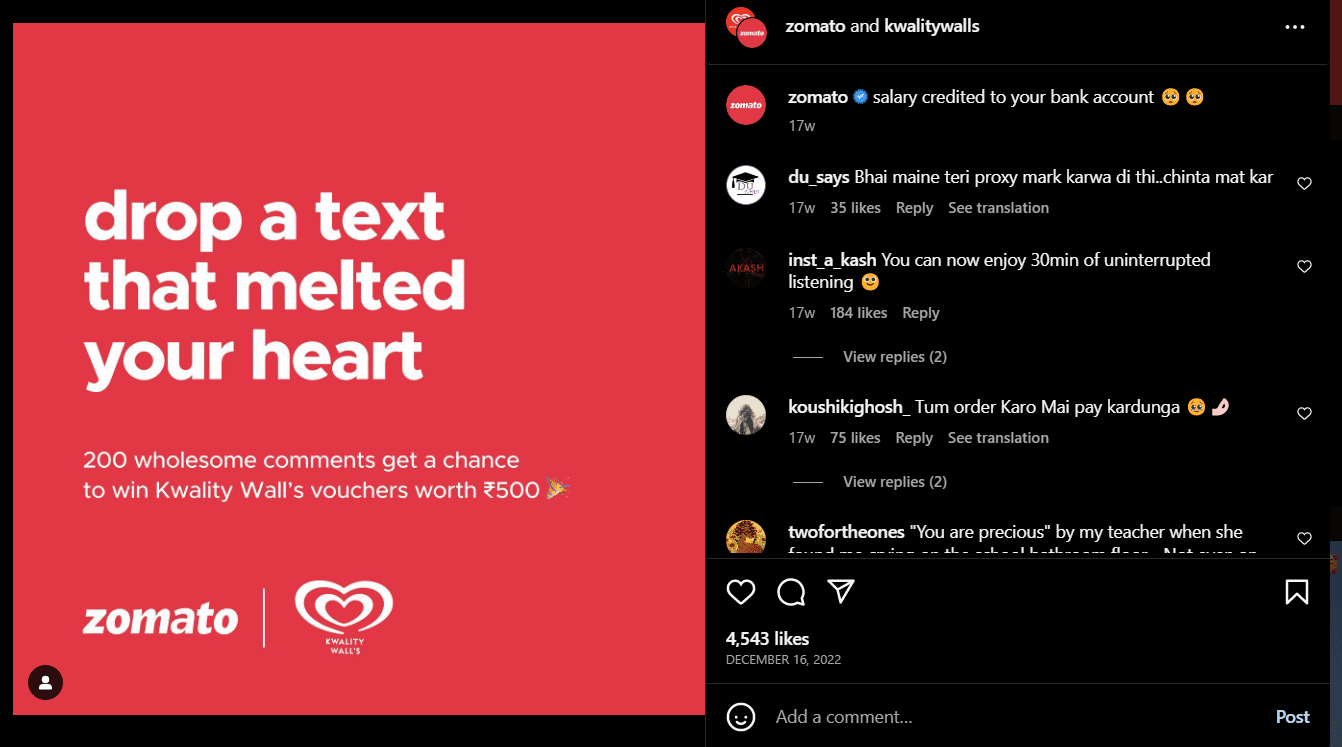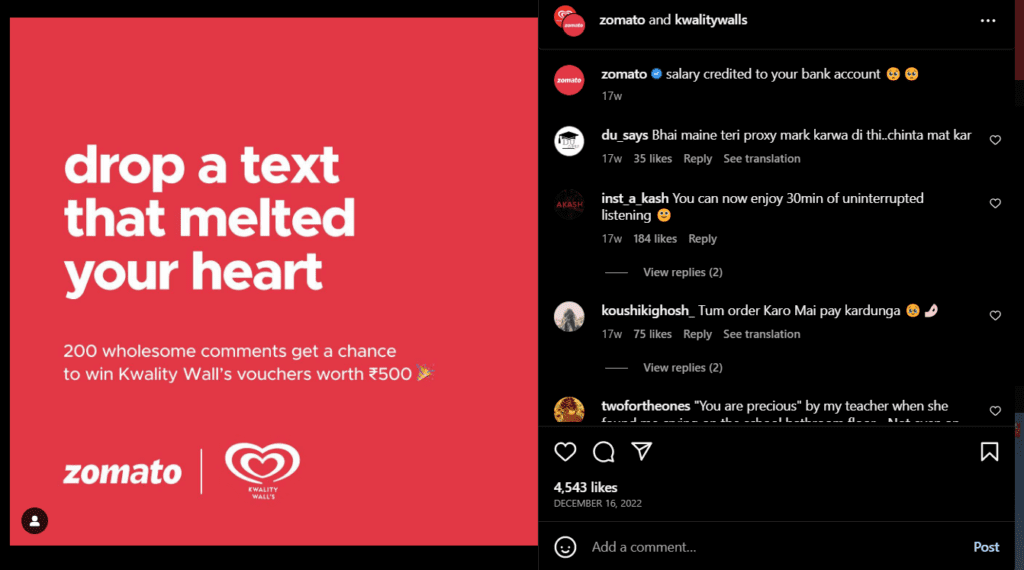 Posts like this always bring better engagement and the exciting giveaways are like a cherry on top! No doubt Zomato has won the audience's interest with its content marketing campaigns.
Content Marketing by Shaadi.com
India's famous matchmaking application Shaadi.com is another example of well-arranged content marketing.
Shaadi.com quite successfully recreated influencer marketing which is a popular strategy nowadays. It is a comparatively new approach to content marketing where celebrities and influencers promote a particular brand as a collaborative effort.
On the verge of women's day, Shaadi.com arranged such an influencer marketing segment with a famous Indian lady comedian. The instance from their social media page is as follows: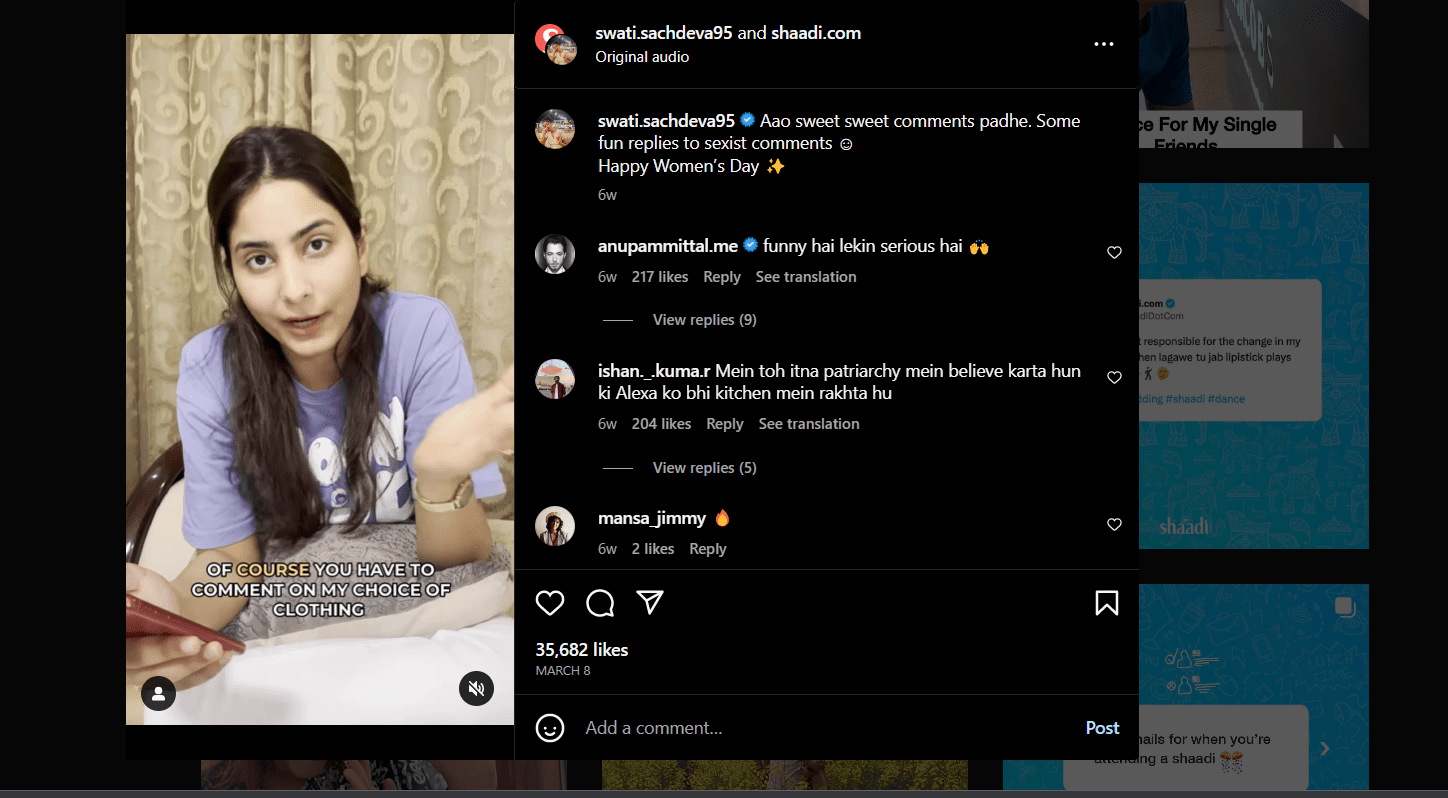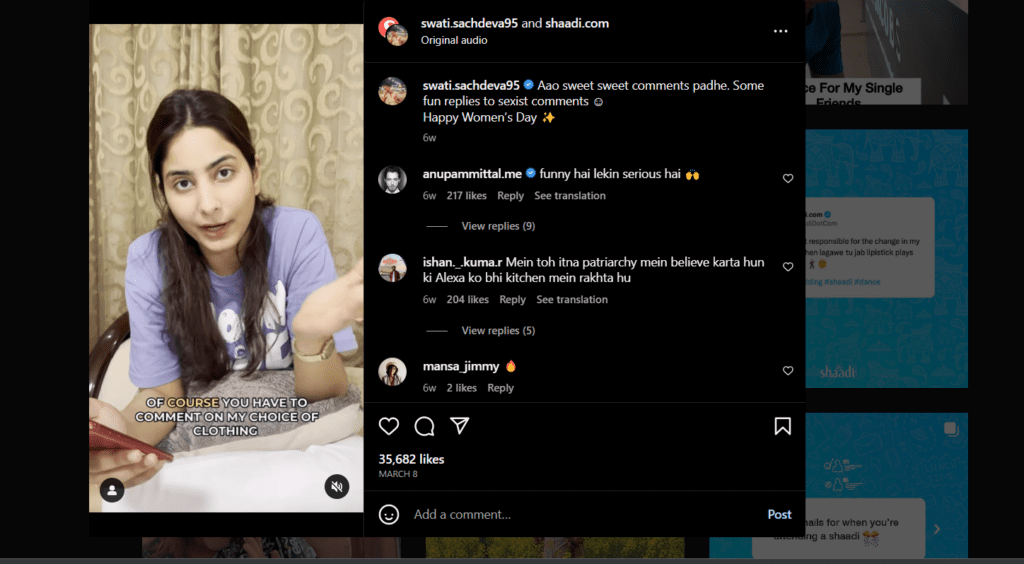 People admire this brand's marketing strategies because of their positive attitude towards women and this in turn increases their traffic and user engagement.
Canva Design Challenge
Canva is one of the most popular tools for graphics designing and is perfect for beginners to pro designers. The brand holds its popularity through its attractive content marketing campaigns.
One of its creative content marketing examples is #CanvaDesignChallenge. The picture below shows an instance: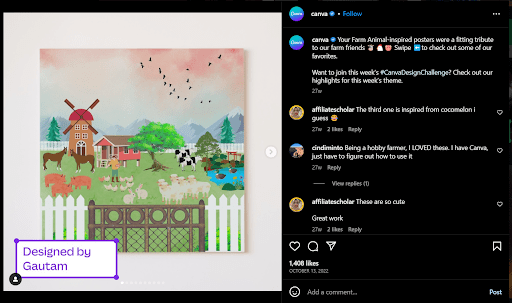 The campaign was launched the last year and became immensely popular among Canva lovers. This type of creative campaign is highly interactive and draws people's attention immediately to the brand.
Duolingo's TikTok
Duolingo is a popular language-learning website that created a craze in TikTok with content marketing strategies. TikTok is a popular short video streaming platform and it is a perfect place for video content marketing.
Duolingo used this platform properly and was consistent with posting their famous green owl mascot.
However, Duolingo did not always propagate its services through these videos but put them genuinely for fun purposes. It hit the bull's eye and the brand got enough positive engagement.
Content Marketing by Amul
The list of content marketing examples is incomplete without mentioning Amul. The brand is tremendously active on social media and never fails to cover every important social activity.
For example, as the IPL season in India is continuing, Amul has been generating attractive and engaging social media posts on this to provide its users with fun elements and market its service at the same time.
Take a look at the following picture: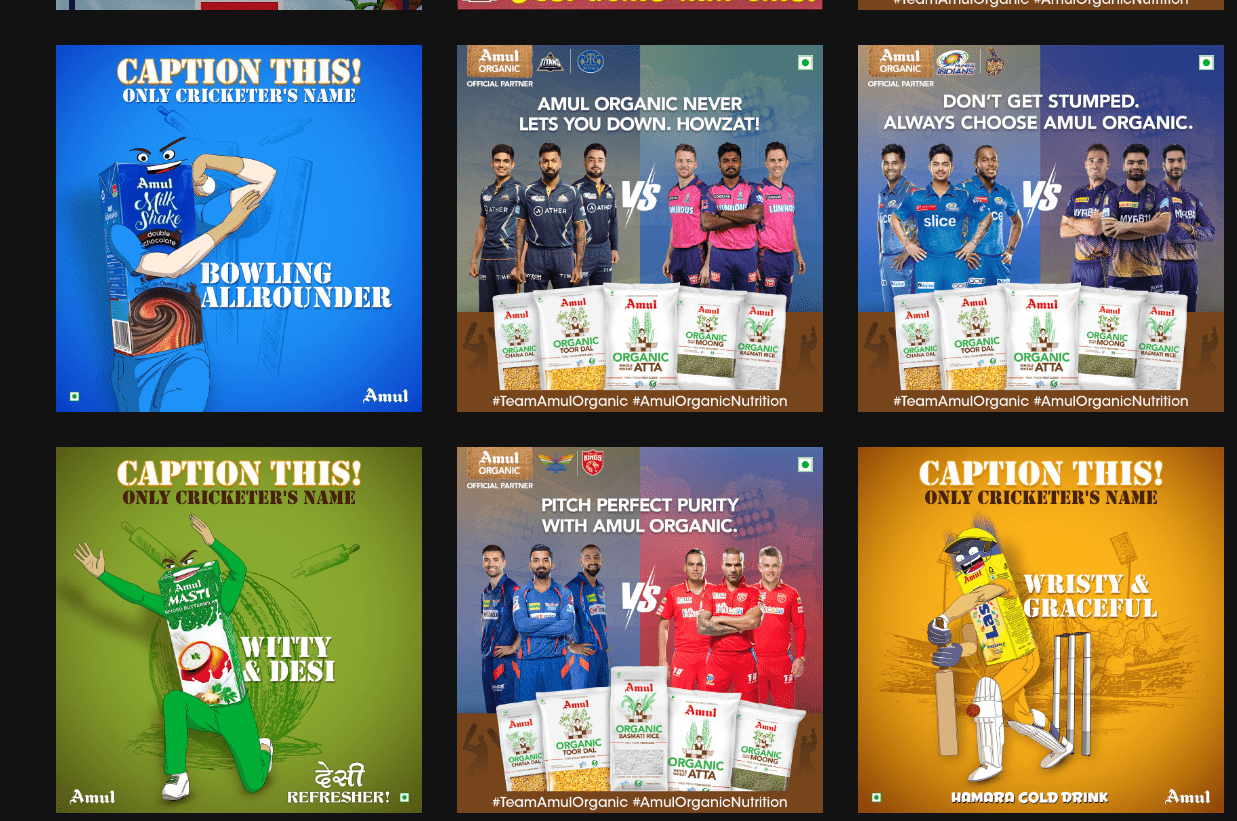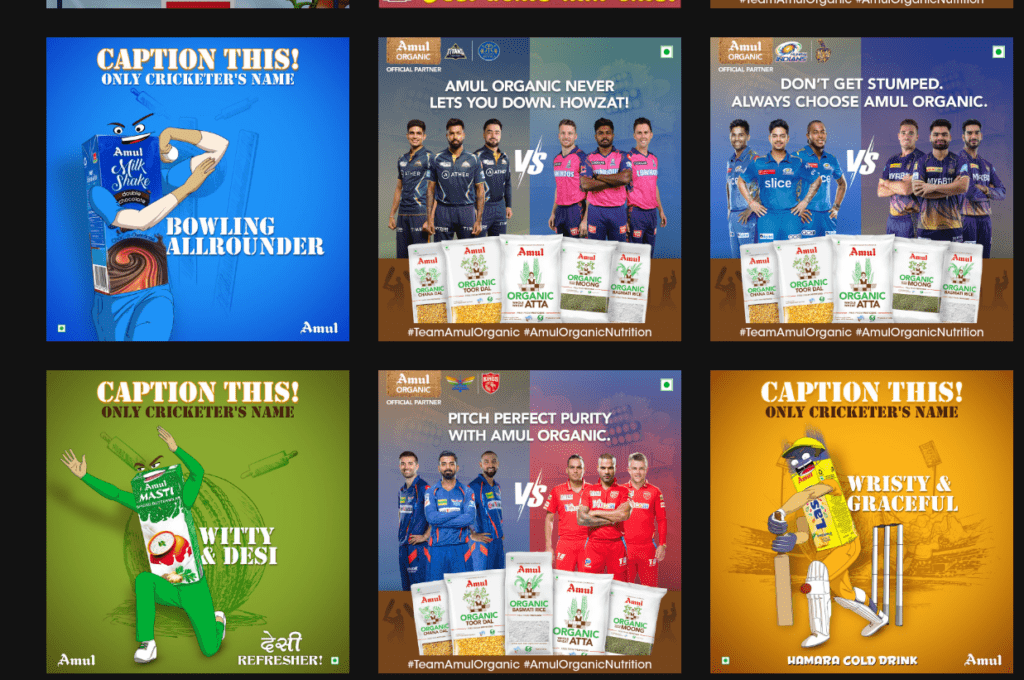 Amul has created a buzz all over different social media platforms like Facebook, Twitter, and Instagram and has successfully gained a lot of followers and admirers.
The brand has been famous for a long time and these content marketing strategies are making their approaches more engaging.
Adobe and Sundance Film Festival Collaboration 2023
Adobe is one of the most popular names in the field of Photoshop and PDF making and during the early part of 2023, it partnered with Sundance Film Festival.
Sundance Film Festival is one of the most prestigious occasions and being a partner with it is indeed worth sharing.
Adobe propagated this success with an attractive video marketing campaign which played an important role in elevating this brand's reputation.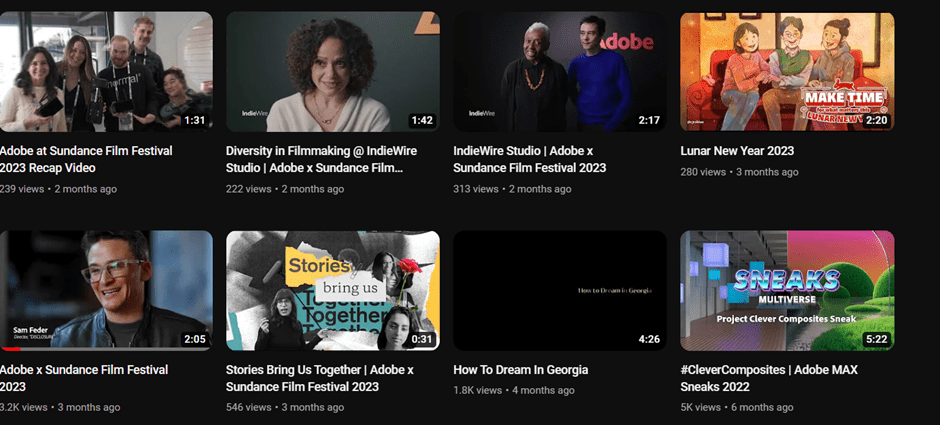 Thus, business owners can definitely follow such winning content marketing strategies to share their success stories and grab the audience's attention.
Web Stories by Google
Web Stories by Google are one of the most interactive B2C content marketing examples that have attracted creators throughout the world.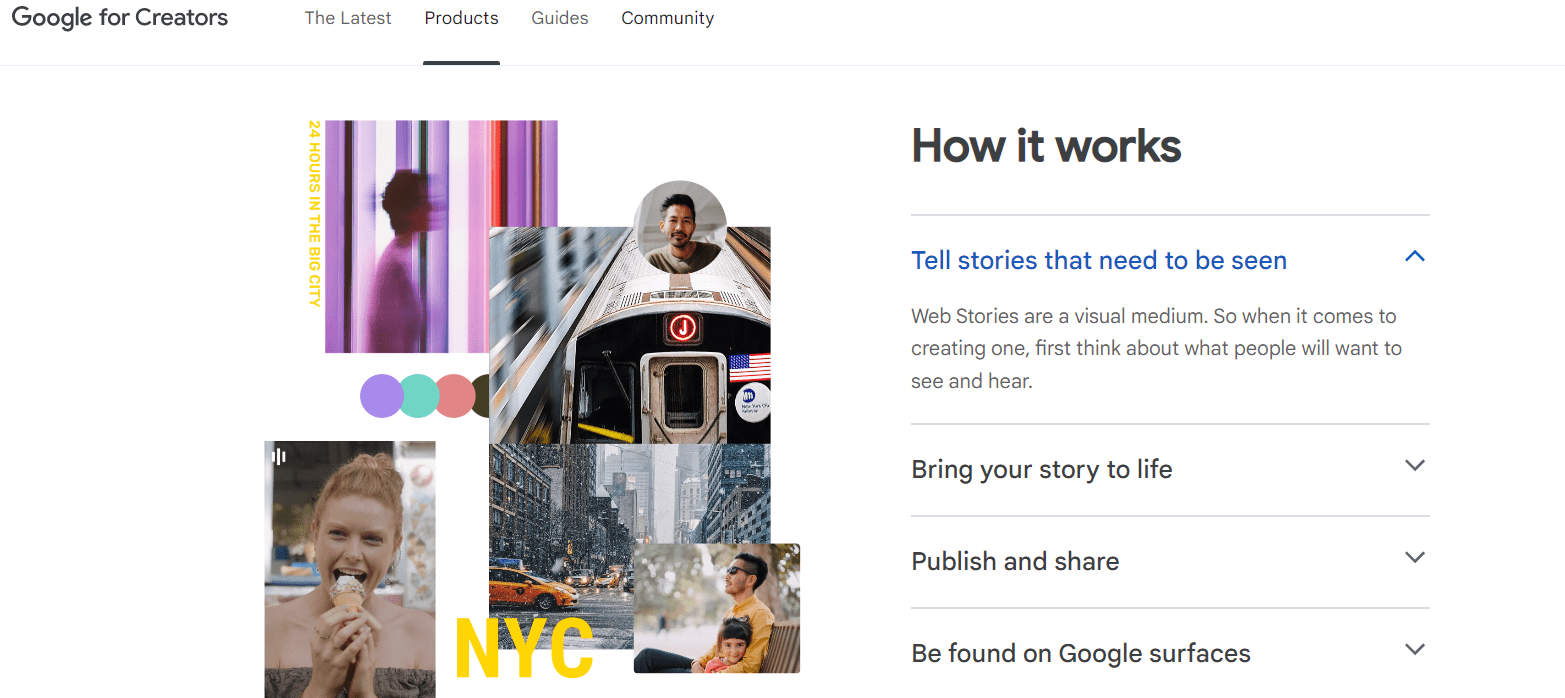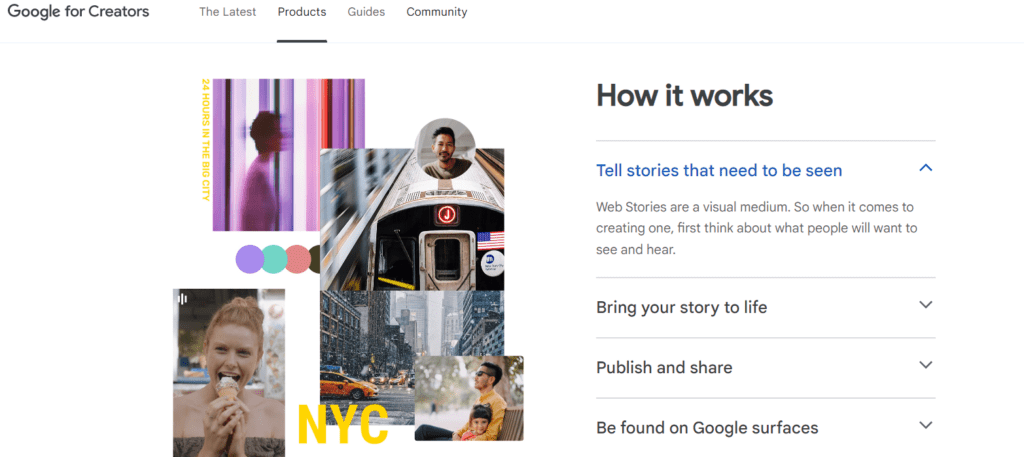 Through Google web stories people can create and share their stories and unique content with others like several other video streaming platforms.
Hence, videos are always a great way of content marketing as they can engage more users with 83% extra traffic. As a result, both Google as a brand and the creators get benefits from this web stories marketing campaign.
People of Impact by Allstate
Allstate's People of Impact is one of the most popular examples of content marketing on social media. This insurance brand took part in Teacher Appreciation Week the last year and featured Mrs Baylor who took helpful steps for underfunded schools.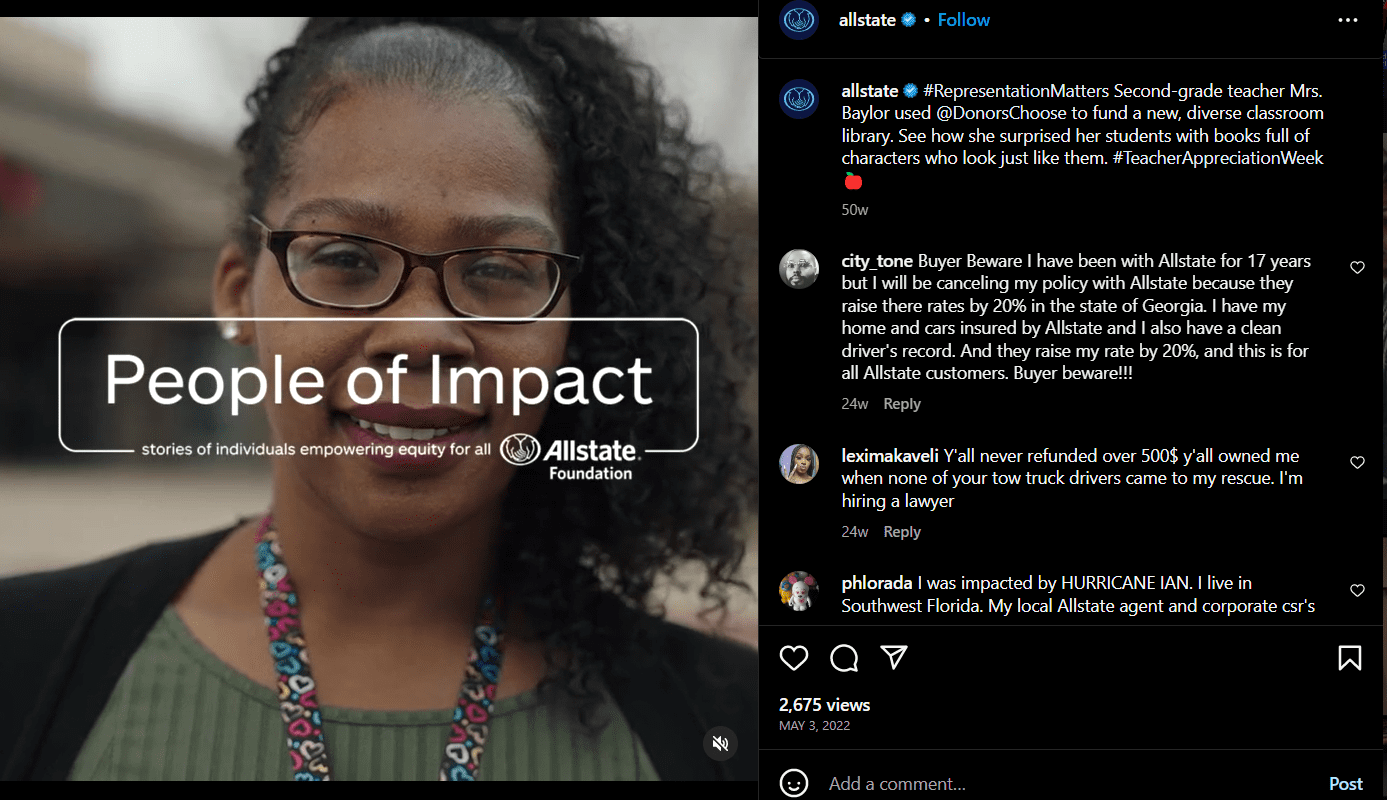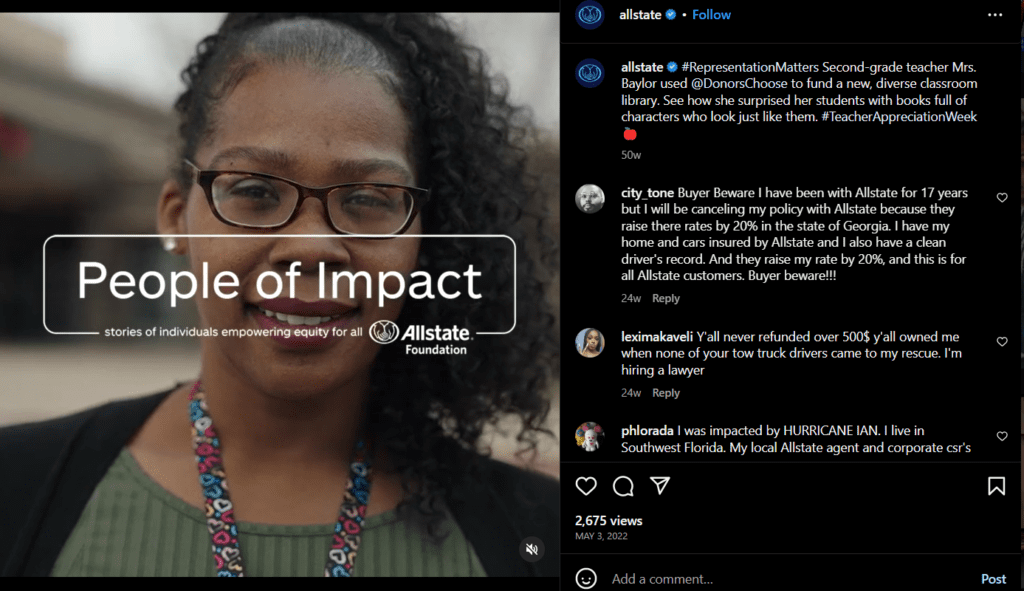 This is one of the most popular examples of content marketing where brands introduce effective campaigns that can actually contribute to the betterment of society. This in turn brings positive impacts and increases brand reputation.
Meme Marketing by Netflix_India
Memes marketing is no doubt one of the most popular content marketing examples and almost every brand has acknowledged it. Netflix_India has taken this meme marketing to another level with much creativity. An example is as follows: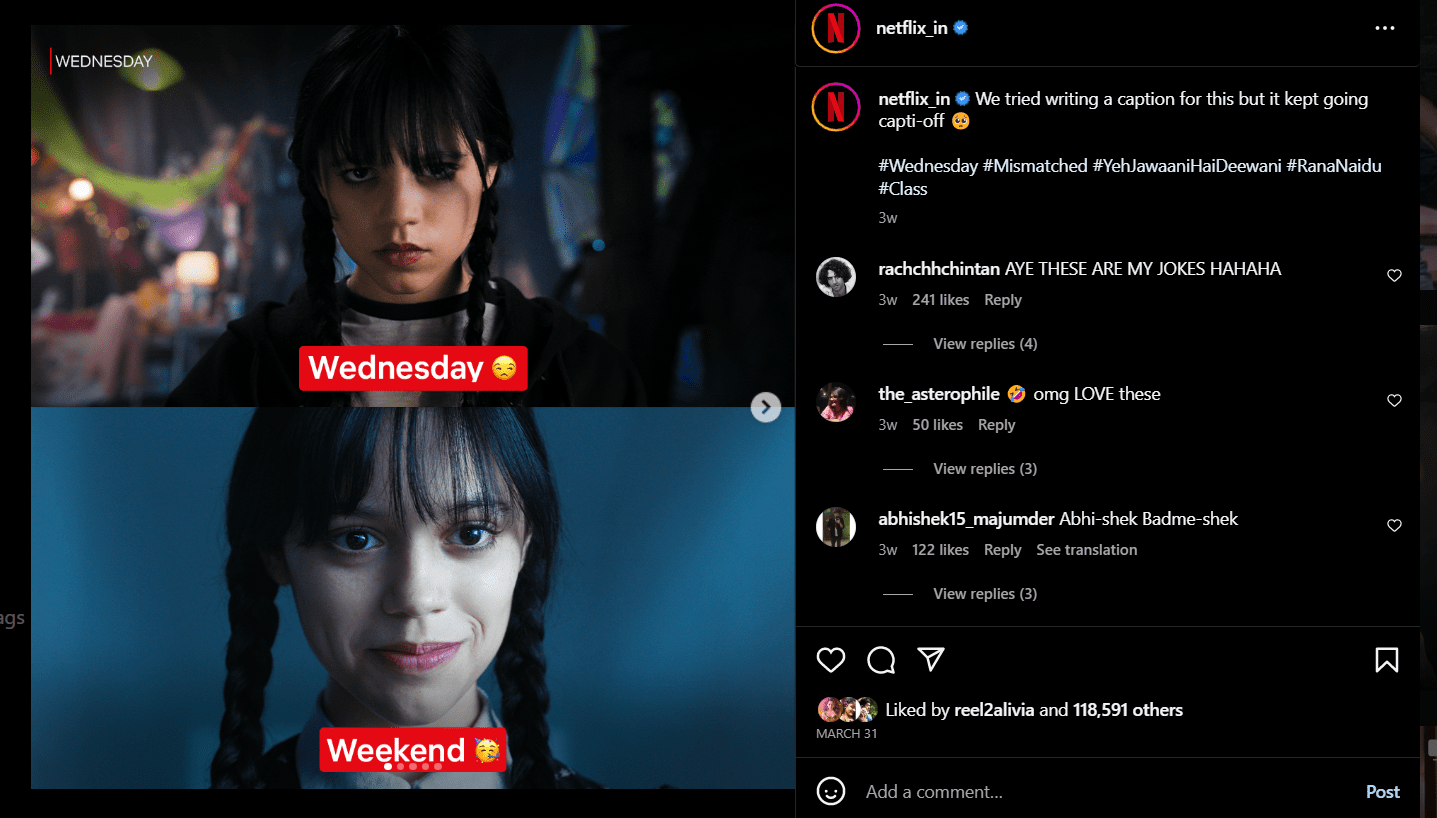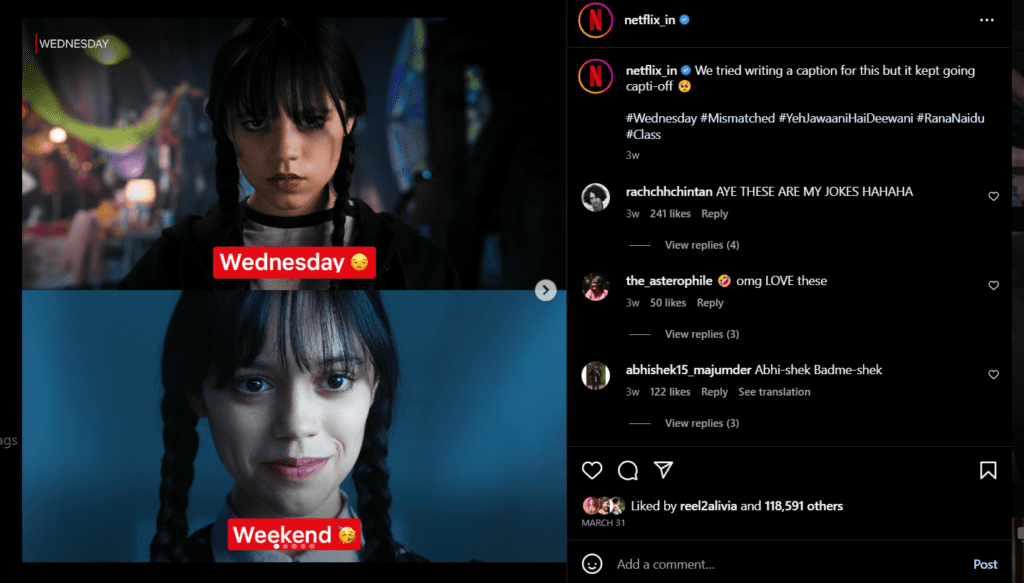 Apart from their social media posts, they are also consistent in uploading videos, movie clips, promos and trailers on YouTube to keep their customers updated.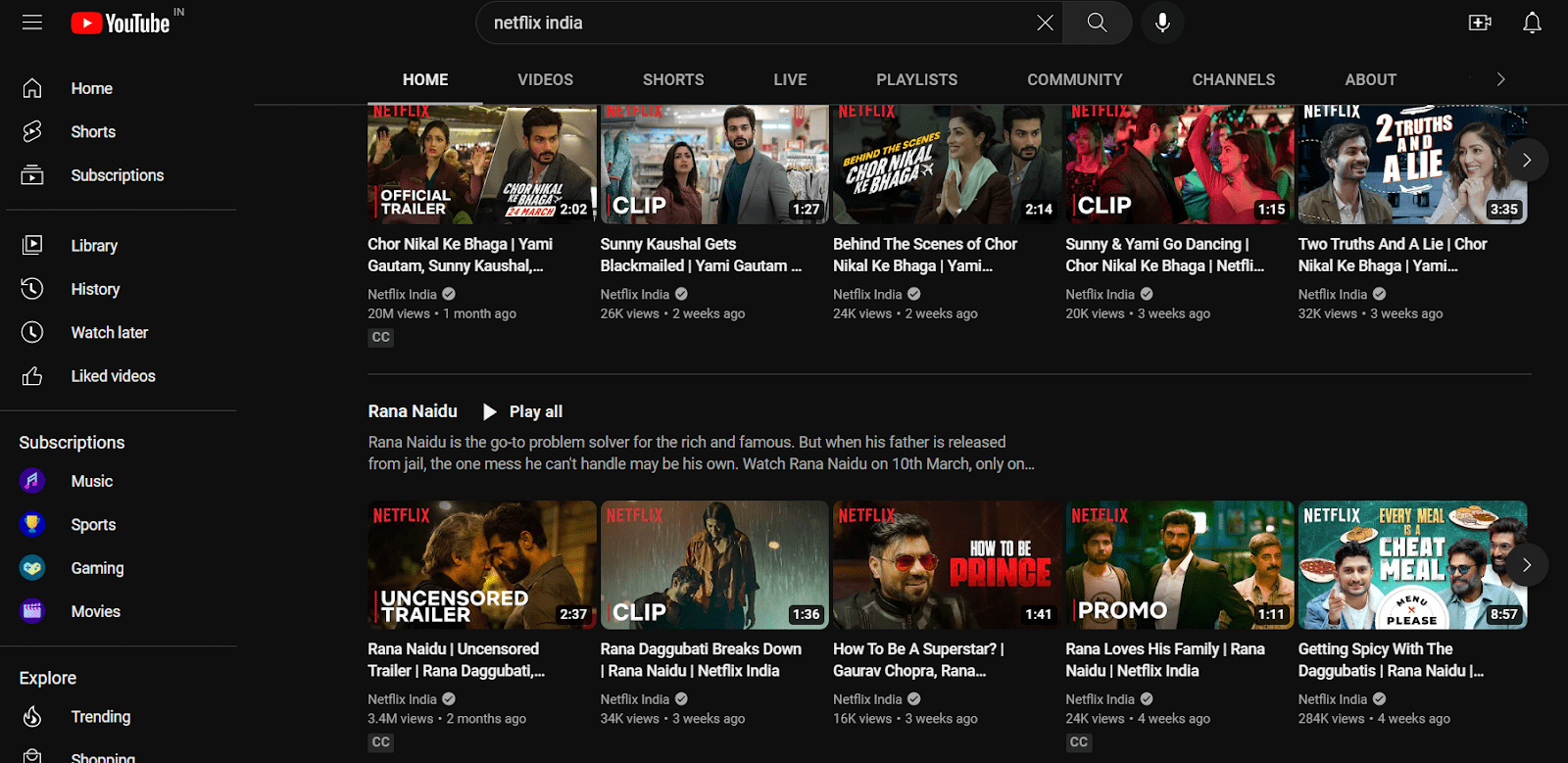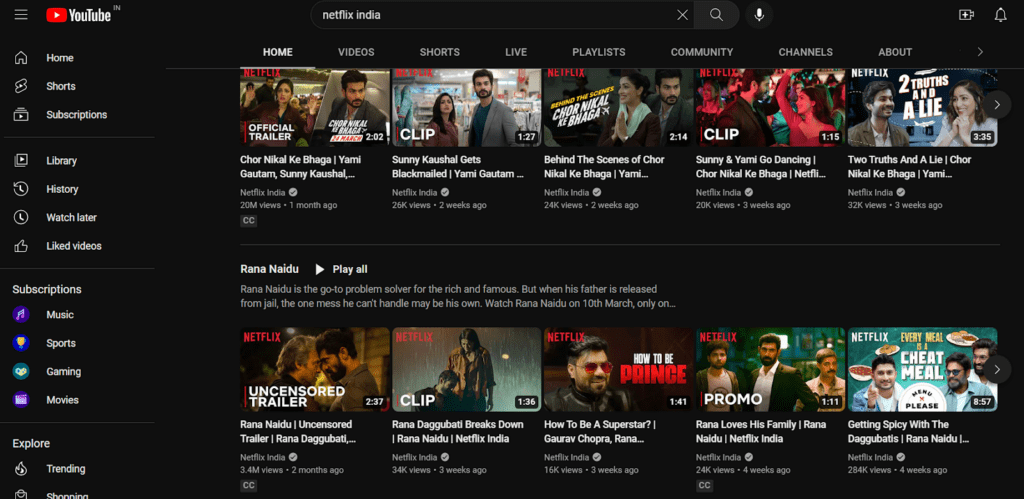 Thus, Netflix is not only famous as a popular movie and web series streaming platform but they put enough effort to create relatable content to engage more people.
McDonald's Q&A Sessions and Visually Appealing Content
Q&A sessions are one of the best organic content marketing examples where a brand strengthens its relationship with its customers by answering their questions.
McDonald's initiated such a campaign where they tried honestly answering all the questions of their customers regarding the service and quality of the food.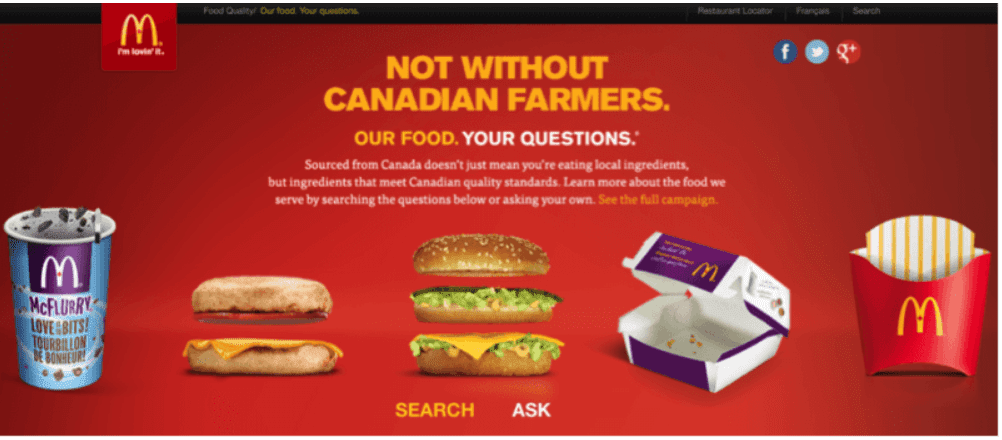 This example can also be considered a storytelling campaign which is indeed an effective strategy to humanize a brand and gain more customers.
Besides, as a popular food brand creating visually appealing content is also this brand's forte! This type of content easily grabs the audience's attention and impact their mind a lot. An example is: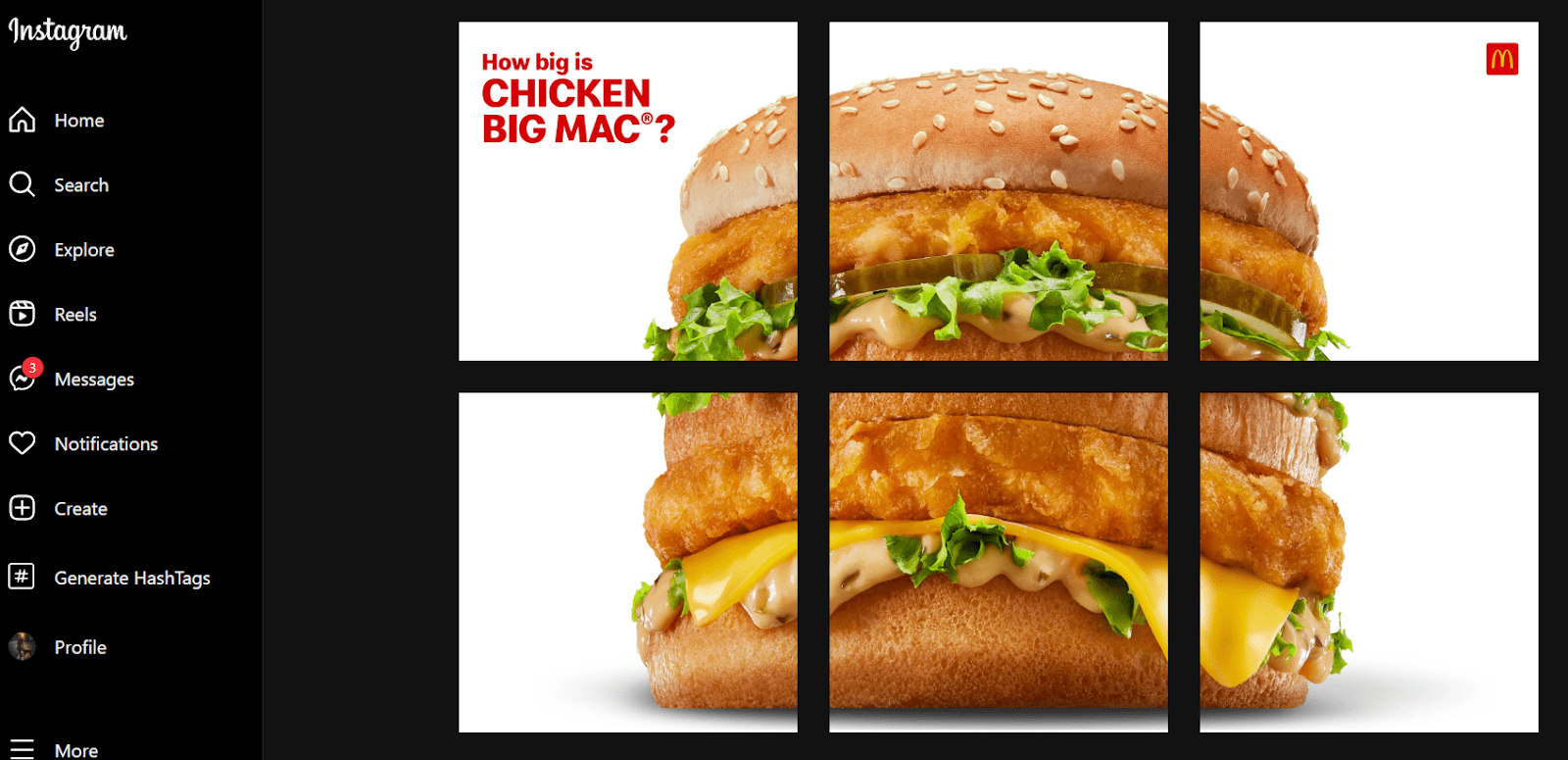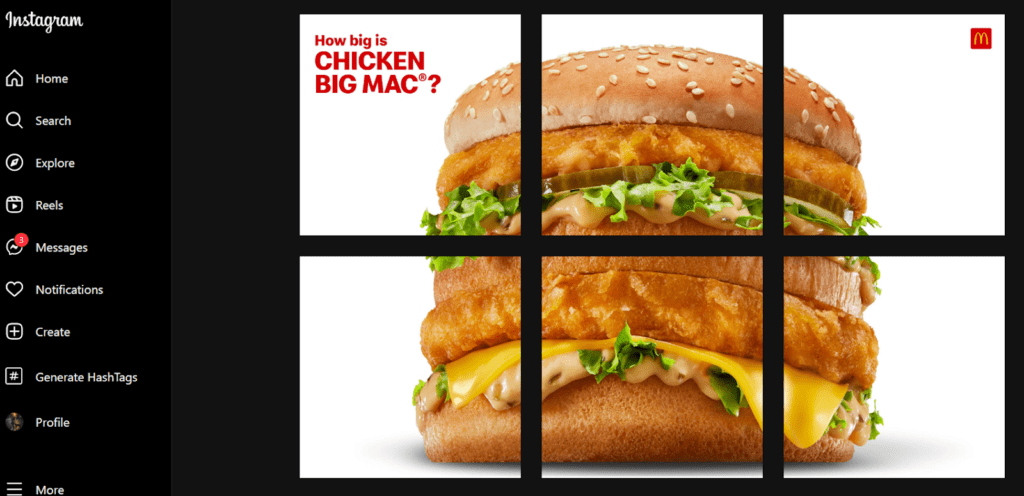 Thus, brands that are selling foods can follow the marketing strategies of McDonald's to attract more customers with proper effort.
Shot on iPhone by Apple: A Video Marketing Example
Do you wonder how much Apple can generate through their ad campaigns? It was almost $3.7 billion in 2021.
Apple is a big giant in the gadget market and the key to its marketing success is its simplicity. The Shot on iPhone campaign was also such a simple idea that became a head-turner in no time.
From common people to celebrities, everyone has taken the concept and created content in their own way. Lady Gaga's "Stupid Love" is an excellent example of this campaign.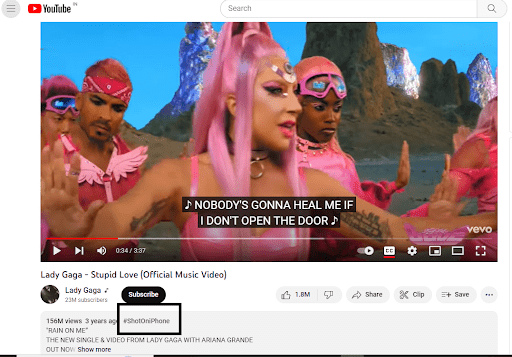 This content marketing campaign marketed the iPhone model tremendously and it also shows how efficient this model is. The #ShotOniPhone campaign was so popular that Apple created a separate official blog where it restored all the best shots around the globe.
User-Generated Content by Pantone
Sharing user-generated content is one of the most interactive content marketing examples that help brands to take their marketing strategies to a new height.
In this context, Pantone is a renowned brand that invited its users to collaborate with them in creative colour palette creation.
In this campaign, the brand encouraged its audience to take colours from their given palettes and recreate their own on the Pantone application.
The campaign was a hit and numerous collaborations were featured on the social media handles of this brand.
Wordle
Sometimes, content creation can be simple yet it can generate a huge engagement. Wordle is such an example. It was an initiative by New York Times and got immensely popular among users.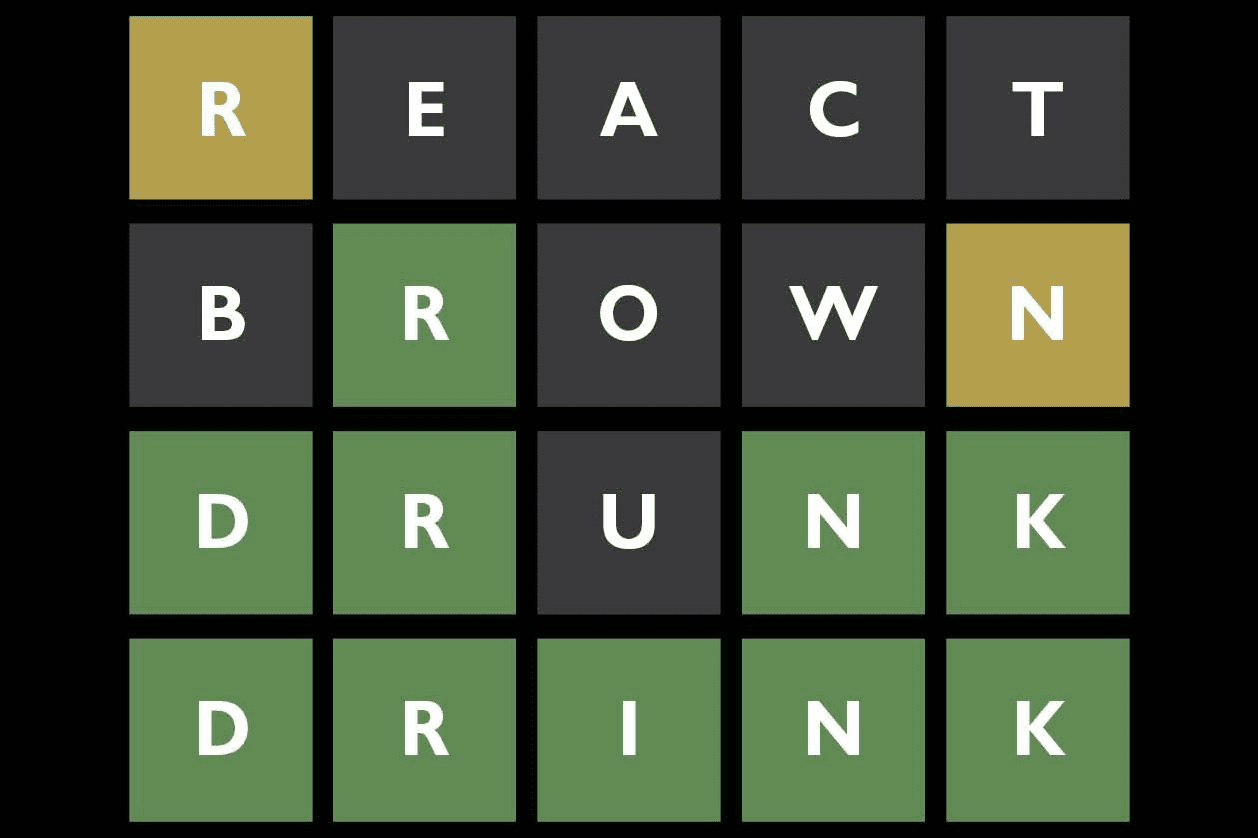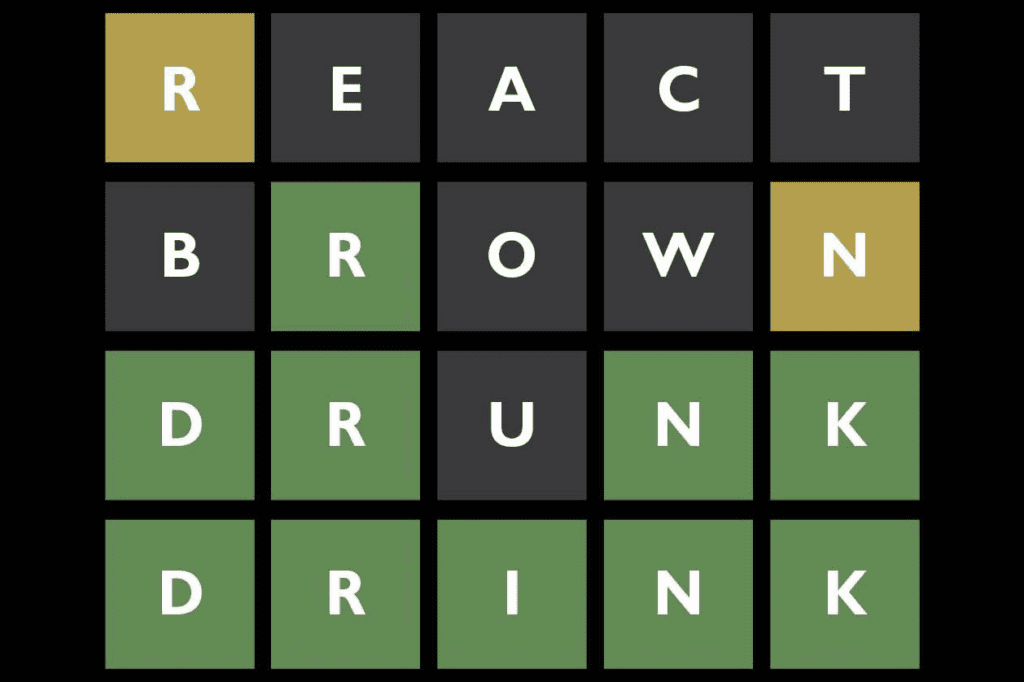 As you can see in the picture, it is a word puzzle which people can solve only once a day and they get only six chances.
This brainstorming game is extremely popular and people from all over the world not only have participated in it but also shared their wins on social media.
The campaign is a sure hit and as of February 2023, it received almost 51 million organic views which is indeed incredible!
A Brief Note on Content Marketing and How it Can Help
Proper content marketing strategies can bring more traffic to your website. Here are a few types of content marketing that are extremely helpful to market any business matching the audience's intent.
Blogs are a long form of written content where you can incorporate keywords properly and engage audiences with information and attractive approaches.


Business owners generally keep a blog section as shown in the picture on their websites where people can navigate to get different informative content.
Social media posts are a type of content marketing where people can find out important information and update on any brand.
For example, in this picture, you can see the brand has stated the launch date and time of a smartphone model to inform people.
Infographics are excellent examples of content marketing as they are visually appealing and deliver information briefly. The picture below shows how an infographic looks: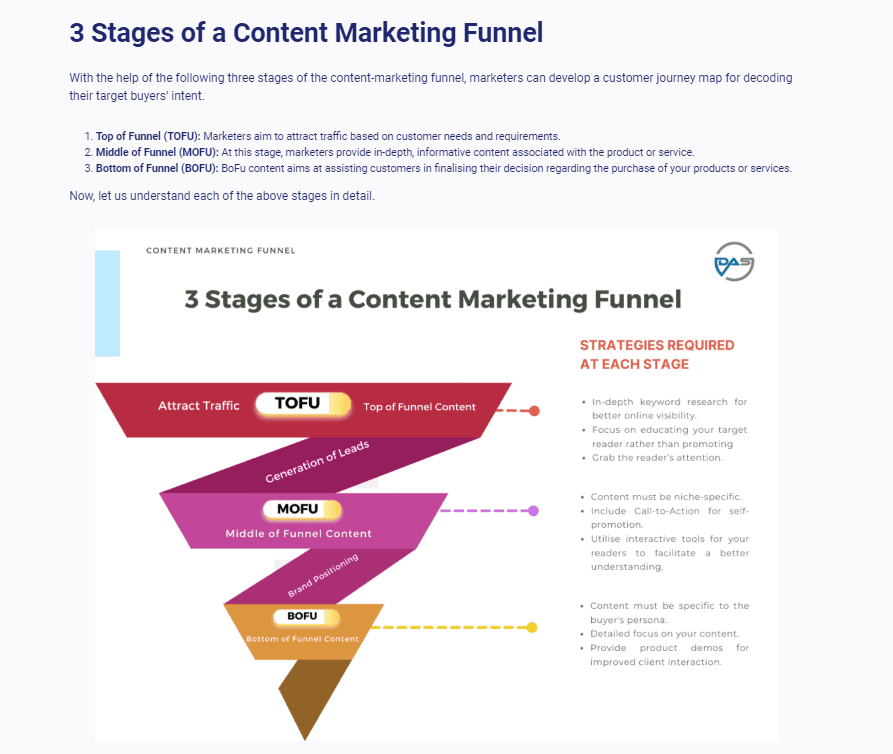 No doubt videos are one of the most interesting types of content marketing, which can immediately grab people's attention. Creating high-quality, information-rich, crisp videos is now a trend and Instagram reels are a great example of this.


Case studies nowadays have become extremely popular as they can show the solution to a specific problem. Case studies answer directly to the audience's questions so these are more engaging and helpful.
Apart from these, there are some more impactful content strategies such as:
Checklists
Reviews and Testimonials
Memes
How-to content
Webinars
User-generated content
Whitepapers etc.
Conclusion
Thus the article has pointed out some of the most prominent content marketing examples that are game changers in the field of digital marketing. Brands can definitely take instances from these strategies and make their marketing plans accordingly.
However, maintaining individuality is highly necessary, so no matter what is your approach it should sell your brand's primary motive clearly. In addition, you also need to be consistent in posting content so people can visit your page and website again and again.