Google Search has launched generative-AI enabled search feature to make learning quicker. But how effective is it for searchers? How are the search results now after this rollout of Google Search Generative Experience (SGE)?
Here are the answers to all these questions. If you are a search-result enthusiast, this short blog is a must-read.
Roll Out of Google Search Generative Experience
On August 31st, Google rolled out the Search Generative Experience in India, but not as a mandatory option for all.
As a searcher or user, you get the option to opt-in for this new search experience. You can enable the SGE feature on your Chrome browser on Desktop and Google iOS and Android app.
However, this is not the initial rollout. Google initially launched SGE three months before this rollout in India to get feedback from users.
At present, we are getting an updated and improvised version of SGE which is more helpful. Now, the SGE includes images, videos, links to contents, and many more.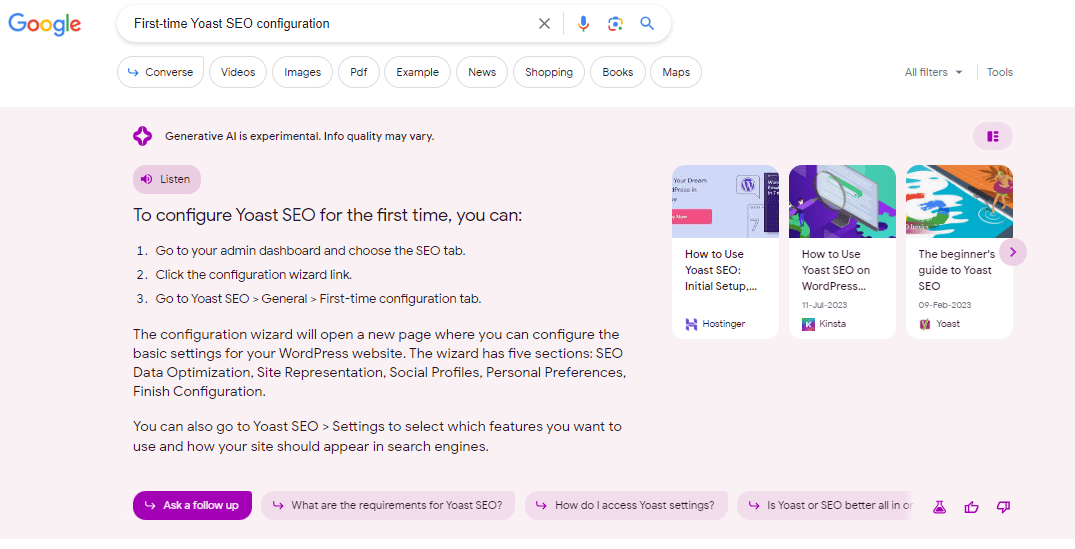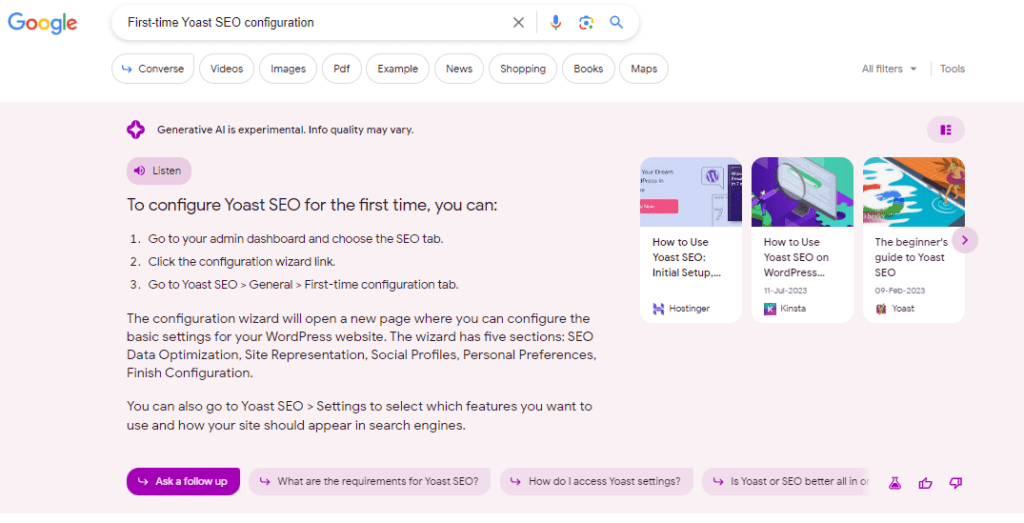 Google has stated that its main purpose behind this launch and subsequent updates is to test how generative AI can be helpful in terms of giving quick information to users.
How do Search Results Appear in Google SGE Enabled System?
After you place your query on the Google Search Engine, you will get a short and crisp answer. You have the option to listen to the answer or ask follow-up questions on your search query.
The panel for the generative AI answer will also give you around 5-7 suggestive links. You can navigate to these links for a detailed answer to your query.
Besides the SGE answer, the Google SERP brings the list of sponsored and organic URLs like before.
Below is the image demonstrating the appearance of search results after enabling SGE.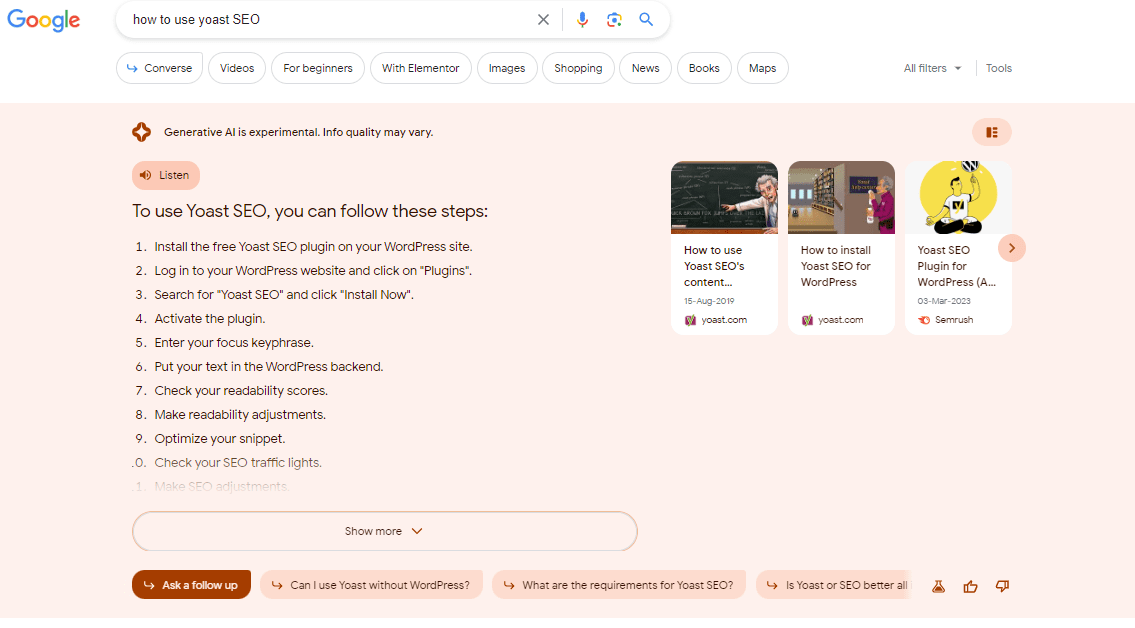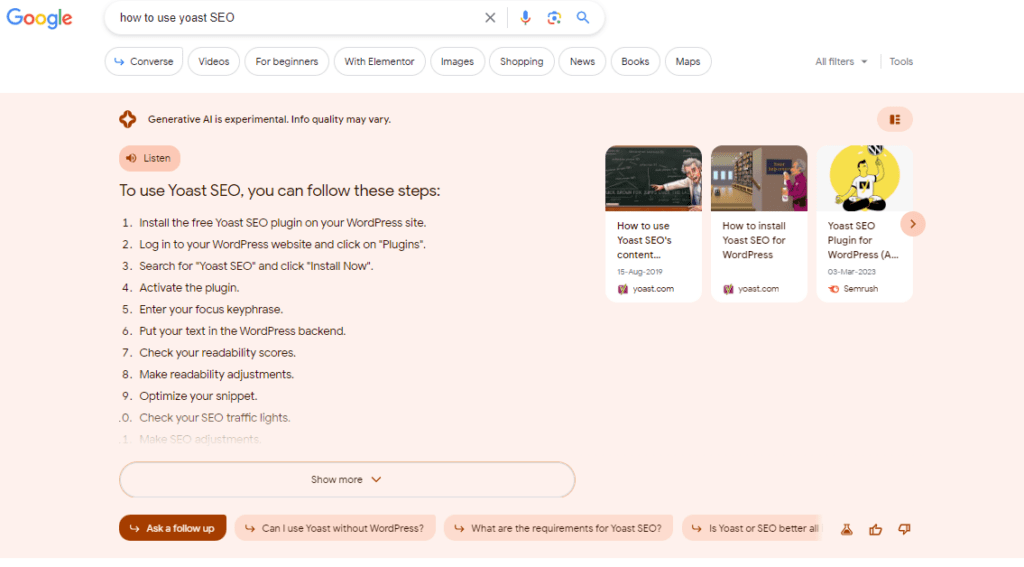 If you are searching on your mobile phone you will results like the picture given below: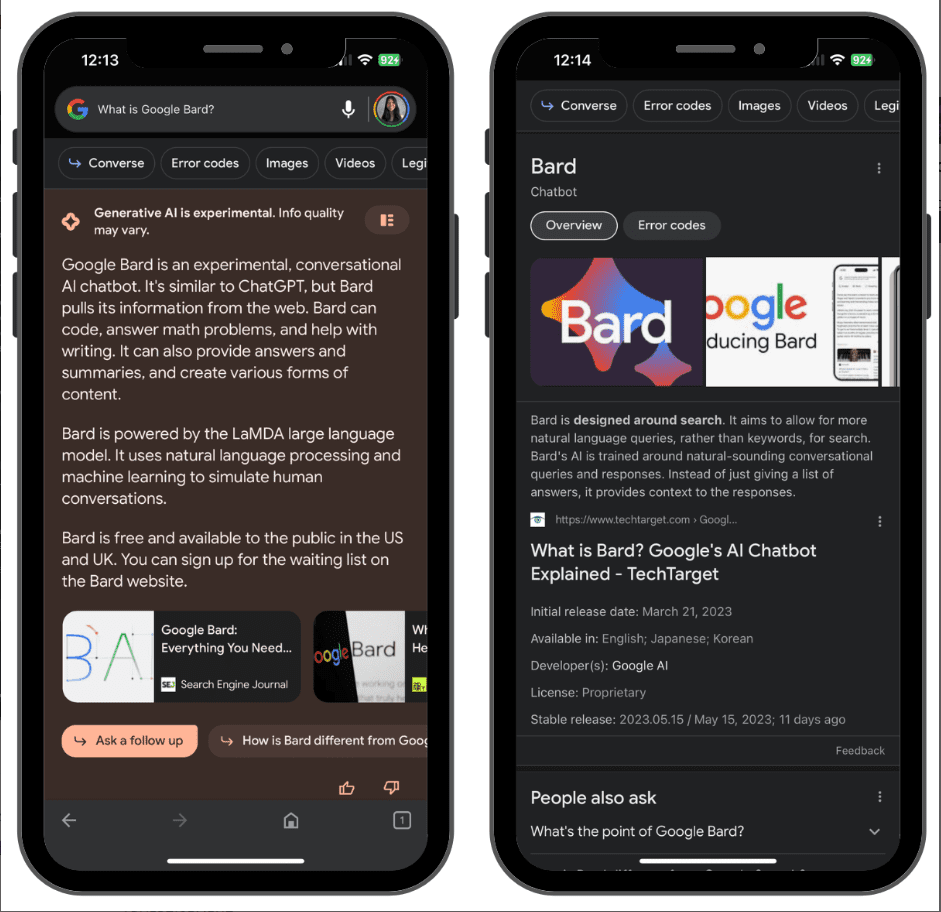 Differences Between Generative-AI Enabled Bing and Google
It was Microsoft that first introduced the generative-AI-enabled search result system, Bing Chat in February 2023. Bing chatbot is powered by GPT-4, a conversational AI released in November 2022.
Microsoft Chat provides a conversational information-generating system. You will get a very short answer and the links or references to those pages from which Microsoft Chat has fetched those answers. You can go to those pages by clicking on the link or reference numbers.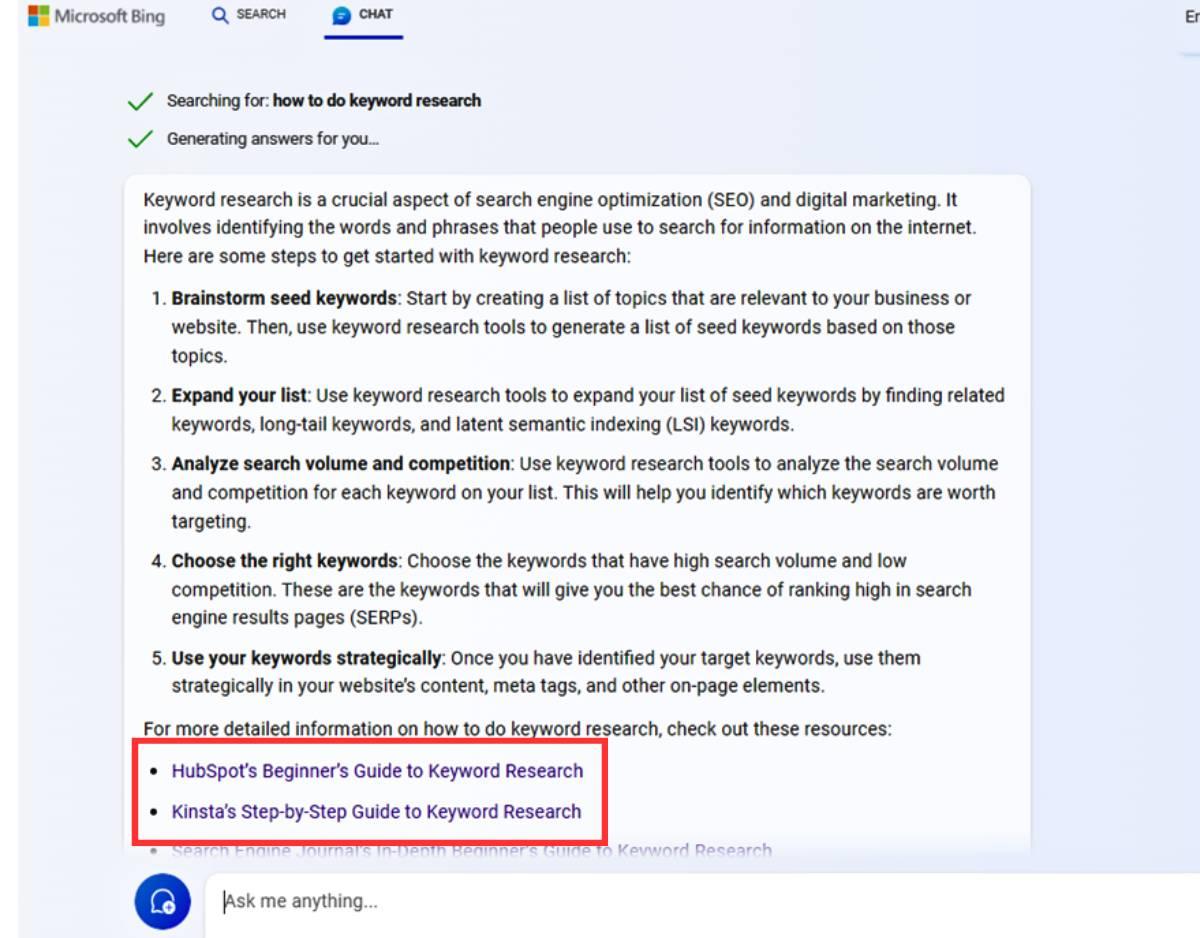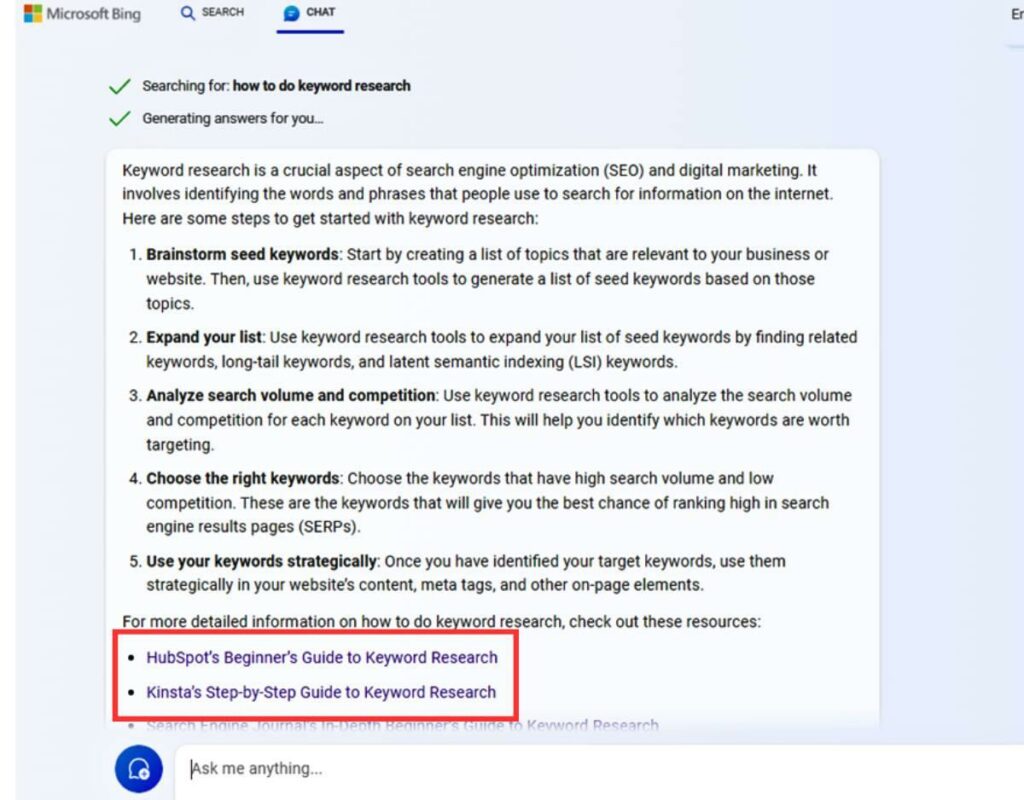 Unlike Google SGE AI, Microsoft Chat does not present a search engine result page and AI-generated answers in the same place. To get answers to your queries, you can either try the 'CHAT' or 'SEARCH' option in Microsoft. However, Google lets you get both generative-AI written answers and the SERP at the same window.
5 Ways Google SGE Will Help You Learn
Follow are the ways SGE has revolutionised the process of getting information through search:
1. Quick Go-To Answers on Specific Questions
Now with Google SGE, you can make your queries to get a summary and step-by-step guide. For example, you can ask the tool, 'VLOOKUP formula in excel' at the time of your data analysis.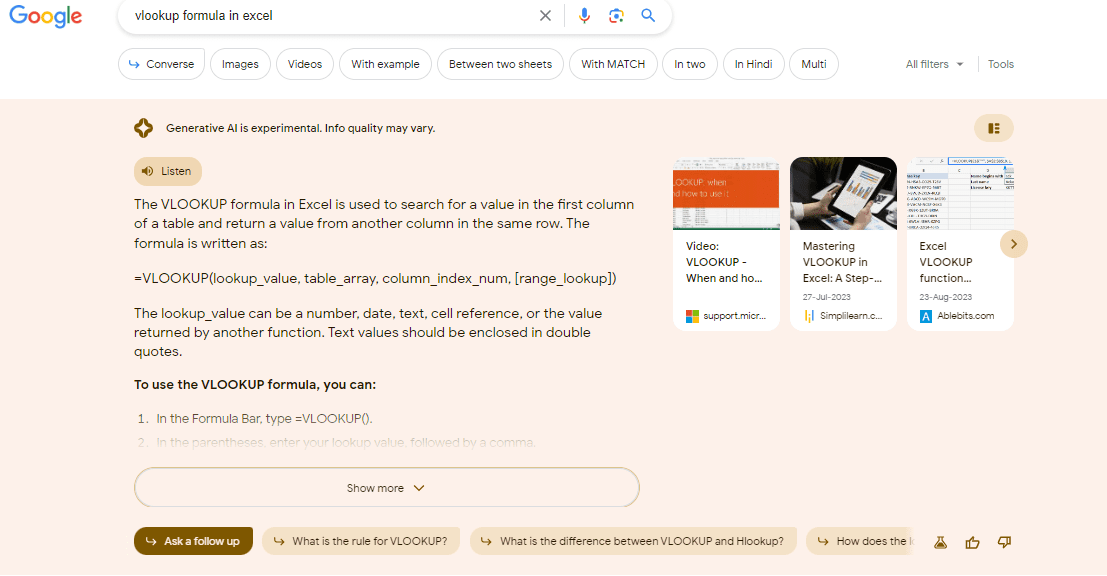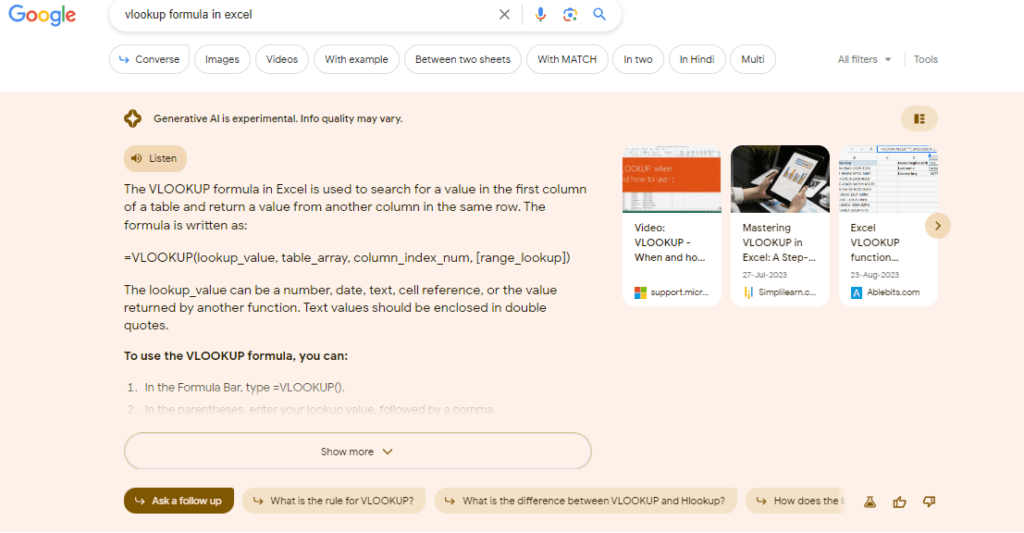 2. Easy Summary of Difficult Answers
Complicated topics hardly stick in our brains. If this is the scenario now, you can seek the help of Google SGE answers. It can give you a summary of all difficult answers. As a result, you do not have to go from one webpage to another in search of the answer.
3. Quick Video Suggestions Against Your Query
Some answers need better clarification which needs visual demonstrations. The tool determines if there is any YouTube video that can help you understand a topic more elaborately. For example, after searching "how to use Yoast SEO", you will get a descriptive answer and a link to a relevant YouTube video below.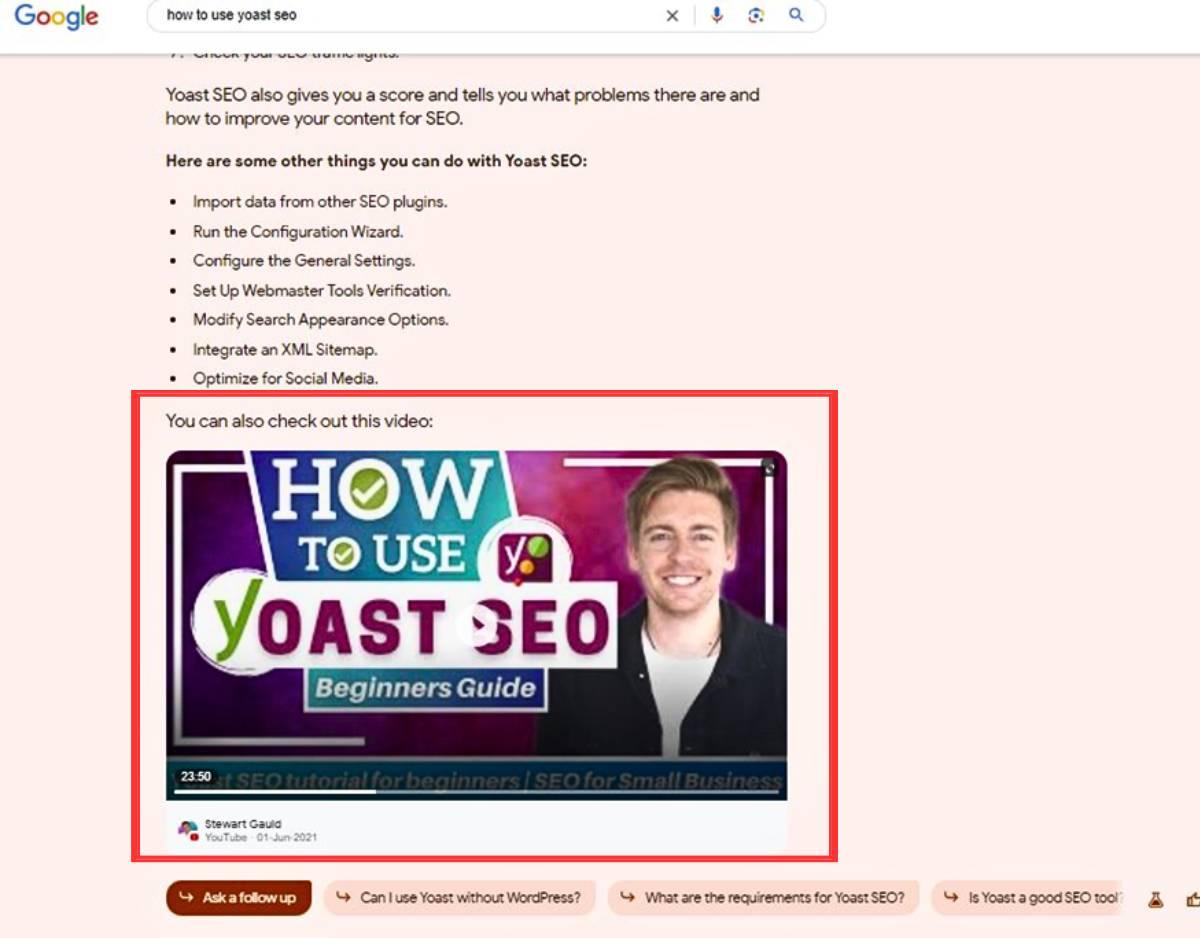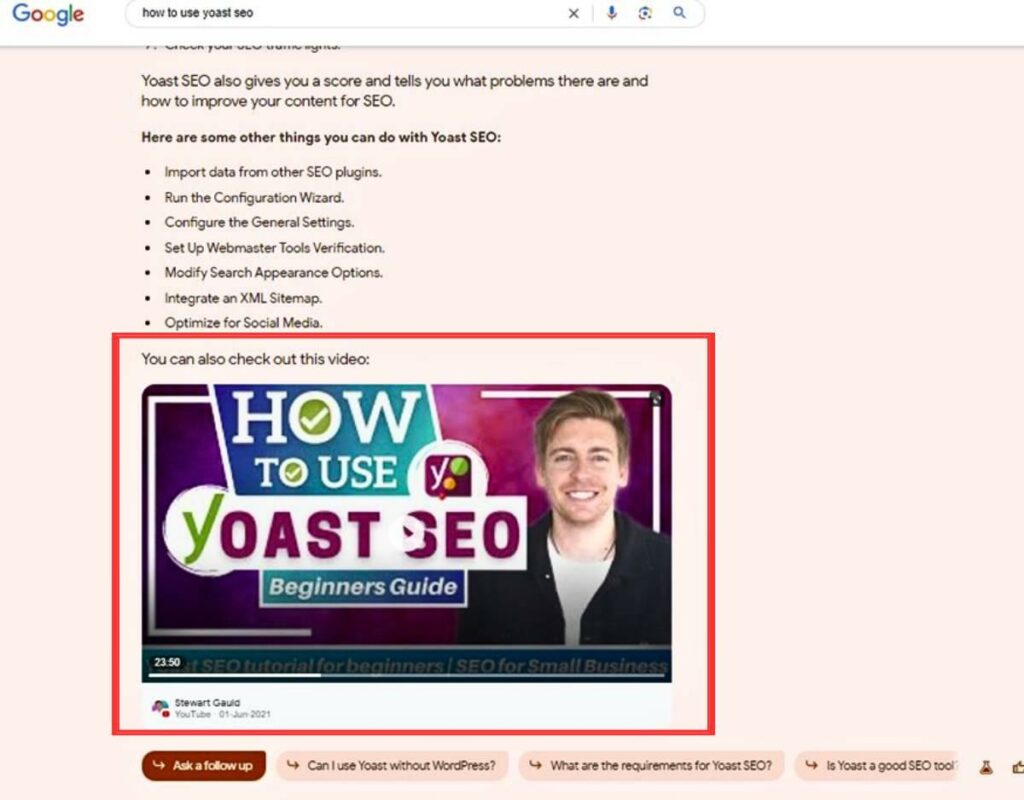 4. Links to Elaborate Expert-Written Answer
In addition to Generative-AI written answers, you will get around 5-7 links against your search query. If you want to go beyond the SGE answer, you can click on the links suggested therein.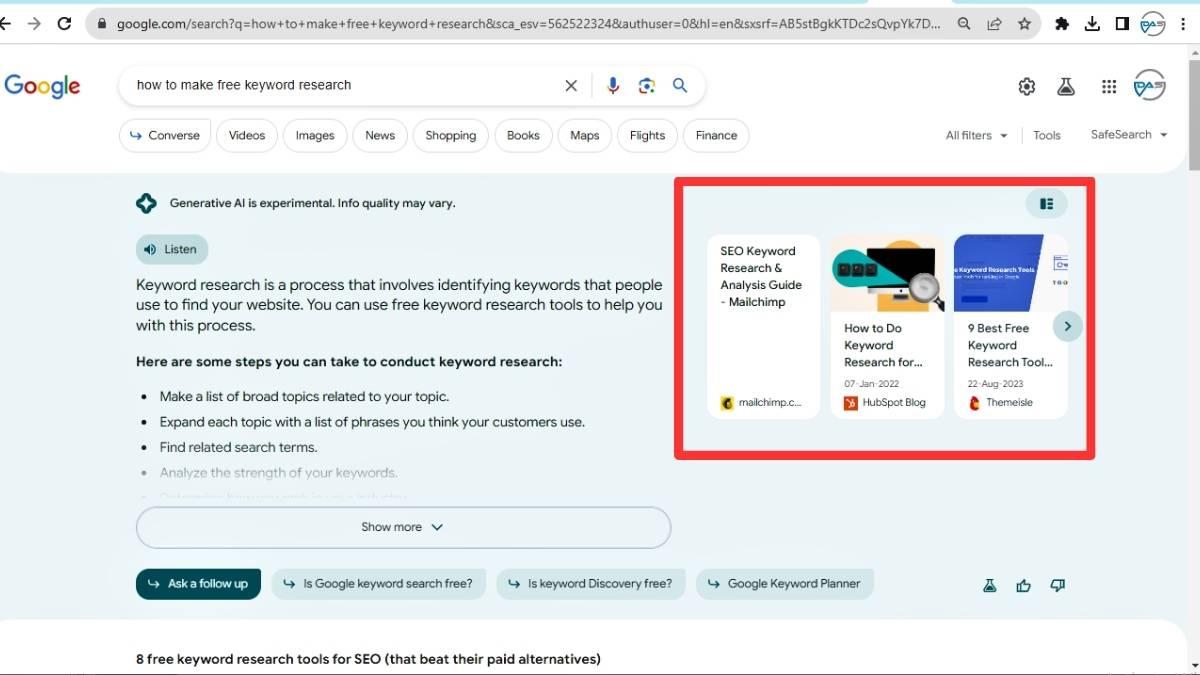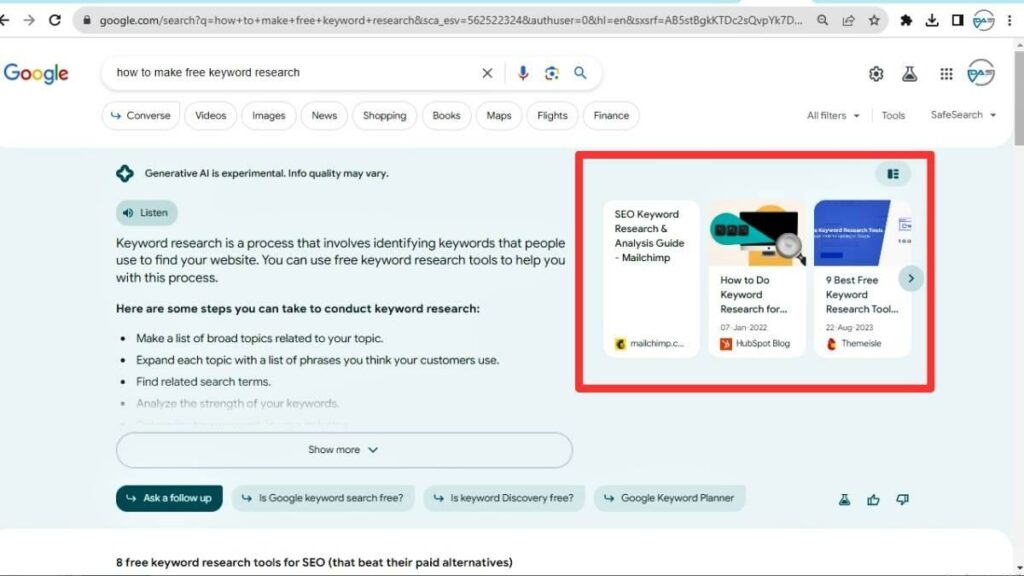 5. Follow-Up Questions for Detailed Understanding
Google SGE also lets you make follow-up questions. So, in case you want to get broader and more specific information about something, you can use this feature. You will get some suggestions for follow-up questions. If those are relevant to you, you can click on them.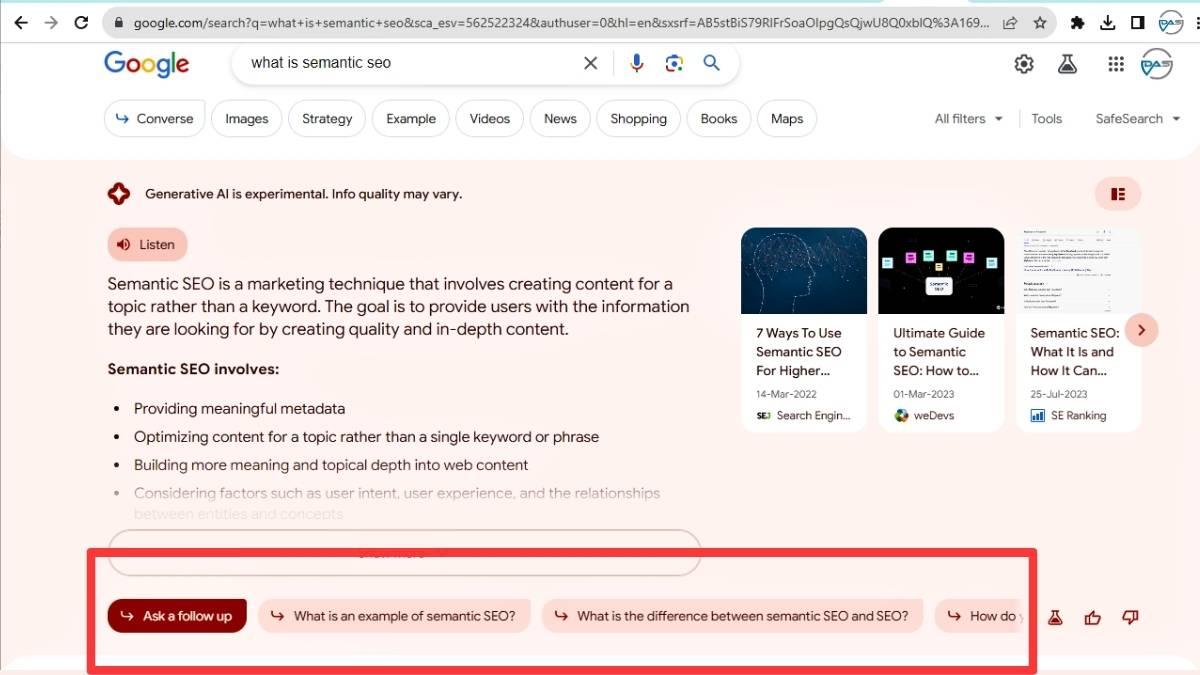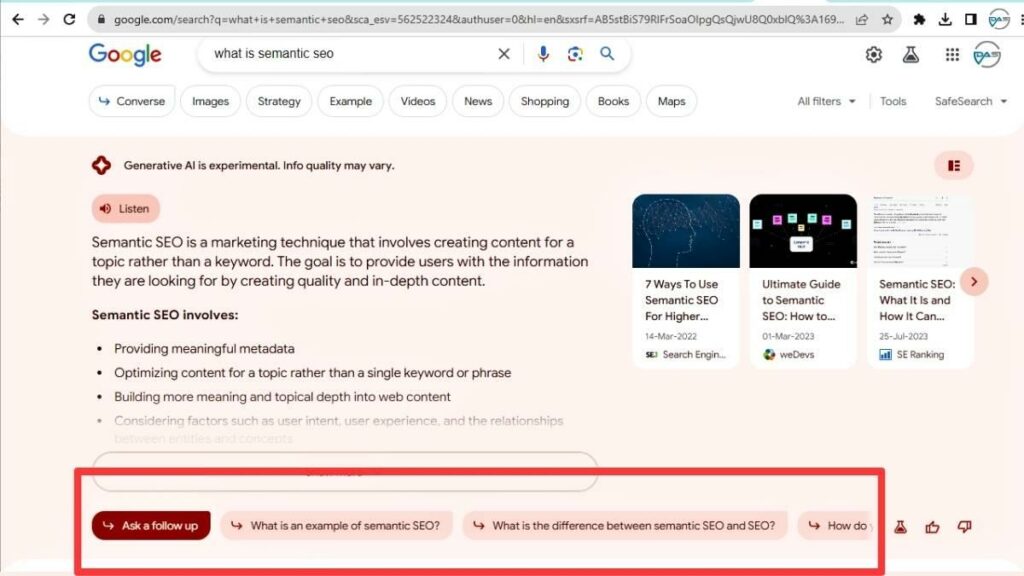 How to Enable Google SGE
You can follow the steps mentioned below to enable Google SGE on your Chrome browser:
Step 1: Go to the Google search engine and click on the Google Search Labs Icon (available in the right upper corner of the page)
Step 2: Turn on SGE
Step 3: Read the terms and conditions of Search Labs and click on the "I Agree" button
Following these simple three steps, you will get to see the generative-AI-created answers on the search result page.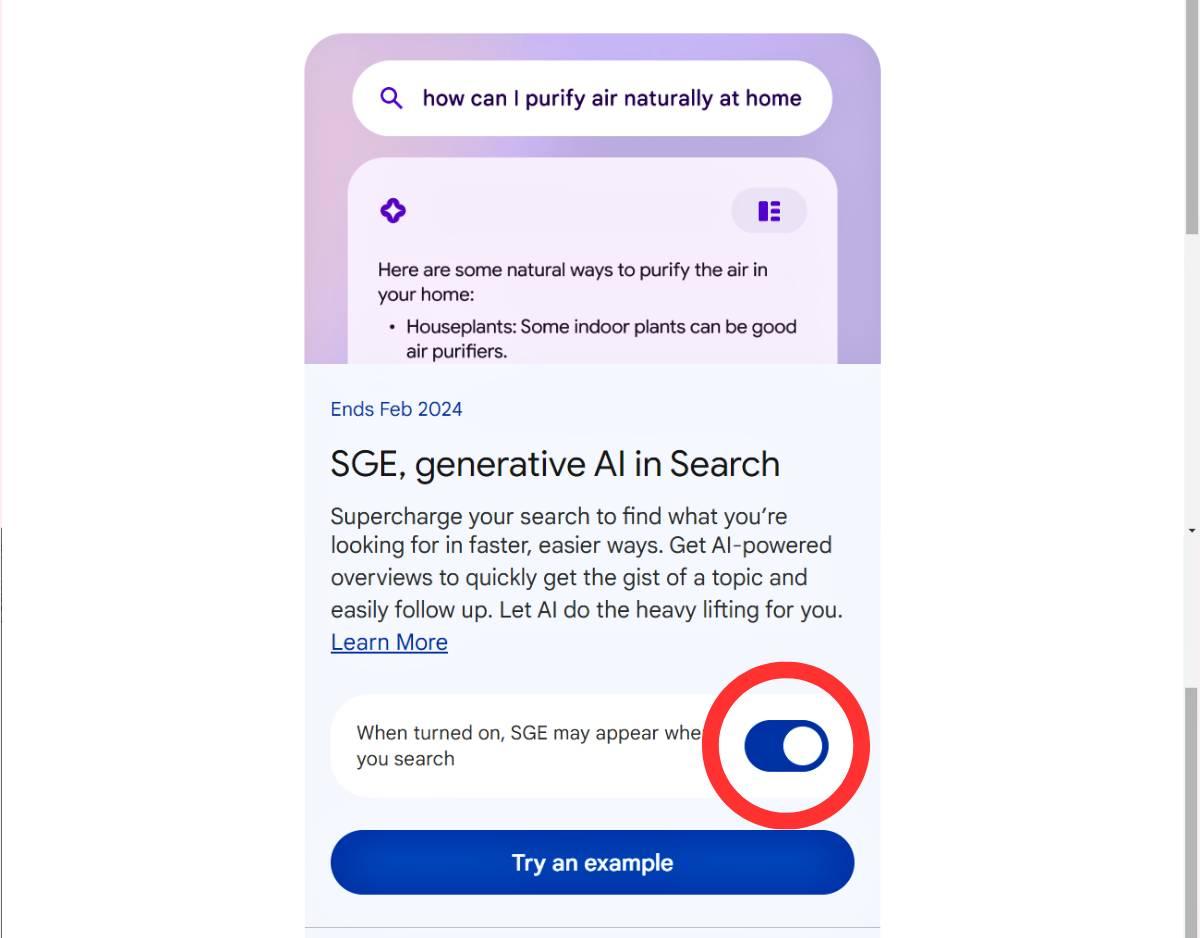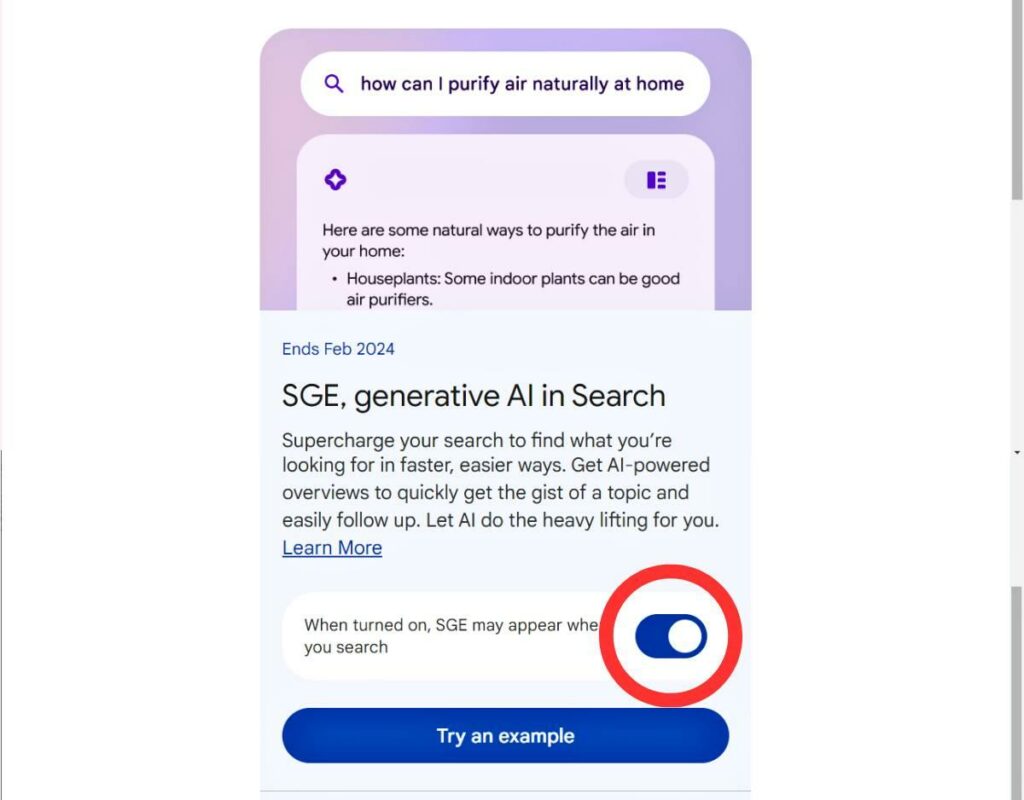 To get the generative-AI-enabled search result, you need to first enable Google SGE on your Chrome browser or Google App. After the set-up is complete, you can search any query to get a quick and crisp answer. This will reduce your effort in searching for information available on the internet.
If you are searching for information to write content for your website, contact us today. We are a team of professional content writers and we can help you out in the best way possible.