Instagram is a giant platform for social media marketing, and ignoring this would cost any marketers dearly. Statistics show that more than 90% of Instagram users follow at least one business brand. Also, 50% of Instagram users become more interested in a product after seeing it through adverts. This is why you need crisp ideas for your Instagram Marketing Strategy.
There are more than a billion users currently active on Instagram. This is a huge opportunity to showcase your brand. But it is also equally tough to thrive in this competition.
Wondering how you can stand out in this huge pool? We are here to help you create an effective Instagram Marketing Strategy.
6 cool tips to develop your Instagram marketing strategy
Here are some tips to guide you to develop your strategy for the same –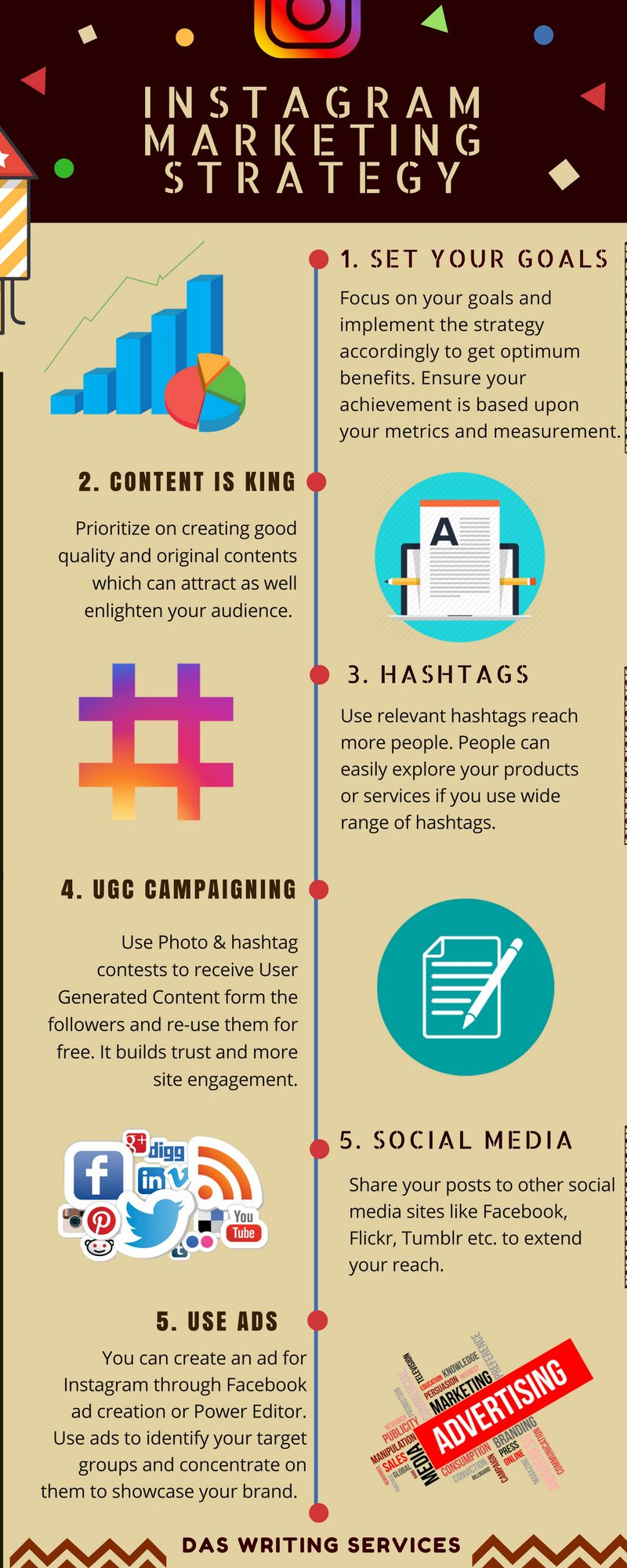 1. Set Your Goals
Be specific about your goals. Without having clearly defined goals and a strategy to get there, you are unlikely to reach them. If you know what you can achieve through Instagram, it will give you a clear picture of how to proceed. Hence, you need to make sure your Instagram marketing strategy is fully aligned with your organizational objectives.
Ask yourself how Instagram's visual appeal can help you increase your brand awareness. You can also conduct a social media audit and record all your social media data and the current performance levels. Track your brand awareness, identify leads, increase conversions and pace yourself with short-term goals.
2. Content is the King
Authentic original content still holds the key to reach and engage more people in social media. While creating content prioritize on the following –
Focus on your quality rather than quantity.
Choose an appropriate theme. It can be product-centric or based on culture, or even a mixture of both.
Use the proper caption to justify your post.
Aim for value addition.
Also, develop a content schedule. This will help you to cycle your themes. Find out which time attracts the most traffic and try to post more at the time. Be able to submit real-time content in case of live events. This kind of spontaneity will attract a lot of users.
3. Hashtags are Inevitable!
The impact of hashtags on Instagram is unquestionable. Studies show that posts with relevant hashtags have 70% more reach than the posts which do not have. Using proper hashtags can help you easily reach a large number of audiences. Thus more traffic and leads will be generated.
Another trick is used to hashtags in comments. This is very helpful when you have a lot of hashtags to put.
Validate the hashtags before posting and do some research on the topic. Combine the most popular hashtags with those related to your products for maximum benefits. It will also be helpful for your future projects too.
4. UGC Campaigning:
User-generated content (UGC) can be used as a great resource as a lot of these contents can be found for free. You will need their permission first, but using USG can work wonders for your business. The photos and videos of your followers showcase an authentic promotion for your brand that's hard to replicate with paid advertisements.
You can encourage more happy customers to spread the word about your brand through photo contests and custom hashtag challenges. It will build trust and let you reach a wider audience organically without involving any spendings.
5. Involve other Social Media platforms
If your Instagram account is brand new, make sure to import your contacts from other platforms, be it email or other social media sites.
Statistics also show that the brands which post their Instagram links on Facebook and Twitter get more engagement and interactions. Hence sharing across different social media platforms can be an essential strategy.
Apart from Facebook and Twitter, Instagram also allows you to connect with Flickr, Tumblr etc. You can use the power of these social media platforms to make a proper unified strategy. With different platforms, your business can reach out to different demographics. For example, Facebook is most popular among audiences aged between 25 and 29 years despite popular conceptions that young adults don't favour it.
Research what kind of audience prefers your product/services and build ads and content to leverage various niches.
6. Use Ads to Your Advantage
Every day more and more brands are bringing themselves to Instagram. To stand out among them and connect with your potential customers is indeed a tough task. Here Insta ads come into play.
You can create an ad for Instagram through Facebook ad creation or Power Editor. Check how the ads work out for you and then strategize on it.
Ensure that your Instagram account is also optimized with relevant information like Bio and contact links. Be a follower of those who influences your industry and engages with other content too. Establish an efficient team with proper guidelines like editing the posts and delete which doesn't fit with your brand's profile. This would maintain a decent brand aesthetic.
Instagram can definitely help you build your business profile more attractive with effective strategizing. It's a relatively small investment that could gain huge returns. The above-mentioned tips should definitely help you create an impressive Instagram Marketing Strategy and allow you to become an influential brand. With a large number of followers and the right plan, you will get long-term benefits of steady conversions and new leads for your business.