Unique and relevant content is the best strategy to optimise your content. Even though not preferred at all, you can wisely use Black Hat SEO techniques to rank a website to garner more traffic. It attempts to manipulate the search engine's algorithm to get the top position in the SERP (Search Engine Results Page).
Search engines have clear their rules and penalties on any violation.
Importance of Black Hat SEO
Contrary to the White Hat SEO practitioners, Black Hat SEO acts like those old cowboy movies where the bad guys wear a black hat. These practitioners are well aware of the Google Webmaster Guidelines and use them in a tricky way to get shortcuts. Even though Google is good at identifying these moves, that does not stop people from using it.
While you will be getting to know the disadvantages of applying Black Hat techniques below, it also has certain benefits if used wisely. Hence, you must have detailed knowledge about these schemes before implementing them.
Why avoid Black Hat SEO?
Using Black Hat SEO can be beneficial sometimes. But, it does not provide any long-term success. As per Google Webmaster Guidelines, if a website uses such a method, it can completely remove the site from the Google index. Hence, you must understand why to avoid these techniques in certain cases.
If not avoided, the following disadvantages can happen:
Lower your search rankings and visibility
Won't give any long-term benefit
This will result in a poor user experience
Below is the list of the most popular Black Hat SEO strategies you should avoid but can use cleverly.
8 Popular Black Hat SEO Techniques
The following are the important Black Hat SEO Techniques
Keyword Stuffing
It is one of the well-known Black Hat SEO techniques that can no longer help rank your website.
To explain, keyword stuffing refers to the overuse of the same keywords throughout the content, intending to pull organic traffic, maximising its visibility. It wouldn't make sense if it were used unnaturally in a paragraph. Content stuffed with keywords looks cluttered and not user-friendly. The image below shows how the word 'outbound marketing software' has been overused.

Duplicate Content
Quality and unique content drive the most traffic to your website. Hence, the practice of using duplicated content is not preferred at all. Copy-pasting from other websites is one of the worst tactics. While Google indexes, it can scrap the entire content. The picture below explains the usage of duplicated content. The original sentence has been changed by synonyms like 'leaped' to 'jumped'.

Hidden Text
Hidden content is a strategy that uses repeated keywords to manipulate the page rank. The write-up is of the same background colour. It is positioned off the screen or under an image to hide it from the users. Many marketers do this to rank their content in the SERP.
However, we do not recommend using hidden texts on your pages due to advanced search engine crawlers. They can easily understand that you are trying to jam in keywords. The image below demonstrates what a hidden text can look like.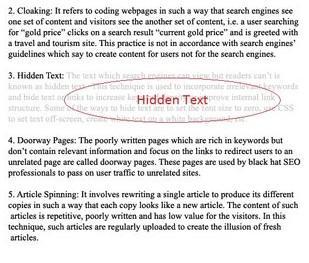 Doorway Pages
Doorway pages rank particular keywords to funnel a visitor from a chosen page to another. These are also known as:
Bridge page
Jump page
Gateway page
Portal page
Entry page
The image given below portrays how the doorway pages function.
Cloaking
This Black Hat SEO techniques is used to conceal information from visitors with a clear intent to get the desired rank for target keywords. This is an unlawful practice, violating the search engine guidelines. Google charges a huge penalty if it catches you using this technique. Hence, it is advisable to use unique content to give the best possible experience to your users. The image at the bottom explains how cloaking is for humans and robots.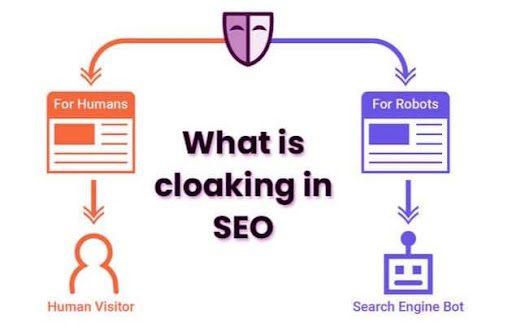 Paid Or Manipulative Links
Search engines have a strict policy regarding buying and selling links. This manipulates the page rank and is a blatant violation of the Google Webmaster Guidelines. As a result, they can penalise both the buyer and seller if detected.
Sneaky Redirects
Google Webmaster Guidelines specifically lists sneaky redirects as a Black Hat SEO Technique. The search engines index the original page, but the users are taken to a different destination URL.
These are placed to deceive search engines and display content differently from what a user sees. It can redirect to a sneaky website or another irrelevant page. This can manipulate the page ranking in the SERP (Search Engine Results Page) and is not a preferred way. The image below demonstrates how once page can sneakily redirect to another.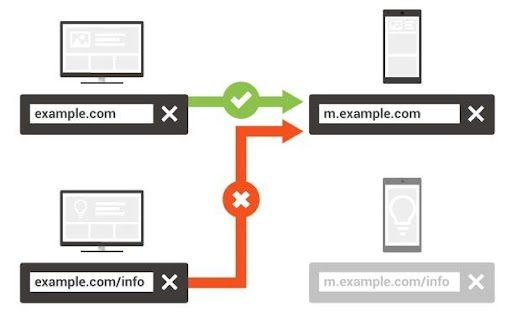 Negative SEO
This one is a bit different from the other Black Hat SEO techniques. You can use it to reduce the competitor ranking by pointing out the irrelevant links in someone else's domain. This portrays a violation of Google's guidelines and can result in a penalty.
Hence, you should be aware of such attacks and analyse your link profile regularly.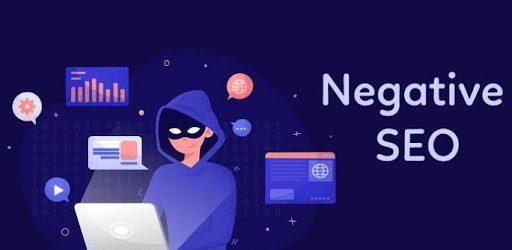 The one thing to takeaway is that Black Hat SEO has its benefits but is never the most recommended way to rank your website. With an updated Google algorithm, they can easily identify and catch them. Hence, many practitioners prefer the Gray Hat method more to camouflage the essence of both. There is a good chance for you to increase your website rank strategically, using these intelligently.