Whether you are less experienced in content marketing or have been striving to build a strong online brand presence for a while, having a solid plan is the key to success. And guess what? With a content map, creating that perfect plan for digital marketing becomes a breeze!
According to a study published by Content Marketing Institute, only 40% of business-to-business marketers bother to document their content marketing strategies. Do not be a part of that statistic.
If you want to ace your digital marketing game, you need to have a well-documented and planned strategy. That's where a content map comes to the rescue. By drafting a content map, you can get the success you are looking for and thereby, improve your online brand presence.
Here you will find a complete step-by-step guide to making a content map with easy-to-understand examples for each step.
What is a Content Map?
A content map is basically a plan to develop and publish the right blogs and articles on your website in a pre-determined manner. In a content plan, you measure out everything, from the topics to write on to the right time for their publishing.
The main goal of this content mapping is to persuade the target consumer persona right from the awareness stage to the conversion. With an effective content map, you can substantially streamline and expedite the buyer's journey.
However, for this, you will have to bear in mind several aspects in mind. For example, you need to keep in mind the needs, behaviours, demographics and other aspects of your target audience. You also need to think about why your target audience will visit your page or what assistance or insights you will offer to those audiences who consume your website content.
There are also several other aspects that you will discover later on. Before that, you, however, need to know whose role it is to make a content map.
You can watch this video below to understand what is content mapping easily.
Who Should Create a Content Map?
Creating a content map is the responsibility of all those professionals who oversee the performance of a website and its content. Stakeholders of a content map can be the content manager, content in-charge, content marketer, content strategists, and general marketing manager.
In fact, all these professionals may have to contribute their insights while developing a result-driven content plan. With discussion, they can also formulate the goals and objectives that the content plan will help them fulfil, which is more often than not to increase sales. To derive such results, you must know how to build trust in your audience about your brand.
What Does a Content Map Contain?
Before knowing how to create a content map, find out the things that you will have to chalk out:
Business goals
Details of the target audience
Content funnel
Customer Journey
Topics to be covered
Content calendar
Marketing metrics
Details of the creative team
Advantages of Developing an Effective Content Map
Creating a content map is a complex and long process. However, if developed properly, the benefits you will get from your content map can overwhelm you.
Here are the significant benefits of the content map:
1. Develops Better Understanding of Customers
While developing a content map, you will undergo rigorous research about what your customers search for on the internet. You will understand their needs and problems. Accordingly, you will produce content to guide them about how they will benefit from your product or service.
2. Enables You to Draft Content Properly
Since you know about customers well after the research, you can draft your content in the perfect manner. There will be fewer chances of errors in your content marketing efforts. Since your map content beforehand, you get to plan which platform will be most suitable and accordingly plan for your content.
3. Saves Time and Resources
The content map lets you publish your blogs, articles, social media posts and other types of digital content in a planned manner. You will have a content calendar with a schedule for publishing. When you have a content map, there will be far fewer chances of things going in a haphazard manner. You will delegate your creative as well as marketing work to the right person according to their skill sets.
4. Attain and Measures the Success of Your Content Marketing
With the help of a content map, you can channel your customers through different marketing funnels to the stage of conversion. While developing it, you also set metrics to assess the performance of your plan. With metrics, you will understand how far your efforts bring the result.
How to Build a Content Map to Succeed in Digital Marketing
Here is a step-by-step process to do the content mapping for your website and the brand:
1. Jot Down Business Objectives
The essential purpose of building website content is to help you meet specific and measurable objectives within a given time frame. When you have properly thought-out specific, measurable, achievable, realistic and time-bound or SMART objectives before you in writing, you can make a content map in line with that.
The purpose of your content can be to fulfil any of your business purpose like increasing the number of traffic or conversion. You can also build a content map with the objective to help your target audience with valuable insights. These are two major pillars of the content strategy of a business.
There are a handful of questions you can ask yourself and your digital marketing team before building your business objectives. These are as mentioned below:
How does the content mapping support your SMART goals?
Which difficulties does your business solve?
What values will your content provide to the target audience?
Tips:
Here are the suggestions you can take to make sure you decide the right objective for your business:
Ensure that your business objectives are well-defined, clear and specific. In case it is vague, it can create confusion among the team and thereby, can lead to a lack of focus.
It is better if you can measure the progress of your objectives or goals in terms of numbers.
Business objectives also should be time-bound. This way, you can understand how many resources you will have to allocate to meet your target.
Example:
Following is a hypothetical example of content mapping objectives:
"Our main purpose is to increase the conversion rate from organic search from 1.01% at present to 2.5% within the next 2 quarters. We will achieve this with the help of Omnichannel marketing endeavours that will communicate how our services will help clients."
2. Build a Detailed Target Audience
Tapping the right audience is important to get success in your content marketing strategy. So, while building a content map for your website, you should properly decide who your target audience is. Only after knowing their needs, concerns and interests, you can grab their attention.
Knowing customers will also help you devise topics and communicate how you can address their issues or pain points. This will not only help you increase awareness and subsequent conversion.
Include the following aspects in your target consumer persona profile:
Demographic Details: Gender, age, location, education, marital status
Professional Details: Industry, company size, job title, income
Pain Points of Customers: Personal, professional, physical and other challenges
Purchasing Habits: What their preferred mode of buying is, online or offline; how much they will be ready to pay, etc.
Behaviours: Likes, dislikes, interests, favourite activities, etc.
Tips:
Here are the things you can follow to research and build the right consumer persona for your business:
Make direct communication and engage in in-depth interviews with the target audience to know their interests and pain points. For this, you should ideally take the help of focus groups, questionnaires and surveys, interviews, etc.
If you already have a website, you can take the data about your audience from Google Analytics. It will help you know various details regarding your existing website visitors.
Audience report from social media analytics like Facebook Audience Insights can also help you substantially in knowing about your customers.
Example:
Following is a graphical presentation of a consumer persona:
Map Out the Content Funnel
One of the important things you will have to think out to develop an effective content map is a content funnel. With a well-planned digital marketing funnel, you can easily send the right information and insights to your target audience at the right time.
Plus, it helps you stay mindful of what the prospective customers can think about, how much they know about your business or their level of interest.
There are generally three categories of the content funnel as mentioned below:
Top of the Funnel (TOFU): TOFU is the awareness stage in which customers get to know about your business. Customers also get to realise their current challenges or pain points. Your aim would be to reach those potential consumers through your digital content to address their problems.
Middle of the Funnel (MOFU): At this stage, customers become aware of their problems. They opt for actively finding better solutions. You need to communicate to them how your products or services can provide them with the best solution.
Bottom of the Funnel (BOFU): This is the last stage of the buyer's journey. Your potential customers are now ready for deciding which product or service they will get to solve their problems. In this stage, you need to prove yourself as the best fit for your customer's pain points. You need to answer all their probable questions.
Tips:
For TOFU: Help your target audience with information and insights. Prove that you have keen expertise in the field and can bring value to them.
For MOFU: The content at this stage, therefore, should have to be product or service-oriented.
For BOFU: Decide which content you will deliver to customers to fulfil their need for information about your product or service.
Trivia: According to a report published in the Search Engine Journal, 95% of digital marketers create and publish TOFU content, whereas 86% of them create MOFU content and 76% of them BOFU content.
Examples
Following is one example topic for each of the funnels:
TOFU: 'How-to' blogs like How to Boost Engagement With Micro Content
MOFU: Case studies, white papers, webinars, and social media posts
BOFU: Products/Services pages, assessments, consultations, etc.
4. Build a Buyer's Journey for Content Map
The customer journey map reflects how or through which channel your prospective customers will find out about your brand and be converted. Each customer will go through the content or marketing funnel as mentioned earlier.
The customer journey may or may not be linear like the marketing funnel. Plus, customers may undergo multiple touchpoints before the conversion.
There are mainly five stages of the customer journey:
Awareness
Consideration
Purchase
Retention
Advocacy
Tips:
Here are a few things you should keep in mind while creating a customer journey map to make it more impactful:
List out all the probable touch points or points of interaction with customers
Identify the actions customers can make when they discover your brand
Analyse the social media conversations around your brand and the industry to get insights about customers
Example:
Following is the illustration of what a customer journey looks like:
5. Think about Topics and Topic Cluster
Hardly any introduction is necessary about why blogs and articles are important in digital marketing. However, to build the content map, you need topics around your business.
You need to cover all such questions that your potential customers may have about your business. Informative content is indeed necessary to bring the targeted audience to the top of the funnel or awareness stage. You also need to have proper product pages and landing pages to increase the rate of conversion.
You can create topics for different stages of a customer's journey around keywords in the domain of your business. Through competitor analysis, customer study, keyword research and other methods, you can get topic ideas for your pillar content.
You will also need to come up with content clusters surrounding each of your pillar content. With the help of content clusters, you can properly communicate something or discuss a subtopic that content clusters have only mentioned, not clearly conveyed.
Tips:
Follow the tips mentioned below to get topic ideas
Analyse customer reviews to know about their concerns and respond to them through topics
Track your social mentions to discover common questions from your customers
Use tools like Keyword Tool, Ahrefs and Semrush to get keywords for your content
Examples:
Let's assume that a website that publishes content on digital marketing has decided to write pillar content on the topic, 'Inbound Marketing Techniques'.
The content cluster for this pillar content can include sub-topics like,
Techniques of Inbound Marketing
Differences Between Inbound and Outbound Marketing
Tactics of Non-Traditional Marketing
Effective Ways to Create Campaigns for Inbound Marketing
Similar to this topic (Inbound Marketing Techniques), you need to find many other pillar content topics and their sub-topics.
6. Create a Content Calendar
A content calendar is one of the essential parts of a content map. It contains the schedule for publishing all the content you write. A content calendar lets you stay organised. So, you can put your efforts in a planned manner. In fact, content creators as well as digital marketers stay aligned.
Your content calendar should contain topics for your website pages, blogs, guest posts as well as social media posts.
Besides topics, you will need to include the following aspects in your content calendar:
Author
Editors
Status
Completion date
Format
Tips:
Here are the suggestions you can take to build the most suitable content calendar for your content map:
Consider your goals and priorities for your content marketing campaigns before setting the date for publishing your write-ups
Ensure that the scheduled dates are realistic considering your available resources and their capacities. If the date is not realistic, the quality of content may hamper.
Besides publishing, it is better if your content calendar include a plan for the promotion of your content through different channels.
Example: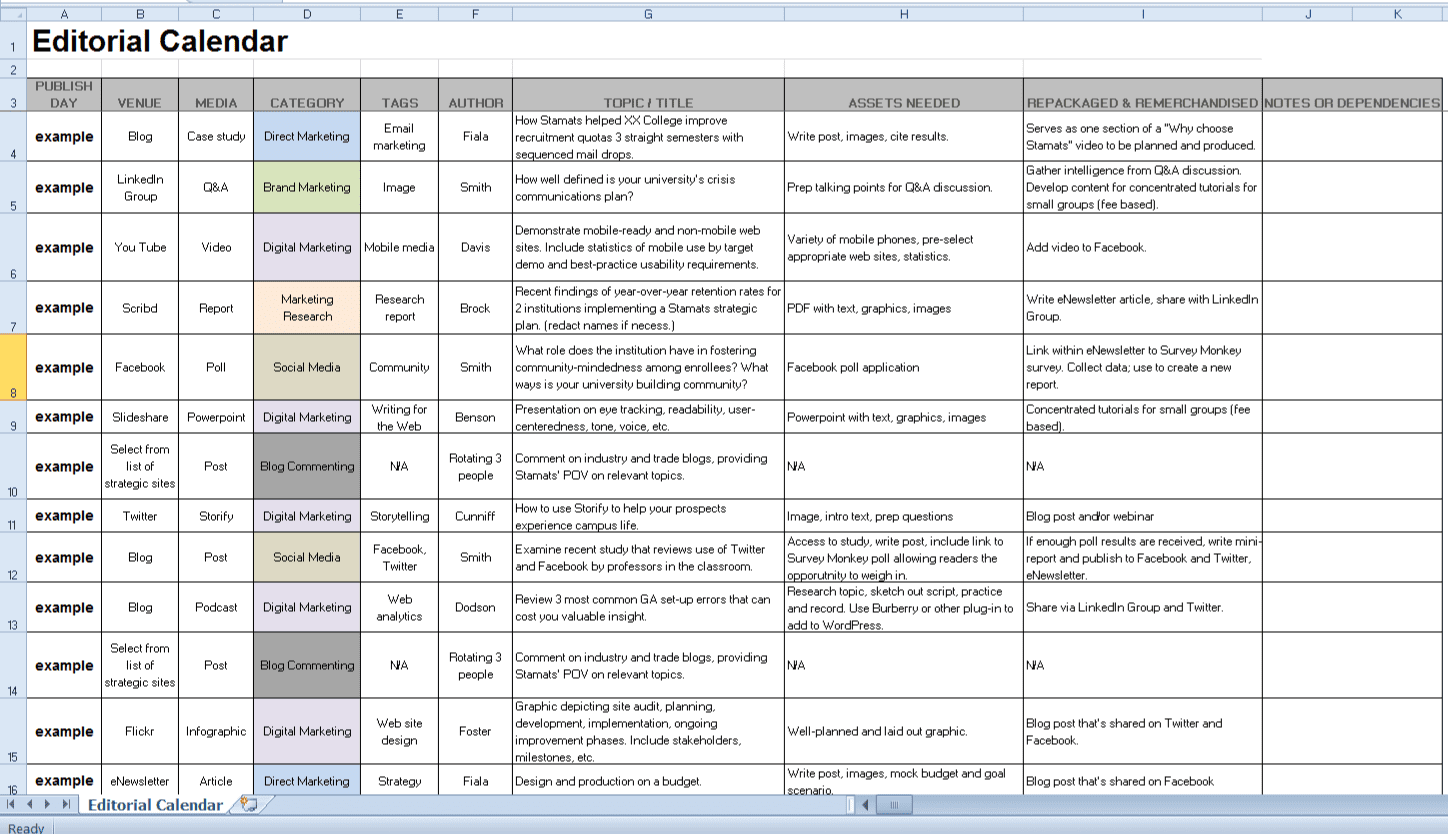 7. Determine Your Marketing Metrics
To determine the effectiveness of the content mapping, it is crucial to set the marketing metrics or key performing index (KPI). With the help of KPIs, you can understand how far you have achieved your objectives. Thus, you can take data-driven informed decisions. It will also help you understand the strength and weaknesses of your content marketing campaign so that you can take proper measures the next time.
The measurable KPIs for o your content map can be:
Website Traffic
Pageviews
Dwell Time
Bounce Rate
Conversion Rate
Social Engagement
Click Through Rate
You need to choose KPIs according to your objectives.
Tips:
Follow the tips mentioned below to ensure that you choose the right KPI to measure your content mapping goals:
Choose a KPI that can help you measure the success of your content marketing objectives.
The KPI should be simple, quantifiable and directional. Else, you cannot measure success.
Examples:
Your KPIs can be different according to different stages of the marketing funnel. For example, at the TOFU level, your KPI can be the number of traffic; for MOFU, it can be the number of leads and for BOFU, the conversion rate.
8. Align Your Creative Team
One of the last stages of creating a content mapping is to make the creative team aligned with your goals of digital marketing. You will have to brief them properly so that they can help you get the best work.
To ensure optimum success, you must develop properly optimised blogs, articles, landing pages, social media posts, graphics, etc. It is better if you have an in-house team of experts who can deliver all those required creatives; else, you can hire an agency for content. At an agency, you will get creative experts with years of experience in working for a diverse sector. You can rest assured of the quality and get the content on time with their assistance.
Tips:
Here are the tips you can follow to select the best external team for your content requirements:
Ensure that the content writing agency has experience working with companies from your sector.
Ask the team to write a few new samples on certain topics from your line of business.
Make sure that the team has a keen knowledge of how search engine optimisation (SEO) works.
Check the portfolio of the content writing agency and ask for a few samples of previous work.
Example:
If you do not have a proficient in-house team for creatives, you can approach several content writing agencies in India. There are a large number of options available but make sure to follow the tips mentioned above to find the most suitable one.
Tools to Build a Content Map Easily
The content map contains a large number of things and aspects that you will have to consider. The process of creating it can be overwhelming. To make things less complicated, you can use some tools as mentioned below:
Google Suites: You need to create multiple tables, like a content calendar before creating the content map. So, you can use Google Docs, Google Sheets or Google Slide to make your diagrams and tables. You can write all your plans in these tools and share all the necessary things with your internal as well as any external teams for better collaboration.
Social Media Audience Insights: Facebook Audience Insights will help you gain deep insights regarding your followers. Plus, if you are present on other social media platforms like LinkedIn, you also need the audience information of that platform as well. All these will help you make a proper consumer persona.
Google Analytics: For making a data-driven content map, you need to analyse the present performance of your website and its content. You can get all these insights using Google Analytics. It will inform you about your website visitors, content performance, traffic sources, timings of peak traffic, etc.
SEO Tools: With the help of SEO tools like Semrush, Ahrefs, Ubersuggest, etc., you can get keywords relevant to your industry. You can also analyse the performance of competitor websites. These tools can help you know the keywords they use and the topics they have covered.
Content Templates: You can create your own template or can download content plan templates from Hubspot, Semrush or other similar websites. It is better if you create a template of your own because it will be personalised according to your resources.
The content map lets you plan the digital marketing efforts for your brand. It lets you plan for how you will distribute the right pieces of content so that the target audience gets those at the perfect time.
Besides, it also lets you channel your potential customers through different stages of the marketing funnel. Since everything you chalk out beforehand, it reduces the chances of mistakes in your content marketing. You can also periodically measure the effectiveness of your content marketing campaigns.
FAQs About Content Map
1. What is social media content map?
A social media map refers to the documented plan about posts that you will publish on different social media channels. It serves as a reference guide for the social media executives and managers as well as the creative team. They stay aligned about what and when to post as well as the manner and tone for interacting with audiences.
2. Why should I choose KPIs in the content map?
KPI lets you track the progress of your company's digital marketing campaign. This is why, you need to choose a KPI according to the goal you set. By monitoring the KPI over a period, you can see trends and patterns that will help you make informed decisions.
3. For what purpose do I need to make a content map?
A content map lets you ensure that your blogs, articles and other posts reach your customer at different stages of the buyer's journey. This way, you can influence their purchasing decision and increase your sales.