Content writing is the art of composing written copies for websites to organically reach their potential customers. This whole concept of content creation has given rise to steady growth in every sector concerning potential career options. Having said that, we provide a thorough content writing training course of 3 months from our understanding of this field.
Here is a slice of our expertise to understand the differences between online courses vs. offline courses we provide and choose a training procedure accordingly.
Note: The methods are similar on both ends whether the course is online or offline. However, there are some other factors that may intervene while choosing a course.
Advantages of Online Content Writing Courses
Online courses in content writing are convenient for some as it enables them to enhance skills from anywhere in the world. Hence, the advantages include:
Flexibility: It allows one to learn new skills from wherever they want and whenever they want.
Convenience: One can access training at their own pace and schedule without commuting anywhere.
Real-time Skills: It allows direct contact with trainers through the internet that cultivates other related real-world skills like web browsing, emails etc. This undoubtedly opens myriad ways for professional and personal life.
Affordability: This does not require one to indulge in other extra expenses like transportation and accommodations.
Self-assessment and Discipline: In online courses, one needs to push to study or complete assignments. Accurate self-assessment and discipline can help one maintain responsibility throughout the course.
Advantages of Offline Content Writing Courses
Offline courses involve a stimulating setting for both learning and practical aspects of content writing. Hence, the advantages include:
Personalized Interaction: As this mode of learning is direct, it allows more personalized interactions through transparent communications.
Effective Team Learning Skills: It allows the development of team learning skills on creative abilities and practical approaches through brainstorming novel ideas, discussions and conversions.
Healthy Competitive Environment: This mode lets trainees grow more efficiently with healthy competition among others.
Building Strong Relationships: Team learning enables us to construct strong relationships that enhance the learning experience and utilise each other's potential better.
Importance of Content Writing Courses
We have accumulated years of experience that allow us to provide broadened aspects on the nooks and corners of the content writing industry. We ensure to provide a well-structured training procedure to meet the search intent depending on specific clients.
Now, let us take you through a few things to consider while writing web content that will help you choose a course between online courses vs. offline courses. These include: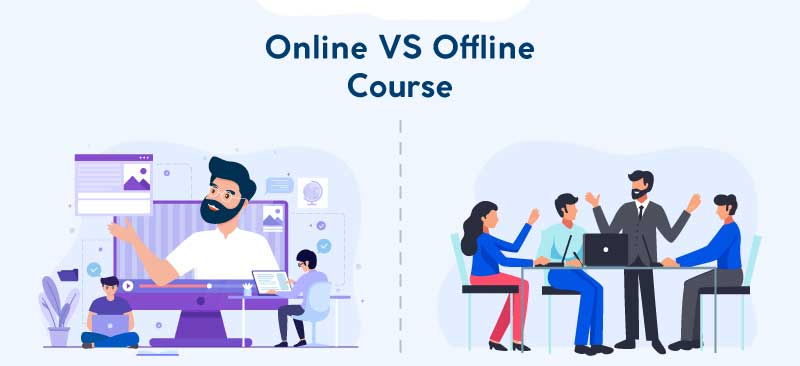 Advanced Training Modules for Content Writing
Introduction:
An introduction helps to hook a reader to go through and spend more time with the content. We provide training on how to construct short and crisp introductions as briefly as possible.
Title and Sub-head framing:
We enable our trainees to optimise compelling titles and sub-heads keeping clients' specific guidelines intact under this training procedure.
Research Skills:
Proper research techniques are one of the most important factors to deliver quality content within adequate time. This includes some advanced research methods to enhance the credibility of the content.
Different Types of Writing:
There is a potential wealth in every type of content writing to reach and engage the audience from different sets of businesses. Thus, we ensure to prepare our trainees to produce a plethora of writing styles and genres at the same time. These include blogs, articles, web content, news etc.
Editing Tools:
Content editing is a crucial part of content writing to ensure the readability of the content and optimize it for readers and search engines.
Proofreading and Editing:
Proofreading and editing play an essential role to avoid grammatical, typographical or spelling errors. We offer our fellow writers to help reduce lingering mistakes and improve the quality of the content on the same.
Advanced Training Modules for Digital Marketing and SEO
Search Engine Optimisation:
Effective guidance on search engine optimization helps individuals to understand the function of search engines. This will aid the whole process of composing helpful content to highly satisfy the user intent.
Keywords:
Keywords are essential to indicate the search engine the subject of the content. It can consist of one or more than one word to refer to the information people are searching for.
Links and Meta Tags:
Links and Meta tags play crucial roles to find out relevant content from the SERP. Thus, we offer our lookout on how to write effective Meta tags and place links to increase brand visibility.
Google Algorithms:
Google algorithms refer to the process that Google employs to rank content. We provide an effective balance to write content according to the recent updates of these algorithms.
Searching Techniques:
Searching skill is the backbone of writing valuable content for ranking. We provide several strategies to reduce the duration of effective research without compromising on quality.
Optimise Title and Content:
Optimising the title and subheadings is essential to deliver compelling content. It allows the reader and google crawlers to get an overview of the whole content from its surface.
Different Types of Tools Usage:
Proper uses of tools help accomplish a task more efficiently from the ancient ages. It is no different for content writing. We offer effective guidance in a few editing and proofreading tools used to produce top-notch content in our training process. These are Grammarly, Yoast, Copyscape etc.
Different Genres of Content Posting:
We believe that curating content for various online platforms is important to hook, engage and keep readers aligned with the content. Thus, this training includes a variety of writing methods concerning different topics and business goals.
Now, let us discuss the prospects of this course for building a career in this field.
Future Prospects of Content Writing Courses
Content writing is playing a crucial role in digital marketing to engage the audience from different platforms. If one masters the required skills, there will be a plethora of job opportunities open, such as:
Website Content Writing
Blogging
SEO Writing
Social Media Content Writing
Freelance Writing
Proofreader and Editor
Benefits of Content Writing Courses
This training employs several advanced strategies to pace up content writing and SEO prioritizing search engine rankings in mind. Therefore, it serves an array of benefits after the completion of the Content Writing Course. These include:
An Extensive Insight on Content Writing:
Our systematic training methods help to cultivate proficiency in a wide variety of content with an accurate balance of SEO. It will benefit your clients in several ways and help the content rank higher.
In-Hand Job Opportunities with Professionals:
After the successful completion of this course, trainees will be able to work under in-house professionals as well as outside. It will open a new world of different kinds of content to venture into with a strong foundation in this industry.Thus, the career objectives of content writing are increasing with the rise of digital and content marketing. Our training eligibility criteria do not require an extremely high qualification. This article will help you take a course between online courses vs. offline courses that will go for you. We welcome every willing mind to avail this course and evolve with us.