Advertisements are genuinely for marketing purposes, but they can also entertain people at the same time. In this context, some Indian ads can be mentioned that are truly impactful in the present time also.
In this article, you will remember some of the most memorable TV ads ever, which everyone liked greatly and are still inspiring. Besides, some of these ads are classic examples of modern marketing techniques.
So, take a look at the most popular Indian ads and get extensive knowledge about them.
Top 13 Popular Indian Ads
Creativity and marketing elements are always in a balanced proportion in classic Indian ads. That is why they have secured a great place in everyone's mind, and people still find out about them.
Here are some examples of popular Indian TV ads from the '90s:
Melody Toffee by Parley
Video Source: YouTube
Ad Slogan: Melody Khao Khud Jaan Jao
Parley is a famous Indian brand offering different packaged food items. Melody is one of their most popular products, and every Indian is familiar with it because of this unique advertisement.
The ad slogan became extremely popular among kids and common people as it is short, crisp and related to the product.
It provokes people to try the product and get its essence. It is one of the most popular Indian TV ads that reveal the effectiveness of short lines in an ad campaign.
Amul Doodh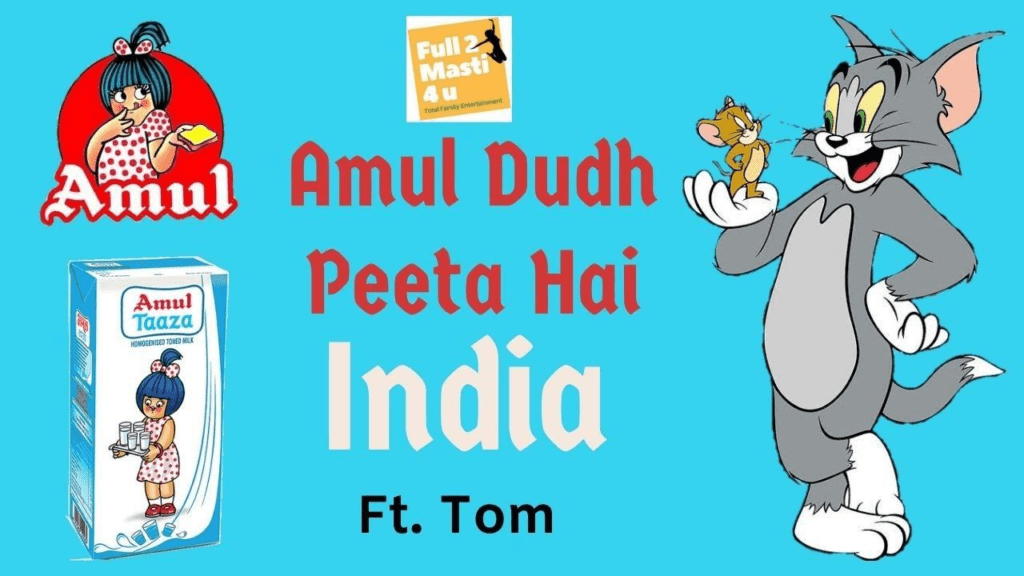 Image Source: Google
Ad slogan: Amul Doodh Peeta hai India
Amul is one of the most popular Indian brands famous for its multiple marketing campaigns. From old TV ads to recent social media marketing campaigns, Amul has notched the perfection.
The advertisement mentioned above is popular for its ad slogan or jingle, which states the popularity of Amul doodh throughout India. Every time people hear this jingle they get reminded of the great service that Amul has been offering for a long time.
Apart from this classic example, Amul has also created a buzz recently on their social media handles through multiple attractive posts and ad campaigns.
Surf Excel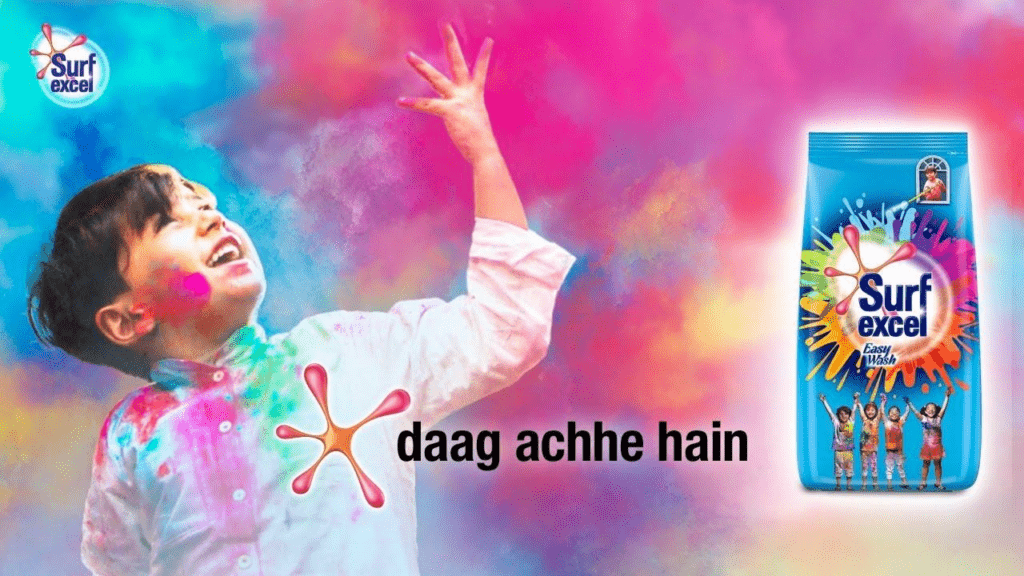 Image Source: https://i.ytimg.com/vi/ImojBhmmhSA/maxresdefault.jpg
Ad Slogan: Daag Acche Hai
Surf Excel, the popular Indian detergent is familiar among buyers for its vibrant TV ads. The brand always sends a positive message in different ways.
In addition, they embed the qualities of their products very efficiently in every ad campaign so people enjoy the ad and, at the same time, trust the efficiency of the product.
The older version of Surf Excel advertisements is one of the top Indian ad campaigns and is still impactful, and the recent ads are made under its shadow.
Mentos
Video Source: Youtube
Ad Slogan: Dimag Ki Batti Jala De
One of the most popular Indian ads is the TV advertisement campaign by Mentos. It is considered a funny yet creative advertisement in India.
Mentos started this ad campaign in 2003, and since then, it holds its popularity among common people. The slogan is so famous that people use it in daily humorous conversations.
No doubt, this brand is successful in creating a huge impact among its consumers by entertaining them.
Seagram's Imperial Blue
Video Source: YouTube
Ad Slogan: Men Will Be Men
The "Men Will Be Men" ad campaign of Seagram Imperial Blue is considered one of the most memorable Indian ads ever. This ad was started in 1999, and it is continuing till now.
The ad campaign is full of sheer humour and it hardly speaks anything about the product. Throughout the whole ad, you can see men who compromise their sense, morals and dignity for some stranger women.
The ad became extremely popular throughout India and women find it very relatable. Even a very melodious song "Pyar Ki Raah Mein" is made for this ad as well.
It can be considered a classic example of an Indian TV advertisement, and different business owners get inspired by this ad campaign.
Fevikwik
Video Source: YouTube
Ad Slogan: Fevi Kwik Fishing: Chutki Mein Chipkaye, Fevi Kwik
More or less every Indian is familiar with the above image, which is an advertisement for Fevi Kwik. One of the most important strategies of a successful ad campaign is doing impactful characterization. Fevi Kwik has taken this technique very well and marketed its product accordingly.
Apart from this, the ad campaign also has a memorable and funny course of incidents. The humour is right on point, and the product detailing is apt to understand. Altogether, this is really a very important instance of popular Indian ads.
Zandu Balm
Video Source: YouTube
Here is an old instance of a Zandu balm advertisement which was highly emotion-triggering. One of the main strategies of successful ad campaigns is emotionally connecting with audiences.
In addition, research also proves that maximum people take buying decisions by the call of their subconscious mind.
Zandu Balm, a popular Indian brand, has rightly used this strategy and made it memorable. They put the right amount of emotion into this ad campaign and let people connect.
Besides, this example of a mother-daughter bond is a very commonplace incident so, it easily attracted audiences.
As a business owner, you must take the initiative to make such emotion-triggering modern ad campaigns by hiring a professional copywriting agency.
Kelogg's Chocos
Video Source: YouTube
Kellogg's Chocos has won the heart of Indian children with its taste and beautiful representation of ad campaigns. The implementation of a cartoon figure is a winning strategy for this brand.
This lively cartoon character personifies the brand's intent on making children cheerful. It is also the brand mascot, which has made Kellogg's a distinctive one.
Moreover, this mascot has also uplifted the brand image and made it more popular among common people.
Slurp by Nazrana Jewellery
Video Source: YouTube
The tea slurping ad by Nazrana Jewellery is one of the best examples of Indian ads featuring an emotional connection with people.
The advertisement starts with exchanging diamond gifts in an Indian household, but the main focus is on the tea slurping episode.
In the end, this ad efficiently mixes its product marketing with the emotional aspect which denotes the success of this campaign.
Altogether, this ad is a great example of connecting with a massive amount of audience with a positive message.
Happydent (Bright Palace Light Advertisement)
Video Source: YouTube
Happydent is a popular Indian brand famous for selling chewing gums. This above-mentioned reference ad is a very popular one for its funny and creative elements.
Here a man is presented with super white teeth glowing like a light after chewing Happydent.
Creativity is an unavoidable part of any thought-provoking advertisement. However, Happydent wants to convey the message that their chewing gum has effective teeth-whitening elements in a fun way.
The brand has successfully won a million people's attention with its attempt, and still, it is an impactful Indian TV ad example.
Cricket Ad by Cadbury Dairy Milk
Video Source: YouTube
An old Indian version of Cadbury dairy milk and cricket advertisement is an iconic example of popular Indian ads. Cadbury is famous for its attractive ad campaigns, which mainly focus on its products and their goodness.
However, though children mostly like chocolates here, Cadbury targeted a vast demography. They made this advertisement intriguing for both adults and teenagers as well.
So, as a brand, sometimes, you need to deviate from your regular target audience and take initiative to attract others for a better reach. However, you need to be very careful with your attempt while doing so and make your ad campaign interesting enough so everyone likes it.
Ambuja Cement
Video Source: YouTube
Ad Slogan: Tootegi Kaise, Ambuja Cement Se Jo Bana Hain
Ambuja Cement and its iconic advertisements are always super entertaining and at the same time, they market the products perfectly.
Mainly every popular advertisement of Ambuja Cement comes with their famous tagline "Tootegi Kaise, Ambuja Cement Se Jo Bana Hain". Through this, the company not only spreads the effectiveness of the product but also affirms its strong reputation.
Every brand should try to enhance its reputation and reliability through expressive advertisement campaigns, and Ambuja Cement is undoubtedly a great instance of this.
Dhara Cooking Oil
Video Source: YouTube
Dhara Cooking Oil is still famous for its old Indian version of the advertisement, where this brand successfully created a buzz among people with an attractive approach. It is one of the most popular Indian ads that covers day-to-day emotions.
This brand conveyed unique features of its product through storytelling in this TV ad campaign which was the main reason for its popularity.
Storytelling in content marketing is always a powerful concept in marketing, and Dhara Cooking Oil's memorable ad campaign just proved it right.
Conclusion
Thus, it was a thorough discussion of different popular Indian ads of different brands and how they have rightly served the purpose of ad campaigning. In this modern time, both TV ads and social media advertisements are popular and necessary.
So, business owners can surely take these classic and inspiring examples to create their unique ad campaign strategies. All these campaigns from the '90s and early '20s are quite impactful till now because of their unique approach.
Thus, marketing experts should run thorough research on such classic ad campaigns to derive more impactful ideas for present-day marketing.