Content marketing platforms or CMPs have become important tools for digital marketers to get valuable insights regarding content marketing strategy. These tools ensure smooth management of content right from the process of content creation to distribution throughout various online media channels.
Here we have listed down the best content marketing platforms that will help you quicken and smoothen the process of planning, creating, optimising and distributing your marketing content or digital assets.
What is a Content Marketing Platform?
Content marketing platforms help content creators and marketers understand the way users consume and interact with digital content and how they can streamline the content creation process with valuable data-backed information.
You can use these tools to save time, money and other resources required for creating and delivering high-quality and unique content. This way, you will be able to understand which keywords and topics you should cover so that your target consumers can find you easily.
Content platforms can be of various types, according to the content type. These include:
1. Social media platforms (e.g., Facebook, Instagram)
2. Video-sharing platforms (e.g., YouTube, TikTok)
3. Blogging platforms (e.g., WordPress, Medium)

Best Content Marketing Platforms to Use in 2023
Here is the list of some most important content platforms that you can use to nail the content marketing and generate the maximum value for your brand:
1. Semrush: Platform for SEO Content Marketing Analytics


Website: https://www.semrush.com/
Plans and Pricing of Semrush: The price starts at $129.95/month for the Pro subscription, $249.95/month for the Guru subscription and $499.95/month for the business subscription.
This is one of the best content marketing platforms available in the market online. You can get the complete content marketing flow here from ideation to creation, optimisation and management. Through Semrush CMP you can compile a content plan with great SEO potential by finding trending topics, questions and headlines.
Features and Benefits of Semrush
You can track your progress in one place
Can assist you in effective keyword research
You can manage your editorial calendar with your colleagues
It can help in rank tracking, competitor analysis and SEO
It helps in website monetization
Pros of Semrush
Organic and PPC keyword work research tools
You can use the free version for a lifetime
Daily rank tracking
Identify link building opportunities
Cons of Semrush
Paid plans are a bit expensive
It is a bit confusing for beginners
2. Exploding Topics: Content Platform for Topic Ideas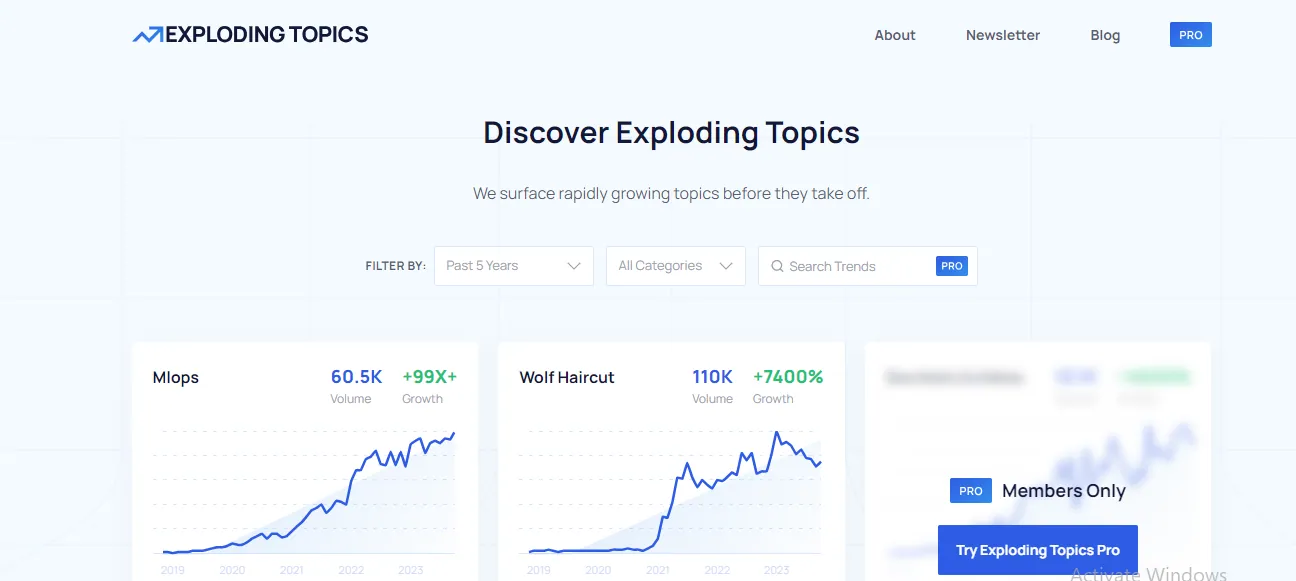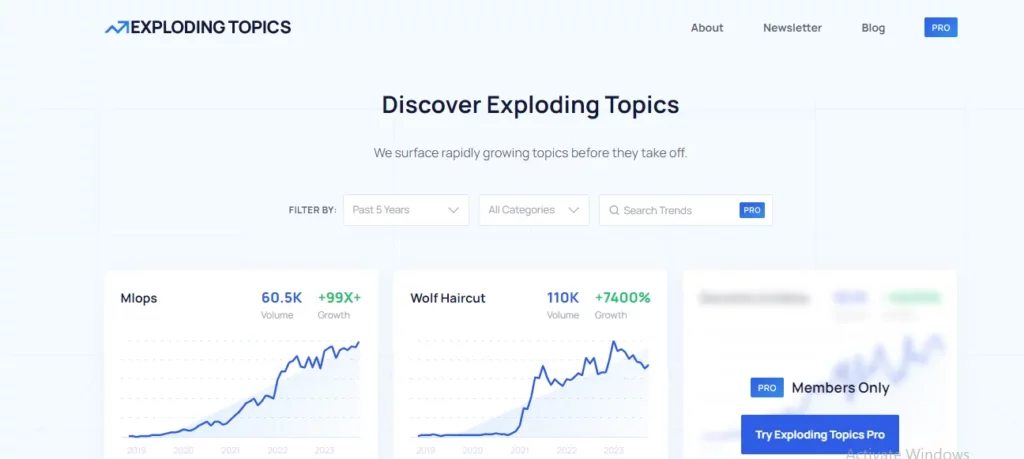 Website: https://www.explodingtopics.com
Plans and Pricing: The entrepreneur plan starts at $39/month, the investor plan is for $99/month and the business plan is for $249/month.
This platform was founded by the owner of Backlinko and hence has a lot of trust in the content marketing domain among the masses. Exploding Topics uses an advanced algorithm that provides the percentage growth on the topics of choice. When you have access to such data you can write the content earlier than your competitors and gain an upper hand over them.
Features and Benefits of Exploding Topics
You can find data here on growing topics that you can use for your website before they become famous.
Analyse emerging trends
Keyword research
Pros of Exploding Topics
There is a free version you can use
You can stay ahead of competitors
Great user interface
Category searches
Cons of Exploding Topics
High variance trends can show deceptive growth metrics
Doesn't explain the trends only informs you about them
3. Hubspot: A Content Marketing Platform for Data-Driven Content Insights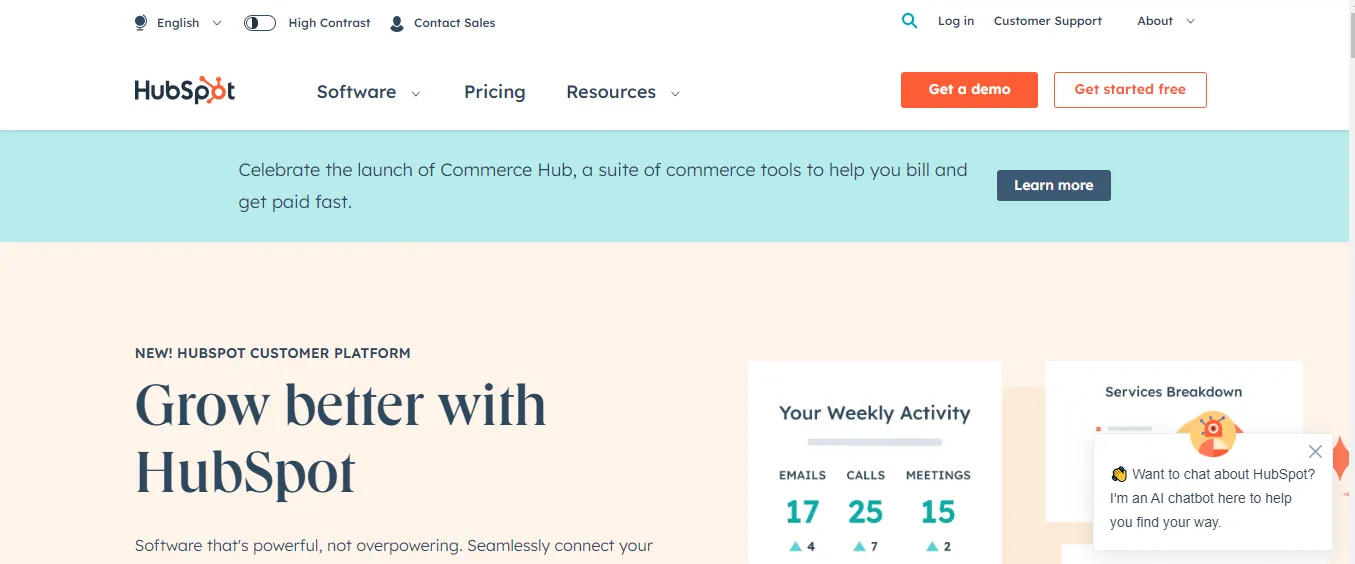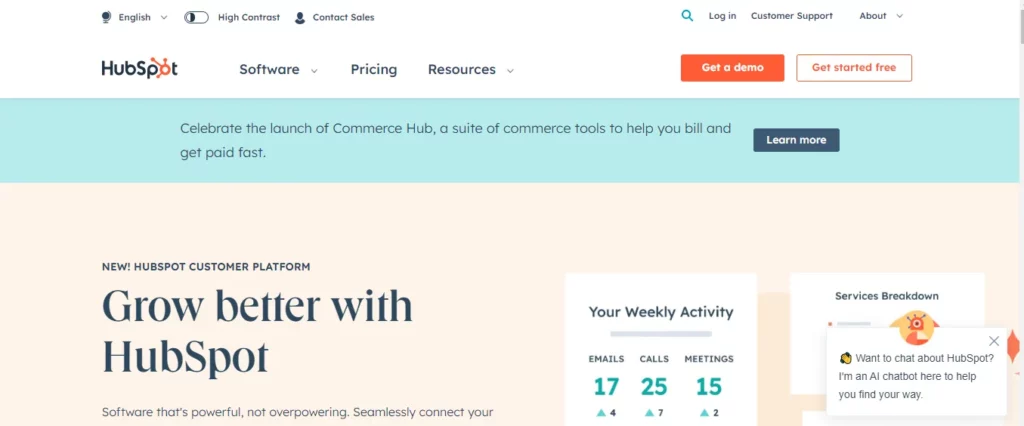 Website: https://www.hubspot.com/
Plans and Pricing: The plans start at $18/month for beginners and go up to $3600/month for enterprises.
Hubspot is an inbound marketing tool that serves as a marketing tool as well as sales and customer service management. Through the Hubspot CMS platform, you can get help to create quality content at the same time use the sales and management aspect to target customers and manage them.
Features and Benefits of Hubspot
Administer and distribute emails with the help of its marketing tools
The sales platform will help you generate leads
Schedule meetings, calls, etc.
Customer relationship management
Pros of Hubspot
There is a free version for a lifetime
HubSpot can collect data on all marketing efforts
Has powerful segmentation tools
Cons of Hubspot
It can be overwhelming for beginners
The paid plans are a bit on the expensive side
4. Buzzsumo: Best Social Media Content Marketing Platform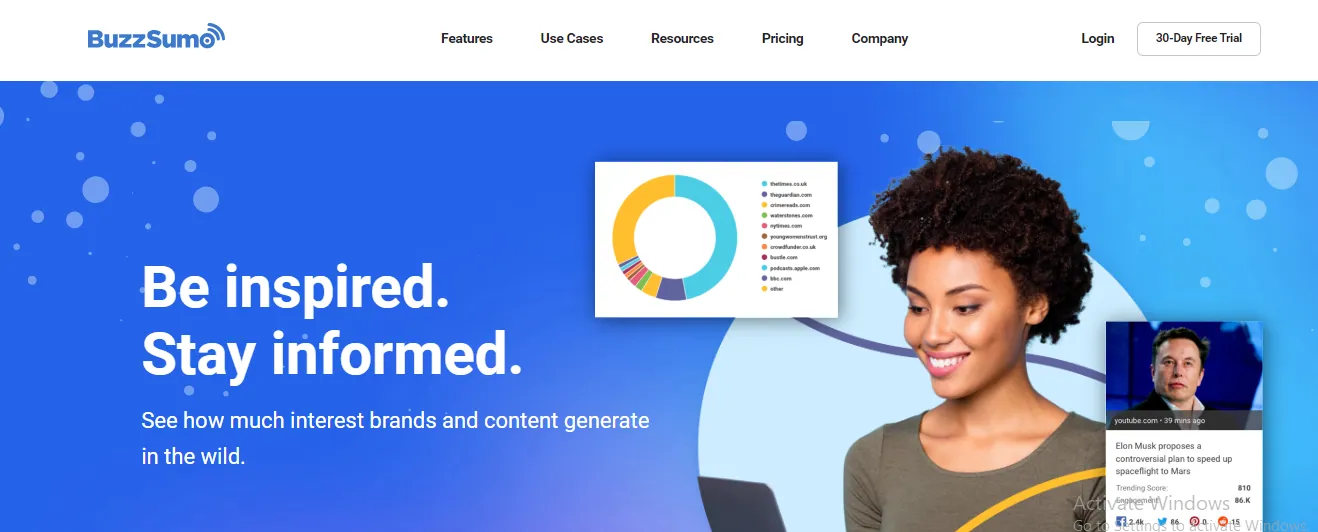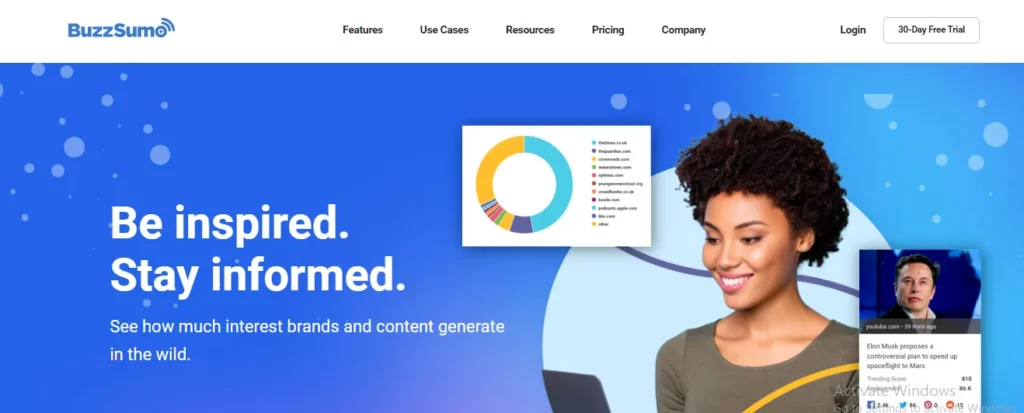 Website: https://buzzsumo.com/
Plans and Pricing: The prices start at $199/month for the Content Creation plan, $299/month for the PR and Comms plan, $499/month for the suite plan and $999/month for the enterprise plan.
This is one of the best content platforms for social media content. With the help of the influencer option in Buzzsumo, you can make your content go viral exponentially. You can navigate to the "top sharers" section and identify influencers who have shared articles that are similar to your topics. You can reach out to them and ask them to share your articles by which you can expand the reach of your content.
Features and Benefits of Buzzsumo
Audience Segmentation
Configurable Alerts
Competitive Analysis
Customer Engagement
Pros of Buzzsumo
Excellent tools that can help in better content creation
Easy-to-navigate interface
Gives powerful content suggestions
Cons of Buzzsumo
5. Ubersuggest: a Marketing Platform for Website SEO Data


Website: https://neilpatel.com/ubersuggest/
Plans and Pricing: Individual plan starts at $12/month, Business is at $20/month, and Enterprise is at $40/month
SEO is an inseparable part of content marketing, if you want your content to rank higher it needs to be optimised properly for the search engine. Ubersuggest helps in bridging the gap between great content and SEO.
Features and Benefits of Ubsersuggest
Provides SEO-related metrics
Helps you find top-performing competitive content
Shows backlinks
Helps you identify ranking keywords
Pros of Ubsersuggest
SEO Analysis is shown clearly
You get keyword suggestions with monthly volume
Onboarding process is easy to get started
Cons of Ubsersuggest
The relationship between keywords, keywords list and tracking can be confusing
6. Outbrain: A Content Marketing Platform for Advertising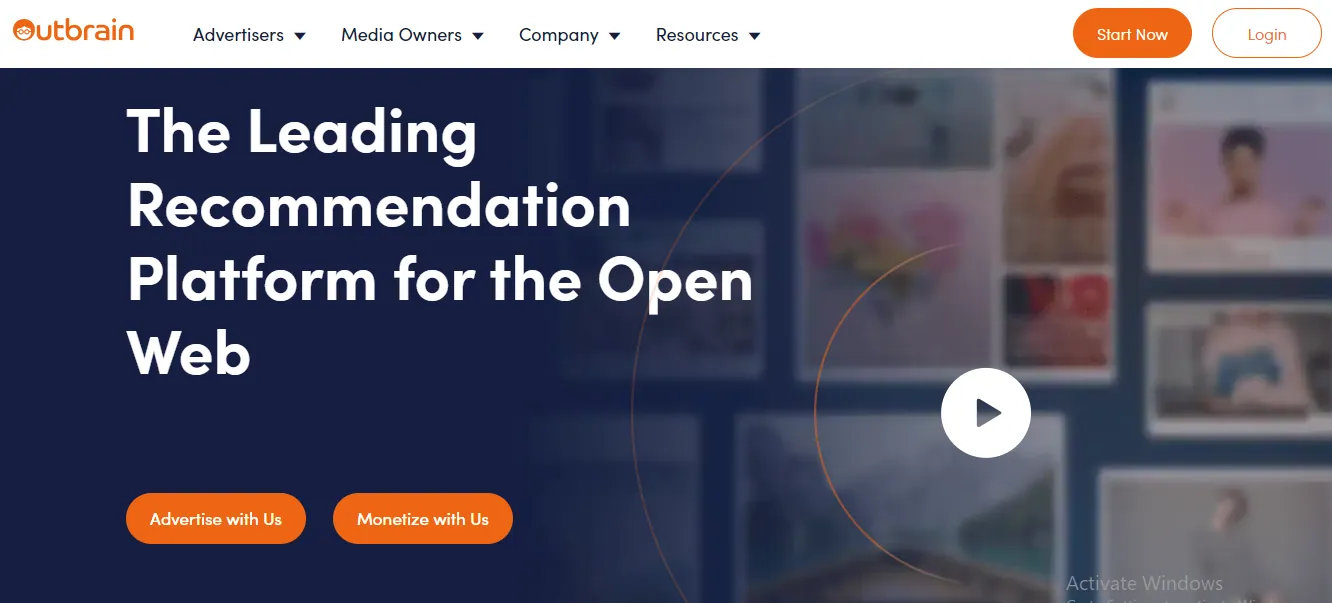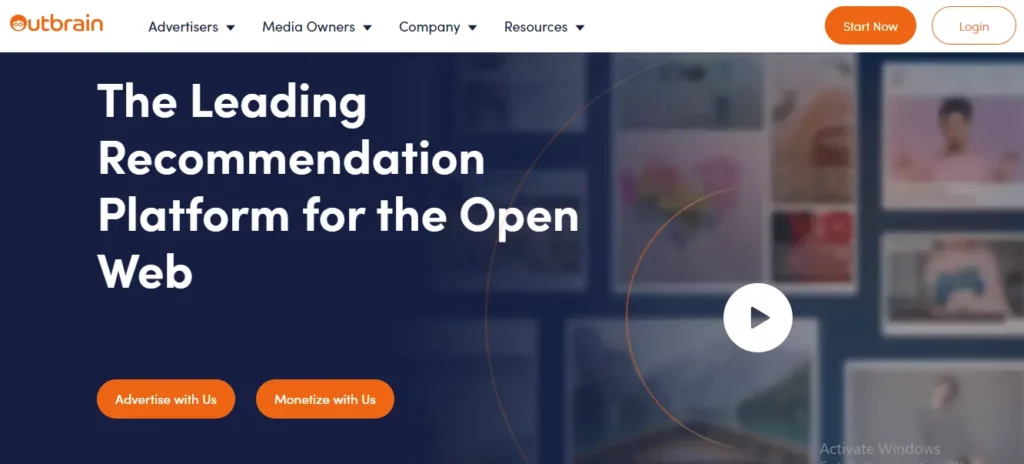 Website: https://www.outbrain.com/
Plans and Pricing: Contact the company to get exact pricing
Outbrain is an advertising platform that can help your company promote your products and services online. They have connections with publishers like Bloomberg and CNN hence making it one of the best platforms in the industry. This content marketing platform can help you in increasing your marketing network rapidly hence it must be used by businesses.
Features and Benefits of Outbrain
Uses targeted advertising strategy to recommend blog posts, articles, photos, or videos
Separate campaigns by platform
AdBlock targeting
Getting your ads approved
Pros of Outbrain
You can track the performance of your campaigns and optimise your ad spend
You can find out your target audience's needs and customise accordingly
Cons of Outbrain
PPC is a litter on the expensive side
Shows a lot of ads
7. Contently: A Smart Content Marketing Platform for High Quality Content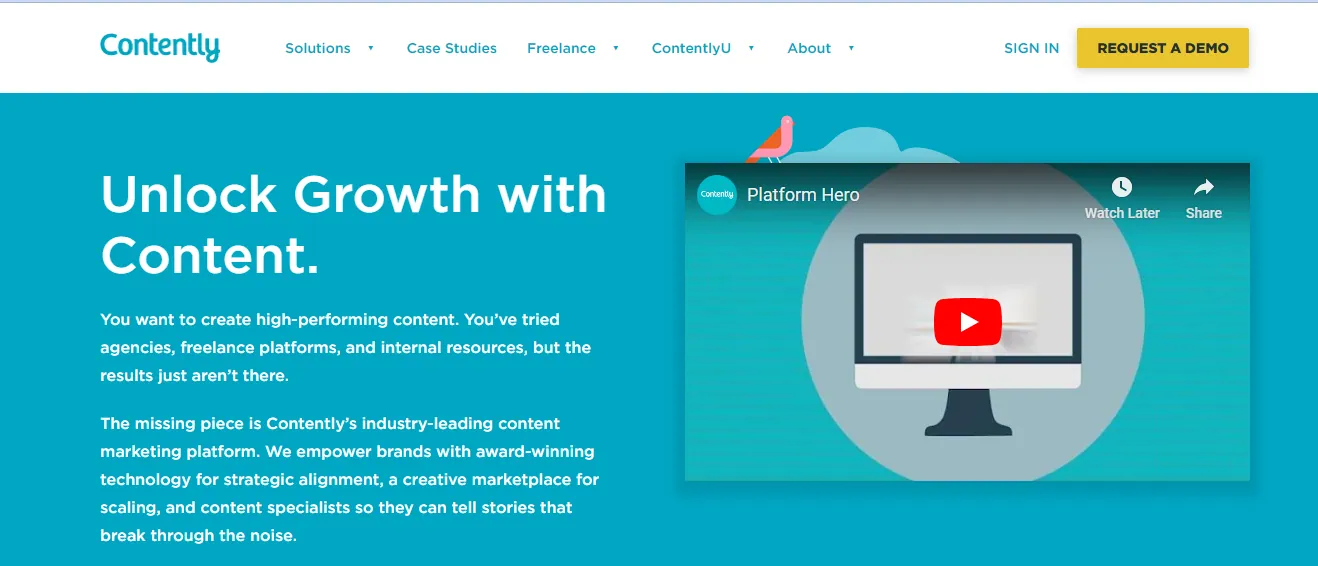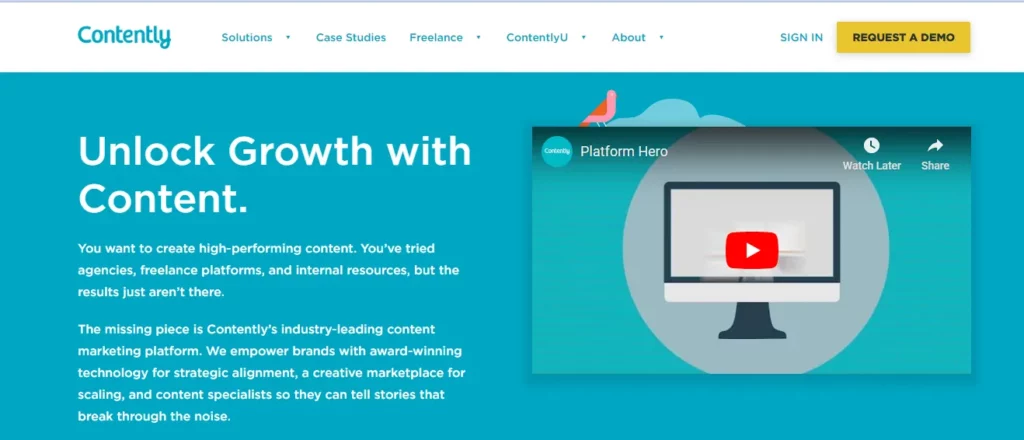 Website: https://contently.com/
Plans and Pricing: Contently is one of the best platforms for content scheduling and content distribution. You can distribute content across various platforms with their easy scheduling feature. This content platform helps brands create content that will engage their audience.
It has several unique features like 'Storybook' that uses proprietary technology to provide a predictive model of which topics will have the most significant impact. Another feature of the platform is 'Additionally' which provides SEO recommendations and checks the voice and tone of the content. With this site, users can set a roadmap to define the best strategies to achieve their goals.
Features and Benefits of Contently
Activity Dashboard
Campaign Management
Customizable Templates
Alerts/Notifications
Engagement Tracking
Content Management
Social Media Integration
Drag & Drop
Pros of Contently
Easy navigation system
Great customer service
Helps in collaborations
Cons of Contently
High prices and lack of pricing transparency
8. Scoop.it: Content Platform to Research and Publish Curated Content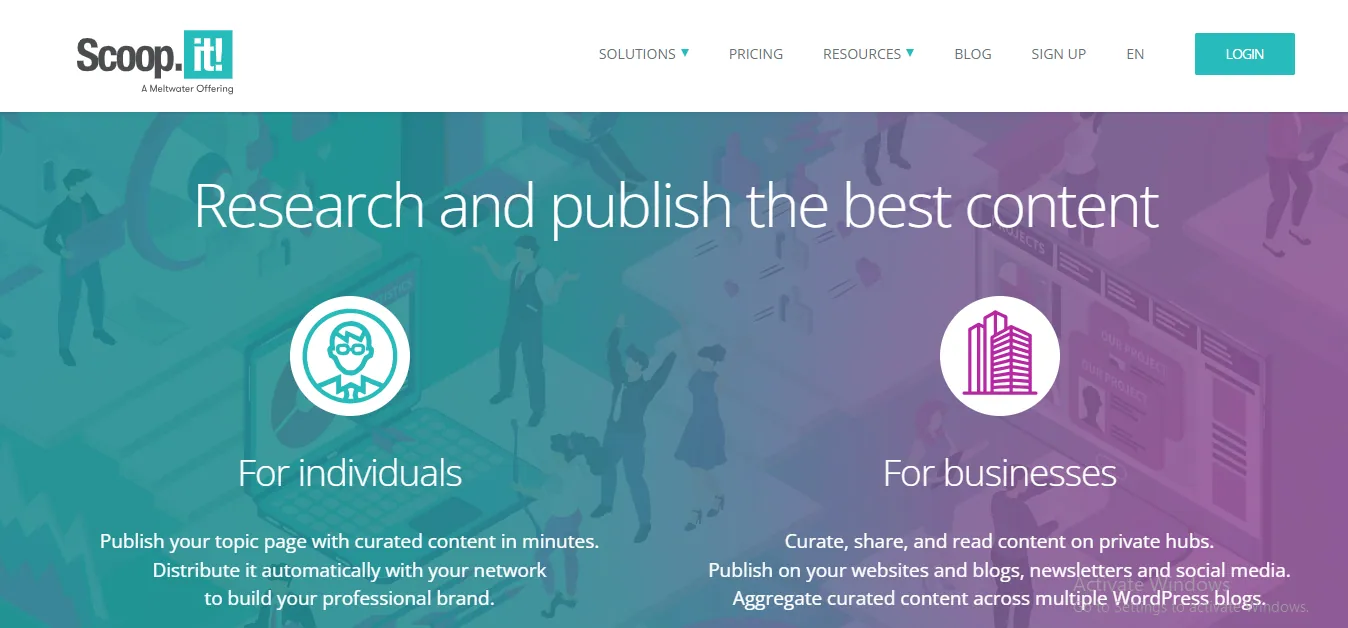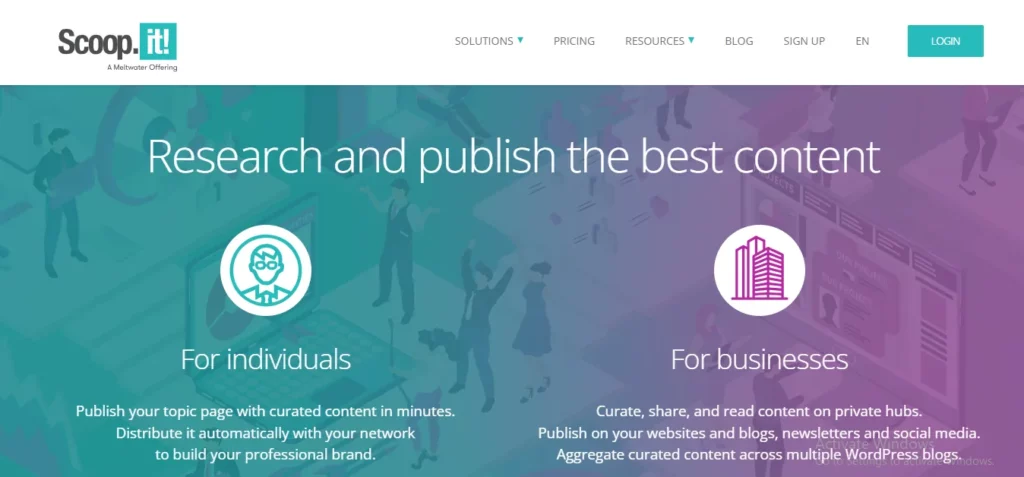 Website: https://www.scoop.it/
Plans and Pricing: There is a free plan with basic features, the base plan starts from $14.99/ month for the Pro subscription and $67/month for the Plus subscription. There is also an enterprise plan for which the prices are not revealed.
Scoop.it is a cloud-based content management platform which helps in discovering and researching content via the web and social networks. Almost 30 million web pages are crawled from Scoop.it.
This site will help you scale your curated content needs quickly by leveraging the WordPress integration to publish the content directly to your site.
Features and Benefits of Scoop.it
Editorial Calendar
Campaign Management
Content Management
Data Visualization
Engagement Tracking
Pros of Scoop.it
Helps you create curated content
It easy to use
Cons of Scoop.it
The free version has limited features
The option to remove the Scoop.it branding is expensive
9. Brand 24: A Content Platform to Measure Brand Awareness


Website: https://brand24.com/
Plans and Pricing: Starts at $39/month for the Individual plan, $149/month for the Team plan, $199/month for the Pro plan and $399/month for the Enterprise plan.
Brand24 is one of the best tools out there for online monitoring. It is a very effective reputation management tool and is used by brands like Ogilvy, Uber, etc. With this content marketing platform, you can watch out for what people are saying about your brand, its product or your overall business.
Features and Benefits of Brand24
Mention feed where you can track what people are saying about your brand online
A graphical presentation of all the discussions happening about your brand that could lead to any negative or positive publicity with the help of a discussion volume chart.
Additionally, you can also see if there is a spike in your brand mentions, website visits and other metrics through alerts.
It also helps you in audience segmentation, customer engagement and competitive analysis.
Pros of Brand24
It is an easy-to-use platform
Gives you a coordinated follow-up process
You can monitor your data in real-time
Cons of Brand24
The mobile app can be better
10. PromoRepublic: One-Stop Content Marketing Platform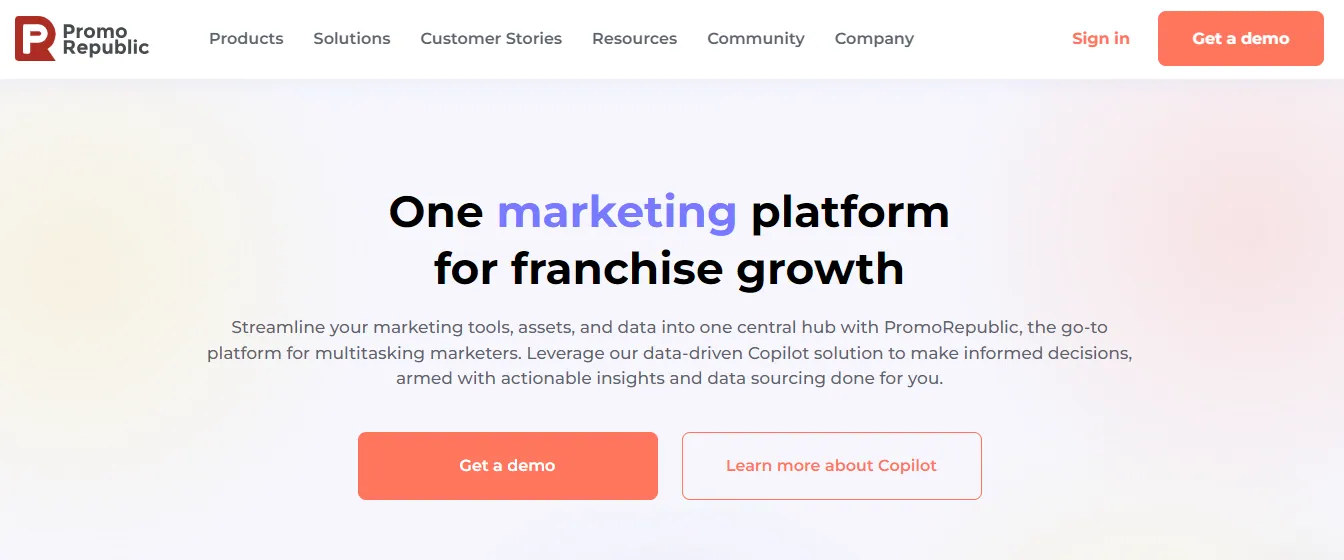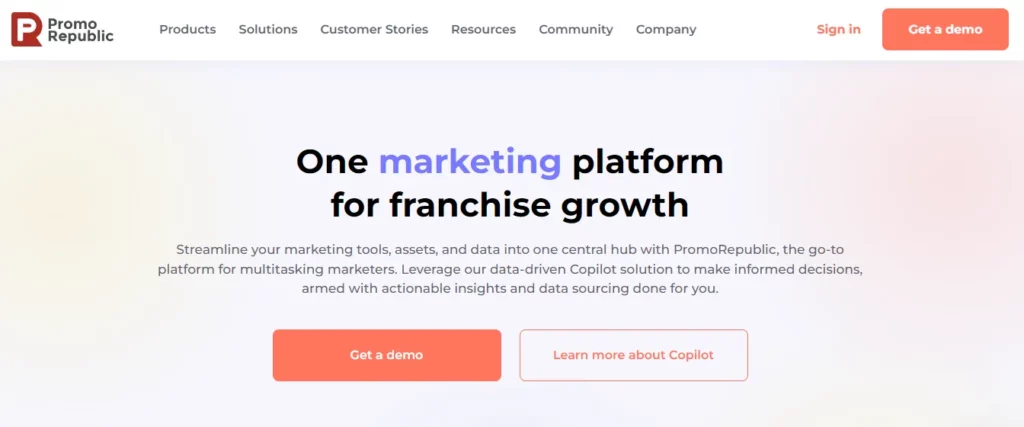 Website: https://promorepublic.com/
Plans and Pricing: The price starts from $59/month for small businesses, $99/month for agency owners and you also get the option of custom pricing for multi location.
If you want a content platform where you can schedule and design posts at the same time in a single place then PromoRepublic should be your choice. This platform can fulfil the requirements of an asset manager and a graphic designer and these unique features help you create more personalised posts which perform better.
Features and Benefits PromoRepublic
The best feature as well as benefit of this platform is that it can be used for graphic designing, moreover, this platform boasts about having more than 100,000+ post ideas in their library.
You can schedule and track your content from this platform as well as conduct brand tracking.
It also has a feature for multi account management which is a plus for multi location businesses.
Pros of PromoRepublic
This platform has excellent automation for scheduling
Saved post functionality
You get free educational resources
Cons of PromoRepublic
You cannot upload in bulk
It lacks third party plugins and app integration
You don't get any collaboration feature for clients
11. CoSchedule: AI Marketing Platform for Social Media Post Automation


Plans and Pricing: $19/month per user for the marketing Calendar plan. You have to get in touch with the company representative for the marketing suite plan as the plans are custom built and the price will depend on how many features you need.
Coschedule is basically an editorial calendar management platform which suits best for bloggers, solopreneurs, and startups. It helps them in organising their blogs and social media in one place. You can easily plan, organise and execute all your content marketing tasks here.
Features and Benefits of CoSchedule
This platform offers you a calendar organiser, content organiser, and dashboard for project and task management.
It also has features for bulk social media scheduling and advanced audience targeting for social digital publishing.
Additionally, you can also manage multiple accounts with the help of this platform.
Pros of CoSchedule
It gives you a centralised dashboard and calendar
You can easily collaborate with clients and teams
Has different unique features in the marketing suite plan
Cons of CoSchedule
You don't get enough customisation options
The pricing is non-competitive
The platform loads slowly
12. Brandwatch: Content Platform for a Streamlined Content Distribution


Website: https://www.brandwatch.com/
Plans and Pricing: This platform offers three types of plans which will then be tailored to meet the needs of the customer. No specific pricing is provided on the company's website as cost may vary depending on your requirements. Contact the company for more details.
Brandwatch is a social media analytics tool that helps in effective streamlining of content across multiple platforms. You can also centralise your content planning with the content calendar on this platform. It also helps in scheduling, tracking and keeping up with the trends ongoing in the market.
Features and Benefits of Brandwatch
It gives you a centralised content library to repurpose your assets.
Automated Publishing
It can help you with keyword filtering
Gives you a detailed analysis
Pros of Brandwatch
This platform uses social listening through Consumer Intelligence to help brands understand the needs of consumers.
Audience tools give deep insights into the aggregate AND individuals
Cons of Brandwatch
The products and services from three different types of plans can be a little confusing
There is no option for multi-channel posts
13. MeetEdgar: Making Social Media Content Distribution Hassle-free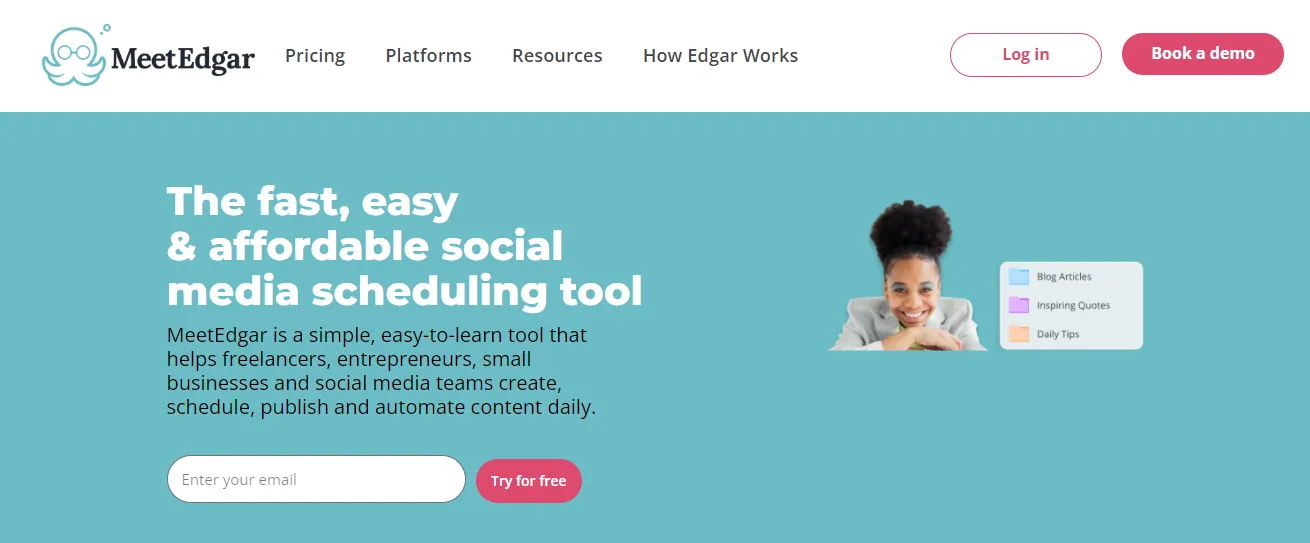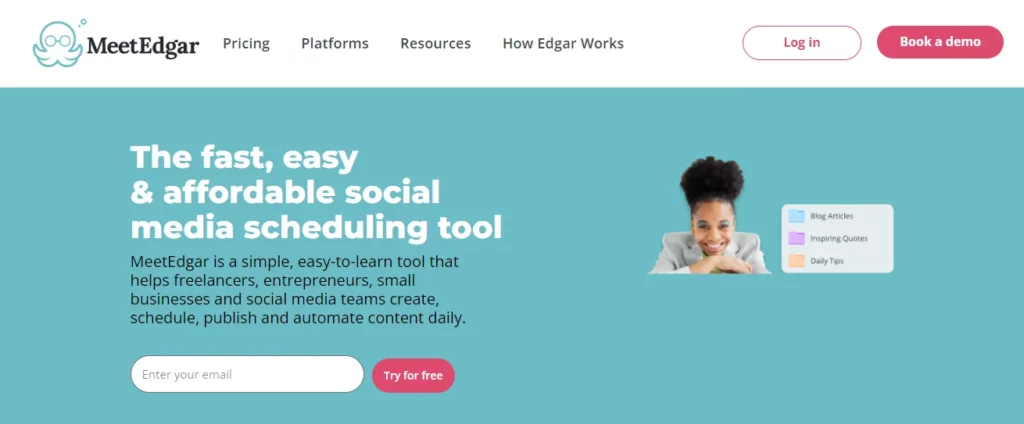 Website: https://meetedgar.com/
Plans and Pricing: Eddie Monthly Plan is $29.99/month for side hustlers, and those just getting started and Edgar Monthly Plan for $49.99/month for entrepreneurs and small businesses.
With the help of MeetEdgar you can manage multiple social media accounts in one platform. This platform specialises in recycling evergreen content and posts. Additionally, with the social media automation front, this platform can even write posts for you.
Features and Benefits of MeetEdgar
Automated Publishing
A stacked content library
Image and video support
Multi user collaboration
Link tracking
Pros of MeetEdgar
Help in content repurposing
Has a "Best time to publish" feature
Cons of MeetEdgar
The pricing is a bit expensive as its customised
Its user interface can be difficult to use
14. Mention: Platform for Better Content Marketing Insights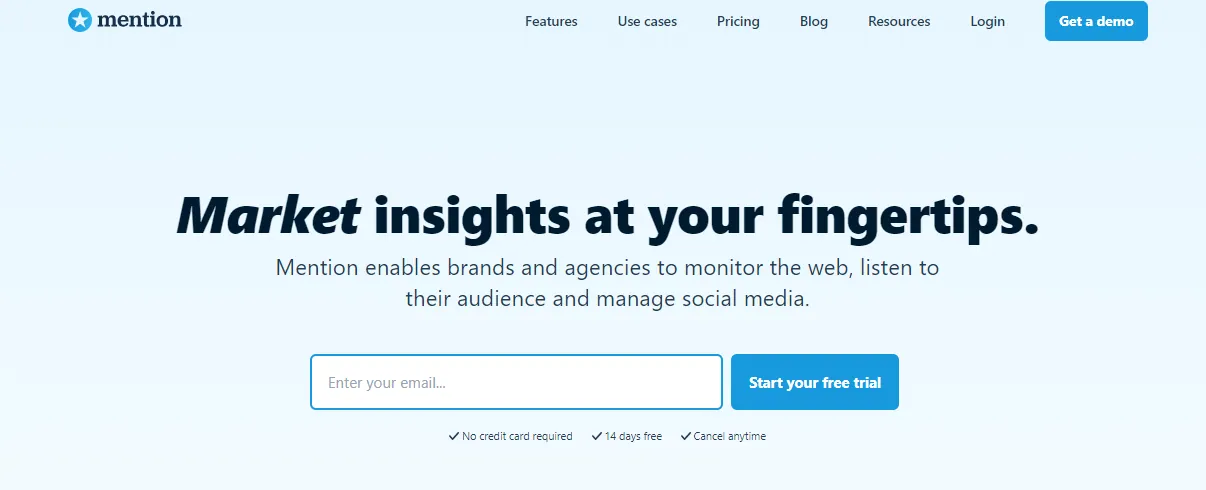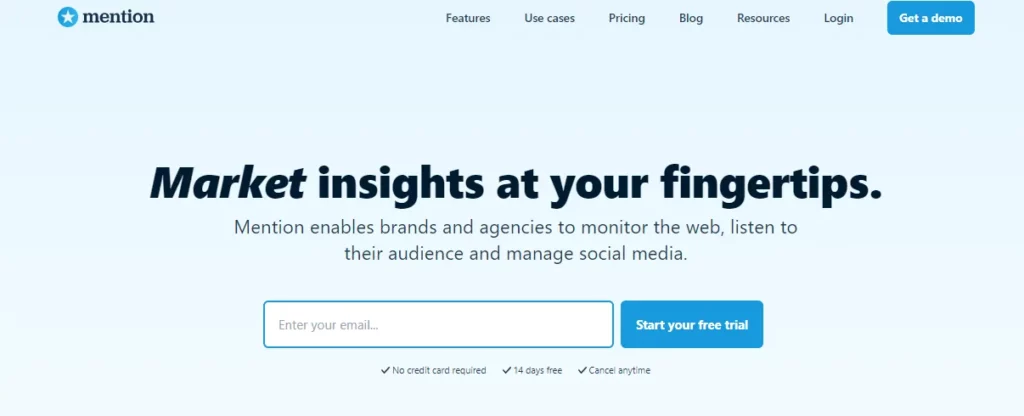 Website: https://mention.com/
Plans and Pricing: The solo plan for Mention starts from $41/month, they also have other plans like pro plan for $83/month and $149/month for pro plus.
Mention is a content marketing platform used to monitor, manage and listen to your audience and provide relevant information for better service. It helps in gathering data on what is being said about your company and your competitors as well as provides information on how well your marketing campaigns are performing.
Features and Benefits of Mention
Filters to specify references
Provides sentiment analysis to tell you how the audience actually feels about your product
Audience segmentation
Configurable alerts
Pros of Mention
It has a good very brand monitoring system
It has a very easy to use and clean interface
You can get 30 days free trial period without credit cards
Cons of Mention
It lacks learning tools
Limited features in base plans
The customer service is a bit slow
15. Percolate: Platform for End-to-End Content Management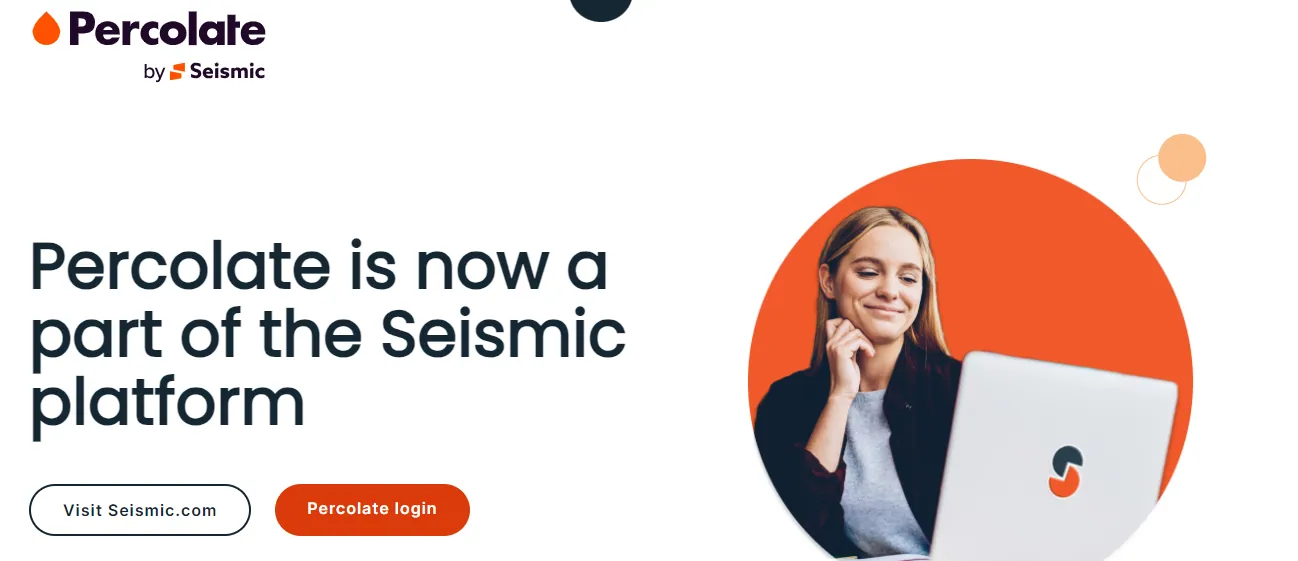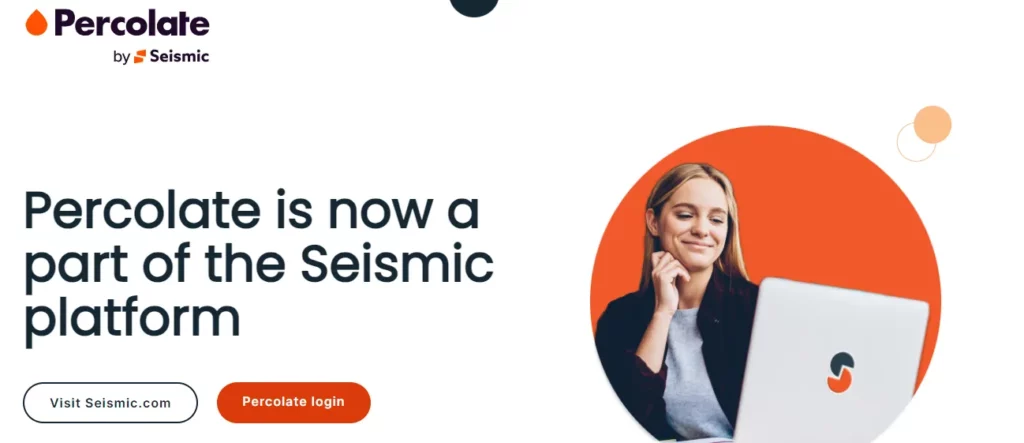 Website: https://percolate.com/
Plans and Pricing: You need to contact the company to get exact prices.
This is a content platform which provides end to end solutions like content management, social media management and brand management. With Percolate's social media scheduling system, you can sync up all your social platforms and easily post to each one. You can even plan several weeks of social posts at a time. It is great for analytics and evaluating campaign effectiveness.
Features and Benefits of Percolate
The mobile version helps in effective social listening
Import/Export Option
ROI calculation through analytics
Asset management
Strategic planning and workflow management
Pros of Percolate
You can see multiple streams in one window
The mobile app helps a lot to manage your content on the go
Cons of Percolate
The overall user interface is a little complicated
Lacks user friendly features and the drag and drop system can be better
16. Vidyard: An Interactive Video Content Marketing Platforms


Website: https://www.vidyard.com/
Plans and Pricing: There is a free plan available with limited features. The base paid plan starts at $19/month and there is also a business plan for which you have to talk to the company's representatives.
Vidyard is a video content marketing platform. This is an interactive video platform that goes beyond the traditional video hosting and management system. Vidyard helps companies connect with more viewers through interactive, personalised video experiences, gain powerful insights about their audience, put these insights into practice through business integration, and prove the impact of their video programs.
Features and Benefits of Vidyard
It is an easy to use video CMS
You can create personalised videos
You get a lot of integration options with tools for editing
You can track your data with its powerful analytics dashboard
Pros of Vidyard
It is easy to use
It is an ads free hosting
Cons of Vidyard
Somewhat difficult to navigate/edit videos
Has fewer media and GIF options
17. YouTube: Free Video Content Sharing Platform


Website: https://www.youtube.com/
Plans and Pricing: Youtube is a free interactive video sharing platform
Did you know that YouTube is the second-largest search engine in the world and has around 2.70 billion active users as of 2023 (Demandsage Report)? YouTube is a video marketing platform that helps you create engaging videos, increase traffic, attract new subscribers to YouTube channels and ultimately increase your revenue.
Features and Benefits
Has a wide range of audience
Can be used to improve SEO rankings
Has a detailed analytics tool for detailed data
Pros of YouTube
It has no limit on the number of uploads
You can monetize your channel
Cons of YouTube
It is a little difficult to grow on YouTube initially
According to Hootsuite, you should ideally go for 40% created and 60% curated content for your website to boost your content marketing ROI? If you do not use curated content in your content marketing strategy it is time to start it otherwise you might be losing out on a lot. Using curated content will help you establish trust and add additional value to your audience while highlighting your expertise in the specific industry.
Benefits of Using Content Platforms
There are several benefits of using content platforms like increasing organic lead generation marketing, and better marketing strategies. You can go through the points mentioned below to understand them in detail.
1. Increasing the Reach of Content
Content marketing platforms help digital marketers reach a large set of audience. You can share insights, knowledge and information about your products or brands. The digital marketing content can get exposureto new set audiences, irrespective of geographical location. These tools help in simplifying content creation process for even small businesses with valuable insights. They can gain visibility and engage with audiences on a large scale.
2. Streamlining User Engagement
Content platforms gives insights for content creation. It can also help you make content more encouraging and engaging, while sharing ideas. This way, these tools transform interaction between creators and consumers.
3. Scaling Up Business Opportunities
Content marketing platforms help business with data and insights required for setting content marketing goals to boost ROI. They provide opportunities for businesses to target and reach their desired audience, driving revenue growth.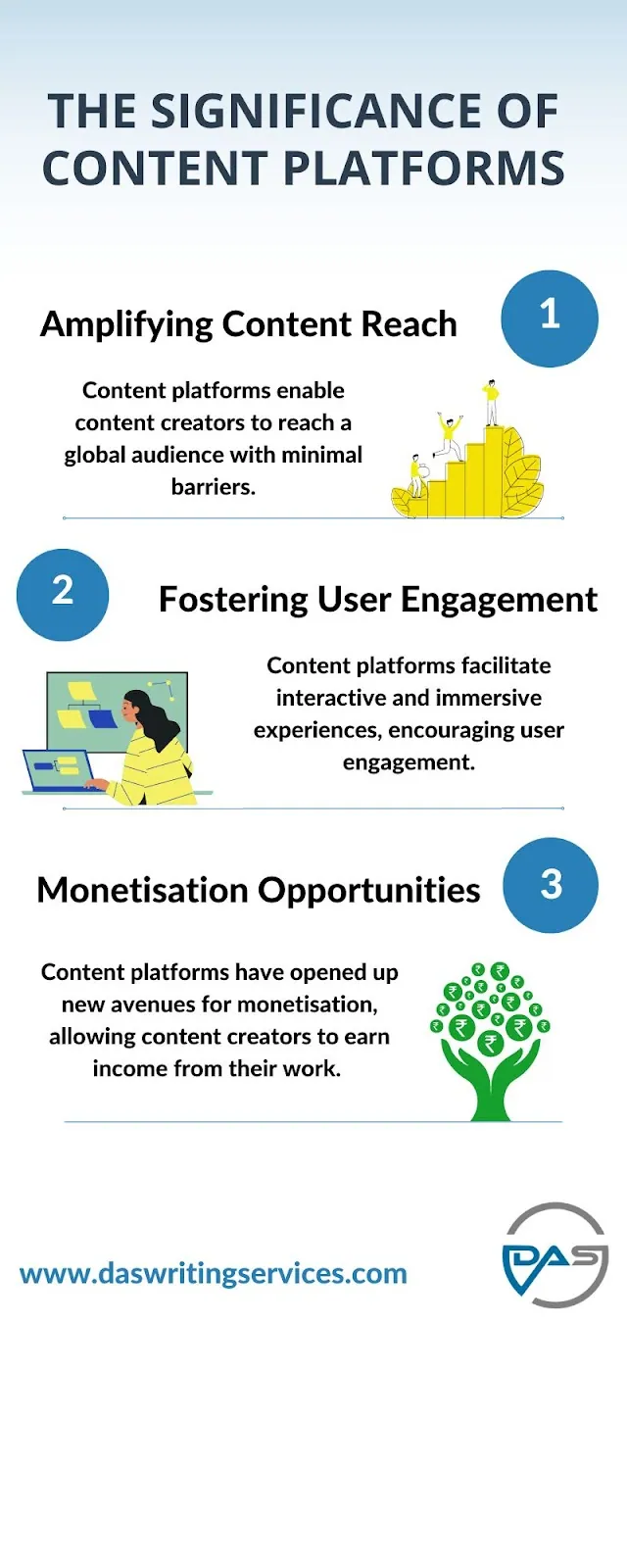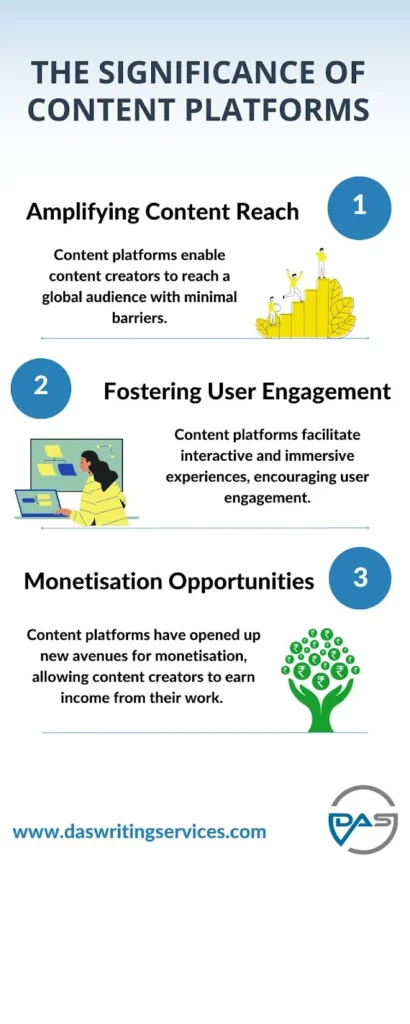 Content marketing platforms have streamlined the way of content creation and distribution for creators and businesses. You can use these tools to generate a profound impact for your business through content marketing. You can get insights regarding keywords, topics, audience requirements, etc. Some of these content platforms, even let you schedule your posts. As a result, you can ensure that your audience gets exposure to your brand content at the right time.
Hope that you we have successfully met your search queries and you got the answer you were looking for. Like this, we, as a professional content writing services provider, help the audience of our clients meet their search intent. We provide SEO optimized content that ranks high on the search engine result page. If you also want to win the game of digital marketing game, we would like to help you!
Connect with us now.