Do you know content marketing can grab 70% of your customers with its attractive approach?
Content is the king in the present digital era. However, only creating a content creation will not help if its not followed by marketing.
Hopefully, with the progression of the digital market, business owners are being more aware of content marketing. Only investing proper time, effort, and funds in content marketing will result in profitable ROI which is the main target of any business.
In this blog, you will learn about different aspects of content marketing ROI and how to measure it. Keep exploring!
What is Content Marketing ROI?
Content marketing ROI stands for return on investment for creating blogs, articles, and other forms of content. In content marketing business owners invest a generous amount of money, team effort, and time to uplift their business growth. By checking the ROI, they can understand the situation of their business. It also helps them to improvise in certain fields and get better results. Generally, content marketing ROI is measured in percentage.
Hence, ROI is not an immediate result. Also, it can not only be measured with the amount of money. Better content marketing ROI will also reflect in your brand visibility, getting reviews customer engagement, and conversions.
Starting with Content Marketing ROI
It has been seen that 44% of B2B business owners do not take the initiative to know their content marketing ROI whereas it is important for setting up future goals.
"The aim of marketing is to know and understand the customer so well the product and services fits him and sells itself." – Peter Drucker
For this ROI calculation is important as it will show the customer's traits. Successful business owners always set up their future ventures as per input from their customers. In addition, it is also helpful for B2B business owners.
There are a few factors to start with content marketing ROI. These are:
1. Finding ROI Purpose
Firstly, you need to be clear about the purpose of measuring content marketing ROI. For example, you may want to make a report to substantiate your organization's investment in content marketing. You can also measure ROI to understand which metric is working the best for you. Web traffic is such a metric that can help you to understand how many business owners have visited your site. Thus, finding a purpose should be the first factor for finding content marketing ROI.
2. Know Your Metrics Well
Measuring content marketing ROI has different metrics. Some standard metrics that matter the most are as follows: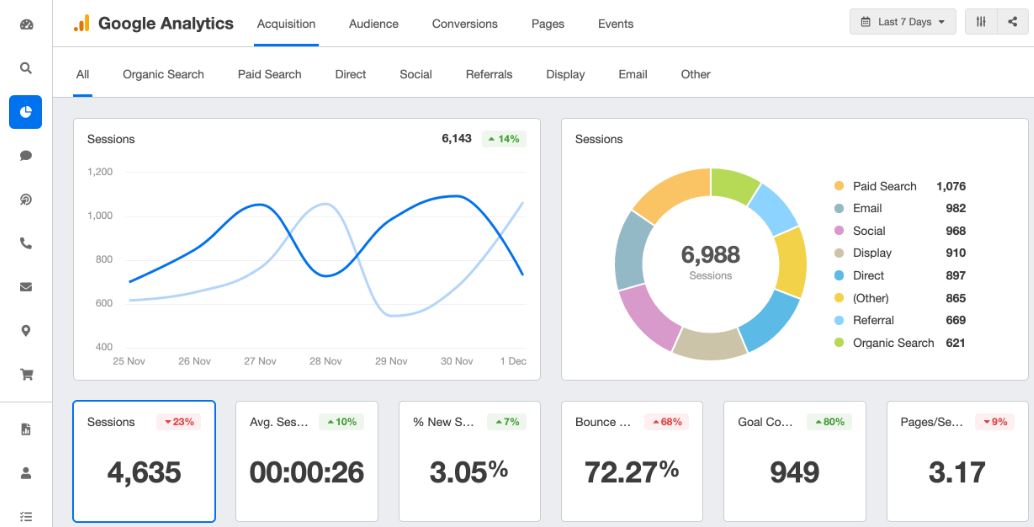 By creating an account on Google Analytics, you can get an idea of your website traffic. Here you will get different KPIs or key performance indicators that will help you to understand your site's performance. These KPIs include bounce rate, unique visits, impressions, total time spent on your site, downloading anything, etc. Consumption metrics are the first thing that you need to consider after publishing content so that you know how many people have engaged with your content.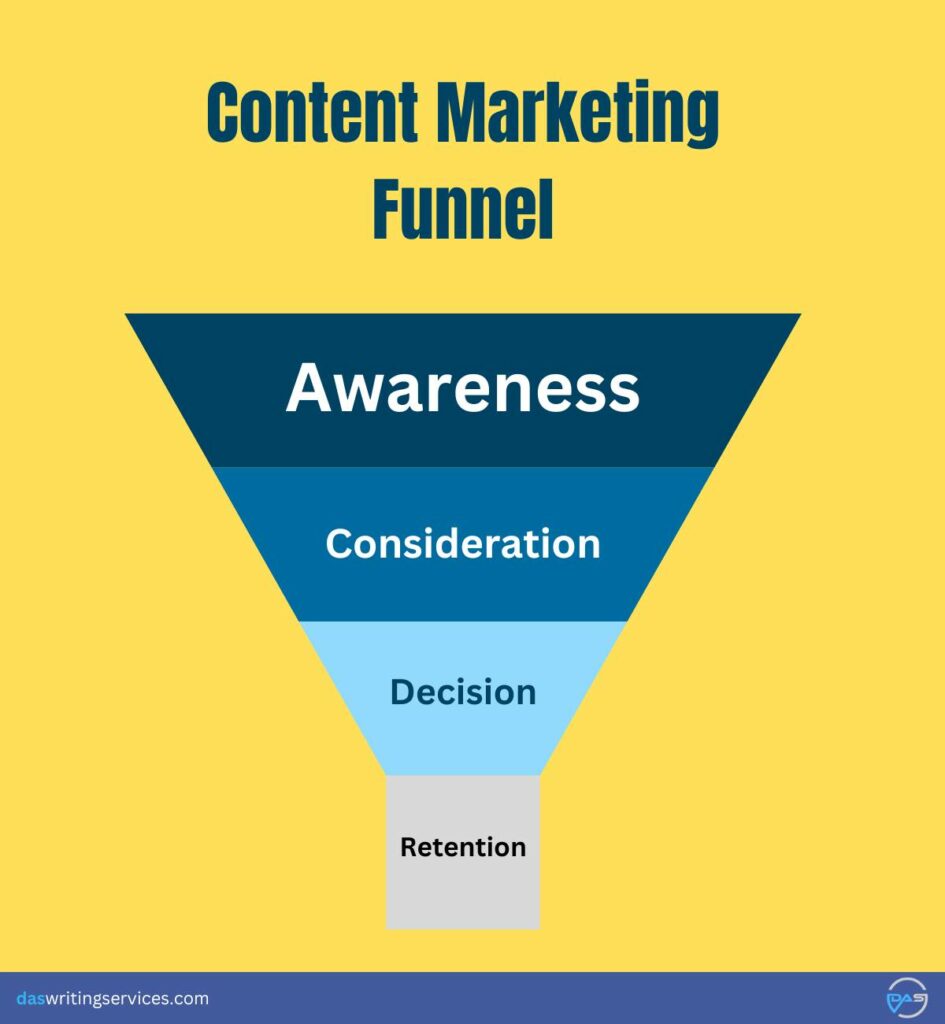 Effective content marketing campaigns help to generate leads in different ways. By creating a winning content marketing funnel business owners can convert more traffic that will help to increase sales. Thus, tracking leads is also important for each piece of content.
Tracking sales is a way of measuring content marketing ROI. After conversion, if you get valuable customers who want to work with you only then sales can be generated. When a customer will make a purchase or avail of your services after considering your benefits, you can count that as a sale.
Though shares do not generate direct revenue it is an important factor. This is because through sharing, your content will get more exposure among your target audience. So, it is better to track your content sharing to understand the reach of your content.
E-mail marketing also falls under content marketing strategies and is popular for gaining more customers. Tracking the performance of e-mail marketing is necessary to understand your plausibility among potential customers. Find out which of your targeted keywords have given you more leads and make future strategies with them.
3. Finalize Your Target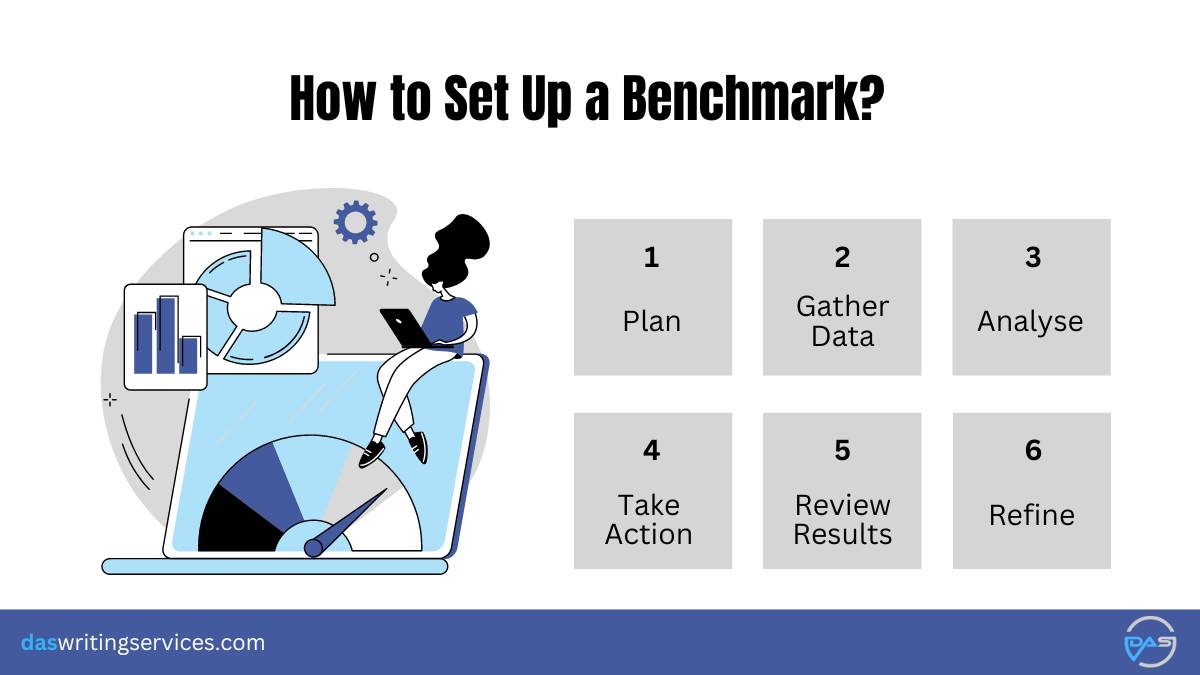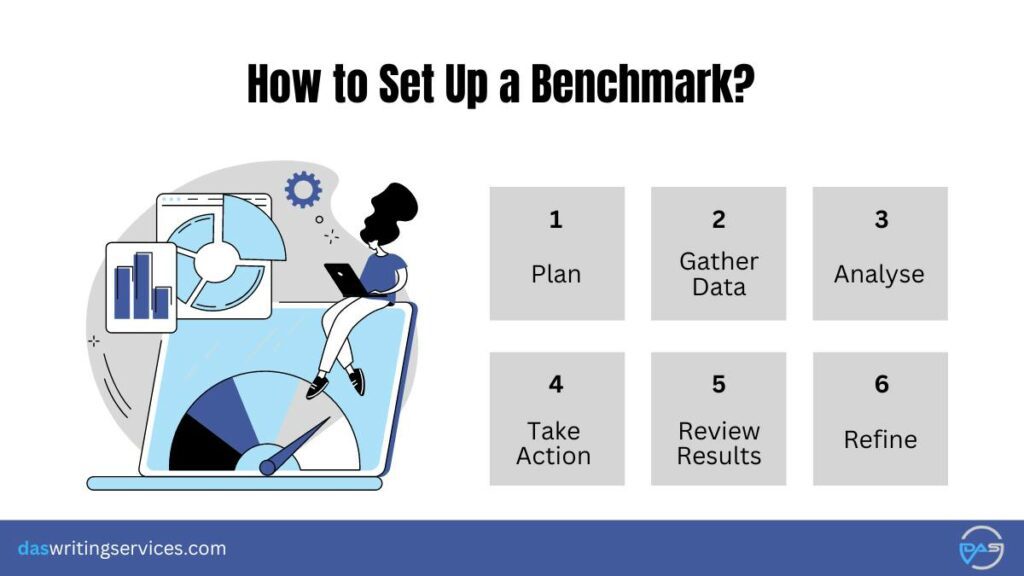 As you are well-acquainted with everything related to your content marketing ROI now it is the time to set up your benchmarks. By creating this, you will understand where you have performed well or how much you have gained over time. You can also get an idea about your competitors by researching your marketing ROI properly.
How to Measure Content Marketing ROI?
To calculate content marketing ROI you need to follow a few steps. These are as follows:
Step 1: Calculate Content Production and Distribution Cost
Firstly, you need to get the complete cost of your content production and distribution by analyzing different aspects. These aspects include:
The payout of the content creator or writer
Image, video, and audio production cost
Cost of outsourcing
Other costs
In-house content production and other external costs should also be considered to get a complete calculation.
As you find the content production cost, now it is time to move to content distribution cost. Content distribution or content marketing costs differently. For this, there are several other factors such as
Pay-per-click advertisement costs
content creation software and tools
Posting on different paid platforms
Social advertisement costs
After merging content production and distribution costs you can get the full amount that is your total investment for content marketing.
Step 2: Get the Output
As you have a clear idea of your content creation cost, now is the time to calculate the sales. For this, you must analyze every piece of content and find out how many people have been converted through that.
Every content has an attractive call-to-action tone which sends people to a landing page for conversion. So, optimizing call-to-action is also necessary. With this attractive and optimized CTA, you can get direct conversions. Learn more on framing attention-grabbing CTA in your marketing strategy. On the other hand, you will also get conversions from different channels that are related to that content. So, you must accumulate all the sales and conversions and get the total amount of revenue.
Step 3: Content Marketing ROI Calculation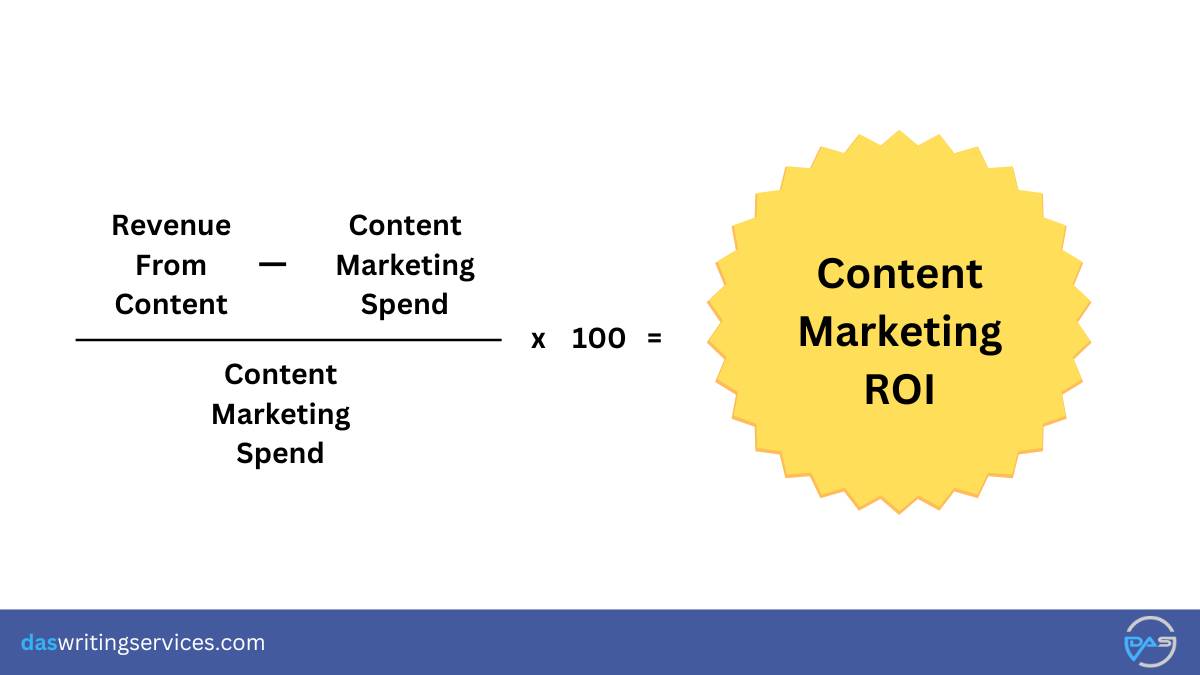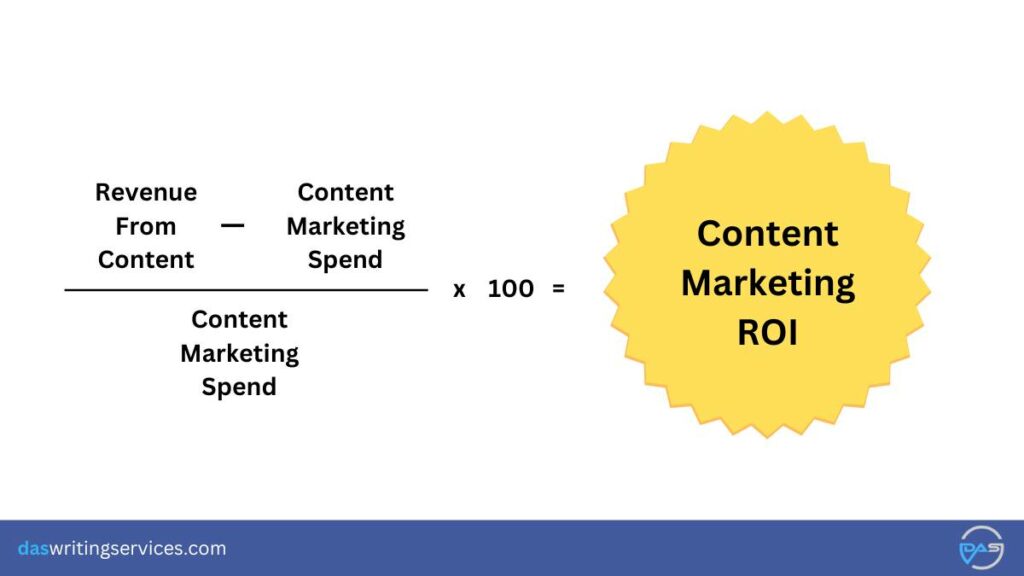 By now you have all the numerical data that you need to put into the content marketing ROI calculation formula. The formula is:
Content Marketing ROI = ( Return – Investment ) / Investment X 100
Check out the following example to understand the working of this formula:
Suppose you have invested ₹1000 for content marketing and received a return of ₹5000. Then your content marketing ROI will be
₹5000 – ₹1000 = ₹4000
₹4000 / ₹2000 = 2
2 X 100 = 200%
So, the matter is if your sales are more than your investment only then it can be counted as a profitable ROI.
You can also use a content marketing ROI calculator to calculate the ROI. For this, you need to:
Type content marketing calculator in the search bar and choose a suitable one
Input different data like website URL, the total number of content posted in a month, domain rating, the monthly budget for content marketing, traffic value, etc.
Get your result instantly
Note: Different content marketing ROI calculators are available online that has different work process. Take help from any knowledgeable person to avoid confusion.
How to Increase Your Content Marketing ROI?
To get better ROI, business owners must involve themselves in better content creation. Not only that posting frequency of quality content also matters a lot. Here are a few tips to increase your content marketing ROI: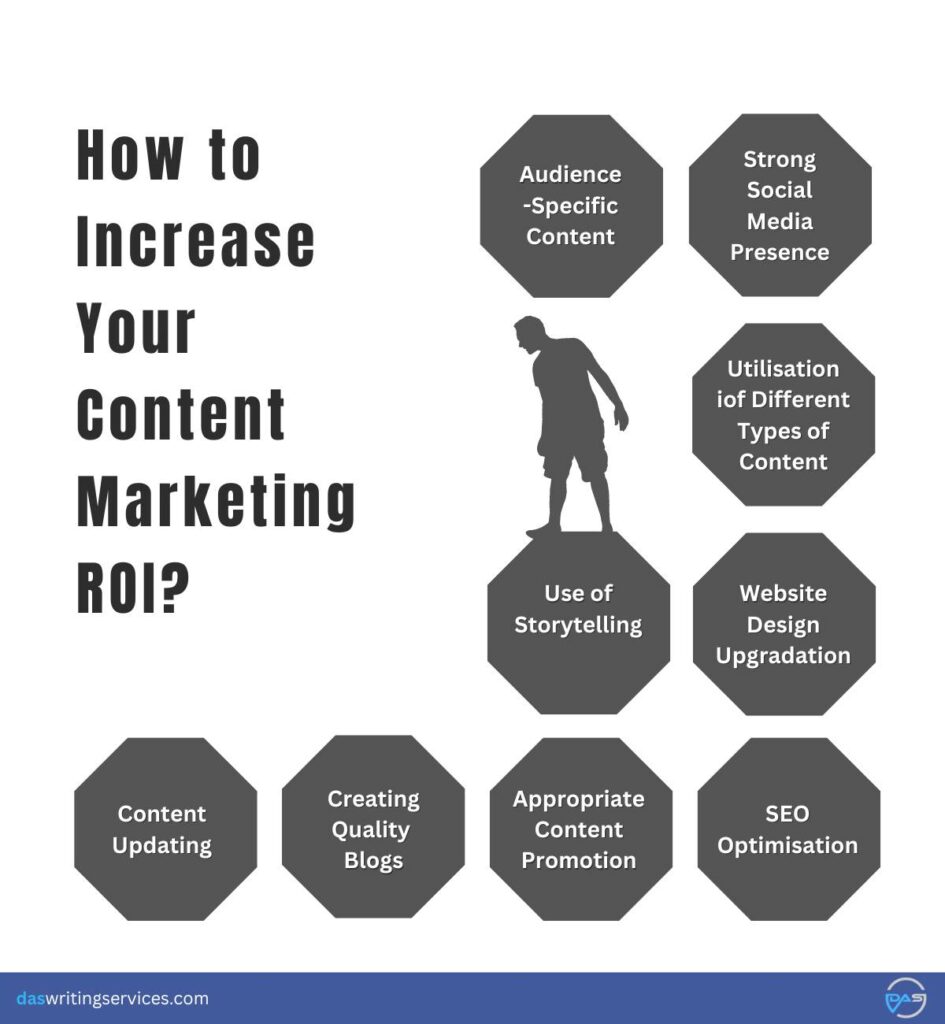 1. Audience-Specific Content
The audience is the main focus for creating revenue-generating content. As it is about making them satisfied you need to research and find what your audiences want to read or see. To find out what the audiences want you can:
Analyze your web traffic.
Ask your audience what type of content they want to see through social media polls and questionnaire sessions.
Consider the conversations of your audience on different platforms.
Find out which types of information are high in demand yet your audience can't access them. Create content regarding that information.
You should consider audience feedback as well.
2. Strong Social Media Presence
Social media platforms are really important nowadays to gain huge followers which eventually turn into valuable customers. It is also a great place for marketing different types of content. However, for this business owners must have a strong social media presence. Some suggestions to become popular on social media are:
Posting daily or as much as possible on social media platforms
Making people engaged through different campaigns
Proper account optimization
Sharing website updates with your network
3. Utilizing Different Types of Content
Apart from written content like blogs, articles, and technical content, there are several other types as well. Business owners need to deploy them as per their audience's requirements.
For example, video content can be extremely engaging and attractive. A 2020 research by Wyzowl shows B2B businesses get 87% growth with video marketing. Nowadays, short videos are also very popular on different platforms. So, business owners can use videos to convey their offerings uniquely to their audiences. Some other types of content marketing are:
Audio content creation
Checklists
How-to guides
User-generated content
Webinars
4. Storytelling in Content Marketing
Storytelling can give your content marketing a new dimension. When it is about creating a hook brand stories can be a game-changer as they provide interesting insights about the brand. Different beneficial aspects of storytelling are:
Storytelling can humanize a brand
It helps to connect with audiences' emotion
It subtly can promote the brand value
Storytelling adds extra charm to the content
5. Website Design Upgradation
Updating your website design is important to get more positive impressions. Every day some new changes come in the search engine4 algorithm and brand owners should be updated with them to hold their position on digital platforms. When updating a website some common traits you should keep in mind are:
Your website should be easy to use with proper navigation
Mobile-friendliness is a must
Brand owners can change colours, themes, fonts, etc. to upgrade the look of the site
6. Content Updating
Updating content is a great step to enhance the visibility of your content. For example, after posting written content, one can revamp that by removing outdated information and adding new ones. Content upgradation can help in several ways such as:
It highlights the purpose
It helps to insert feedback from your audiences in the content
Content upgradation helps to fill the gaps in the content publishing chain
Content upgradation adds more value to a content
While updating may help you in most cases to stay relevant, it is also important that you remove outdated content from your website, which will serve value no more.
7. Blogs are Must
Blogging can also help to boost content marketing ROI effectively. Companies that post high-quality blogs definitely earn more traffic. This is because it feeds the audience huge information. Besides, blogs are entertaining to read. Thus, website owners should invest a certain amount of time in creating excellent blogs. While creating blogs to increase your marketing ROI, one should consider a few aspects such as:
Making attractive headline in the blog so it gets more clicks
Paragraph length should be short, and sentences should be crisp
The approach should be creative and unique
Blogs should be authoritative and reliable
8. Content Promotion Should be Apt
Proper content promotion is necessary to get a better marketing ROI. There are multiple places where you can promote your content and get better responses. However, you need to utilize them tactfully in your favour. Some popular ways of content promotion are as follows:
Doing effective e-mail marketing
Attractive social sharing
Paid promotion
Influencer marketing
Posting content on high-authoritative sites
9. Content Marketing ROI and SEO Optimization
SEO optimization is the forte for boosting content marketing ROI. The simple logic behind this is the more your content will be visible on SERP, the more you will get traffic. A great volume of traffic is necessary for more potential leads and better conversion. Strong SEO can help to:
Rank on the featured snippet
Rank on target keywords
Increase domain authority
Rank on 'people also ask section'
Getting more valuable backlinks
Challenges Faced While Calculating Content Marketing ROI
Some challenging factors that you need to remember while calculating content marketing ROI are:
Falling for Quick Returns
Quick returns are not always the best result for B2B content marketing ROI. After analyzing different metrics you can only understand the actual returns of your investment that can boost the growth of your business.
When doing content marketing you should focus on the relevant KPIs that can bring you more conversion. Targeting as many as possible is the wrong step.
Overlooking Holistic Benefits
As mentioned earlier, ROI is not only about measuring monetary returns. Business owners must look forward to overall benefits as well. Often, content marketing does not elevate authority properly which is also a regulating factor. So, brand owners should properly check every aspect and find real benefits.
Key Take Aways
Content marketing ROI calculation is important for every business owner
It is basically the total return on the investment regarding content marketing
There are key metrics to check content marketing ROI
To get better ROI, brand owners should experiment with different types of content
Focusing on the right keyword is extremely important
Content promotion should be on point
Paid promotion is also necessary along with organic reach
Thus, the elaborative discussion on content marketing ROI comes to an end here. It is a vast field and lots of factors are associated with it that business owners should take proper care of. To get more effective results, one should hire a professional agency for content marketing. Being unique and posting customized content regularly is highly required to get better ROI.
Frequently Asked Questions
1. What is a good ROI for social media content marketing?
For social media content marketing, a decent ROI and investment ratio is 3:1. That means every 1 dollar investment should bring 3 dollars in return.
2. What is website traffic?
In simple words, website traffic is the total number of visitors that every site receives. Website traffic is also associated with tracking how much time visitors are spending on a site.
3. What is a must for better content marketing ROI?
For better content marketing ROI, being consistent in posting high-quality content is necessary. Along with that, promoting those content properly on different platforms is also needed.