Content writing, in today's business world, is an integral part of digital marketing. Large as well as small businesses are reaching customers beyond their geographical boundaries with the help of well-constructed website content. A website showcasing all the necessary information to educate the readers about the benefit of the products is the basic need for every business. However, content writing can be done for different purposes, which leads to the variation of formats. For example, the format for article writing will be different from that of press releases.
In this blog, we will discuss different formats of content based on their purposes in the business world.
Formats for Different Types of Content
Here are the important formats of the various types of content:
1. Copywriting
Copywriting is a vital part of an advertisement and promotional events. This form of content writing maintains a persuasive tone, making an informative part interesting to read. In addition, Copywriting aims to convince prospective customers to take positive actions like enrolling, signing up or even buying certain products or services.
Generally, copywriting skills can be implemented in product descriptions, press releases, print ads, landing pages, infographics, etc. Though copywriting does not have a specific format, however, this type of content is important to strategically frame so that it does not sound forcefully persuasive yet does the job.
2. Article Writing
Article writing is mainly prepared for a larger audience base where the main idea is to create awareness and inform readers about some products or services. Generally, articles are published in newspapers, journals, or even news channels websites. Hence, writers involved in creating this type of content must understand the format of article writing.
Know the Format of Article Writing
Title/Headlines – Providing attractive headlines that contains the necessary keywords.
Introduction – Offering a basic idea to the readers about a topic and what they can expect from an article.
Body – The body of an article is the main part of it and contains 2 to 3 paragraphs
Conclusion – This is an ending part of an article where a writer usually summarizes the entire topic or writes about the final thought or recommendation for the topic.
Apart from understanding a format of article writing, it is important to keep certain factors in mind to excel in flawless writing.
Who is your target audience?
Asking this question will help you to understand for whom you are creating that piece of content. For example, every topic has a unique set of readers who are searching for information online. Hence, catering to that specific group of readers will increase engagement and enhance your website's credibility.
What is the purpose of the article?
Understanding an objective of a particular content will help you understand where to begin your research. By deciphering the true aim of content, you will be able to create the right approach and frame your sentences accordingly.
How to start with the research procedure?
The Internet offers a vast arena of information which helps you to provide valuable knowledge to your readers. In short, you have the opportunity to gather as much knowledge as possible, which can be an exemplary way to add value to the content.
How to organize it?
At this step, organizing the content, as in understanding the introduction or body flow, is important to prepare. Before writing with the information available, prepare a compelling introduction that will short yet contain most of the information. The introduction of an article holds immense importance as it attracts readers and persuades them to read the entire article.
By comprehending the above-mentioned questions and abiding by the professional format of article writing, you will be able to excel in the art of article writing.
3. Blogging
A blog is a digital informational website where a blog page holder publishes a number of write-ups and allows individuals to comment or leave their opinion. With the growing global digitisation, there exist approximately more than 570 million blogs. Blogging is now a mainstream profession, with a growing number of online users looking for valuable information online. The primary factor that influences the reader to stay on a blog page and read an entire topic is the simplicity in the delivery of language. It is pivotal to remember higher the readability, the higher will be user engagement. In addition, a blog must be in alignment with the SEO parameters and guidelines. This will lead to maximum engagement and will allow users to visit your page for updated information.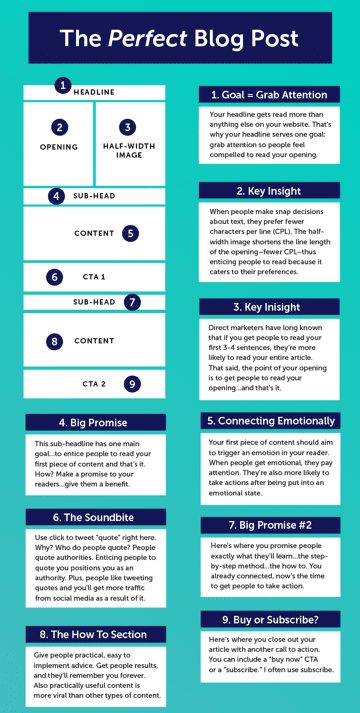 It is pivotal to note that there is no specific format of blogging; however, there are simple pre-requisites which are:
Increasing the readability of the content by choosing the right set of vocabulary.
Avoid using long sentences and lengthy paragraphs, as it will be easier for an audience to relate and decipher the exact meaning of the blog.
Adding compelling headlines, writing well-structured content and following other writing guidelines as per Google will help the content crawl easily.
Lastly, including a CTA or Call-To-Action at the end of a blog post will add that personal touch and will establish a personal connection with the readers.
Like the format of article writing, a specific blog post can be written in innovative ways that can turn ongoing traffic into conversions.
4. Social Media Posts
With a surging use of different social media platforms, businesses are channelising the power of social media to generate engagement. There are studies showing that investing in creating business-responsive social media posts fetches a great return on investment.
Writing compelling social media posts is an art; however, delivering the same in fewer words is a daunting task. Like blog writing, social media posts do not follow any specific formats. However, there are a few requisites that are required to follow while writing attractive social media posts:
Do Thorough Research
Keep an Optimistic Approach
Use Simple and Short Sentences
Maintain a Friendly CTA
Describe the USP of Products/Services in Fewer Words
Many companies that offer article writing services provide social media marketing services to businesses to boost their online engagement.
5. Technical Writing
Technical writing involves writing complex and technical information to readers who take a specific interest in hi-tech or technological products. The topic of technical writing mostly includes engineering, computer software and hardware, robotics, and other consumer electronics.
Normally, technical writing falls under two different categories, which are:
Technological marketing content, experts or technical research article (scientific papers, medical case studies, etc.),
Technical content written for consumers (user manuals, standard operating procedures (SOP), guides on troubleshooting, etc.), and
Technical articles follow a similar format of article writing where the body of the content part holds immense importance. This contains all the crucial details of the technological aspects of the products that are present in the content.
However, to write more precisely, here are the following factors to consider while writing technical content:
Understand the preference of your audience
Perform a thorough research on the subject matter
Create a proper plan to understand which content to include in which section
Try to keep the readability meter in check
Add relevant images
Try to maintain to-the-point content.
Final Thoughts
The pivotal purpose of a highly attractive content is to reach out to a larger base audience by offering readers quality information and building a quality relationship with them readers. Hence, writers must keep in mind the intricacies that will fetch positive results for the website.
By following the systematic format of content writing and carrying on with proper research, you will be able to master the art of writing informative content.