In today's ever-changing digital world, business owners can reach their potential clients in many ways. One such effective strategy is digital marketing.
Here, business owners target digital audiences through different marketing strategies, such as content writing and more. It is about creating different sorts of content and pushing them among potential customers. The written form of content is one of the most popular and can bring huge traffic.
One of the main aspects of content writing is it can inform and educate people on different topics. However, deep research is needed to make the content informative. Thus, business owners must hire professional content writers or agencies to outsource content writing.
Keep scrolling through the blog and learn all about it.
What is Outsource Content Writing?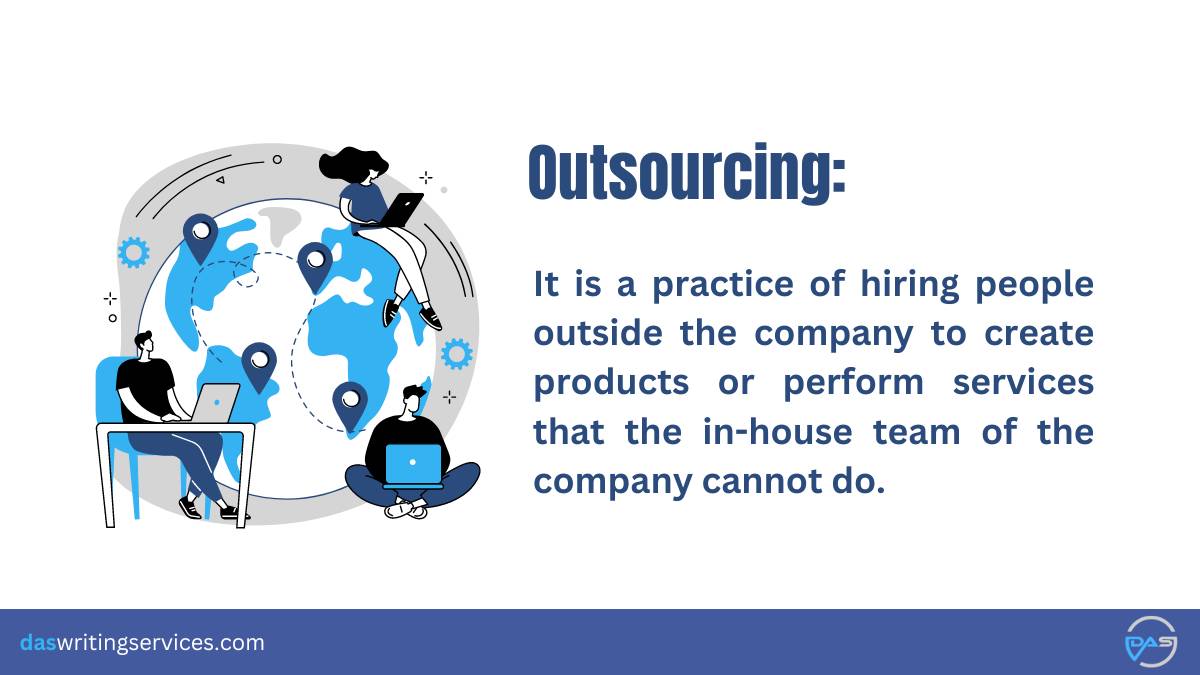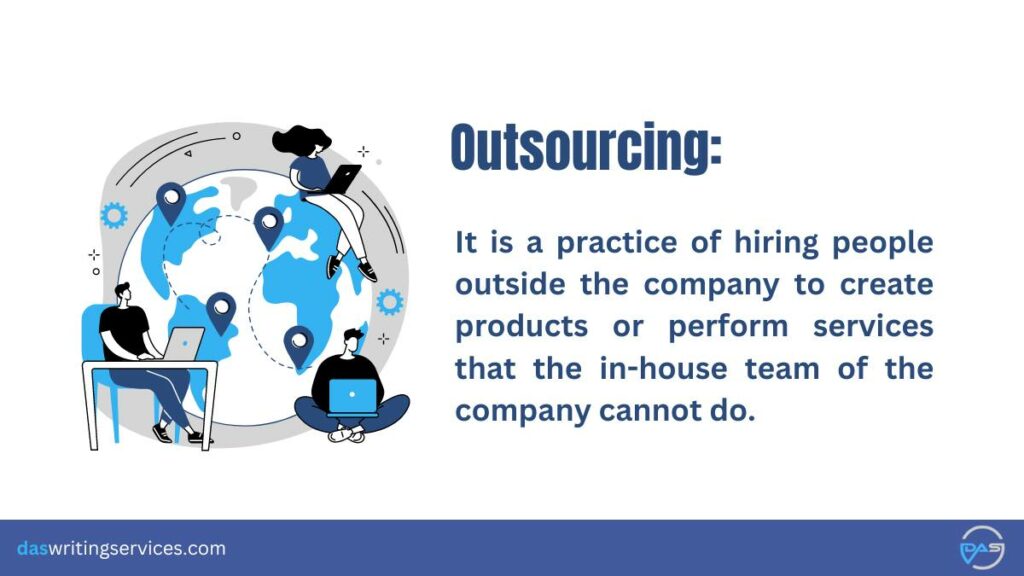 In simple words, content outsourcing refers to involving someone outside of a company to write content for digital marketing purposes. Content outsourcing covers every type of content writing, from web blogs to ebook writing.
If you want the best content outsourcing, you can explore our services and get a comprehensive idea of what you can get from a professional agency.
What Can You Get from Outsource Content Writing Services?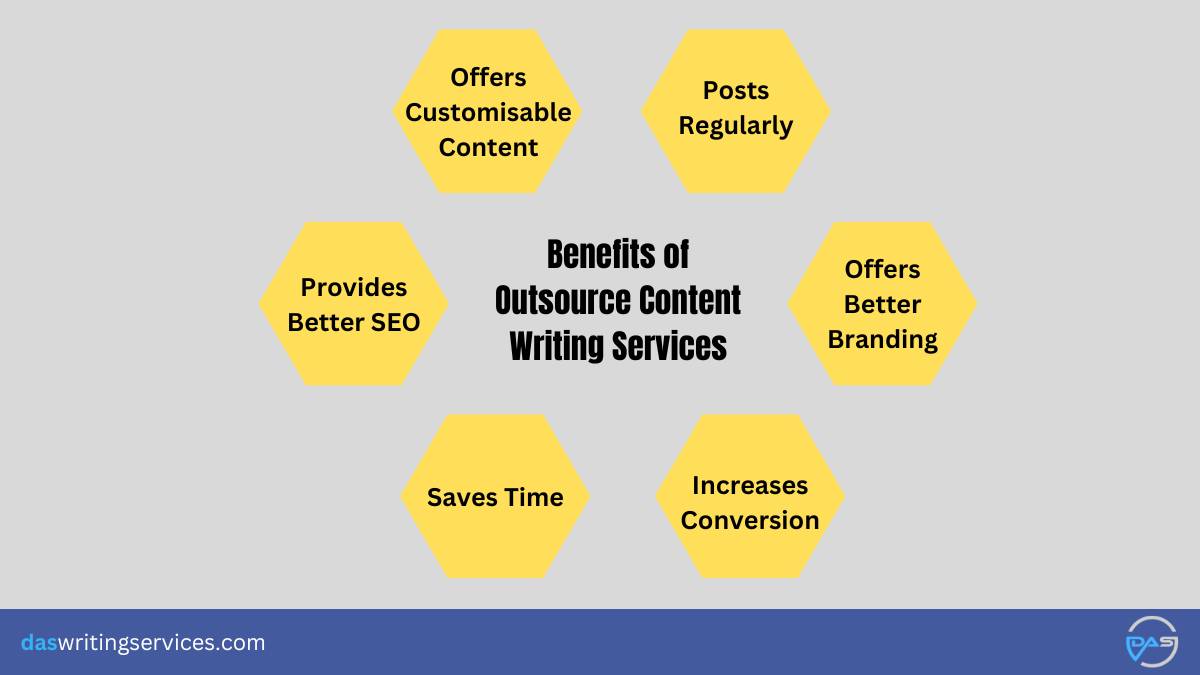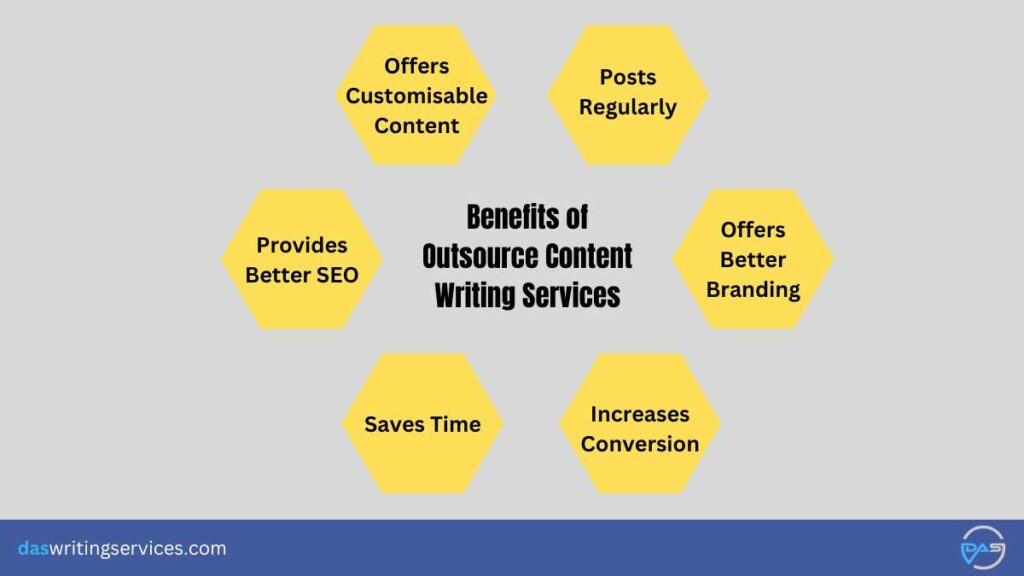 Although the definition of content outsourcing says it is about writing content by an outside company or writers, it can be helpful in more ways. As a business owner, you can get multiple benefits, followed by content outsourcing. These are as follows:
i) Time-Saving
The foremost benefit of content outsourcing is saving time. Business owners generally do not have time to think, research and write content professionally. However, they know about their requirements very well. So, they can convey their needs to an agency providing outsource content writing services and get exclusive assistance.
It is extremely helpful for business owners who need daily content requirements. Either they need to handle the segment by themselves, or they can simply outsource the content. Hence, while handling content writing independently, they may face some troubles. In order to save a little, one may face time management and quality issues.
Thus, they should go for an agency that can provide excellent content writing services by understanding their unique business needs. In this way, the created content will be more effective and customized, and business owners can get them timely.
By saving this time, they can invest more time in broader aspects like creative thinking, expanding business, or enhancing customer satisfaction.
ii) Better SEO
SEO is one of the most important aspects of digital marketing. You need proper search-engine-optimized content for better ranking. Hence, many factors are involved with search engine optimization that business owners may not know clearly. However, professional freelance content writers and outsource content writing agencies know about this properly.
So, when outsourcing your written content requirement will definitely go to a better hand. Although when giving your requirement, you need to have a proper conversation with the company regarding SEO. In this context, Das Writing Services can assure you of top-notch SEO-friendly content that can bring you guaranteed ranking.
Being in the top position in SERP is a great feat that you can only attain with the help of professional content writing. Reputed agencies get this job done by skilled writers so you can get high-quality content.
iii) Customized Content
When posting content regularly, you need to be very clear with your approach. Also, you need to apply some customized materials to the content to make them more unique. Moreover, customized content helps to sell your products and services easily.
Professional content writers can greatly help you in this part as they are well-versed in techniques. They can focus on the business functions and customize the content as per that.
In this way, business owners can create content that serves a purpose and simultaneously informs audiences.
iv) Regular Posting
Creating and posting content regularly is a time-taking job for business owners. Moreover, creating content regularly without proper resources is quite difficult. In this situation, they can outsource content writing.
The 3rd party content writing services providing companies are equipped with highly skilled content writers who can write in bulk and deliver timely. Thus, business owners will get the content timely and post accordingly.
2 to 6 times content publishing in a week can bring 50% more clicks. So, business owners, as per their SEO strategy, should post at this frequency with the help of content outsourcing. However, you need to choose content outsourcing companies that commit to the timely delivery of quality content and receive bulk requirements. In this regard, you can reach us as our company is one of the most reputed.
v) Better Branding
Digital branding is highly important for any business. One of the most popular ways to do so is content marketing. Written content plays a great role in content marketing. Depending on the nature of your brand, you can publish content that can attract your target audience.
For example, if you are a clothing brand, you must create attractive fashion content with an easy tone. Also, you can have the requirements of writing content in a funny tone for different purposes.
Professional content writers can be really helpful in presenting content with attractive tonality to enhance the brand value. They are well-trained in marketing, so they can understand how to create a better brand voice and incorporate them into your content.
vi) Better Conversions
Conversion is an important purpose of business content writing. It is about creating valuable content that can inform customers about your services and suggestively ask them to avail of those.
Outsource article writing services are a potent way to create well-selling content that can lead to better conversion. Professional writers know how to subtly incorporate a call-to-action tone and make the whole concept perfect for conversion.
If you want to create such engaging content, you can come to Das Writing Services and get a quotation now.
When to Outsource Content Writing?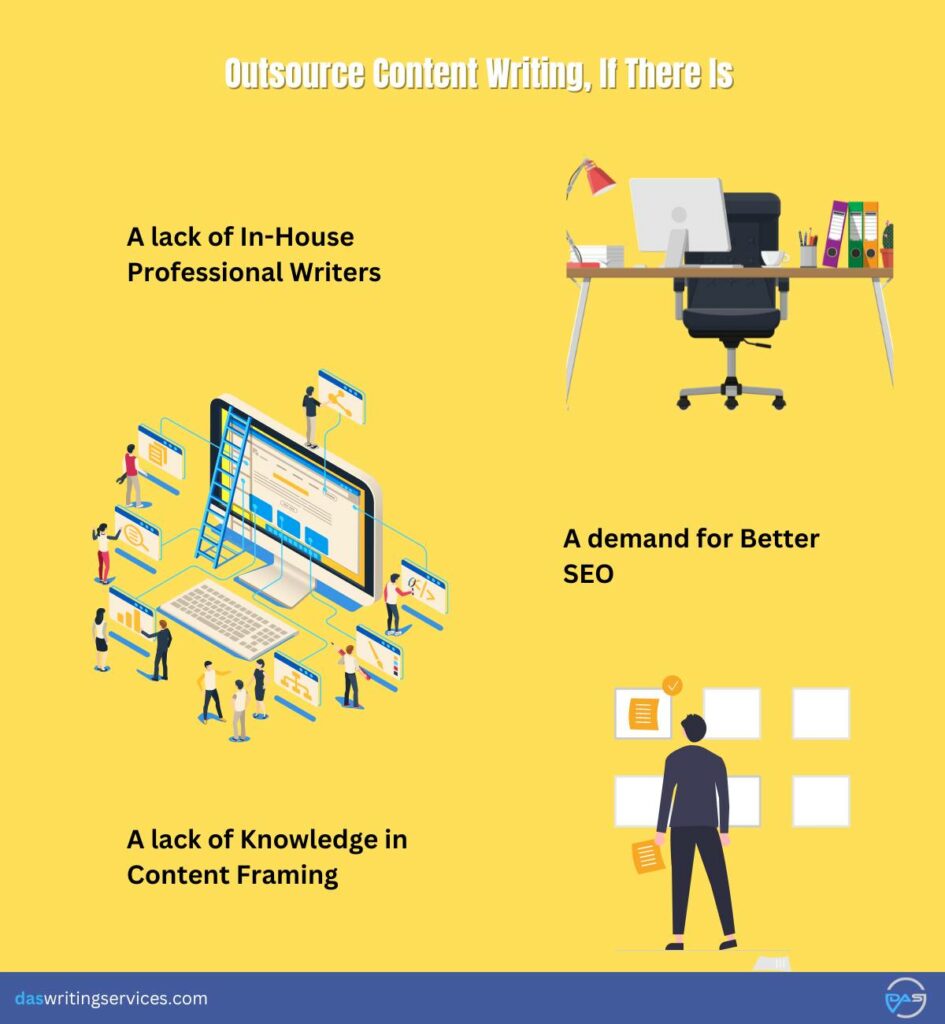 If you are a business owner and thinking about when you need to outsource your content writing requirement, check out the below discussion:
i) Lack of In-House Professional Writers
One of the main reasons for choosing a content outsourcing company is not having a proper in-house team of writers.
There can be many reasons for not having a proper in-house content-writing team, such as
Less requirement
High maintenance
Insufficient resources
Lack of expertise
75% of companies opt for content writing outsourcing instead of making an in-house team. So, if you have been facing such issues in your company, then you must opt for trusted outsource content writing services and fulfil the content writing requirement of your brand.
ii) Demand for Better SEO
This can be another cause for outsourcing content requirements. Making content SEO friendly is a matter of time and skill. Hence, everyone can't do so without a proper grip on SEO.
This is why content outsourcing is important, where professionals will provide SEO-friendly blogs, articles, web pages, etc., as per your requirement. If you see the following SEO issues, then you can go for content outsourcing:
Not getting the rank even after daily content posting
Targeting wrong keywords
Not understanding topics that can be perfect for your business niche
Monotonous content
Not understanding the target audience properly
So, you must consider all these things and opt for professional content writing services to enhance your business site's SEO friendliness.
iii) Lack of Knowledge in Content Framing
Research shows that 84% of buyers purchase products online by reading descriptions in a blog. So you need to make your blogs attractive and descriptive enough to sell well.
The quality issues you may face are:
Blogs and articles are not informative enough
Lack of proper tonality
Missing information
Wrong choice of content type
No customization or product-specific details.
To avoid these issues, you can outsource content and get high-quality content without much effort.
How to Outsource Content Writing?
If you are wondering how to start outsourcing your content, you can follow the below-mentioned step-wise guide
Step 1: Know Your Requirement and Find Writers
The first step of content outsourcing is assessing your needs. For that, you need to understand what type of content you need. For example, you may need
Topics related to the core of your business niche
General articles and blogs
Types of platforms you need to generate content
As per your need, you can hire either freelance writers or go for a content writing services company. Also, depending on your requirements, you can choose the type of writers your need. For instance, if you need to produce social media content, you also need to hire copywriters.
Step 2: Fix Your Budget
As you assess your requirements, you now need to fix your budget. When fixing your budget, you should keep in mind the following points:
You should check and compare different rates provided by different companies
For freelance writers, you need to ask and negotiate the rate beforehand
You need to fix the budget as per your capability
You can just focus on your major requirements to cut the excess cost.
You can get multiple price ranges from multiple companies; however, depending on affordability, you can choose the market standard rate.
Step 3: Pass a Test Project
As you start finding writers or companies to outsource content writing, you also need to test the writer's capability. For this, you can pass a test project where you can understand what you can expect from the writer or the company. In this process, you can follow some points like:
Creating relevant topics that will reflect the writers' ability to research
Agreeing with a standard rate for the sample
Be specific with your needs so writers can frame the content accordingly
Read the sample content properly and provide clear feedback
Ask for modification if needed
Make your hiring decision and pay the sample charge
With clear and open communication, you can generate high-quality samples to start outsourcing your company's content writing needs. You can also get a free sample by filling up a form to get a call back from us.
Step 4: Generate Topics As Per Your Business Niche
The next step is topic generation. As a business owner, you need to pick some topics that best suit your business's purpose. You need to hire a professional market analyst to select some relevant topics. A suggested process is as follows:
Find some relevant keywords with proper keyword research. You need to use professional tools for this.
Select some of the most useful keywords by analysing the search volume, keyword difficulty, etc.
You can also get topics from platforms like Quora.
Also, you can take help from social media posts to ask your audience to suggest some topics they want to know about.
Perform proper competitor research to get some ideas.
You can also ask the content outsourcing company or your hired writer to suggest some topics.
By proper analysis, you can choose the topics that are beneficial for your business and then share them with your writer.
Step 5: Create a Content Calendar
A content calendar is also a very important one where you can set your content posting timeline. Some points you need to mention in a content calendar are
Your content goal
Platforms where you will post
Content type and topics
Publication frequency and deadline
After creating a content calendar, you can instruct your writers to generate and submit content. The whole content outsourcing will be much easier in this way.
What are Some Platforms to Outsource Content Writing?
Here are a few platforms where you can start content writing outsourcing:
1. Das Writing Services
Das Writing Services is a popular professional content writing agency in India that can help you to create high-quality content. The content produced by the company is well-structured, SEO friendly and can match your target audience's intent.
2. Fiverr
Fiverr is a great platform for content outsourcing where business owners can find affordable deals. Here people can hire writers from all over the world. Ratings and reviews are available to know about the writers properly. As per your requirement, you can choose the writers here.
3. Upwork
If you want to outsource your content writing to freelancers, then Upwork is another great place after Fiverr. Almost 12 million freelancers are using Upwork to market their skills. Here you can find a variety of writers for your different requirements so that you can hire great talents from here. Not only content writers but you can also get digital marketers, copywriters etc., on this platform.
4. Writer Access
Writer Access is a renowned platform for finding and working with competent content writers. The writers are experienced, efficient, and can deliver high-quality content by understanding the unique requirement of different business owners. The platform has a proven track record of providing writers for a long time.
5. Scripted
Scripted is another great option for outsourcing content writing needs to efficient writers. The platform has made the process of finding content writers, assigning them tasks and paying them much easier with the smart features of the platform. You can get multiple options for writers as per your budget.
Thus, any business owner can outsource content writing to manage content publication in a budget-friendly way. Besides, this process can maximize the content production frequency and elevate the quality of the content immensely.
However, choosing any agency or freelance writer is completely up to you. If you have a bulk requirement, you can opt for a professional agency and agree with their work policy to complete your work properly and on time.
Frequently Asked Questions
1. What do outsource content writers do?
Outsource content writers write SEO-optimized content for multiple clients and deliver the work timely. Business owners can find writers from different niches on platforms like Fiverr, Writer Access etc.
2. Outsource content writing vs in-house writers, which is the best option?
To generate valuable content you must deploy knowledgeable writers. For this, you can either make an in-house team or go for outsourcing. However, maintaining an in-house content writing team can be expensive for businesses. Besides, the writer selection process and other aspects may not be well-monitored without knowledgeable individuals. So, it is better to outsource content writing to get effective results within a short span.
3. How much does a outsource content writer charge in India?
An outsource content writer can charge from ₹15000 to ₹20000 as per the writing campaign in India. However, it can rise to ₹75000 if you choose experienced writers. In addition, different agencies can help you with valuable content creation at affordable packages.
4. How to find the best option to outsource content writing?
To find the best option to outsource content writing, business owners need to compare and contrast the reviews of different writing service-providing agencies or writers. Then they should consider the quality of the sample. Finally, they need to check the budget-friendliness and go for the suitable option.