In this world of business-to-business (B2B) marketing, content writing plays an important role in attracting and engaging potential clients, establishing leadership, and driving conversions.
Research shows that around 70% of B2B marketers plan to increase their content marketing budget in 2022 as it can bring leads three times more than traditional marketing strategies.
B2B content writing requires a distinct approach compared to consumer-focused content. In this article, we have explored the key strategies and best practices for crafting effective B2B content that resonates with target audiences, builds trust, and drives business growth.
What is B2B content writing?
B2B content writing refers to the creation of written material specifically tailored for business-to-business (B2B) marketing purposes. It involves producing informative, engaging, and persuasive content that targets a professional audience, such as businesses, organisations, or industry professionals.
The goal of B2B content writing is to attract and engage potential clients, generate leads, and build credibility and trust in the B2B market. The content can take various forms, including blog posts, website copies, case studies, reports, email newsletters and social media posts.
business content writing typically focuses on providing valuable insights, industry expertise, and solutions to business challenges. The content often highlights the benefits and features of a product or service, addresses pain points, and showcases how a particular offering can address the needs of other businesses.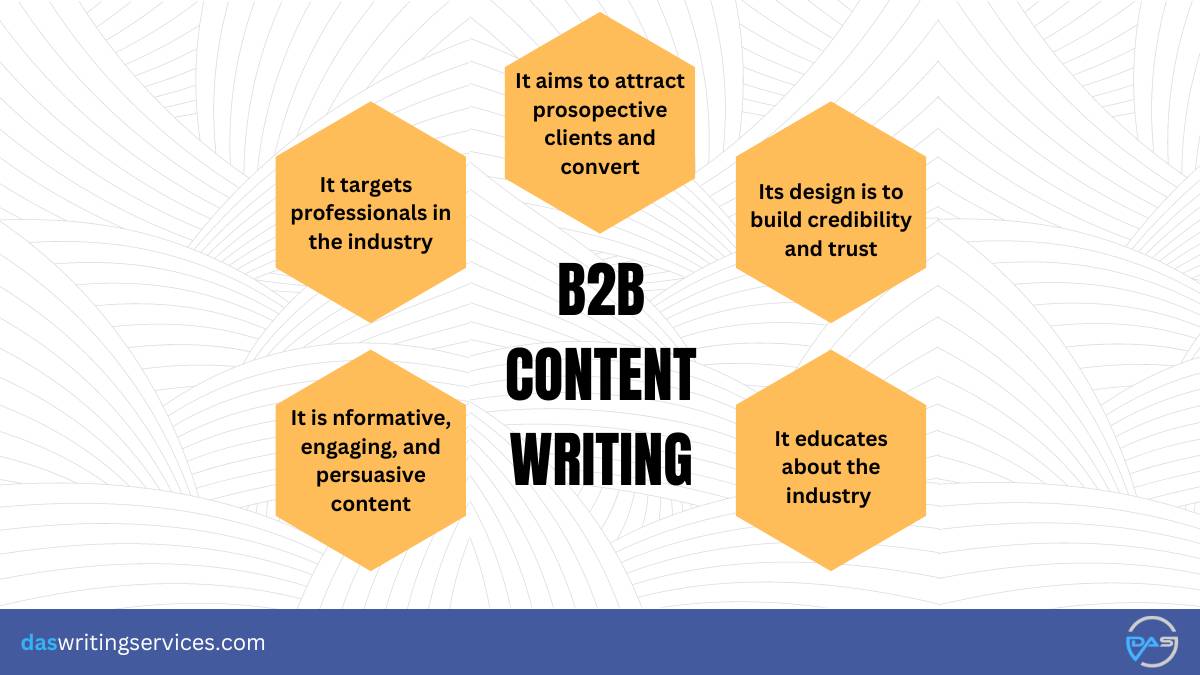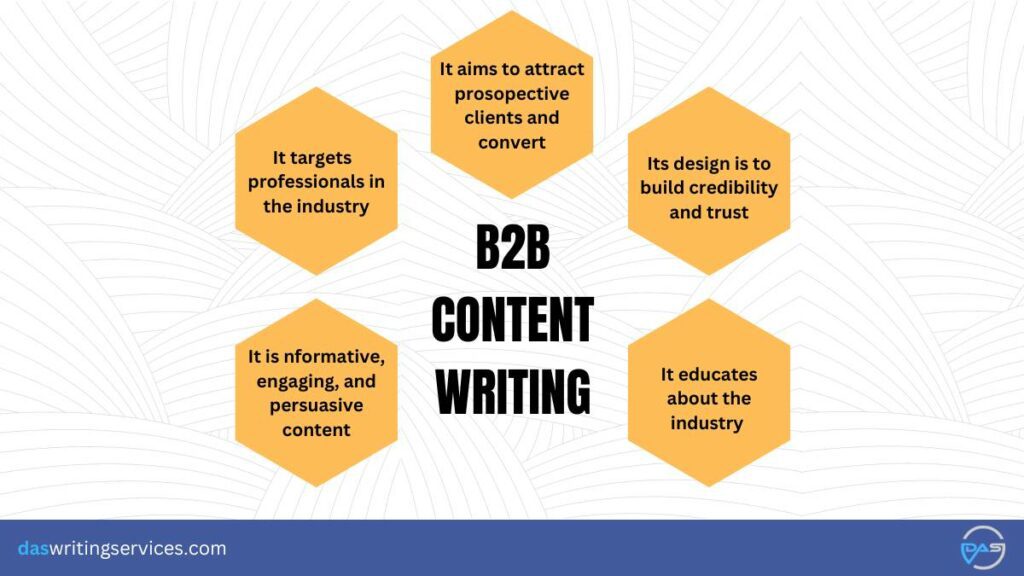 9 Tips to Follow for B2B content writing
There are a few things you should keep in mind before starting to write B2B content. Below mentioned are some of them:
1. Plan Your Calendar Wisely
Planning ahead of time is one of the first steps in B2B content writing strategies. This will help you in creating an editorial calendar and determining what you should create and when should get posted.
Now, only writing is not enough, you need to take other factors like SEO, graphics and revisions into consideration as well. This can take up your time at the end and cause delays in posting the content.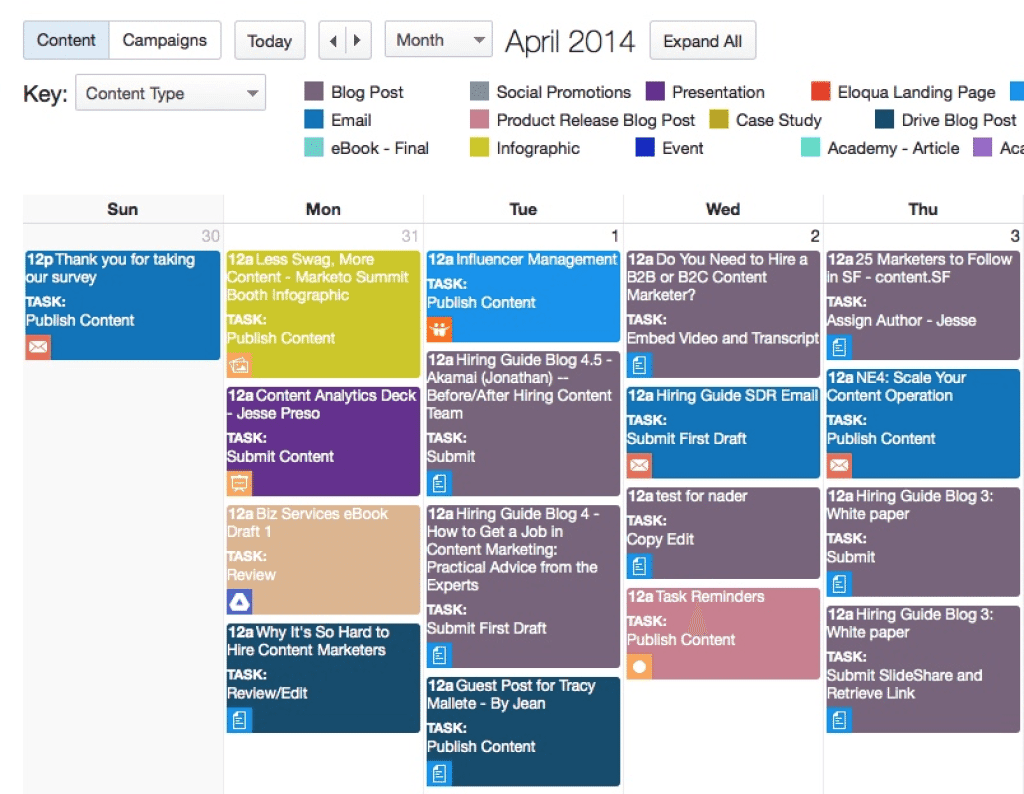 2. Understand Your Target Audience
To write a compelling B2B content, it's crucial to have a deep understanding of your target audience. Research and analyse their pain points, challenges, and motivations.
Then, identify their decision-making process, the key stakeholders involved, and the information they seek at each stage of the buyer's journey.
Also, tailor your content to address their specific needs and provide solutions that show your expertise.
3. Develop a Strong Value Proposition
B2B buyers are looking for value and ROI. Clearly articulate the unique value proposition your product or service offers.
Highlight the tangible benefits, such as increased productivity, cost savings, or improved efficiency. Use data, case studies, and testimonials to back up your claims and build credibility.
Present your content in a way that showcases how your solution aligns with their business objectives. According to a survey by Statista, improving the quality of the content was named the most effective content marketing tactic.
4. Focus on Educating and Informing
People who are interested in B2B buying and selling are often seeking information and insights to make informed decisions.
Position yourself as a trusted resource by providing valuable educational content. Create whitepapers, industry reports, guides, and blog posts that offer in-depth analysis, industry trends, and actionable advice.
Demonstrate your expertise and establish thought leadership within your niche. This will make them prefer your company above others and also create an authority in the market.
5. Incorporate Storytelling into the Content
While B2B content is often associated with facts and figures, storytelling can be a powerful tool to captivate your audience.
Use real-life examples, case studies, and success stories to humanise your content and make it relatable.
Craft narratives that illustrate how your product or service has solved challenges for other businesses, showcasing the positive outcomes they achieved. This will engage the readers as well as encourage them to take service from you.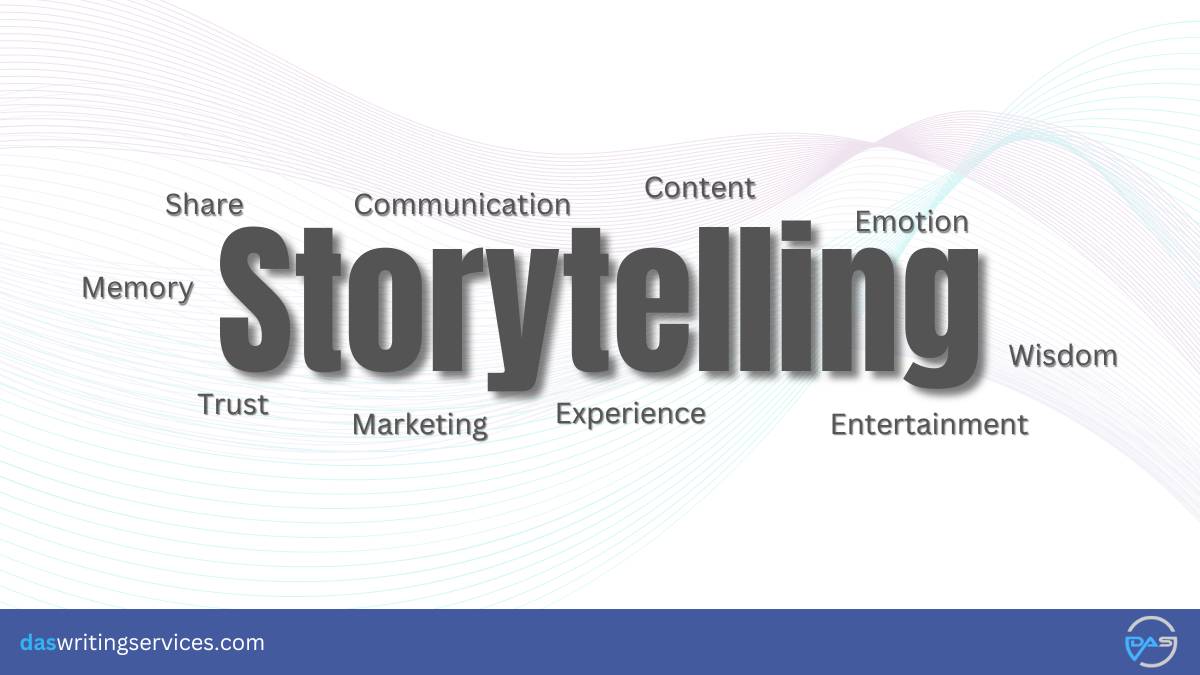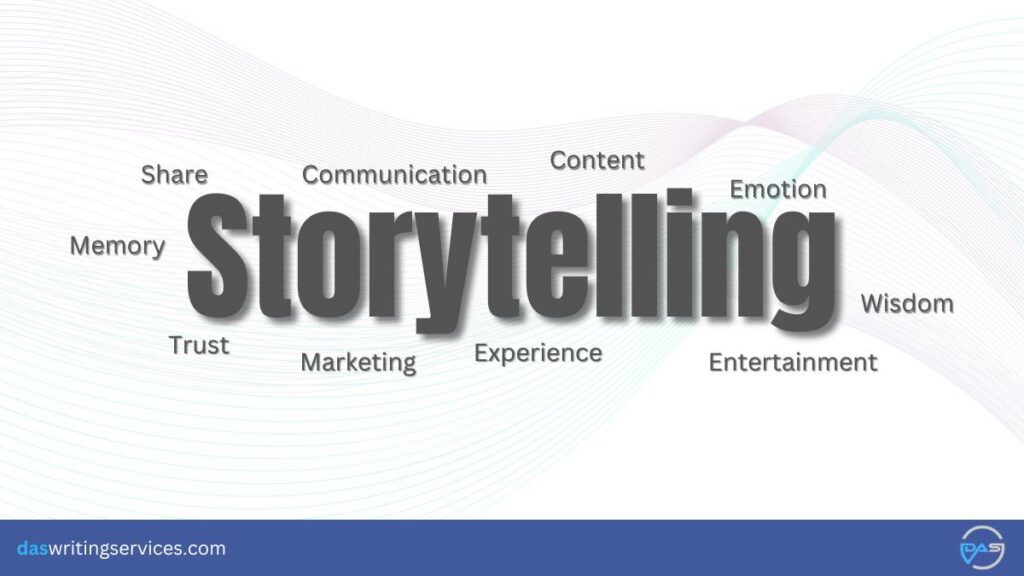 6. Optimise the Content for SEO
Search engine optimisation (SEO) ensures your B2B content reaches a wider audience. For a better understanding, learn how to write content for website that is SEO optimised.
Conduct keyword research to identify relevant search terms and incorporate them naturally into your content.
It is also important to optimise meta tags, headings, and image alt tags to improve visibility in search engine results. High-quality, SEO-friendly content increases organic traffic and can enhance your online presence.
7. Maintain a Professional Tone Throughout the Content
B2B content writer should strike a balance between being informative and professional. So, maintain a tone that is authoritative, credible, and aligns with your brand identity. 
Avoid jargon or complex technical language unless necessary and ensure your content is easily understandable to the common audience.
Always aim for clarity, simplicity, and concise messaging. This will ensure that people remember your content as well as your business.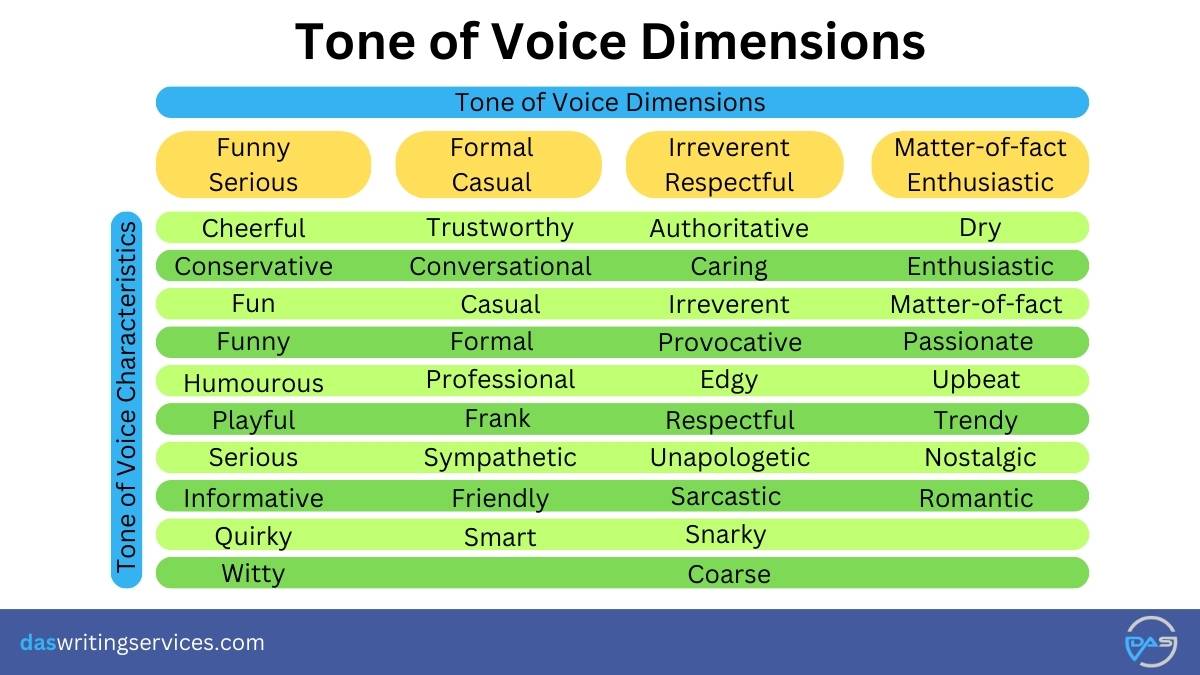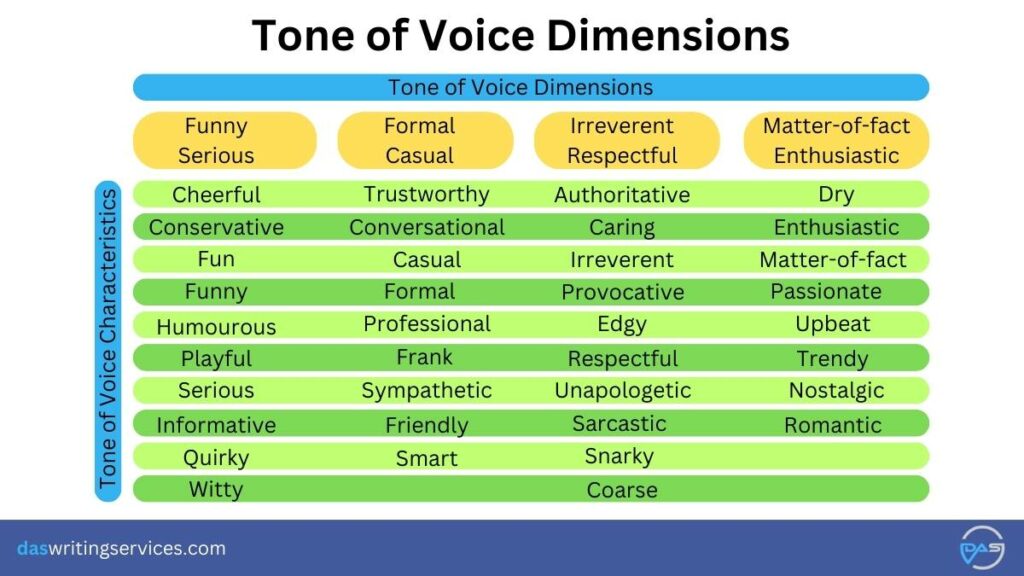 8. Incorporate Multimedia Elements
Diversify your B2B content by incorporating multimedia elements such as videos, infographics, and interactive tools. This will help in making your content attractive and according to statistics, 90% of people prefer visual content over static one.
Visual content not only grabs attention but also enhances understanding and engagement. Use visuals to simplify complex concepts, present data visually, and deliver information in a more engaging format.
9. Do Not Copy Paste From Other Websites
If you do not know, Google does not promote copied content, and it applies to business content writing as well Never copy-paste from your competitor's websites as it will not give any value to your customers.
This will make your content the same as others in the market and there is a demand for unique content by the consumers.
Additionally, it will not be fruitful to you as plagiarised content will be ranked lower on the search engine result page. Always ensure that you are posting unique content on your website.

Different types of B2B content writing
There are various types of B2B content writing forms, some of which are mentioned below.
Blogging – is a great way to reach out and inform your audience about various things. It can be a blog on the benefits of a service or just about a topic related to your niche. It can help you in generating organic traffic for your website. Content writing for B2B blogs is the trickiest and a lot of people take professional help for that.
Email marketing – this way is still considered the best digital marketing method. According to research, readers spend nearly 30 minutes per day reading their emails. Companies use email newsletters to inform the audience about any new updates about them.
Whitepaper – these are longer than blog posts and provide in-depth reports on a particular topic. The main purpose of this is to inform the user and it helps in building expertise and credibility in the market as well as potential customers.
Social media – this is a platform where even small businesses can build their brand. Various platforms like Facebook, Twitter, LinkedIn, Instagram, etc. give you the opportunity to curate engaging content that people can react to and reshare. This form of content builds a relationship between the customer and the brand and hence can be considered one of the best ways in today's era.
Videos – another very popular type of content among users. This can be beneficial if you want to explain your products and services or showcase customer testimonials. You can build brand awareness through increased customer engagement by posting videos.
Incase you are wondering how B2B content is different from B2C content marketing check out this blog.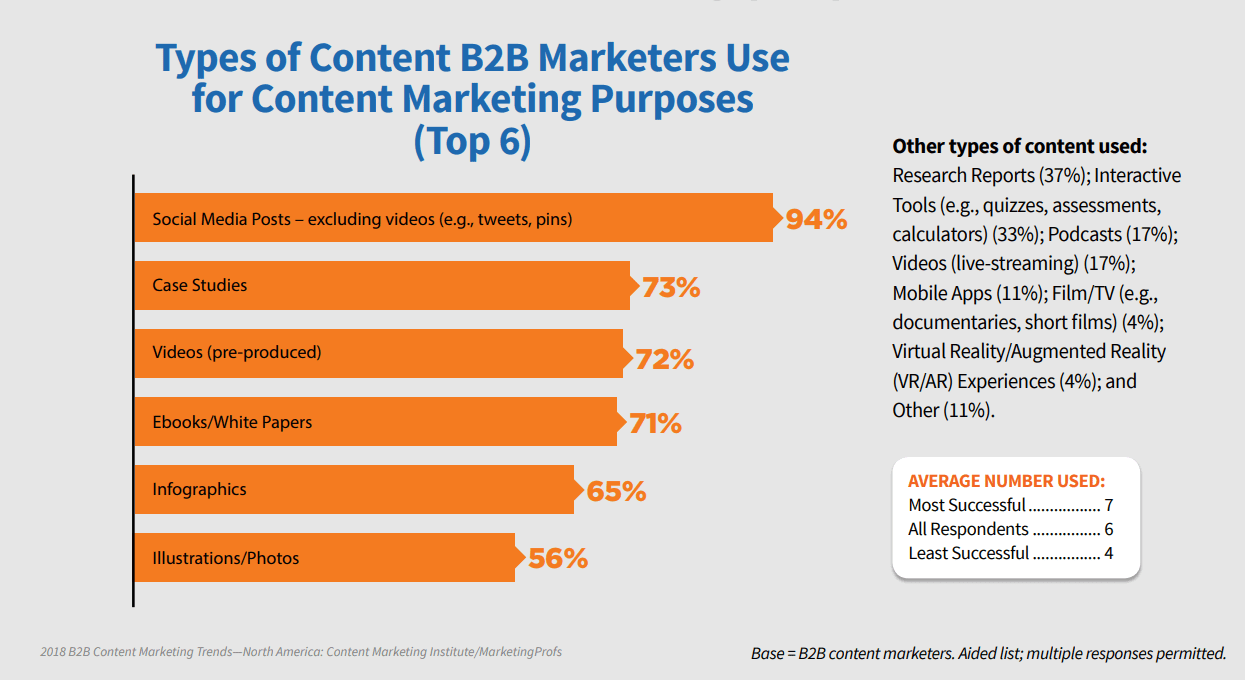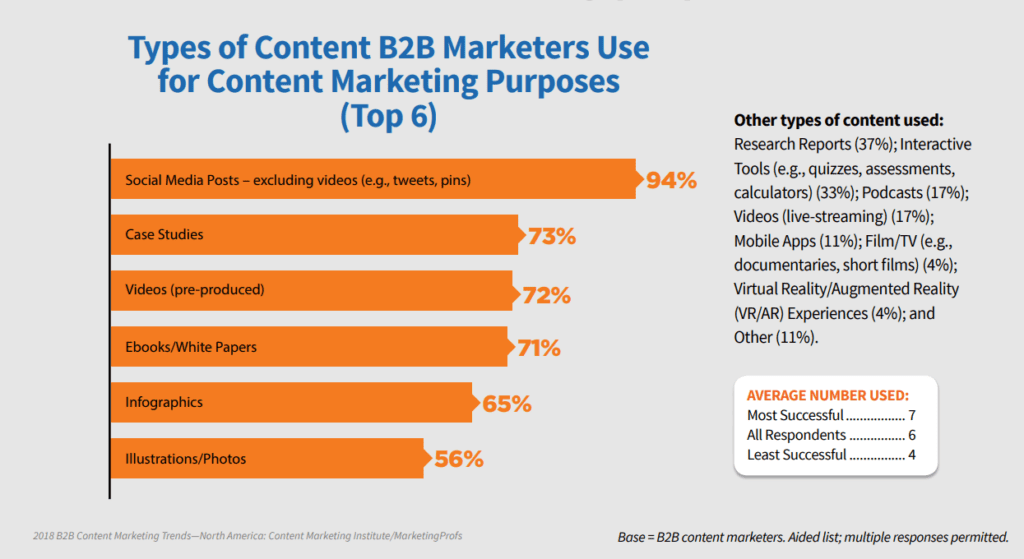 Best B2B Content Writing Examples in India
To help you in understanding the concept better, we have mentioned a few B2B content marketing examples below.
ClearTax provides you with one of the finest B2B content marketing examples in the finance sector. They take the route of explaining the services provided by them instead of boasting about themselves. They do so by explaining how the taxation process works through blogs instead of praising their services.
Another strategy followed by ClearTax is, instead of stuffing its content with primary keywords they replace it and use a mix of secondary keywords. This also helps in targeting zero search volume keywords and ranking higher.
Additionally, ClearTax also runs social media campaigns that alert its followers about the deadlines for paying taxes through Twitter by using hashtags like '#taxseason' and '#incometax' at the same time adding the link to a blog on their website.
Infosys goes all out while doing B2B content marketing. The company's marketing efforts include taking part in media and industry analyst events. They also sponsor as well as participate in various industry-related conferences and trade shows.
The company additionally organises community outreach programs and puts efforts into actively recruiting young talents at the same time fostering investor relations.
For example, The Infosys  ATP Partnership won the 'Best B2B Sponsorship' award. This partnership gathered a lot of attention not just from its followers but also from stakeholders and business decision-makers.
Everyone knows that TCS is a leading global IT services and consulting brand. This company believes people do not pay attention to boring long whitepapers. Therefore, they need stories as a method of consuming information more readily.
TCS launched the 'TCS Belief Song' to set out the narrative of a new normal as the world was fighting COVID. Mostly, it emphasises the joy of human connections and the importance of family.
The launched anthem video features TCS employees and their families as brand ambassadors. This made the public feel more connected to the brand as a whole.
Similar to TCS to fight the overwhelming impact of Covid-19, HCL tried to find and unleash the power of collaboration.
By launching its Better Health Hackathon, HCL partnered with Microsoft and forty more organisations across healthcare, technology, life sciences, and academia to develop any new ideas that could help the world in its most desperate times.
The Better Health Hackathon: #CodeForCovid19 invited the best technology talent from across the globe to solve real-world challenges posed by the pandemic.
The motive behind it was to help the frontline workers and find a cure but it promoted the company as a whole too.
In this age where everyone wants personalised and micro-influencing content, creating generic content would be futile. Babychakra posts user-generated content to increase its visibility.
Moreover, the company's website provides guidance to newbie parents on parenting. They customise the content by asking their audience questions like what is the pregnancy stage of the visitor, how old is the baby, and what problems are they facing and create content answering those questions.
They generate leads by asking the visitor to sign up once they are halfway through the blog. Furthermore, Babychakra uses listicles instead of a normal blog format to make the content easily digestible.
Creating B2B content entails proper research and creating a proper schedule so that you do not miss out on deadlines. We understand that creating a well researched that will resonate with your audience can be tough.
Do not worry we are here to help you out. Contact us today for all your B2B content writing needs. Our team of professionals are here to help you out in every manner possible.
Frequently Asked Questions
1. What is B2B strategy?
B2B means the target market for one business is another business (instead of direct customers) to sell services or products. Therefore, the B2B strategy entails identifying target markets, understanding their needs, and crafting tailored approaches to acquire and retain B2B clients, ultimately achieving long-term business objectives.
2. What is B2B keyword research?
A B2B keyword refers to those that are relevant to the type of business you are targeting or the things they look for online. It is strategically designed to attract and engage other businesses, optimising online content for higher visibility and relevant traffic within the context of commercial interactions.
3. What is B2B branding?
B2B branding focuses on creating strong customer connections. Sales usually involve direct interactions with salespeople, and the brand should offer complete solutions, not just products/services, but also on-going support and relationship management.