The commercial space of today is saturated with products and services for multiple industries. From conceptualisation to promotion – it all falls within the scope of marketing to introduce, promote and distribute products in the market.
But what is marketing exactly? Is it just promotions and advertisements? Well, in the modern economy, marketing serves a greater role in establishing a communication network between enterprises and consumers. So, come let us explore the nature and scope of marketing to identify its full potential in today's society.
What is Marketing?
While there are multiple definitions of marketing proposed by pundits and economists, let us try to understand this in a common language.
In simple terms, the core function of marketing is to recognise customer needs and desires and find the best strategies to meet those expectations and desires in such a way as to generate revenue and profit for an enterprise.
For example, ready-to-use dosa batter – it is an instance of marketing where convenience in cooking was identified as a consumer desire. Marketers grabbed this opportunity to package and distribute processed dosa batter that satisfies market desire, simplifies modern urban life and earns revenue for the company.
What is the Nature of Marketing?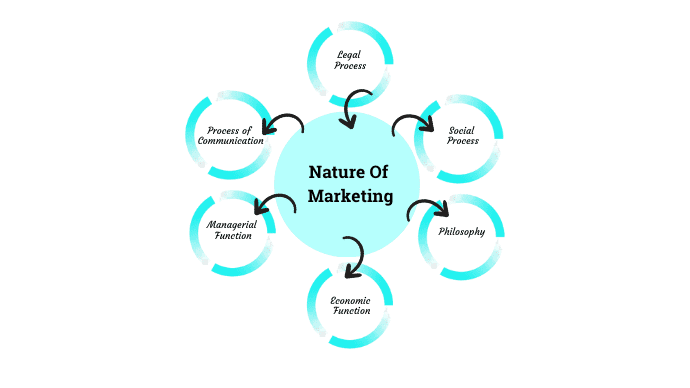 In popular conception, marketing, the term is used interchangeably with promotion. However, marketing is a lot more than just endorsing your product or services. The nature of marketing defines the various purposes it serves in a lifetime. It includes the following elements –
1. It is a Process of Communication
Marketing is the process of communicating with consumers and stakeholders with the objective of earning profit, maintaining customer relationships, and managing stakeholder expectations. It also directs the flow of services and products to the end-user.
2. Marketing is a Managerial Function
The particular marketing approach of an organisation is influenced by the management policy. It is the management policy that dictates the kind of marketing campaigns to run and sets its tonality.
3. Marketing is a Social Process
Marketing to the end consumer plays a crucial social role. Through different marketing channels, the consumer is introduced to a standard of living. To create an optimised marketing strategy, you must have a thorough idea about the consumer's changing needs and expenditure patterns.
4. Marketing is a Philosophy
It is the key guiding principle that defines the commercial operations of a company or organisation. As a policy, marketing requires you to establish certain ground rules on the kind of messaging and the overall ideology of a brand.
You must ask yourself questions like – what kind of experience do I want to deliver with my product or service? Whose aspirations am I serving? How my business will ease the pain points of my consumer? And what kind of role will my product/service play in the life of the consumers?
5. Marketing is a Legal Process
In its essence, marketing is an elaborate legal process through which the ownership of a product is transferred to the consumer. It is the way an enterprise discovers and identifies the needs of the market and transforms them into marketable products and services.
6. It is an Economic Function
Marketing, at its roots, is an economical function. Through different marketing strategies, the consumer is encouraged to take economic action. This action is transactional in nature and underpins the availing or procuring a product/service in exchange for money.
7. Objectives: Consumer Satisfaction & Profit Making
After all, marketing is an objective-driven action that requires a methodical approach. The ultimate goal of marketing is to satisfy consumer needs and expectations and by this means generate profit for an organisation.

What are the Scopes of Marketing?
The scope of marketing involves both science and an art that needs a dynamic approach to solve real-world problems and crises in society. In modern business, the marketing department uses key strategies to guide a product from conceptualisation, development, and execution to promotion and distribution.
1. Study of Consumer Behaviour
The first and foremost role of marketing professionals is to be familiar with the expectations and expenditure patterns of the consumer in general. A thorough understanding of what they like to purchase? When do they do that? How much expense they are prepared to make for a novel item, what is their usual budget for the category of your product and so on.
It helps to determine the time and approach for your product launches. It lies in the nature of marketing management to gauge your consumer behaviour and strategize accordingly.
2. Identify Their Wants and Requirements
To ensure a streamlined product launch and satisfy the user demand, marketers first need to identify the pain points of the audience. A strategic approach to marketing requires a complete understanding of the consumer lifestyle. Only this allows you to place a product or service that amplifies or complements their life.
3. Planning & Product Development
In this phase, the idea of the product is conceptualised. With the ideation of the product, it lies in the scope of marketing channels to determine the correct branding strategy that addresses consumer demands and desires.
4. Pricing and Policy Determination
Marketing professionals may leverage various factors in the product development cycle to identify the correct pricing. It takes into consideration existing competition in the market and the expenditure pattern of the target audience. The strategy should help marketers determine attractive packaging and prices that encourage buyers.
5. Distribution
Identifying the proper distribution channel for the product is vital to optimise your ROI. To ensure the desired amount of sales, the distribution line must ensure wider target group outreach at the minimum cost.
6. Promotion
In this step, marketers can use a mix of online and offline marketing channels to promote the product or service. Based on the type of product/service, and its target group – a particular marketing channel might be more suitable than others.
7. Consumer Satisfaction
Every product or service is created and distributed in the market with the end goal of satisfying the user's demand or making their life easier. Therefore, after market distribution, it is essential to get feedback from the clients on how the product is being received. Depending on the kind of response, a future iteration of the same product or service can be improved to target the maximum number of potential customers.
8. Marketing Control
It befalls the marketing department to ensure that the strategies implemented are able to produce the desired amount of results. After the product distribution and launch, marketers perform an in-depth audit to determine the utility of the approach and optimise it accordingly.
What is the Essential Purpose of Marketing?
The modern role of marketing goes way beyond the simple promotions of a product and/or service. It is an influential tool that helps in establishing and fostering long-term relationships with clients and the entire target group at large.
In this way, the purpose of marketing operations can be categorised into the following –
1. Recognising the needs and expectations of the consumer
Understanding the pulse of the market lies at the core of your marketing operations. It includes identifying the pain points of the consumer and coming up with innovative solutions that address the problems of the consumer.
2. Develop products and services that contribute value to the end-user
The second phase of the marketing operation requires you to translate raw data and subjective preferences into quantifiable user-oriented products and services. The primary goal in this phase is to conceptualise a product that users can instantly identify with and are encouraged to interact with it.
3. Effectively communicate with the audience to increase profitability
Now this is the final and most vital purpose of a marketing operation – the promotion. Once the product or service is ideated, it requires an elaborate marketing plan to create awareness among the target group. It may be through targeted ads, local SEO, or social media marketing campaigns – marketers need to choose the ideal tool that may provide streamlined results against the campaign.
For example, if you are selling comic book merchandise that targets teens and young adults – social media and influencer marketing may be the more ROI-driven choice out there.
What is the Key Importance of Marketing?
Marketing is directed at consumer satisfaction. In its natural form, marketing operations fulfil the needs of the market to help an enterprise earn profits and boost its sales. Here is a thorough breakdown of the various significance of marketing:
1. Creates Awareness
The scope of marketing enables an enterprise to run campaigns that generate awareness in the market about a product or a service. This is also the preliminary step of marketing and helps lay the groundwork during product launch.
2. Guides Buyer's Journey
Marketing campaigns allow an enterprise or organisation to guide the consumer – offering knowledge and the relevant guidance that ultimately leads to purchase.
Let us take 3D printers as an example. When a company sells 3D printers, it may produce customised web blogs, articles and videos that educate and inform people. Different genres of web based content work as marketing tools that illustrate the benefits of 3D printers and create the necessary knowledge crucial to operate one.
3. Builds Brand Identity
One of the crucial ways that marketing helps a business is by building a unique identity. It takes creativity of thought and expression to crack an exclusive message that works for your company.
So, it falls upon the marketing department to conjure up a distinctive message that fosters better communication between the company and the target audience. And thereby establishing a brand identity that creates a unique position among the competition.
4. Boosts Sales
By adopting a robust marketing channel, businesses can adopt a continuous messaging model. It may include targeted advertisements or Search Engine Marketing (SEM) to get maximum visibility to the target group of audience. And thereby increase the sales of your products.
5. Helps Scale Up the Business
Marketing is a powerful tool for when you want to take your business to the next level. Whether you are targeting a new demographic of audience or trying to offer a variety of services – let your existing reputation guide your new journey.
It reduces the obstacles of capturing a new market or penetrating a segment different from your core products and services. Thus, utilising marketing tools effectively can help you avert multiple roadblocks to a flourishing business.
What are the Different Types of Marketing?
In this digital age, marketing has gone through a severe transition to introduce several new strategies. This helps target consumers in different phases of their buying journey along the marketing funnel. Some of the prevalent marketing methods include –
1. Content Marketing
Content marketing is a crucial tool in the scope of marketing. It helps an enterprise target consumers across the spectrum by promoting useful content in search engines. Mostly such content would contain thorough information about a product or service and help middle of the funnel users to make an informed decision.
2. Digital Marketing
This is an umbrella term referring to a wide set of tools and strategies used to promote a business. Digital marketing includes PPC (pay-per-click), targeted ads, sponsored links and a variety of other methods to connect with the audience and influence their buying patterns.
3. Search Engine Marketing
It is a part of digital marketing whereby search engines like Google, Bing, and Yahoo are leveraged to endorse a business. Marketers strive to target intent specific keywords with Search Engine Optimised (SEO) content that ranks high on the SERP and draws an increased amount of traffic to the website.
4. Social Media Marketing
Social media marketing is among the popular methods leveraging different social media channels like Facebook, Instagram, Snapchat, TikTok and X (formerly Twitter) to recommend a product or service. It may include sponsored posts, videos or micro content like Reels to create awareness about a product and draw relevant audience to the website.
5. Email Marketing
We can further categorise email marketing into two sections – cold emails and email newsletters. While newsletters are a prevalent practice to grow enthusiasm and awareness among the dormant audience, cold email can be good to draw relevant traffic to your website. Needless to say, newsletter audiences are more likely to convert than cold email recipients.
6. Influencer Marketing
Influencer marketing is a new age marketing strategy where brands use social media influencers and their established audience base to reach a potential target group. It mainly relies on the influencer's audience and brand image to create a reputation for a new product. It is mainly useful for new products or brands to create a niche audience base and kick-start their marketing campaign.
7. Affiliate Marketing
Affiliate marketing is a great way to draw traffic from around the internet. This is also a potent tool for SEO as affiliate marketing helps to get backlinks from relevant websites with higher domain authority and helps send trust signals to your site.
What are the 4P's of Marketing?
As discussed already beforehand, marketing is not only about promoting a new product or service. By establishing communication between consumers and enterprises, marketing plays a crucial social role in bridging the gap between businesses and the market. The 4 principles of marketing define its crucial role –
Product: the actual commodity. It considers the usage of the product and how it may affect the pain points of the audience.
Price: How much will the company charge for the offering? It determines the target group of the product.
Place: It identifies where the product will be sold. In a physical store or online store.
Promotion: Finally, here the approach for promoting the product is determined by the company.
The scope of marketing a product depends on these four pillars that go on to identify the correct approach.
What is the Difference Between Marketing and Sales?
While marketing is a set of practices with multiple tools and strategies used to streamline the promotional operation, sales is a single objective driven practice. In this way, let us elaborate on how marketing is different from sales:
| | |
| --- | --- |
| Marketing | Sales |
| It is a systematic strategy to promote a product or service and establish communication with the audience. | It is a straightforward transaction where the buyer receives a product or service in exchange for money. |
| It is extensive in approach and relies on predicting the trends and requirements of the market. | It is only concerned about closing a sale i.e. performing a transaction. |
| Marketing is entrusted to create new demands in the market. | Sales are expected to fulfil the demands of the market. |
| The target is broad and focuses on a particular group. | Target is small and it focuses on only one person or an organisation at a time. |
| It requires creative as well as critical problem-solving skills | Sales need good communication skills and persuasive capacity. |
What is the Difference Between Marketing and Advertising?
Although in layman's terms, marketing and advertising these two terms are interchangeable, they are naturally separate and serve quite different but associated functions. Let us have a look at how marketing is different from advertising:
| | | |
| --- | --- | --- |
| Topic | Marketing | Advertising |
| Approach | Identifies customer needs and determines the strategy to meet the needs. | It involves continuous communication through marketing channels to promote a product or service. |
| Focus | Strengthening customer relationships. | Encouraging users to complete a transaction. |
| Scope | It is long-lasting and can promote a brand as a whole. | The duration is shorter and usually promotes a single product or service. |
Afterword
Having all said, you should have a comprehensive understanding of the scope of marketing in the digital age. Since marketing strategies rely on industry practices, it always remains a dynamic practice that requires revisions with time to stay relevant. You can read more about future-proof marketing trends with our blog on metaverse marketing strategies.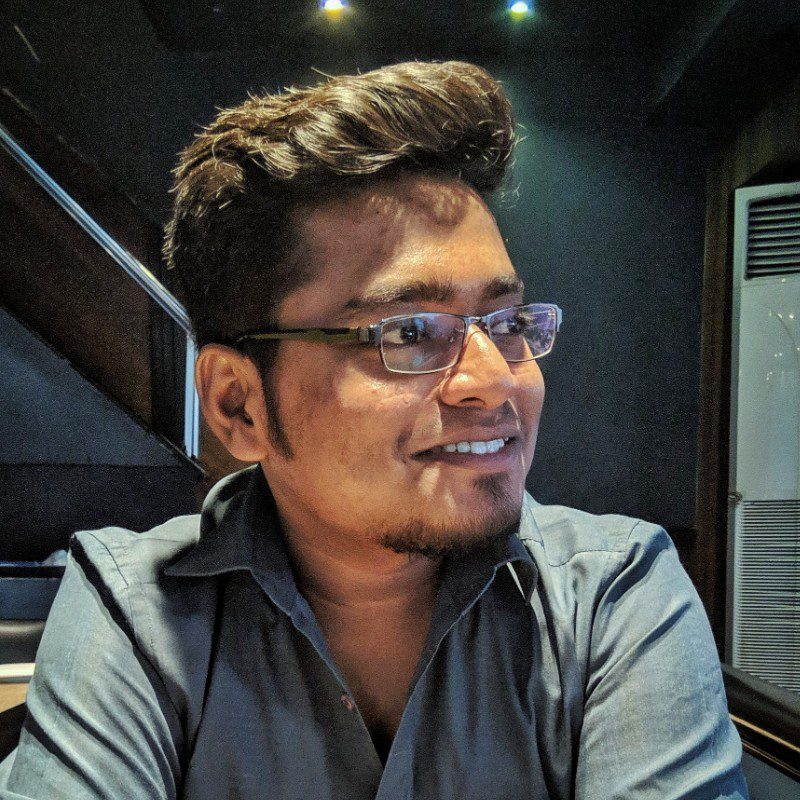 Ritish Dutta is a seasoned Content Developer with over 7 years of experience in the industry. Currently, at Das Writing Services, he writes SEO-optimized content that caters to our diverse clientele. Ritish utilizes his critical insights and experience to talk about digital marketing, SEO content writing, content strategy, and AI.