Content review is a crucial part of content management. A content review process deals with new or live content of a company's website. With the help of a constant content review businesses ensure that their target audience gets access to relevant information which is accurate and in accordance with the brand image.
This blog will give you a comprehensive overview of the content review process, its benefits, how to quicken your review process and more.
What is the Content Review Process?
Content review or assessment is a well-defined process that runs constantly and monitors live or new content for a website. It decides whether the content needs to be updated, edited, or eliminated. Website content review includes digital, visual, or text-based content.
This process ensures that what content the operations team produces is helpful for the target audience. It is responsible for increasing traffic, improving user experience and uplifting the brand image.
Which Problems Does a Content Review Process Resolve?
The bigger the website the more it needs the content review. A site might have numerous big and small errors that you would not notice unless it goes through the assessment system.
Let's take a look at some of the most common issues a content review can address:
1. Removing Outdated Content
Useless information on your website will drag your rankings down significantly. So, it is imperative to identify such pages that have outdated content which either misinforms your audience or fails to provide something it promises (e.g. outdated links, codes, etc.).
2. Updating Old Pages
Old pages (that are several years old) which do not get that many clicks are useless from a business point of view. Too many useless pages are not SEO-friendly either. Through the review process you can identify these pages and either remove them or update them and make them useful.
3. Improving Thin Content
Thin content affects user experience and stands against the business purpose. With the content assessment system, one can find out which web pages need editing and updating to be of help to the audience and improve their experience on the website.
4. Fixing Missing Content
Website content review also enables a business to find out what content they are missing. By identifying gaps within a business content inventory one can provide a more comprehensive service and improve overall user experience.
Importance of Content Review Process for a Business
Content review is a crucial part of a business's content plan. An effective content plan ensures that you are offering the best content possible and it is relevant and up-to-date.
Here are a few reasons that make an effective content review process very important for businesses:
Tracking which pages are ranking and which are not lets you make accurate changes. It also helps you decide which pages need updating and which can be removed.
Content review or content audit ensures regular updating. Without it, you cannot stay competitive.
The process of content review generates new content ideas with which you can address your audience's queries that you have not answered directly or in detail.
A content review gives you insight into what your audience is finding helpful. With that knowledge, you can direct your keyword research in new directions.
This process also helps you to find and replace dead links with live and relevant links. It directly impacts how your content is going to rank on the SERP.
Content review helps businesses refresh their editorial calendar when they are looking to introduce new services or products in the market.
Content assessment also lets you find any asymmetries, inconsistencies, or gaps in your site's content architecture.
It ensures that your content creation follows a strict guideline (content review checklist) that maintains brand consistency throughout your webpage.
Step-Wise Guide to Content Review Process
If you want to know how to review content from scratch, here is a step-by-step guide to the whole process: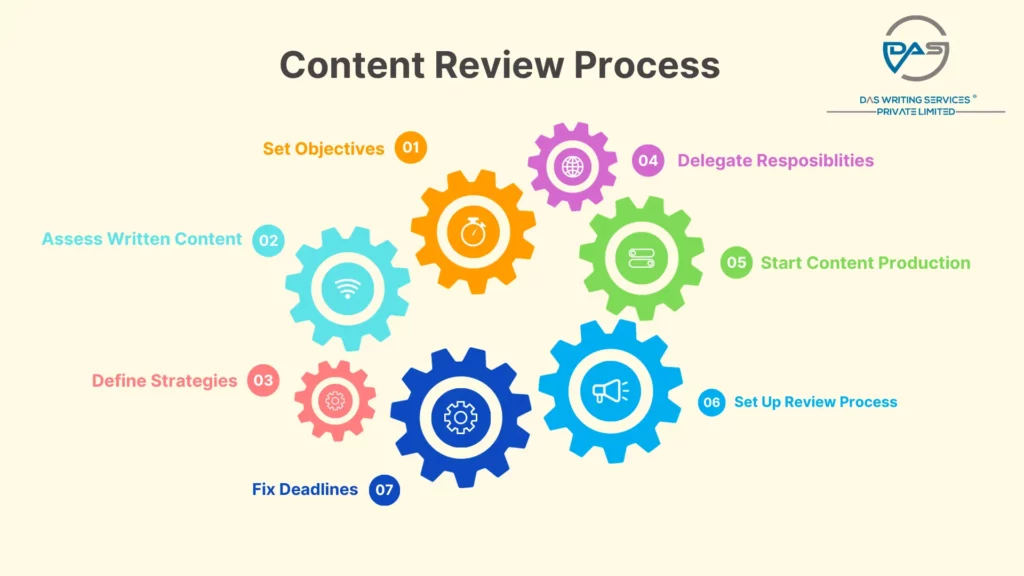 Step 1: Identify the Objectives of Your Content Strategy
Establishing specific and actionable content marketing goals is the first step of setting up a content review process as it will tailor new and live content with your goals.
Ask yourself what your objective is. It can be as primary as:
Lead generation
Brand image improvement
Information dissemination
Traffic increase
It can be SMART (Specific, Measurable, Achievable, Relevant, and Timely) too. For example, You want to keep an average of 10K monthly visitors with 30 blog posts per month. Within 3 months you want at least 30 form fill-ups and 10 conversions.
Step 2: Assessing the Written Website Content
From blog posts to landing pages, conduct a systematic review (a.k.a. Content audit) and create an inventory of content that needs consolidation, updates, or removal.
This website content review process will help you understand the following things:
The performance of your content
How to improve your content and reach business goals more efficiently
The gaps in your offerings
With this, you can detect outdated content to improve or remove, and create new content to boost your SEO performance.
Step 3: Determining Strategies and Standards for Content
Based on the interpretation of your content audit data, now it is time to define your content strategy and the standard you want it to have. With this, you should establish principles and guidelines that assist in the content generation process.
This may include:
Fixing content standards
Finding out design languages
Identifying creative collaborators
Selecting software tools
Your content design includes a selection of templates, layouts, colour schemes, and fonts. To maintain specific content standards you can want it to be useful, effective and concise, consistent brand voice, etc.
Step 4: Setting Up a Team with Set Responsibilities
The fourth step is for you to determine who will be responsible for content review at various phases of the process.
For example, team members who might have to take part in the review process are:
Editors
Project managers
Subject matter experts
Content review specialists
Marketing managers
Legal team members
The list might also include executives who supervise the process or simply want to stay updated on the project. Additionally, there should be one person with authority to provide the final sign-off and mark the project complete and ready for publication.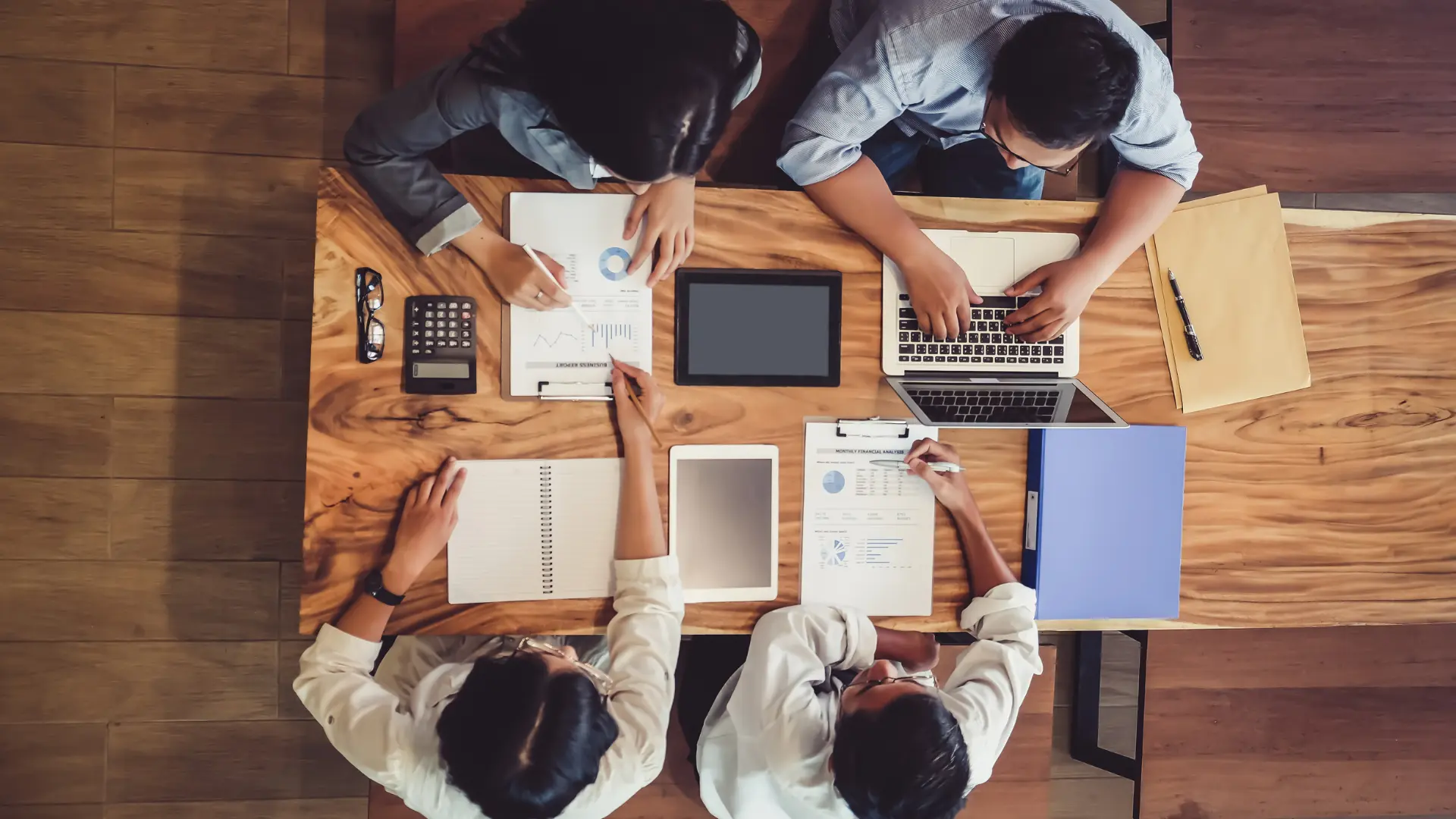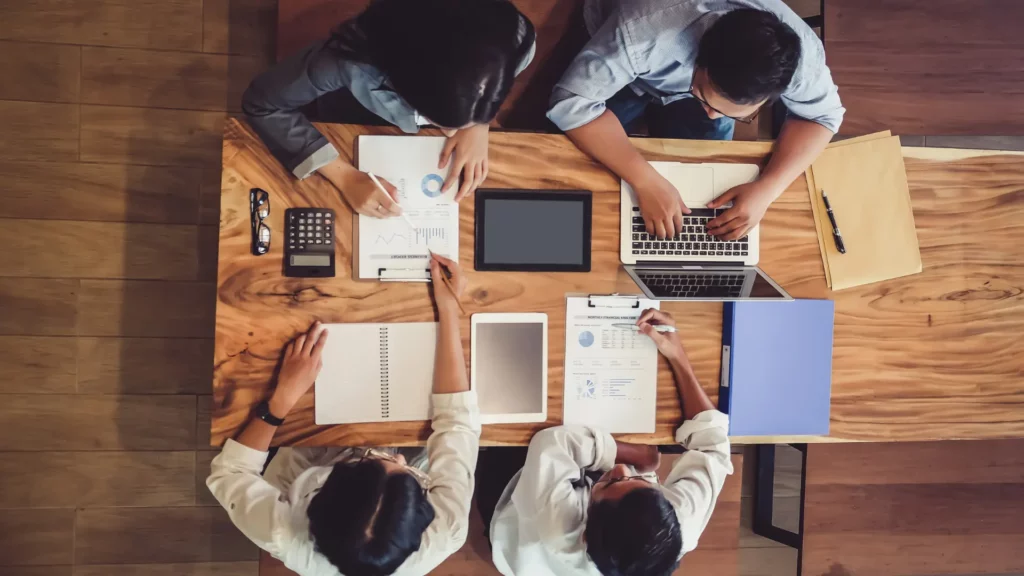 Step 5: Content Production Based on Specific Guidelines
Now you create content that you need to maintain the ideal frequency of publication and bridge the content gap that you have discovered through the audit. You can hold regular meetings with management staff and marketing teams to be aware of content requirements, deadlines, and schedules and create a detailed content map that helps.
The production or operations team can use various online templates, and content management systems to create and manage content. The review team can also use the same system to review the new content.
Step 6: Setting Up the Content Review Process
Now, you have to set up the content review process as a workflow that will help execute the process for each and every upcoming project. To do this you can take the help of content review tools (that we had discussed below) and centralise the review process clearing the way for faster feedback and approval.
Step 7: Apply Strict Review Dates
You can set review dates and lengths according to the content type. There are various pages on a website that need regular updates and some that need to be done annually.
People who are involved with the review work should have a schedule that ensures that all reviews are completed on time.
Which Core Pages to Prioritise in the Content Review Process?
While assessing written website content it is crucial to identify core pages of your website. These are the pages that play an integral role in your business and marketing activities.
Here are some of the core pages that should stay on the high-priority list for content review:
Call-To-Action pages – Pages that contain forms, and the follow-up pages with which you collect your sales leads.
Service/Product pages – Pages that describe your products and services must stay accurate and up to date.
Pages linked to Social Media campaigns – If pages are in use by a current campaign reviewers must decide to keep them and make necessary changes.
Branding pages – Pages that explain brand names that the organisation owns.
Pages linked to ads – Pages linked to AdWords need content review analysts' close attention.
Pages linked to Email Marketing campaigns – Your reviewers should at least take a close look at the emails of the last six months.
While going through the process make a point of making a list of things that are missing.
How to Quicken the Content Review Process?
There are numerous factors that delay a content review process. However, there are some specific steps that you can take to counter those and quicken your review process.
Let's take a look at those policies that you can put into place one at a time:
1. Shorten the Levels Reviewing
For many businesses, a piece of content goes through marketing specialists, directors of marketing, subject matter experts, CEOs, SEO, legal teams, etc. However, the involvement of that many people is often unnecessary.
You can shorten the chain of reviewers (CEO during brainstorming of topic ideas, one marketing professional in review, SEO and legal team finalising the content simultaneously) and quicken the content review process considerably.
2. Use Time Blocks for Reviews
Breaking up the review task into small sections and providing reviewers with short time blocks to deliver the reviewed copies seems to work better than the traditional way. Reviewers can also call on accountability partners to whom they would have to report their progress.
This simple trick of breaking up the whole work as divisible blocks and allotting necessary time can work wonders.
3. Allow Simultaneous Reviewing
Tools like Google Docs allow users to collaborate on documents simultaneously. If you want to quicken and simplify your content review process use such tools.
It will allow all the reviewers to look at a piece of content at the same time and get a direct opportunity for dialogue.
4. Create Detailed Review Requests
You should make the review request very detailed as it will remove the guesswork and ensure instant approval. Do not let the reviewer make assumptions. Provide them with as much clear, concise and direct detail as possible.
For example, a review request for a blog should have details about its purpose, audience, level of technicality, and so on.
What Are The Best Content Review Tools?
Now, let's take a look at some of the best content review tools available on the market:
1. Clearscope: It is an SEO content optimisation platform that simplifies the process of SEO writing and content review.
2. MarketMuse: Its AI provides objective insights for creating content by analysing the company's entire website.
3. NeuronWriter: It helps you plan and create content with the help of competition data, SERP analysis, semantic model (NLP), etc.
4. Semrush: It can be an all-in-one solution for discovering marketing insights and increasing online visibility.
5. Yoast: This WordPress plugin helps elevate your content's readability and SEO.
As you notice the intricacies of a content review process and its importance for the growth of business and purposeful development of brand image it becomes especially clear how important it is for a business to work continually on the review process and keep it functioning optimally.