Generating leads for your business is a great start, but without trust signals, converting those leads into sales can be challenging. For any website, generating trust and credibility is vital to getting paying customers.
Leveraging that credibility helps your brand flourish – from retaining traffic to ranking higher on the search engines, it all depends on trust.
In this blog, we will explain what trust signal is and the various ways you can showcase them to grow your business. So, hop on the train!
What are Trust Signals?
Website trust signals are tangible indicators or proofs that enhance a brand's credibility and trustworthiness. It helps the target audience feel more comfortable and secure when visiting a website and purchasing products from there.
According to research by Trustpilot, 98% of consumers can identify the reliability quotient of a website via various factors like customer testimonials, social shares, product reviews, etc. They help potential customers feel safe and comfortable doing business online with a particular company.
Ultimately, these features help optimise a company's conversion rate by turning leads into customers.

Types of Website Trust Signals
There are primarily two categories of trust signals – one that works for the audience, and another that works for search engine crawlers and helps in SEO.
As search engine results get more nuanced and user-oriented, the two categories of indicators overlap with each other. As a result, search engine crawlers use audience trust signals such as social sharing as a ranking factor.
Most customers recognise these signals unconsciously, but it significantly impacts their purchasing decisions.
19+ Effective Trust Signals to Increase Brand Conversions
Although there are thousands of factors that indicate the trustworthiness of a business, we like to categorise them into a few groups for ease of understanding. The groups are as follows:
1. Guarantees
Promises like a money-back guarantee, 7-day delivery guarantee, and free return – can help reduce visitor's anxiety about doing business with a new company. Such assurances offer a fail-safe scenario where the customer feels at ease since they can get the money back or receive the product within a stipulated time.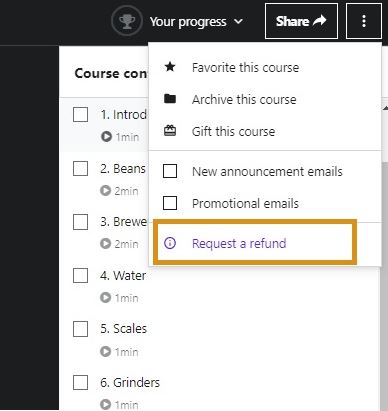 2. Certifications
You are bound to trust a doctor or lawyer more if they have their certificates displayed on their walls. The same principle applies to websites as well. Certifications from recognised authorities help an organisation to appear legitimate to the audience.
3. Social Proofs
Social proof attests to the reliability of a business. Consider it yourself, do you not look for reviews and recommendations before buying a product online? Those are the most popular forms of social proof that help businesses establish their reputation to the audience.
4. Brand Associations
Collaboration or associations with known brands and collectives work as an important trust signal for businesses. The same applies when a brand is a member of some notable community. The idea behind this principle is, that if so and so are working with these guys, they must be legit. This association leads to increased reputation and better reliability in the organisation.
5. Product Reviews
Product review is a classic way of selling the products of a company. It helps the target audience trust the quality of the products and make an informed decision to purchase them.
However, if a particular product has five stars, it is a great deal, but the consumers might get reluctant when it has only good reviews, making it difficult for the company to sell their products. It assists in showing the criticalness of the products. Hence, a company must perfectly balance negative, positive and moderate reviews.
6. Customer Testimonials
Customer testimonials work perfectly well for e-commerce platforms and B2B businesses. It works as a trust badge and helps to build a dependable relationship with the target audience and convert them into potential customers.
In addition, testimonials provide short-sentence quotes to the target audience that help validate the brand. To create testimonials, you can ask your existing customers to leave a comment on your blogs or service pages. After that, you can take a snip of the testimonials and upload them on your home page to generate potential leads and turn them into customers.
Following is the example of a testimonial that we have given on our home page to boost our acceptability as a content writing company.


7. Content Quality
This is one of the non-technical factors for trusting a website. Any website that has a dummy or generic content on most of its web pages is going to get a lower rank and attract a higher bounce rate.
Alternatively, high-quality, optimised content creates a unique and strong impression niche for a brand and works as a sign of trust and reliability. This is why, besides creating blogs, articles or web pages, you should go for content optimisation. In this process, you need to follow all the basic SEO guidelines suggested by major search engines like Google.
8. Page Load Speed
This is one of the crucial optimisation factors for search engine rankings. Needless to say, the faster your page loads, the more visitors will be interested in it. You can check your site's page load speed with GTmetrix. In this regard, it is also necessary that you know how to use the GTmetrix tool to check page speed.
In this age of high-speed internet connection, you cannot expect visitors to a page that takes more than 5 seconds to load. And as per Search Engine Journal's investigation, Page Load Speed is a vital ranking factor.
9. Physical Address
Displaying the physical location of your business is a vital sign of legitimacy. In the quest for trust and reliability, showcasing the actual address in the website footer or about us section helps communicate the authenticity and transparency of your operations.
Physical existence acts as a trust seal, encouraging users to rely more on a brand that serves mainly online. Further, with a detailed address, you can get an added advantage in location-based searches. This way, local customers near you can easily find you on the Internet.
10. Celebrity Endorsement
Hiring popular celebrities to speak about your services is one of the classic ways to promote a brand. Their respect and popularity lead to increased brand awareness about your company.
However, to use it as an impactful trust signal, ensure that you have it displayed on the top of the website to ensure maximum visibility.
Watch how Abhishek Bachchan is endorsing the Motorola phone from the video link below:
11. Structured Data
This is more of an SEO kind of a deal but when implemented efficiently, they help users as well. Structured data helps search engine crawlers understand what your pages are about. It also helps in securing a better ranking among your competitors.
Also, using structured data markups produces nuanced search results – allowing users to get additional information about your post directly from the SERP.
12. Payment Assurance
Most users will have some kind of reservations when it comes to performing transactions on a new website. In such cases, payment assurance signals like trust badges from known payment methods help instil trust in the audience. Customers understand that they can safely check out and pay from that website.
It is something we do ourselves, scroll to the footer section of this page to find badges from renowned payment gateways that let you perform secure transactions with us.
13. Top Level Domain (TLD)
Using a top-level domain (TLD) like .com .io or .org is a vital indicator of reliability. Especially if you are trying to generate leads and perform the commercial operations on the website there is no way out of it.
Cheap domains like .buzz or .bar can be cost-effective but down the line, it fails to deliver effective ROI and also produces lower search engine rankings. In this regard, you should also know how to choose the TLD.
14. Privacy Policy
People rarely visit this page, we know! But missing out on an elaborate privacy policy page is a cardinal error and works as a red flag on trust and reliability metrics.
Use this page to describe how your website uses cookies, user's personal data, contact information and whether you share it with third-party companies or not. Except for working as a trust symbol, a transparent policy can save you from unwanted lawsuits as well.
15. Secured Network Protocol
Originally started as a mere technical factor, nowadays secured network protocol is a must to get top SERP rankings. Did you notice, that most top search results on Google use an https protocol? This is no mere coincidence; the search engine giant actively pushes this encrypted network protocol to secure your data.
If you have a new site, chances are you are already using https. But for old sites, you can get an SSL certificate to migrate to the secured version of the network protocol. You can easily find if a site is secured or not by looking at the URL/search bar of a web browser – a padlock sign before the domain name shows that the site is encrypting the data.
16. GMB Profile
Having a Google Business Profile (formerly Google My Business) profile increases your visibility and appearance in search engine rankings. Whenever you search for a business online, the results must be direct and crisp to serve user intent.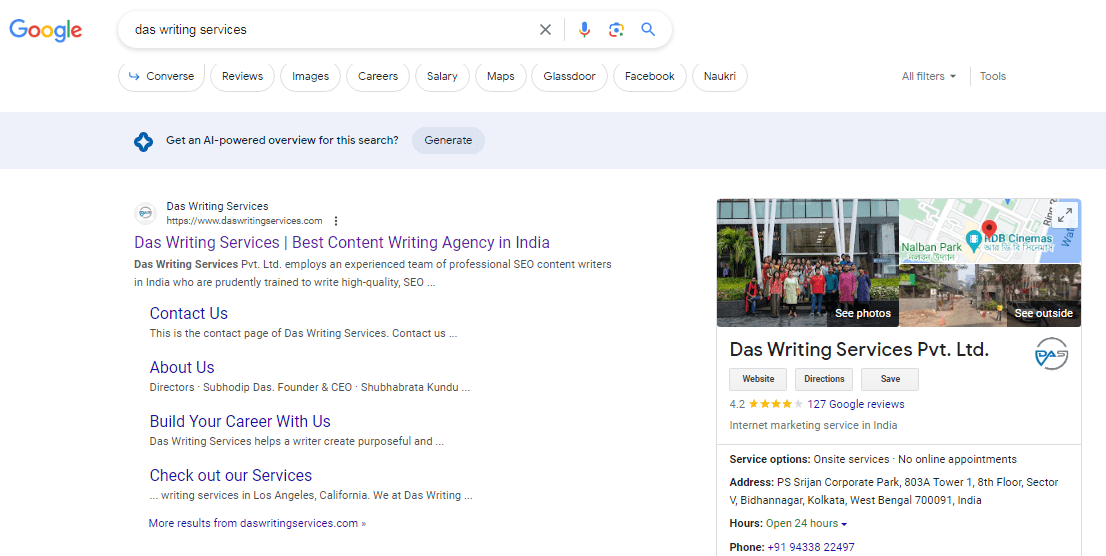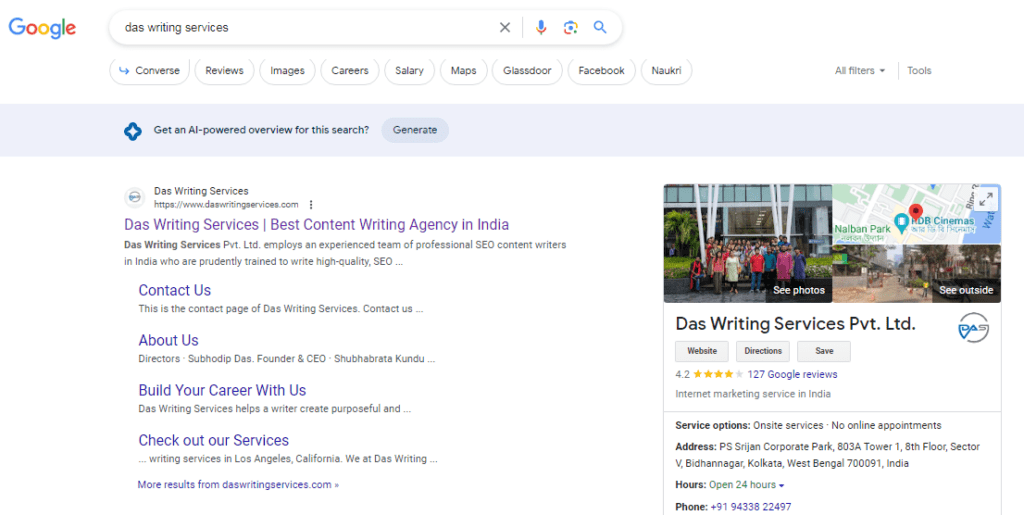 Take us for example, when you search with our name you will find our website and a business listing on the right-hand side. Here you will get our contact information, physical location, operating hours and everything. The comprehensive business listing works as a reliable trust signal.
17. Google Map Listing
Listing your business on Google Maps helps users find the actual location of your business. Just like people, it works as a vital trust signal for search engine crawlers as well. Also, they help optimise your site for local SEO by default – so, it is a win-win situation.
18. Social Media Handles
An active presence in major social media handles like Facebook, LinkedIn and Instagram helps a company interact with the target group seamlessly.
Besides helping to build a brand, your social media handles also work as signs of your legitimacy in the industry.
19. Domain Age
The older, the better – the principle perfectly describes the policy for search engine rankings. While common users are mostly unaware of the age of a domain, Google uses it as one of the metrics to give rankings.
So, instead of buying new domains every other day, work on your existing website by adding new pages. It signals authority and trust to the audience.
20. Mobile Optimisation
Smartphones are everywhere and most people use their phones over conventional PCs to source information or learn about key service providers.
Hence, optimising your site for mobile-friendly loads is vital to not lose out on a considerable chunk of your traffic.
What is the Importance of Trust Signals?
Trust signals have a crucial role when it comes to digital marketing. They play a significant role in boosting the confidence and credibility of potential customers. Here are some of the importance of establishing your business as a reliable market player:
1. Building Credibility: Trust signal assists in building credibility for the company. It provides evidence to the customer that the brand is legit and they can trust it. The trust signals include several factors such as customer testimonials, social proof, reviews and more.
2. Building Trust: It helps to build trust with the target audience by assuring them that the brand is reliable and trustworthy. In addition, it increases the audience's confidence and converts them into loyal customers of the brand.
3. Competitive Advantage: Trust signal helps the brand to take an edge over the competitors by providing proof of its trustworthiness and credibility. It assists the brand to stand out from its competitors and attract more audiences to turn them into customers.
4. Boosting Reputation: It boosts the online reputation of the company through its reliability and credibility. By showcasing certificates and testimonials on a website, a website can increase brand awareness, social media shares and positive reviews.
5. Improving Ranks in Search Engines: Companies can improve their websites' search engine ranking by incorporating trust signals like SSL certifications, social media engagement and online reviews. It will be easier for the target audience to find your website and purchase your products or services.
Examples of Trust Signals
With the following examples, you can clearly understand how trust signals work and how these influence the target customers to purchase from your brand:
1. Trust Signals of Das Writing Services
As a content writing agency, we know how valuable trust signals are for conversions. Our potential customers must feel that we are a reliable agency for content writing services.
#Example 1: Client Base
In the following image, you can see that we have showcased the client base that has relied on us for their content requirements.
This is one of the basic website trust signals that you should also cover if you have an online business.

#Example 2: Work Delivery Status
Apart from this, we have mentioned how many words we have delivered in a month, how many pages have got 1-3 ranks with our content and the number of new clients who trusted us for outsourcing their content.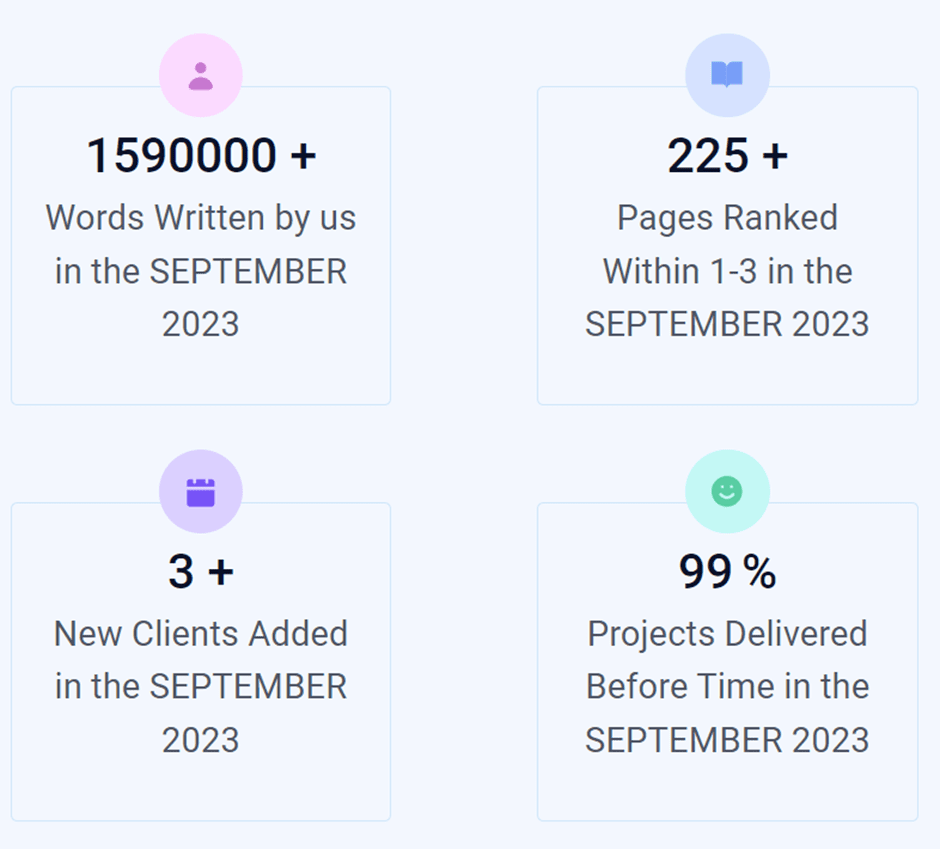 However, for this, we know that the trust signals we use are true and honest. The inclusion of these trust indicators should not be for beguiling potential customers.
#Example 3: Certifications
Certifications or security badges foster credibility or acceptability among customers. Having these certifications is not enough. You also should present them before the eye of potential customers, as we have done on our home page:

2. Trust Signals of Ahrefs
Ahrefs, one of the leading SEO tools service providers, also uses trust signals to retain its position as a leader in the market. Following are the different trust indicators the brand uses:
#Example 1: Ratings
From the following example of trust signal, you can see how Ahrefs has mentioned how its big clients have rated it on a scale of 5. It explains how others are satisfied with the services of the brand.

#Example 2: Number of New Users
Here is another trust signal example taken from Ahrefs. On the home page of its website, the brand, here has mentioned how many users have trusted its SEO tools and services in the last week.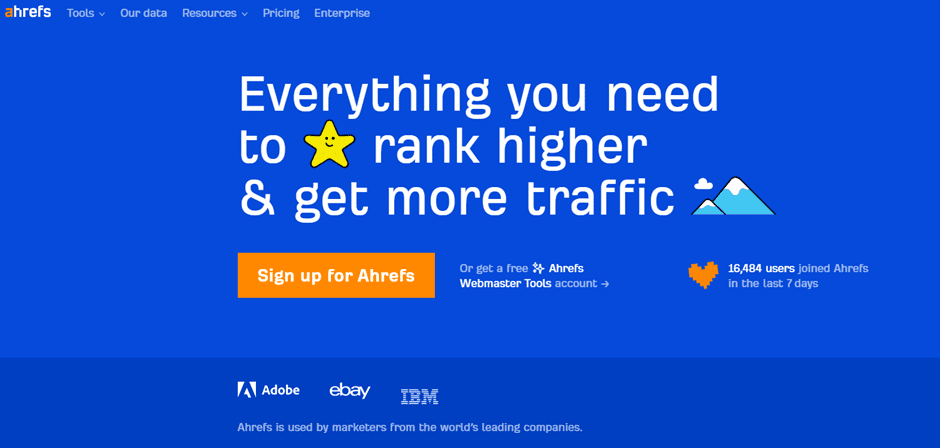 3. Trust Signals of Hubspot
Following are 2 trust signal examples taken from Hubspot.
#Example 1: Social Media Followers
Here you can see that Hubspot on its home page has mentioned the number of followers it has on social media channels. The website trust signal here acts as a factor of the acceptability of Hubspot among people.
#Example 2: Vote of Trust
The following image is another example of a trust signal integrated by Hubspot on its home page. You can see that the brand has showcased itself No.1 service provider in 289 categories as voted and featured in different case studies. This acts as a trust symbol that has the potential to increase the conversion of Hubspot.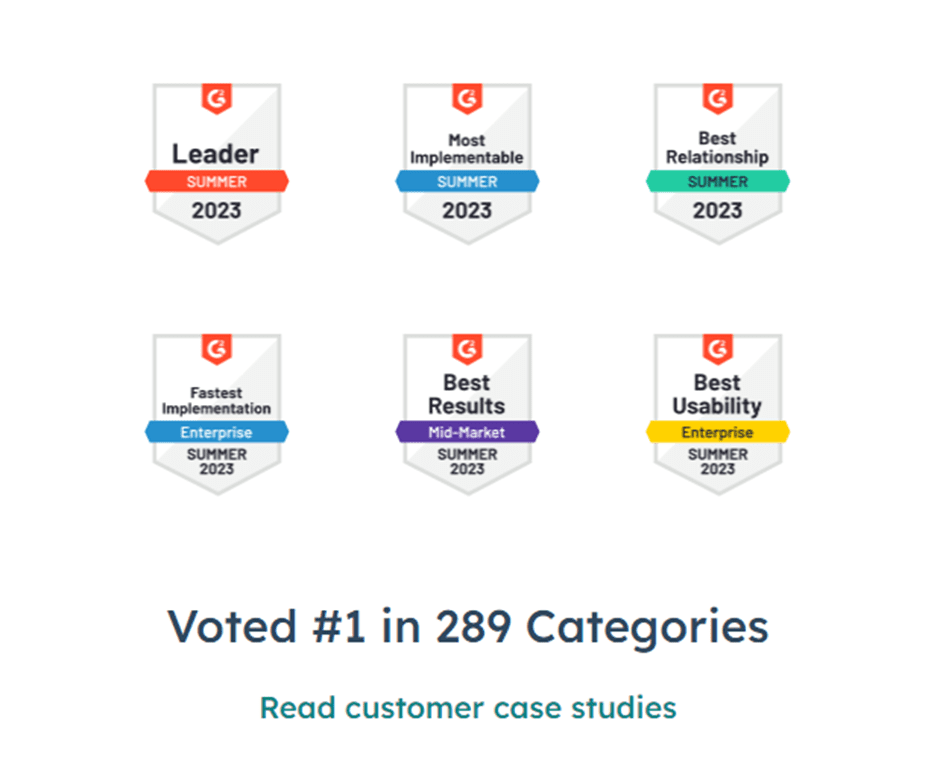 4. Trust Signals of Groww
Here is one example of trust signals taken from Groww.
#Example 1: Testimonials
As mentioned, testimonials act as one of the significant trust signals. Groww, one of the major stock marketing agencies has given testimonials on its website to make new users feel that the platform is safe and convenient for investing in the stock market.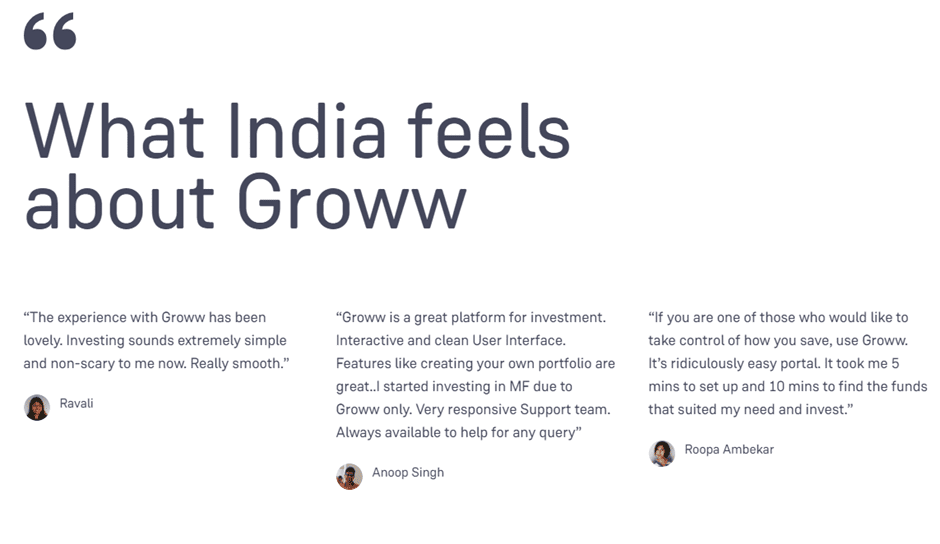 5. Trust Signal of Noise
Here is an example of a trust signal as used by Noise, a leading smart tech brand in India.
#Example 1: Product Review
Product review is one of the major e-commerce trust signals which not only Noise, but all other online businesses use. Following is an example of this type of trust signal.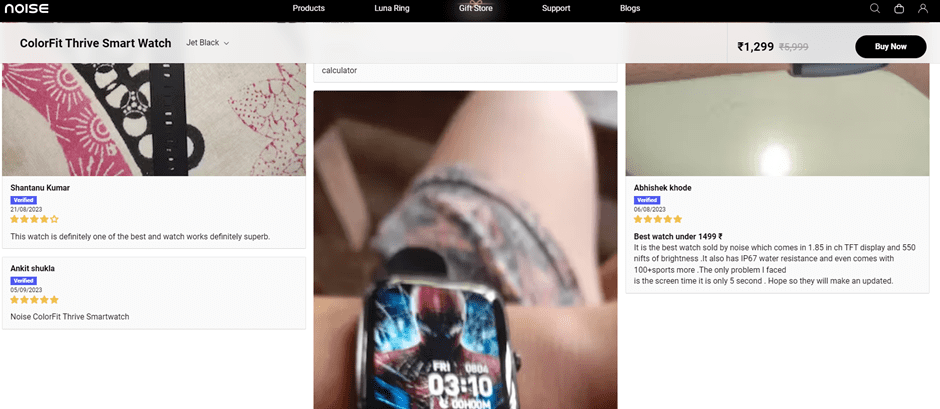 Ultimately, trust signals are all about a matter of making your users feel safe on your site. And it begins with transparency, do not hesitate about negative remarks, they are not that big of a deal. But how you manage it is a big deal, it showcases your character and values which in turn creates your brand. Getting people to trust you is at the core of developing a robust brand out of your business. Read our blog on brand marketing to learn more about it.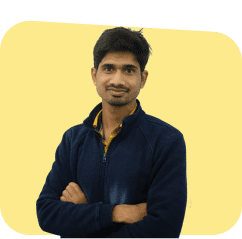 Achinta Maity, a former professional SEO content writer for Das Writing Services, is currently working as an SEO Analyst. During his long tenure as a writer, he has worked for multiple clients from various industries, including finance and digital marketing. Due to his passion for writing and sharing knowledge, he contributes to our blog besides working as an SEO Analyst. For any queries, you can contact him on his LinkedIn profile.