Making a content production strategy is vital to succeed in online marketing. It helps you ensure that all the blogs, articles and pages you publish get the attention of your target audience.
Content creation drives the maximum results when you produce engaging and valuable content on your website. Otherwise, the audience bounces back from the site. This is why if you have a business website, you must know what is content production and how to make a strategy for this.
What is Content Production?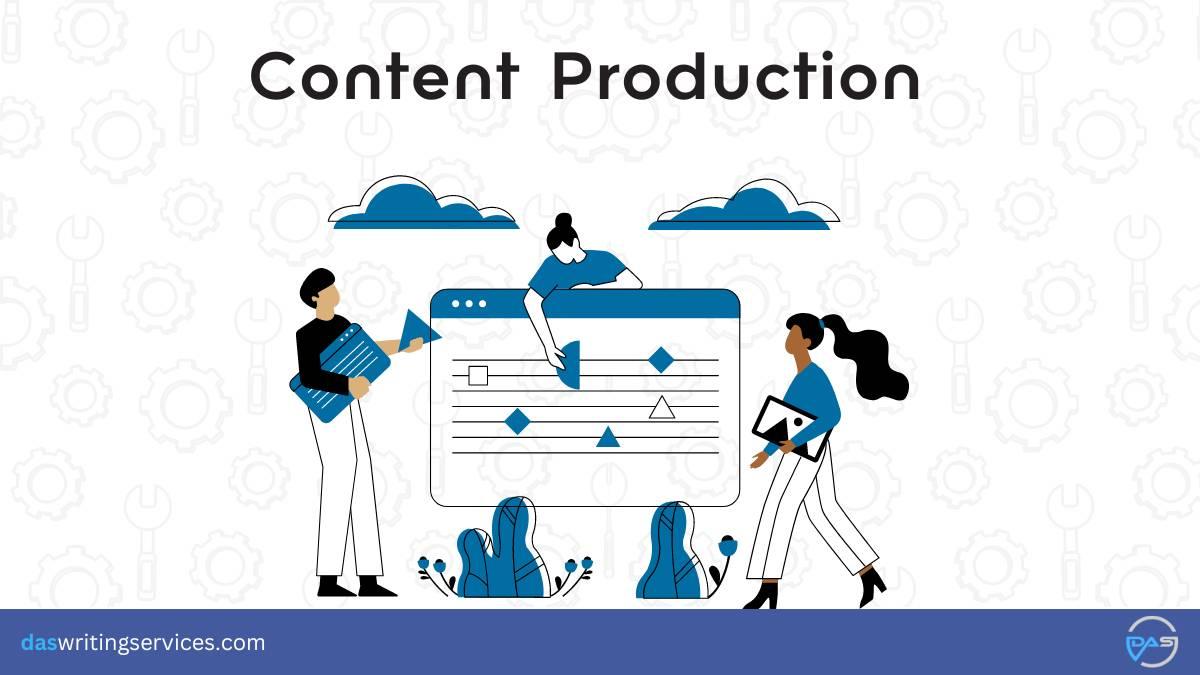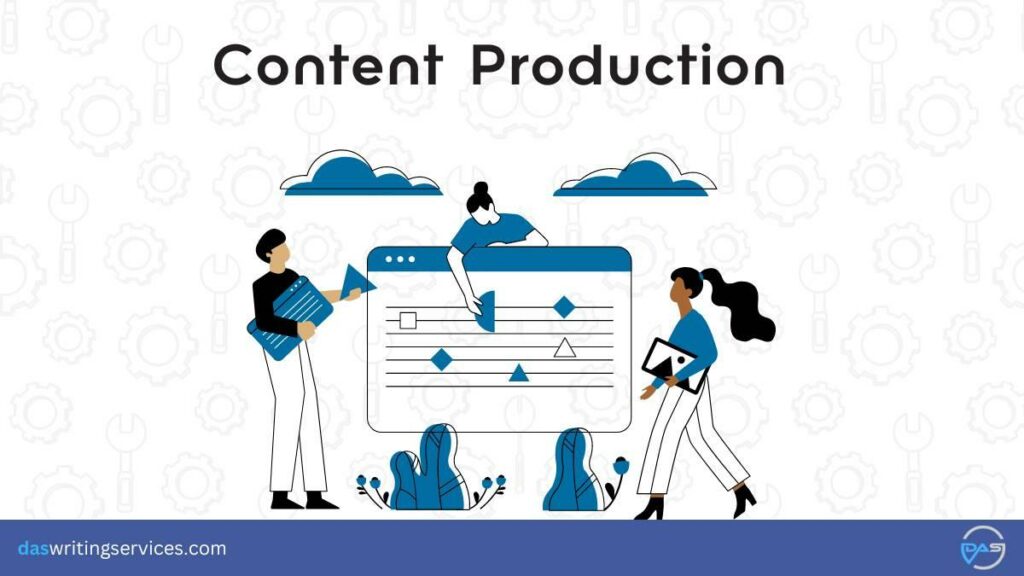 Content production is the series of actions you need to take to create and publish written and visual content for different content marketing platforms. It enables you to meet the questions and doubts of your customers about your business and products. For this, you need to create new and unique content loaded with specific information.
However, the content production process should also involve SEO optimization. In case, your content is not properly optimized, it will become difficult to get a good rank on the SERP. With a high rank, you will be able to reach your target audience and engage with them.
In this process of content creation, your goal should be to understand your audience and their knowledge requirements. It will help you find topics for content.
There are three different types of content that you should cover in your content production process:
Informational Content: This type of content helps the target audience with information. You can answer the queries of customers regarding your products and show them how your products can be their saviour. These are mainly the top of the funnel or TOFU content.
Emotional Content: Have you heard the term 'emotional marketing'? It is the process of persuading the audience by targeting human emotion. You need to craft content in a way that your target audience develops a deep engagement with your brands and products.
Transactional Content: Transactional content will help you generate revenue for your business. You will have to write content with specific search queries that buyers put in the search engine just before they intend to purchase. You must not want to miss those keywords and topics because these will create sales opportunities.
Importance of Effective Content Production Process
According to Hubspot, 40% of marketers believe that content marketing is an integral part of marketing strategy and gives better returns on investment.
The content production process is basically the execution of your content marketing strategy keeping in mind your business goals. It is vital irrespective of your team size. If you do not follow the process, there is a chance that you will not understand the content and the purpose it is serving. In addition, if you have a good content production process.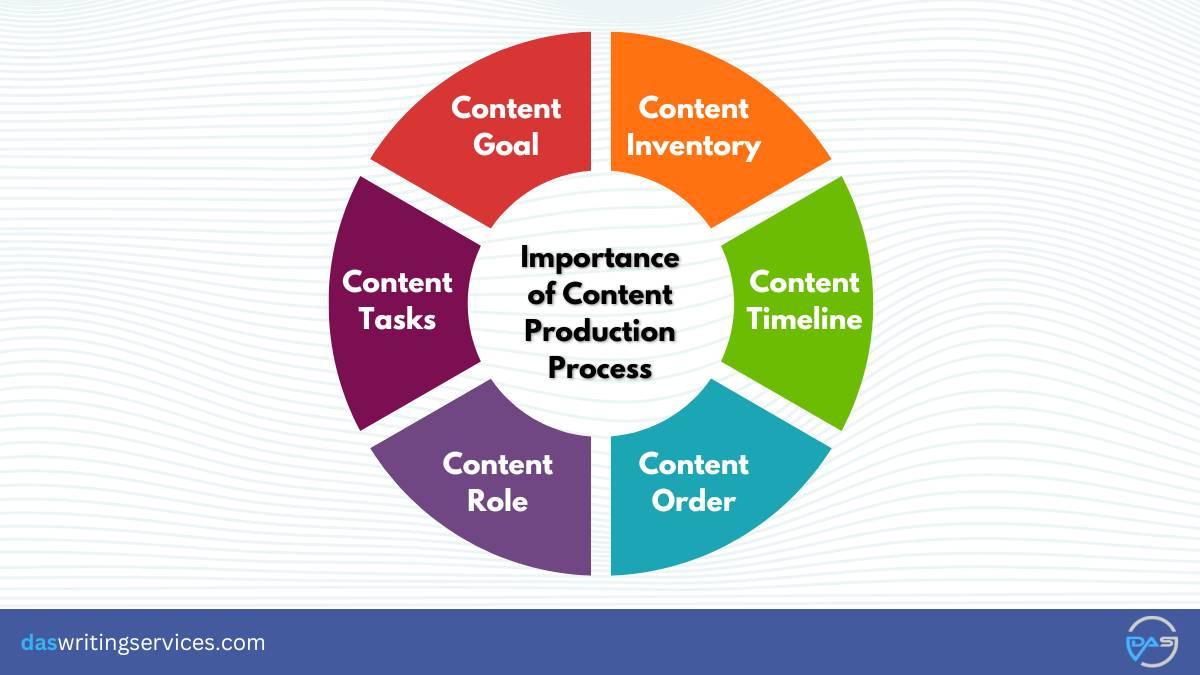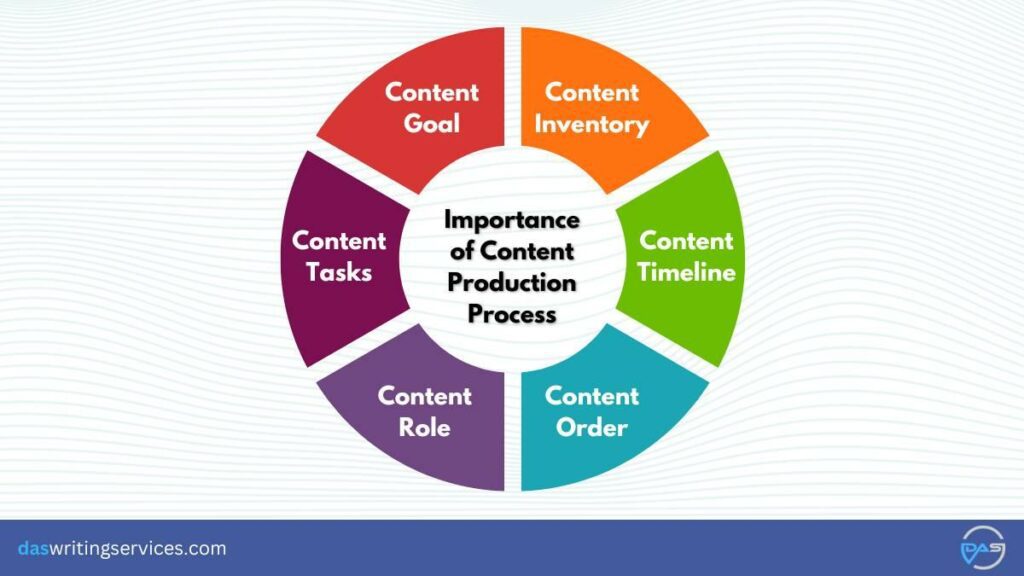 Elements of Content Production Process
You need to keep in mind the following elementary things before starting the content creation process:
1. Goal of Content Creation
If you do not frame your content according to your business goals and audience needs, no way you can achieve what you want. This is why you should assign goals for content even before content production.
You need to make a proper topic planning in which you will have to segregate topics into three categories: Informational, Emotional and Transactional. It will help you measure the content performance in the future.
If you know the ultimate goal of your content, you can frame and write it accordingly.
2. Tasks Involved in Content Production
When you are unsure about the tasks, it will delay and derail the content-uploading process. Knowing the separate tasks involved in the content production process will speed up the writing time. Further, the content can be delivered before due time with perfection.
To do this, you will need to make a list of everything from the start and get it approved before publishing the content.
For example, if you are writing white paper content, you need to do industry research that involves company studies, jotting down information, etc. You should produce the content only after these processes. It is also better if you delegate a person for the proofreading and fact-checking task.
3. Roles of Content Experts
Every individual involved in the content production process has to have a defined role. Each of them should be responsible for getting their work done within a stipulated time frame.
If you do not assign roles to each individual, there are chances that it will lead to unhealthy team relationships. It will have an impact in the long run.
You can go to the task list and assign a name to each task mentioned. It will allow everyone to get involved on the same page and agree on their responsibilities. Henceforth, there will be no confusion, and everyone can do their work diligently.
At Das Writing Services, we also assign roles of writers, editors, content managers and publishers to streamline the content production process. Here is how we prepare our content production spreadsheet for this: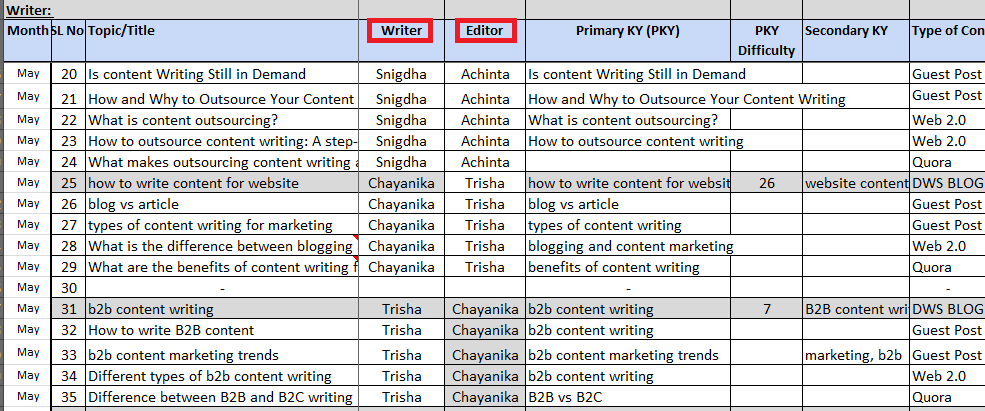 4. Order of Content Production Task
If you do not follow a set order of the content production process, it may lead to a delay in the content production. This will help you maximize the workflow and production of content in a less time frame.
To speed up the content production process further, you can work on associated tasks simultaneously.
For instance, if a writer is writing content on a particular topic, they can ask the image designer to create images for that topic. It will reduce the time required to craft content, and the project manager can ensure on-time project delivery.
5. Timeline for Content Creation
Delivering the content on or before the due date is crucial. To get your content ready on time, you can target to frame the content at least 5 days before the deadline.
After you have crafted the content, the in-house editors will use premium tools like Grammarly, Copyscape and Yoast to check for errors and plagiarism in the content. So, there should also be a deadline for editing.
Once you create a timeline for content production, you can execute your content marketing strategy properly. You can get things done in a faster way and have more time to review the files for any errors or last-minute changes.
6. Inventory of Produced Content
The role of a content inventory is that you never misplace any piece of content. Every individual must be certain about their responsibilities in content inventory.
For instance, a person writing the content will create the draft, and the person responsible for reviewing the content will make the changes. A person who is responsible for creating images will edit the images. Thus, it will be easy to track the content production process and find errors, if any.
How to Set an Effective Content Production Process?
Here is the step-by-step guide to the content production process: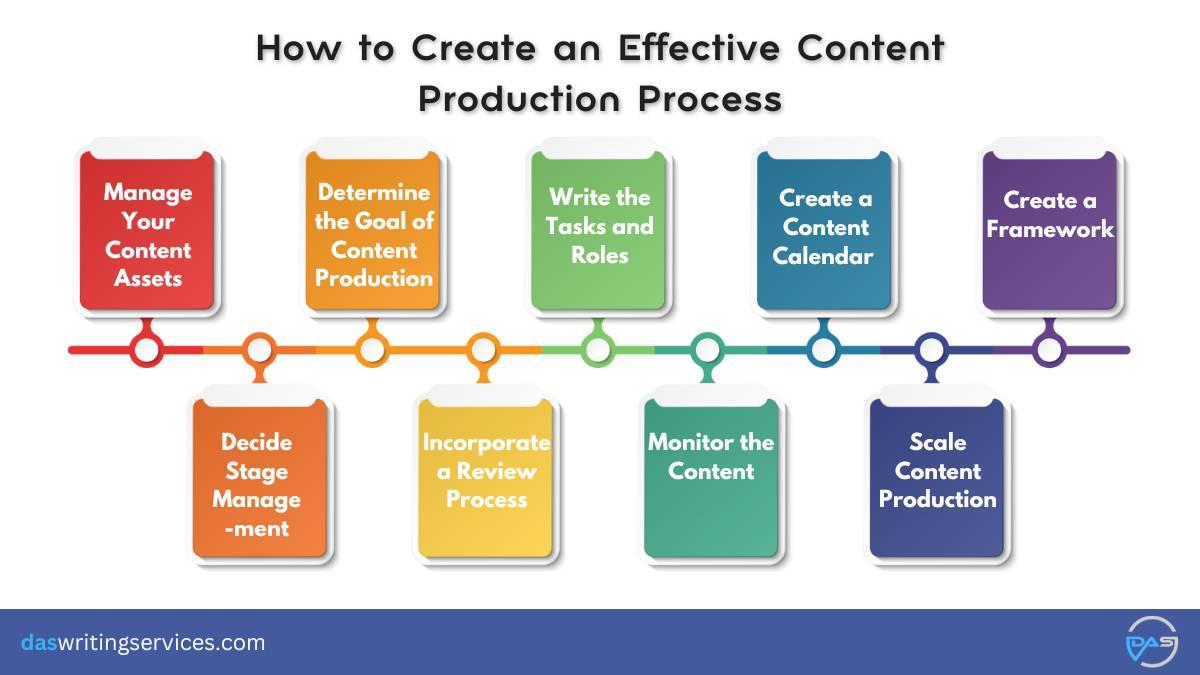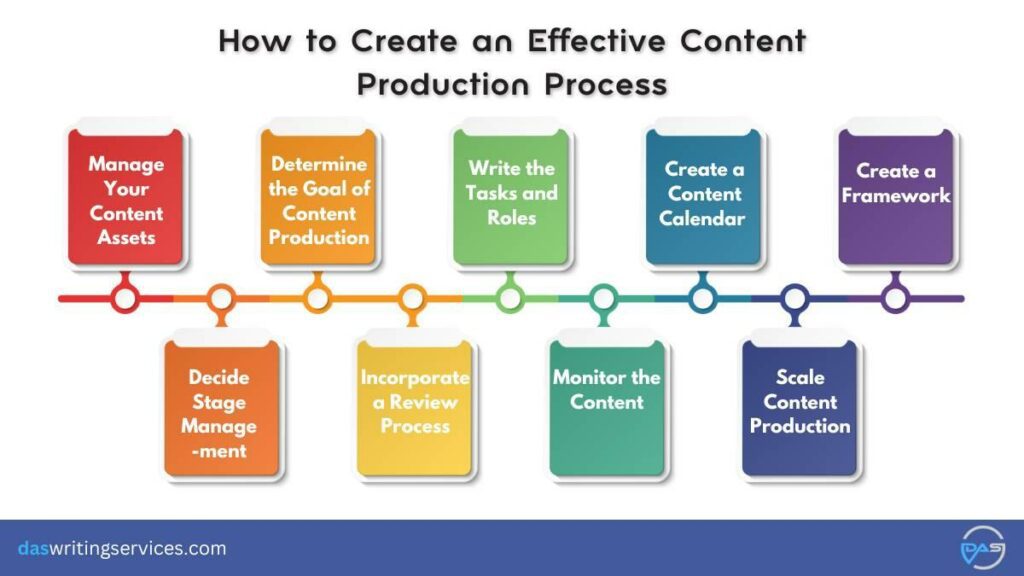 #Step 1. Create Specific Cloud Storage for Content Assets
When investing in digital or content marketing, you must know that they include several assets. These include content, image video and audio. If you store all these assets in a disorganized way, it will be difficult for you to find those at the time of publishing the content.
This is why you need to get a cloud database where you can store all the content assets in one place.
#Step 2. Set a Goal for Content Production
Before you start the process of content production, you need to understand the purpose of content. You need to chalk out how all your content pieces fulfil the target audience's requirements, answer their questions and resolve their doubts.
Your ultimate goal in content production should ideally be to build brand awareness, increase the rank of your web pages in the search results and thereby, boost your lead generation.
You can develop content map to plan out which content to write to address the queries of customers.
Mapping your content includes finding new topics through which you can create new content over a long period. It will also help you to allocate goals for each piece.
Furthermore, you can also divide these ideas by content types, projects and clients. It will assist you in prioritising your needs and potential value in the long term.
#Step 3. Define the Content Production Tasks and Roles
Before you start creating content, you must list every single requirement of that content.
Let's assume that you are writing a blog, "How to Optimise Your Website for Technical SEO". To make the content stand out, it is better if you create infographics, take screenshots of tools like Page Speed Insights.
Apart from this, you also need to set the roles of experts who will proofread, who will do fact-checking, who will publish, etc.
After the writers have written the content, the editors will proofread it and ensure that the quality is top-notch. Once the file is proofread, the project manager will ensure that the file is delivered on time to the client.
#Step 4. Create a Content Calendar
You must create a content calendar where you can list all your tasks, deadlines and task assignments. It will set a strategic guideline for your business and your requirements. To build your content calendar, you need to follow these steps:
Determine the content requirements that are required to achieve your marketing goal. For instance, if you want more traffic to any particular product page, then you have to create more articles, blogs and videos related to that product.
Do proper competitor analysis to understand their marketing strategy and understand where you can outrank them by providing more value to the audience.
Analyse the market and SEO to make sure that you have created content on all relevant topics.
Occasional opportunities are one of the best options for creating content. For instance, you can create content on Christmas or other festivals on topics like 'Best [keyword] for [year].
A content calendar will assist you in strategically outlining your requirements and reducing the time required for task completion. Furthermore, it will help you to spread out the tasks so that your skilled professional writers can get ample time to frame and polish the content.
You can watch the following video of Neil Patel to learn his steps to create a social media content calendar:
#Step 5. Create a Content Framework
The content production process requires creating a framework for each type of content. For instance, if you are writing an article or a blog, you need to stick to the following procedure:
Research: Before writing content, you must do proper research on the topic and the target audience you are writing the content for. In addition, you must also research the keyword, its difficulty and its relevancy to your industry.
Craft Content: Once you have the research, you need to write the content keeping the SEO guidelines, which will help it attain a better SERP ranking. You also need to include images, videos and infographics to make it more engaging to the target audience.
Check Quality: Quality approval is crucial for every content. If the quality is top-notch, the audience will find it engaging and informative. An in-house team of editors are required to check the overall quality of the content according to your requirements.
Choose Optimized Slug: A proper URL slug can help your content rank well on the search engine result page. It is better if you incorporate the keywords in the slug.
Add Category/Hashtags: While publishing content, you need to set the category. In case it is social media content, you need to include proper hashtags. It helps you to distinguish the type of content you have crafted and the category it comes under. Further, it boosts the reach of content.
#Step 6. Incorporate a Review Process
You should include a content review or quality assurance process to make sure that all the content is having top-notch quality. With the help of an in-house editorial team, you can better review the quality of the content and fix issues like grammatical errors, factual mistakes, improper flow, etc.
In this regard, we would like to inform you that we have explained how to review content to get the maximum result for your business in a detailed manner. You can visit this blog to learn about the content review process.
What are the Tools Required for Content Production?
Following are some of the tools you require for building and implementing a good content production process: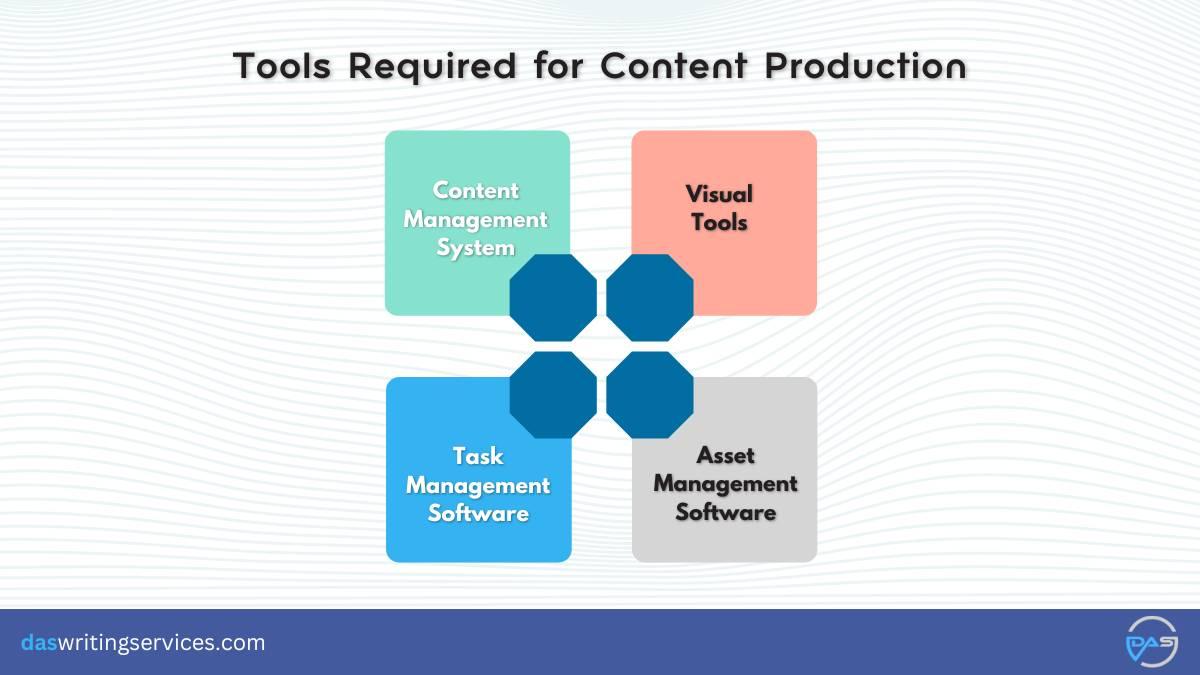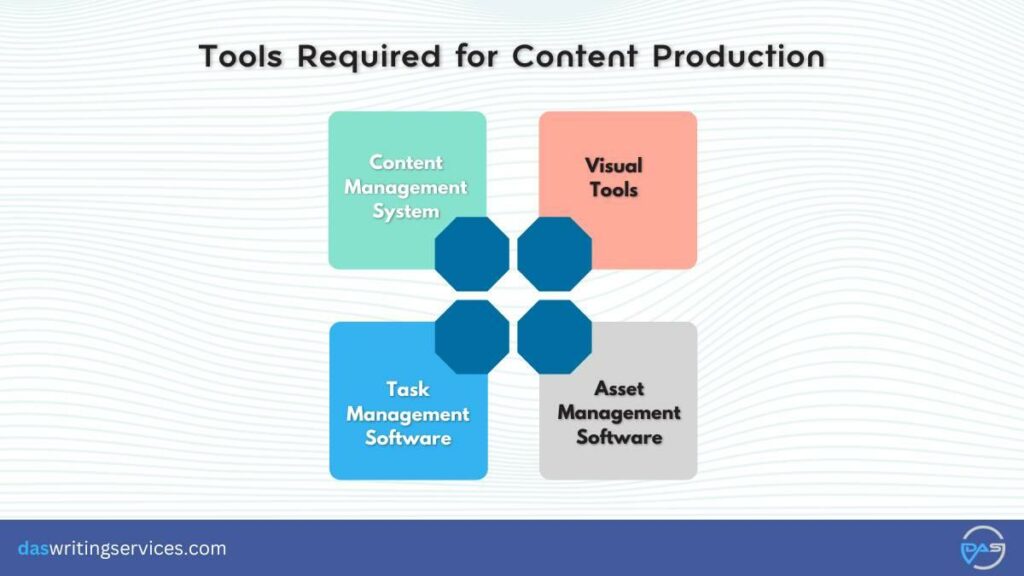 1. Content Management System
Using a Content Management System, a user can create, modify and store their content online. It is software that helps you build a website without any technical knowledge. Furthermore, you do not have to write code in CMS to build your website. One of the popular the CMSs is WordPress, which powers 43.1% of all websites.
2. Visual Tools
When you are creating content, you need software which can expedite the creation process. Through this software, you can create infographics and images quickly. Canva is one of the most commonly used content production tools for creating visual content.
3. Task Management Software
Through task management software, you can easily visualise all the tasks of a project. It helps you in analysing the current content production process they are in and allows you to create additional tasks. It also helps you to add comments, attach written files and assign tasks to your team members.
4. Asset Management Software
An asset management software will help you store all your digital assets including images, videos, style guides and other crucial documents in one place. You can use Google Drive and other storage options to store all the data.
Hence, content production is vital for delivering content on time and handling more projects or tasks. Through content production, the writers and team members will get guidelines that will assist them in staying on track and fulfilling their requirements. 
You can also contact us for any content creation, as we excel in creating well-optimised content for our clients. It helps them to generate more leads and boost their brand's online ranking. Furthermore, it also assists them in outranking their competition and attaining new customers.
Frequently Asked Questions
1. How to maintain a schedule for content production?
To maintain a schedule for content production, you need to define your goal and create a template for your content calendar. After that, you will be required to choose a channel and initiate with a calendar year. Then, you need to create content and update that content regularly to keep it evergreen.
2. What is a content strategy plan?
A content strategy plan is a regular practice of planning to generate, deliver and effective content related to a topic or group of topics. Through content strategy, you can ensure that each piece of content serves and assists its purpose.
3. What is a content planning tool?
Content planning tool assists marketers in creating, organising and efficiently managing their content. It helps marketers to create content calendars through which they can set up alerts and notifications. In addition, it helps them collaborate with their team members easily.