According to a report by Content Marketing Institute, most small to large companies hire content writers and around 75% of large companies outsource content. Skilled writers have been the key to success in content marketing for many companies. So, there is and there will be a significant demand for skilled content writers. But what are the essential content writer skills that companies look for while hiring?
The skills of content writers go beyond simply putting words on a page. It involves crafting a story.
Effective content writing depends on a combination of creativity and strategic thinking. Content writers need to be more creative and thoughtful so that they can communicate ideas in an engaging and interesting way. Besides a good writer, they need to have content editing skills so that their content holds the attention of readers.
Who are Skilled Content Writers?
Skilled content writers are professional who specialises in writing blogs, articles, scripts, web copies, etc. They are skilled in creating interesting and educational content that grabs readers' attention.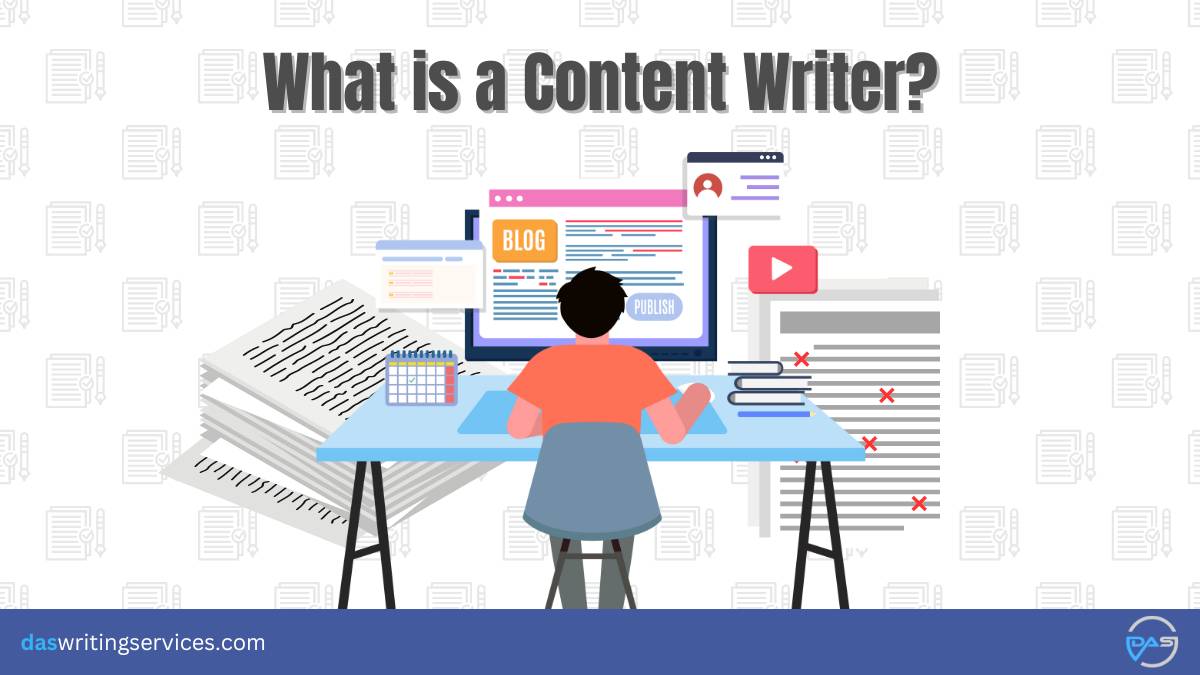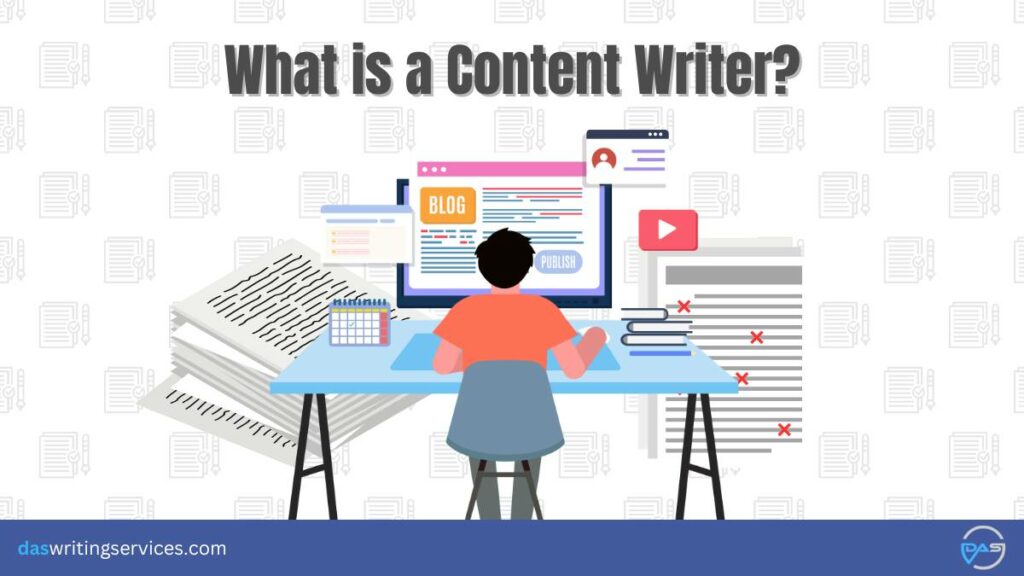 You can see a vast difference between the content written by skilled professional writers and unskilled writers. Skilled writers efficiently communicate the intended message. You can see that the content flows from one paragraph to another and from one sentence to another.
It requires a certain experience to gain the soft and hard skills required for content writing. When such professional writers start a project, they carefully understand the target audience, brand tonality, brand voice, goals of content marketing, etc. Accordingly, they write so that the client gets the maximum benefit from the content.
Content writers having the necessary skills can modify their writing style to suit various tones and forms according to different content platforms. They also follow SEO principles and naturally optimize content with keywords so that it ranks well on the SERP.

What Are the Key Skills of Content Writer?
To create quality content that engages the audience and holds their attention, writers must have some basic writing skills. Here are 10 content skills for a content writer:
1. Effective Communication Skills
One of the primary content writing skills is the ability to communicate some ideas or to convince readers about the benefits of a product. Their write-up must express thoughts, concepts, and data clearly with a proper flow. This is why it is better if they are well-versed in language, vocabulary, and sentence construction. This way, they can make the content flow easily and understandable.
A content writer should also be able to communicate complex concepts in a straightforward way. The target audience must understand and grasp the intent of the content.
2. Excellency in Grammar and Punctuation
In order to write compelling content, you must possess great grammar and punctuation skills. Without proper use of language and punctuation, your content will lack professionalism and clarity.
Plus, the audience receives the intended message clearly when you use grammar and punctuation properly. It improves the content's readability and prevents misconceptions.
If you want to be a good writer, you must be adept in the following grammatical concepts:
Subject-verb agreement
Sentence structure
Punctuation
Preposition
AP style
The ideal sentence of proper SEO content has a length of around 20 words and is written in active voices. The sentence length, however, can vary according to the requirements and context.
3. Strong Research Skills
Research ability according to the requirements of the client's marketing objective is a vital skill of content writers. The writer must have the capacity to compile, examine, and combine data from numerous sources. Research makes content accurate, knowledgeable and credible.
To make content trustworthy and accurate, writers need to conduct in-depth independent research. They can conduct market research online and offline.
For online research, you as a professional writer can refer to website articles, blogs, white papers, government sites, journals, etc., as credible sources of information. If data is not available online, you can conduct offline research by referring to books, conducting interviews, etc.
Effective research helps content creators know about the subject in-depth. They can understand recent trends and advances and craft the content accordingly.
Research skill is necessary for content writing-associated tasks like fact-checking, confirming data, and cross-referencing information. Writers can offer insightful commentary and insights and write unique content after completing thorough research.
4. Creativity and Originality
There are many websites that want the rank against the same keyword. How will you cut out the noise and make a strong presence both in your audience's mind and the SERP?
You can do so by creating unique and original content that stands out from the rest. Originality means presenting facts and information within the content from a different perspective or offering innovative insights. Writers should make an effort to present fresh viewpoints.
You have to present the information in an interesting and creative manner. Your content needs to grab the audience's attention.
As a writer, you must think creatively and approach the writing task from new perspectives. You should be able to develop an interesting and fact-based introduction that conveys what the content contains in a brief.
Besides, creating proper headings and subheadings also comes under the basic content writing skill set. Your subheads should clearly summarize and indicate the underlying content.
5. Adaptability to Different Tones and Styles
An important skill of a content writer is the capacity to adapt to various tones and styles as per the requirements of clients. The writing tone and style are not the same for all the platforms. For instance, the write-ups for LinkedIn should have professional language and a direct tone. On the other hand, YouTube content is comparatively casual.
A talented professional content writer needs to be adaptable and change their writing style. Their writing should fit the particular requirements and expectations of the target audience.
The capacity to adjust and adapt makes content writers more professional. They can easily craft on-point content for multiple clients. With their content, clients can easily grab the audience's interest, and that it effectively conveys the intended message.
6. Understanding of On-Page SEO Principles
At present time, a solid understanding of SEO guidelines is an essential skill required for content writers. They mainly need to strongly grasp the on-page SEO factors, which include creating:
Keywords optimized H1s, H2s and H3s
Easy-to-understand language
Simple sentences in active voice
Short paragraphs
Use of LSI or semantic words within content
Implementing SEO strategies enhances content visibility and positioning on the search engine result pages (SERPs). Advanced SEO writers can create content that reaches a larger audience and generates organic traffic because they understand the basic concepts of SEO.
SEO content writers use primary and secondary keywords throughout the article strategically and naturally. They also develop attractive titles, meta descriptions, and headings to draw the attention of readers and search engines.
7. Storytelling Skill
The skill of creating compelling stories within content makes excellent writers distinctive from others. Stories naturally keep people's attention intact and make difficult concepts easy to understand. Storytelling approaches in content make readers engaged. It also increases the memorability of readers.
A content writer with storytelling skills can develop narratives that capture the reader's attention right away. They can develop realistic characters and intriguing storylines to move readers with their words. Whether content writers create a blog post, an article, or a social media update, they can connect with their audience more deeply with storytelling.
8. Attention to Detail
Another vital content writing skill is the ability to pay close attention to detail. Detailing assures that your content is on point. You need to clarify all the aspects properly so that readers do not feel the need to make another search on the internet.
While detailing every aspect of a concept, writers should also carefully fact-check and verify the information. It is also better if you give examples, infographics and flow charts to help readers understand complex ideas.
Content writers should also know how to structure content. Their write-ups flow seamlessly in a logical way. You can see a clear transition between ideas.
9. Time Management and Handling Deadlines
Time management and meeting deadlines are also necessary soft skills of content writers. Being able to efficiently manage time and deliver work on schedule is necessary, especially if you see it from the perspectives of clients. This is because clients follow content maps and have a timeline to publish content on a platform.
Writers need to be able to prioritise their tasks, set reasonable deadlines for writing, and allocate enough time for research. After writing, they should ideally allot time for proofreading.
Professional writers need to have the skill to shift from one project to another smoothly. Most of the time, they manage several projects at once. This does not mean that they are free to miss the deadline.
To maintain professional relationships and ensure client satisfaction, meeting deadlines is necessary. For this, you can plan ahead and organize all the tasks.
10. Basic Knowledge of Marketing
Content writers should ideally have a basic understanding of marketing and persuasive strategies. Their words must be able to influence and persuade readers to buy something, sign up, or subscribe.
Writers should address the pain points of customers, and highlight the advantages their client's products can provide to redress the pain points.
We have attached a video below for you to easily understand the skills required in a content writer.
How to Improve Content Writing Skills?
Improving your content writing skills is a continuous process that involves practice. Here are some proven tips: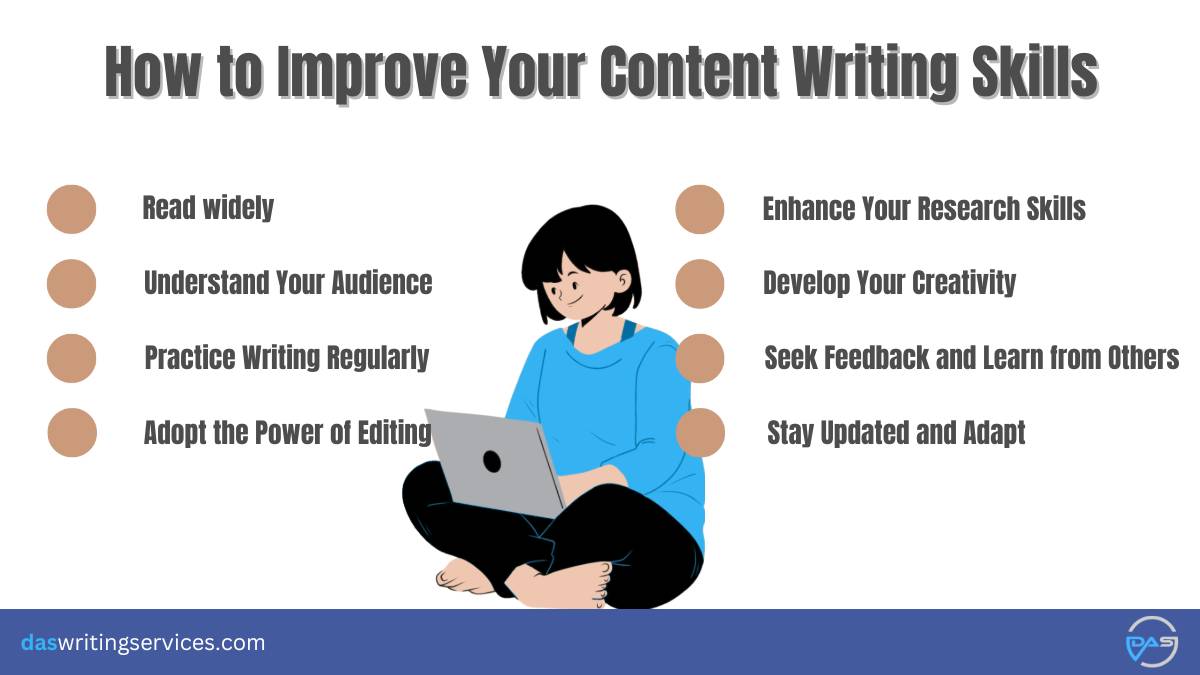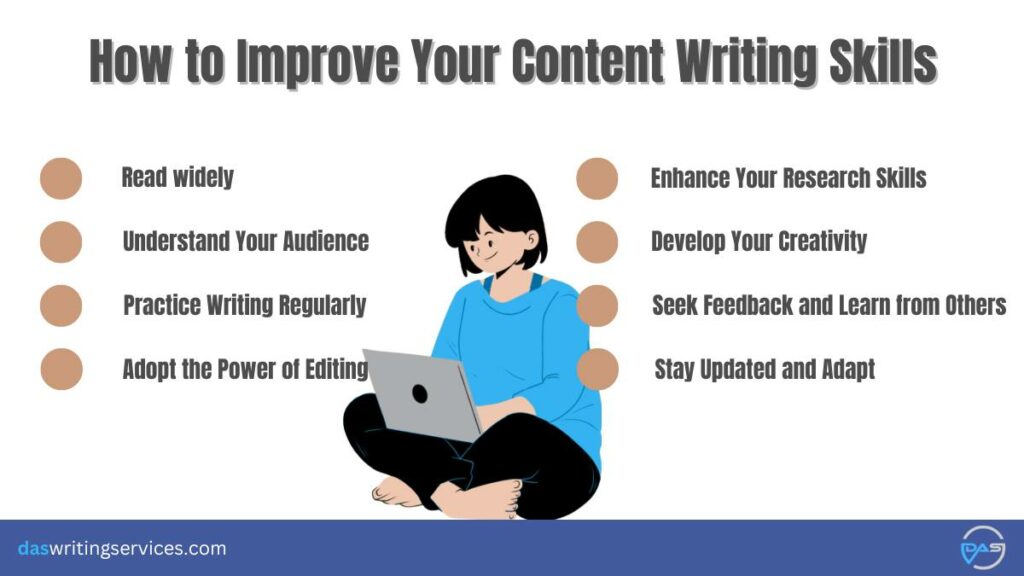 1. Read widely
For any writer, reading regularly is a necessary habit. It will improve your vocabulary and sentence construction. You can grasp concepts easily and communicate your ideas effectively. If the need is so, you can also create interesting narratives to ensure communicating ideas in a storytelling manner. So, to learn diverse writing methods, you can read books, articles, blogs, and other written materials.
2. Understand Your Audience
The goal of content is to help or make your target audience understand certain things regarding the business of clients. So, you need to spend time learning about your readers – their requirements, tastes, and demographics. Knowing your target audience will help you create tailored content that appeals to customers' interests and addresses their problems.
3. Self-Edit Your Content
You need to spend some time reading through the content written by you. This will help you understand the mistakes in your content; you can cut down the redundant words and sentences. Gradually, this practice will improve your content writing capabilities. You can also upskill yourself for the profession of content editor. Plus, your clients will get flawless and impressive marketing content. There are also several other benefits of content editing that we have covered in the hyperlinked blog.
4. Enhance Your Research Skills
Research is an important skill for content writers. Through research, you find important facts and information which make content more credible. To improve your research skills, first of all, you need to improve your internet searching skills. You must know the ways to find trustworthy resources, such as scholarly publications, trusted websites, and expert interviews.
5. Seek Feedback and Learn from Others
There are some mistakes that we as a writer commit, but it becomes difficult for us to find those out. Perhaps, you have also faced a similar situation. This is why it is necessary that we seek feedback from others who are experts in content writing. They can provide valuable insights into your writing. You can join writing groups, attend workshops, and interact with other writers to exchange ideas and receive helpful feedback.
6. Stay Updated and Adapt
The world of content marketing is ever-changing. So, you need to keep learning new business trends, writing styles, and tools for SEO content writing. Accordingly, you will have to adapt to the new digital environment.
Can Anyone Develop the Key Skills of a Content Writer? 
Content writing is a skill that can be developed with practice. Anyone can try to attempt to write content. It takes a particular set of skills and qualities to succeed as a content writer. Strong writing abilities and meticulous attention to detail are a must.
If you are someone with no previous experience in writing marketing content, you may not come up with quality writing. This is why, if you have a business and want to grow it with digital marketing, you may need to seek professional assistance to develop high quality content.
You can hire qualified content writers from recognised content writing companies like Das Writing Services.
Businesses look for a diverse set of content writing skills within a writer. The professional should have proficient writing abilities, a keen eye for detail and a thorough understanding of SEO principles. They must also continuously refine their skills to meet the ever-changing demands of clients.
How to Hire a Skilled Content Writer?
By now, you must have known the skills that a content writer must have. But, the question will be where to find such a content writer. One option you have for this is that you can post advertisements for hiring on LinkedIn and other hiring websites. This hiring process can take time and there will also be a concern regarding the quality of the content writers.
The other option is that you can hire a dedicated content writer to help you develop the content the way you want. You can delegate your complete content marketing project to us, at Das Writing Services. Our expert team of writers can deliver quality SEO blogs, articles, web pages or some other type of tailored content.


FAQs About Skills of a Content Writer
1. Why is effective communication important for content writers?
Effective communication is crucial for content writers as it helps them to connect with the audience in an engaging manner. Plus, good communication skills help in taking feedback and collaborating effectively within a team.
2. Are there any specific ethical considerations for content writers?
Yes, content writers should adhere to ethical guidelines such as avoiding plagiarism, properly referencing, including fact-checked information, and paying attention to the privacy and confidentiality of clients.
3. Can content writers specialize in a particular niche or industry?
Yes, content writers can specialize in specific niches or industries according to their interests, expertise, or previous experience. It helps writers develop in-depth knowledge and expertise on a specific niche or subject area.
4. What are some effective ways for content writers to organise their work?
Content writers can organise their work by creating content calendars or schedules and using project management tools. They can also break down larger projects into smaller manageable tasks.